Baptism is an important part of the Christian faith. Different denominations have different beliefs about being baptized; such as the sprinkling of water versus full water immersion. In the Bible, there are so many verses about baptism and what that means for us as Christians.
While there are many thoughts about baptism, the Bible is our main source of knowledge. All throughout the old and new Testaments, there are instructional bible verses about baptism.
Estimated reading time: 10 minutes
3 reasons Baptism is important as a Christian
Christianity.com defines the meaning of baptism as "identification". In baptism, we find our new identity in Christ Jesus.
1. Jesus was baptized
Christ Jesus himself was baptized by John the Baptist. It represents the old life being washed away, and the new life under and fully submitted to Christ beginning. If it was important to Jesus to be symbolically cleansed of his sins, then it should be an example we should follow.
2. Publicly profess your faith
Being baptized is a great way to share your faith in Jesus with others. Jesus was baptized in front of a crowd, so typically, baptism follows this.
3. Celebrate the good work He has done
Baptism is also a great way to celebrate! This is a joyful occasion. A time to let go of your old self, and begin fresh. Your sins are washed away, and your new life begins.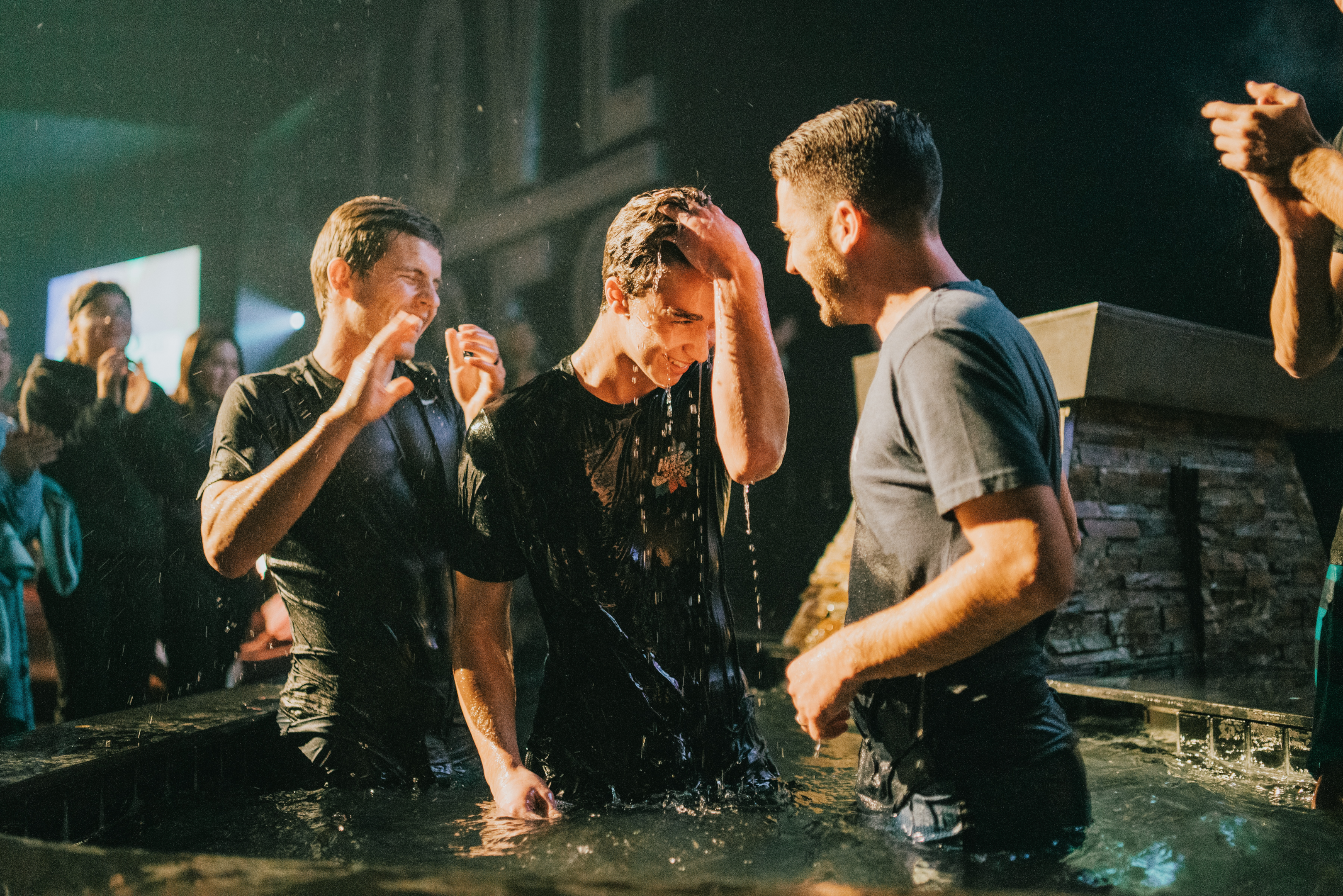 Baptism by Water vs The Holy Spirit
There are two different kinds of baptism described in the Bible. Baptism by water and baptism by the Holy Spirit. These are two very different things, but both important and discussed in the Bible.
Being baptized by water represents a new beginning in your journey with Christ and in the literal sense, water is used.
Baptism with the Holy Spirit is marked by speaking in tongues, the holy language. This is also a mark of being fully empowered and filled with Jesus.
In Acts 1:4-5, Jesus is talking with his disciples:
"On one occasion, while he was eating with them, he gave them this command: 'Do not leave Jerusalem, but wait for the gift my Father promised, which you have heard me speak about. For John baptized with water, but in a few days you will be baptized with the Holy Spirit.'"
Infant Baptism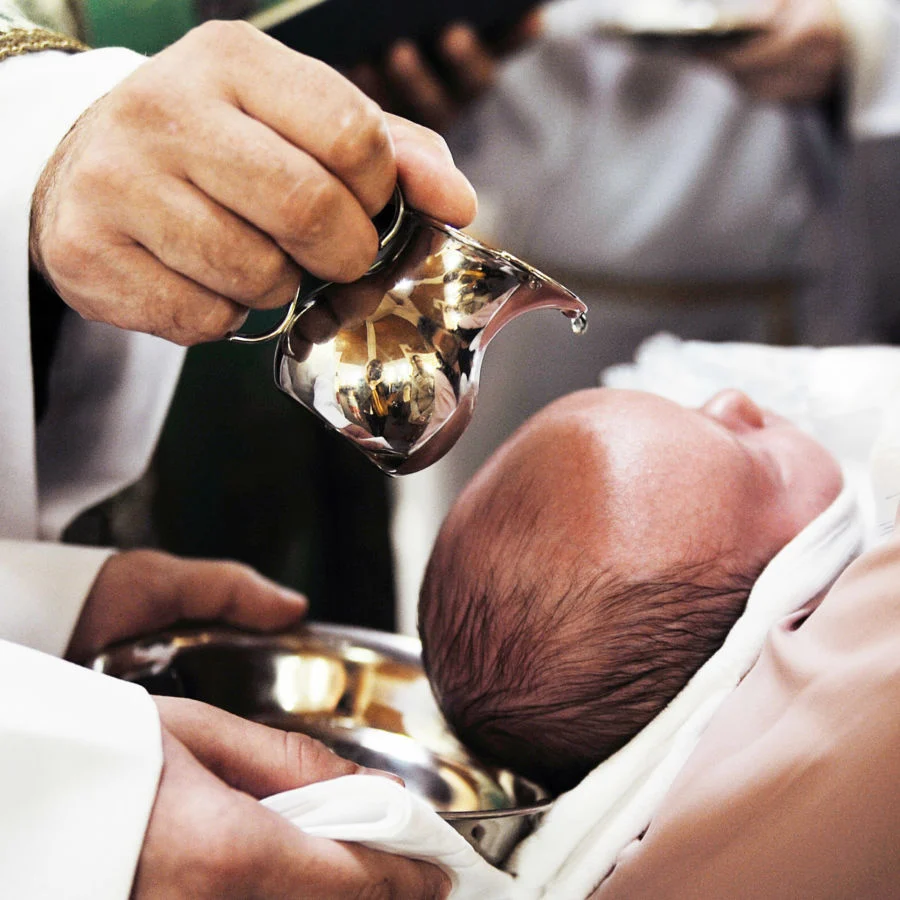 In some denominations, infant baptism can also be called Christening. Infants are sprinkled with water or have a small amount poured over their heads. Many want to baptize their children as a symbol of their faith and protection over their lives from birth.
What the Bible Says about Baptism
There are many Bible verses about baptism, most being in the New Testament.
They speak of the meaning, instruction for, and even demonstration. A baptism follows a pastor asking someone if they believe in Christ and want to follow Him all the days of their life. You will then be baptized in the name of the Father, Son, and the Holy Spirit," and then will submerge you in water.
1 Corinthians 12:12-13
"Just as a body, though one, has many parts, but all its many parts form one body, so it is with Christ. For we were all baptized by one Spirit so as to form one body—whether Jews or Gentiles, slave or free—and we were all given the one Spirit to drink."
1 Peter 3:19-21
"After being made alive, he went and made proclamation to the imprisoned spirits— to those who were disobedient long ago when God waited patiently in the days of Noah while the ark was being built. In it only a few people, eight in all, were saved through water, and this water symbolizes baptism that now saves you also—not the removal of dirt from the body but the pledge of a clear conscience toward God. It saves you by the resurrection of Jesus Christ…"
Acts 2:41
"Those who accepted his message were baptized, and about three thousand souls were added to their number that day."
Acts 8:12-13
"But when they believed Philip as he proclaimed the good news of the kingdom of God and the name of Jesus Christ, they were baptized, both men and women. Simon himself believed and was baptized. And he followed Philip everywhere, astonished by the great signs and miracles he saw."
Acts 19:4
"Paul said, "John's baptism was a baptism of repentance. He told the people to believe in the one coming after him, that is, in Jesus."
Acts 22:16
"And now what are you waiting for? Get up, be baptized and wash your sins away, calling on his name.'"
Colossians 2:11-12
"In him you were also circumcised with a circumcision not performed by human hands. Your whole self ruled by the flesh was put off when you were circumcised by Christ, having been buried with him in baptism, in which you were also raised with him through your faith in the working of God, who raised him from the dead."
Acts 10:48
"So he ordered that they be baptized in the name of Jesus Christ. Then they asked Peter to stay with them for a few days."
Acts 11:16
"Then I remembered what the Lord had said: 'John baptized with water, but you will be baptized with the Holy Spirit.'"
John 1:33
"And I myself did not know him, but the one who sent me to baptize with water told me, 'The man on whom you see the Spirit come down and remain is the one who will baptize with the Holy Spirit.'"
John 3:5
"Jesus answered, 'Very truly I tell you, no one can enter the kingdom of God unless they are born of water and the Spirit.'"
Luke 3:16
"John answered them all, 'I baptize you with water. But one who is more powerful than I will come, the straps of whose sandals I am not worthy to untie. He will baptize you with the Holy Spirit and fire.'"
Galatians 3:26-27
"So in Christ Jesus you are all children of God through faith, for all of you who were baptized into Christ have clothed yourselves with Christ."
Mark 1:4
"And so John the Baptist appeared in the wilderness, preaching a baptism of repentance for the forgiveness of sins."
Mark 16:16
"Whoever believes and is baptized will be saved, but whoever does not believe will be condemned."
Matthew 3:16
"As soon as Jesus was baptized, he went up out of the water. At that moment heaven was opened, and he saw the Spirit of God descending like a dove and alighting on him."
Matthew 28:19-20
"Therefore go and make disciples of all nations, baptizing them in the name of the Father and of the Son and of the Holy Spirit, and teaching them to obey everything I have commanded you. And surely I am with you always, to the very end of the age."
Mark 1:4-5
"And so John the Baptist appeared in the wilderness, preaching a baptism of repentance for the forgiveness of sins. The whole Judean countryside and all the people of Jerusalem went out to him. Confessing their sins, they were baptized by him in the Jordan River."
Luke 3:21-22
"When all the people were being baptized, Jesus was baptized too. And as he was praying, heaven was opened and the Holy Spirit descended on him in bodily form like a dove. And a voice came from heaven: 'You are my Son, whom I love; with you I am well pleased.'"
Ephesians 2:8-9
"For it is by grace you have been saved, through faith—and this is not from yourselves, it is the gift of God— not by works, so that no one can boast."
Acts 16:31-33
"They replied, 'Believe in the Lord Jesus, and you will be saved—you and your household.' Then they spoke the word of the Lord to him and to all the others in his house. At that hour of the night the jailer took them and washed their wounds; then immediately he and all his household were baptized."
Acts 8:36-38
"As they traveled along the road, they came to some water and the eunuch said, 'Look, here is water. What can stand in the way of my being baptized?' And he gave orders to stop the chariot. Then both Philip and the eunuch went down into the water and Philip baptized him."
Ephesians 4:4-6
"There is one body and one Spirit, just as you were called to one hope when you were called; one Lord, one faith, one baptism; one God and Father of all, who is over all and through all and in all."
Acts 2:38-41
"Peter replied, 'Repent and be baptized, every one of you, in the name of Jesus Christ for the forgiveness of your sins. And you will receive the gift of the Holy Spirit. The promise is for you and your children and for all who are far off—for all whom the Lord our God will call.'
With many other words he warned them; and he pleaded with them, 'Save yourselves from this corrupt generation.'Those who accepted his message were baptized, and about three thousand were added to their number that day."
John 1:29-33
"The next day John saw Jesus coming toward him and said, 'Look, the Lamb of God, who takes away the sin of the world! This is the one I meant when I said, 'A man who comes after me has surpassed me because he was before me.' I myself did not know him, but the reason I came baptizing with water was that he might be revealed to Israel.'
Then John gave this testimony: 'I saw the Spirit come down from heaven as a dove and remain on him. And I myself did not know him, but the one who sent me to baptize with water told me, 'The man on whom you see the Spirit come down and remain is the one who will baptize with the Holy Spirit.'"
Summary
The Bible has a lot to say about baptism, and so many Bible verses to read and study. It is usually a next step in your walk with God after you accept Jesus into your heart. There is no timeline in which this should be done. Many may choose to never be baptized.
Baptism is such a great way to proclaim your love and devotion to to Christ. Not only are we celebrating our old selves being washed away, but the resurrection of Jesus Christ.
Whether you decide to be sprinkled with water or fully submerged, that decision is up to you. And baptism in the Holy Spirit is something that you should pray and continue to ask questions about in your walk with God.
Jesus led in example as demonstrated in the verses above. Baptism is typically performed only once, but sometimes people may choose to be re-baptized if they have had a period of time where they have walked away from God.
Symbolically, baptism is an important step in your faith, and the Bible is a great place to determine when that will be for you!
About The Author