The Word of God is our most powerful tool to teach us, encourage us, and inspire us. Life is hard, and the stresses, situations, and relationships in it can get us down. What can we do when the voices in our heads are telling us we're not good enough? We need powerful bible verses on confidence and self-esteem.
The Bible is filled with scriptures to bolster your confidence and self-esteem. God loves us, and He wants us to love ourselves. He wants us to see ourselves the way He sees us.
Use these 26 Bible verses on self-confidence to remind you how strong you are in Christ and that God has given you strength. When our self-confidence and self-love are wrapped up in our actions and life on earth, it's easy to get down on ourselves.
But the Bible teaches us to put our identity in the Lord alone. When He is the source of our worth, we can stand tall in our true identities. Let these Bible verses on confidence inspire you and give you life.
Estimated reading time: 10 minutes
How to Study Verses About Confidence
Godly Confidence to do His Will
How can we think confidently? Is a person's confidence measured in what they look like, and how they look at themselves? Is it about the strengths and weaknesses we have? How can we become more confident in ourselves?
God teaches us the image of His creation and our reliance upon Him. Someone can't trust him or herself. God provides our strength to fulfill our duty. Without Him, our identity is based solely on the things of this earth.
How do We Apply it to Our Life?
We want to read these bible verses about confidence to remind us that our identity is in Christ Jesus and that we should love ourselves as He loves us. But what is the best way to do it?
Anybody can read a Bible verse, but it doesn't always mean they fully understand it or believe it. How can we study the Word in the best way possible, so that it impacts our life?
Reading Aloud
In general, a great tip when studying the Word is to read the scripture aloud instead of in your head. This forces you to give it more of your attention, and hearing the words aloud may impact you differently than hearing them in your head.
Some books, like the Book of Revelation, even give a special blessing to those that read them aloud. So why not read all the books aloud?
Scriptures into Prayers
Once we read the verses (hopefully aloud) and start to get them in our heads, what do we do to them? If we want scripture to bolster and inspire us to live lives of confidence and self-esteem, how do we get it to do that?
A great way of turning scripture into an actionable item is to turn them into prayers. Using the language and theme of the particular verse you just read, turn your attention to heaven and pray a small prayer.
For example, after reading a Bible verse about confidence, you may pray:
"I believe in God and my ability as a Christian to feel confident. It is no longer dependent on my abilities (as that is very unpredictable!) but instead on my knowing God will help me in my mission. Thank you that my identity is in You and not in the things of this world. Amen."
Memorize Scripture
One of the best ways to let the power of the Word change our lives is not just to study it in our quiet time, but to take it out with us into the world. It can be easy to feel confidence and self-love in the comfort of our personal Bible study, but what about out and about in life?
When we take time to memorize Bible verses, they will come to our aid when we need them most. When you encounter situations in life that make you feel down on yourself or low in confidence, you want a Bible verse to pop into your head to encourage you. That won't happen unless you take the time to memorize one.
Memorizing scripture can be fast and easy, but super effective. You can find various methods of memorizing the Word online, but one of the best ways is through apps.
If you're interested in apps that help you memorize and study the Word, check out the 16 Best Christian Apps for Spectacular Growth.
26 Scriptures to Grow Your Confidence & Self-Esteem
Now that we know how to best study these scriptures and let them change our lives, let's jump in! The verses have been separated into groups to organize them, so you can find the right verse for you.
Verses on Identity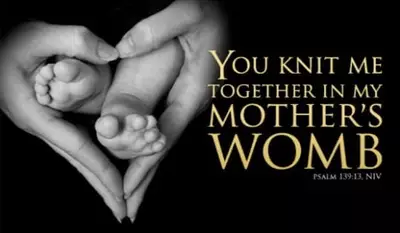 Who does God say that we are? These verses help us to lean away from our own understanding and to lean on Him instead.
Psalm 139:13–14
"For you created my innermost being; you knit me together in my mother's womb. I praise you because I am fearfully and wonderfully made; your works are wonderful, I know that full well."
2 Timothy 1:7
"For the Spirit God gave us does not make us timid, but gives us power, love, and self-discipline."
Galatians 2:20
"I have been crucified with Christ. It is no longer I who live, but Christ who lives in me. And the life I now live in the flesh I live by faith in the Son of God, who loved me and gave himself for me."
Luke 12:7
"Why, even the hairs of your head are all numbered. Fear not; you are of more value than many sparrows."
1 Peter 2:9
"But you are a chosen race, a royal priesthood, a holy nation, a people for his own possession, that you may proclaim the excellencies of him who called you out of darkness into his marvelous light."
Ephesians 3:12
"In him and through faith in him we may approach God with freedom and confidence."
Verses on Facing Fear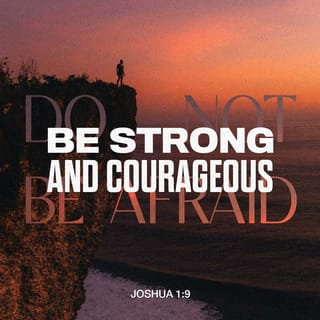 What do we do when faced with the scary things in life? When fear makes us feel weak and stupid? These verses help us face fear with confidence and strength.
Joshua 1:9
"Have I not commanded you? Be strong and courageous. Do not be afraid; do not be discouraged, for the Lord your God will be with you wherever you go."
Proverbs 3:25-26
"Have no fear of sudden disaster or of the ruin that overtakes the wicked, for the Lord will be at your side and will keep your foot from being snared."
Psalm 27:3
"Though an army besiege me, my heart will not fear; though war break out against me, even then I will be confident."
Matthew 6:34
"Therefore do not worry about tomorrow, for tomorrow will worry about itself. Each day has enough trouble of its own."
Isaiah 41:10
"So do not fear, for I am with you; do not be dismayed, for I am your God. I will strengthen you and help you; I will uphold you with my righteous right hand."
Romans 8:38-39
"For I am sure that neither death nor life, nor angels nor rulers, nor things present nor things to come, nor powers, nor height nor depth, nor anything else in all creation, will be able to separate us from the love of God in Christ Jesus our Lord."
Deuteronomy 31:6
"Be strong and courageous. Do not fear or be in dread of them, for it is the Lord your God who goes with you. He will not leave you or forsake you."
Verses on Inspiration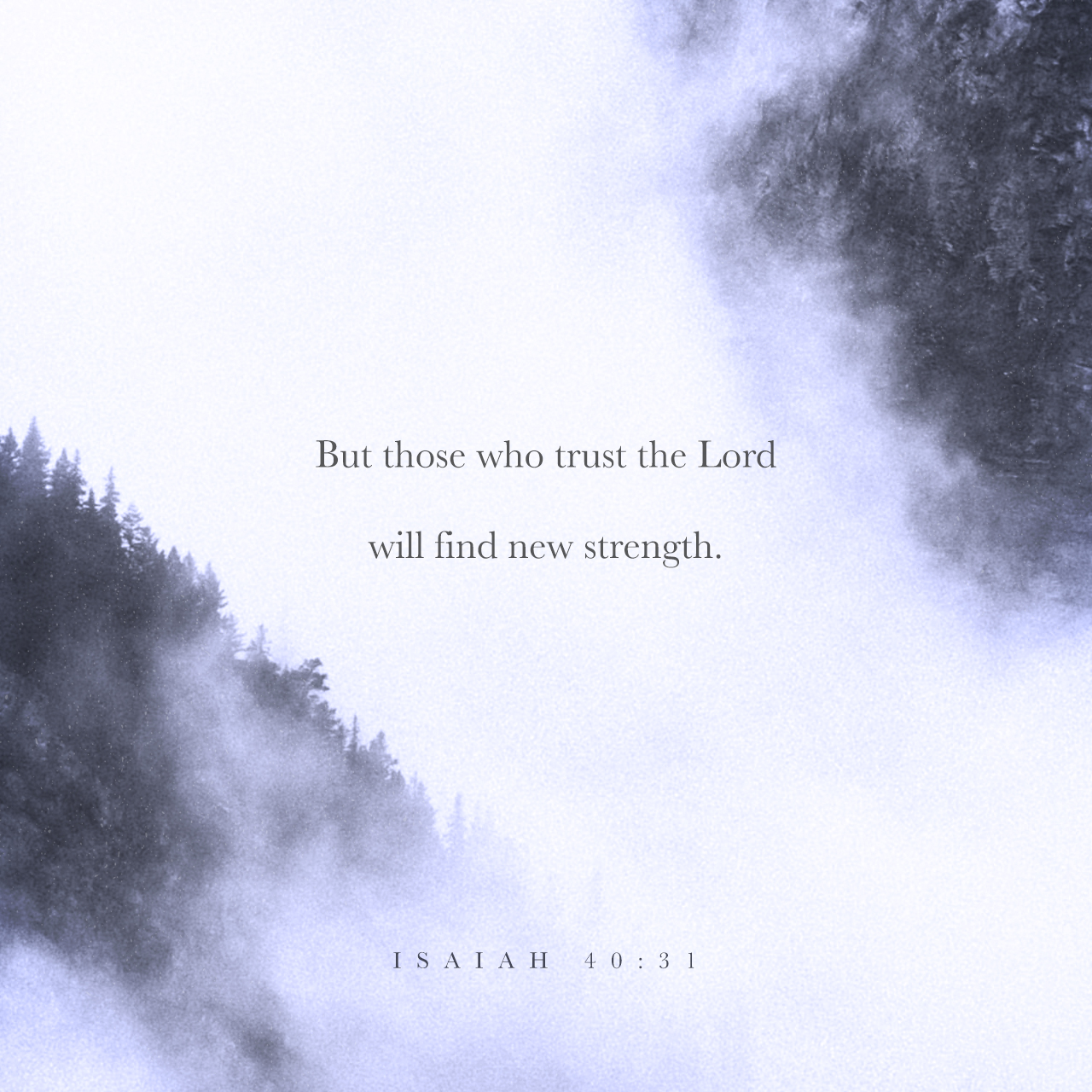 What do we do when we're feeling down? These verses inspire us to act in confidence and courage.
Isaiah 40:31
"But those who hope in the Lord will renew their strength. They will soar on wings like eagles; they will run and not grow weary, they will walk and not be faint."
Hebrews 10:35–36
"So do not throw away your confidence; it will be richly rewarded. You need to persevere so that when you have done the will of God, you will receive what he has promised."
Matthew 11:28-30
"Come to me, all who labor and are heavily laden, and I will give you rest. Take my yoke upon you, and learn from me, for I am gentle and lowly in heart, and you will find rest for your souls. For my yoke is easy, and my burden is light."
Psalm 20:7
"Some trust in chariots and some in horses, but we trust in the name of the Lord our God."
2 Timothy 2:1
"You then, my child, be strengthened by the grace that is in Christ Jesus."
Philippians 4:13
"I can do all this through him who strengthens me."
1 John 5:14
"This is the confidence we have in approaching God: that if we ask anything according to his will, he hears us."
Verses on Pride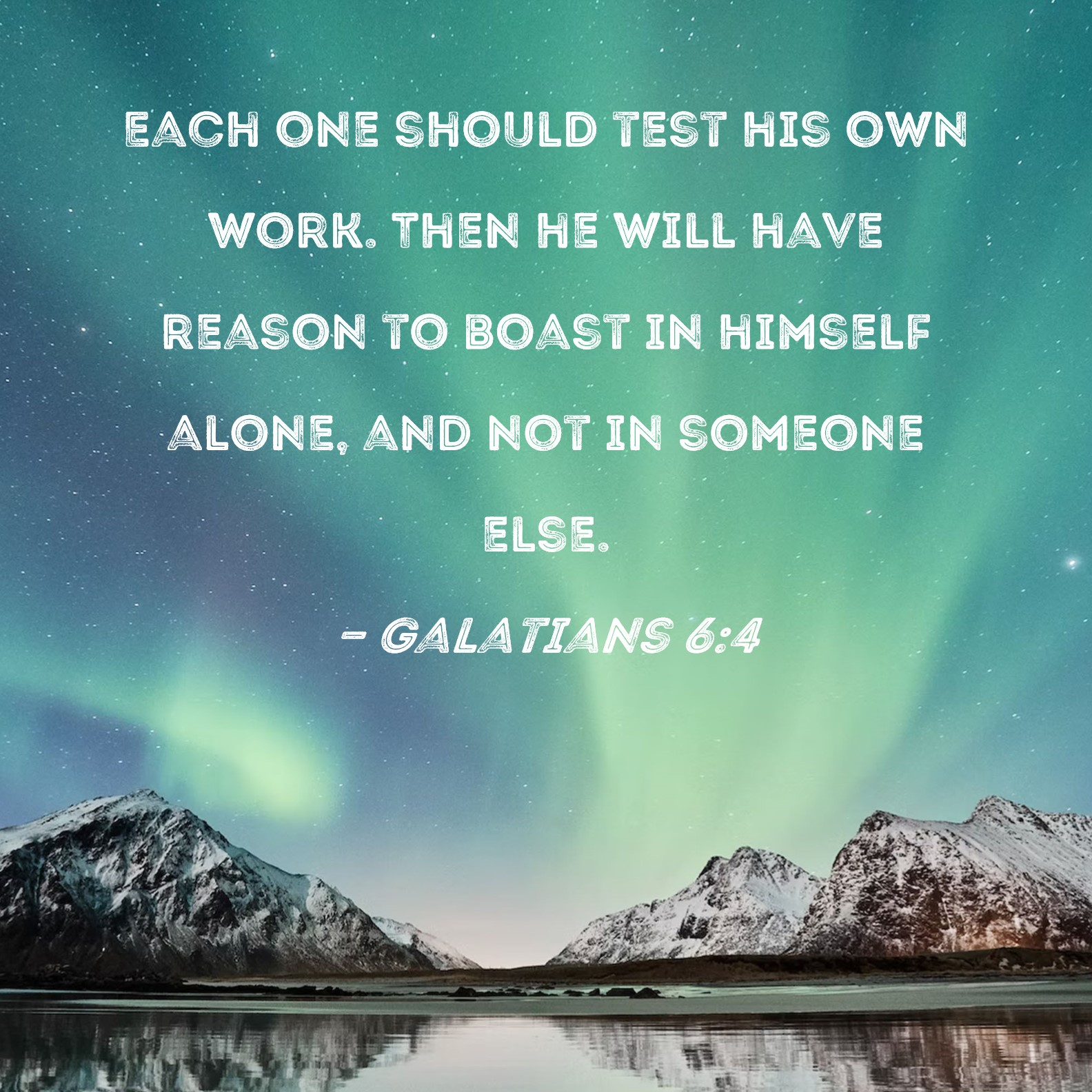 What if the problem isn't our lack of confidence, but our overabundance of it? These verses are what God says about the proud and haughty.
Galatians 6:4
"Each one should test their own actions. Then they can take pride in themselves alone, without comparing themselves to someone else."
Romans 12:3
"For through the grace given to me I say to everyone among you not to think more highly of himself than he ought to think; but to think so as to have sound judgment, as God has allotted to each a measure of faith."
Galatians 6:1-3
"Brothers and sisters, if someone is caught in a sin, you who live by the Spirit should restore that person gently. But watch yourselves, or you also may be tempted. Carry each other's burdens, and in this way you will fulfill the law of Christ. If anyone thinks they are something when they are not, they deceive themselves."
Jeremiah 9:23–24
"Thus says the Lord: "Let not the wise man boast in his wisdom, let not the mighty man boast in his might, let not the rich man boast in his riches, but let him who boasts boast in this, that he understands and knows me, that I am the Lord who practices steadfast love, justice, and righteousness in the earth. For in these things I delight, declares the Lord."
1 Peter 3:3-4
"Do not let your adorning be external—the braiding of hair and the putting on of gold jewelry, or the clothing you wear— but let your adorning be the hidden person of the heart with the imperishable beauty of a gentle and quiet spirit, which in God's sight is very precious."
Deuteronomy 8:2–3
"And you shall remember the whole way that the Lord your God has led you these forty years in the wilderness, that he might humble you, testing you to know what was in your heart, whether you would keep his commandments or not. And he humbled you and let you hunger and fed you with manna, which you did not know, nor did your fathers know, that he might make you know that man does not live by bread alone, but man lives by every word that comes from the mouth of the Lord."
Conclusion: 26 Bible Verses About Confidence and Self-Esteem
We hope these bible verses about confidence were able to inspire and help you! Remember, God loves each and every one of us so dearly that He sent His only son to set us free from sin. We want to see and love ourselves as He does!
Continue to study these verses and let them change your lives. Read them aloud, pray them, and let the Word of God speak to you through them.
May the Lord bless you in your situations, and give you confidence, self-esteem, and love. Let us know your favorite bible verses about confidence in the comments below!
More on Bible Verses
About The Author