Gathering together at church can be a fun event for the whole family. You can bring some of the best movies from the big screen to your very own congregation.
Hosting a church movie night is a wonderful fellowship opportunity where we can share God's love in a relaxed environment. It's the perfect opportunity to bring in people from the community and enjoy quality time with your church family!
Estimated reading time: 11 minutes
Why Host a Movie Night?
Throughout history, movies have brought people together. Hosting a family movie night can be a relaxed and low-key evening and a time to invite people who don't normally attend church.
After all, we are all one big church family and all families love to have fun!
5 Tips for a Great Movie Night
1. Pick a movie
The first step to planning a successful movie night, is to choose the right movie. Since the movie will be shown to a wide range of ages, it's best to pick something everyone can relate to.
This also means to stay within the PG rating. Some PG-13 movies can be appropriate to show, which is where websites such as Plugged In and Common Sense Media can be helpful in determining what is appropriate.
2. Purchase a Movie License
This can often be an overlooked step in planning your movie night, but it is an important one. Before you show any movie, you must first acquire a church video license to show that movie.
The Church Video License company specializes in helping churches screen movies in sermons, kids ministry and to host movie nights. They have thousands of movies in their ScreenVue Vault. It's best to acquire a movie license so that you don't come across copyright infringement.
3. Choose the best location
Depending on the size of the audience attending the event, location is key! Yes, the main auditorium can be a perfect spot. There are chairs already in place, and if you have a large LED or projector screen, a lot of the hassle is already gone.
However, for extra fun, think about hosting the movie night outdoors on a grassy lawn or in the parking lot. Many companies provide large outdoor movie screens and audio equipment.
Weather will of course have to be accounted for when planning an outdoor movie night, so if you want to avoid any possible weather hindrances, sticking to an inside viewing is perfectly fine!
4. Popcorn!
What pairs well with a fun movie? Popcorn! Food such as popcorn, candy and soda can be a great addition to your movie night.
Depending on the season, warm hot cocoa can be a delicious treat as well! We can also encourage those in attendance to bring their own favorite snack.
Whether you have volunteers use microwave popcorn, or rent a popcorn stand, a free snack is also a helpful way to pull people to come to the event.
5. Share about your movie night
The final thing you should do when planning your movie night, is to promote it! Make a fun graphic or video with key information, such as the date, time and location. When more people promote the event, then more people are likely to show up. Not only are we sharing about a movie night, but this is a way to share God's love.
14 Best Family Movie Night Movies
Frozen (2013)
Frozen is one of the most popular Disney movies of the last decade. Focusing on sisters Anna and Elsa, the whole crowd will be singing along! Born with special ice powers, Queen Elsa struggles to be different. It's only by the power of her sister Anna's love that she finds acceptance.
The Chronicles of Narnia: The Lion, The Witch and The Wardrobe (2005)
Written by acclaimed and beloved author, C.S. Lewis, The Chronicles of Narnia is a thrilling tale following the four Pevensie siblings. A young girl named Lucy, finds herself in a magical wardrobe that leads to a mythical land. Here she meets Mr. Tumnus, a talking faun. He tells her all about the land of Narnia that she finds herself in.
Eventually, she makes her way back to her siblings and leads them through the wardrobe where they will meet Aslan, the creator of the world. This movie is filled with Christian elements and themes. A powerful tale of good overcoming evil, this is a movie the whole family is sure to love.
I Still Believe (2020)
Based on the true story of Jeremy Camp's life, this recent film is a touching addition to any movie night. Diagnosed with cancer at a young age, Melissa Henning relies on God and her family to recover. The title of the movie is based on the hit Jeremy Camp song "I Still Believe", with a great message about hope and God's faithfulness.
Up (2009)
A fun and whimsical tale about an elderly widower who befriends a young boy on a journey up in the sky. Together, they travel to South America to fulfill a promise Carl made to his wife Ellie. Escaping the harsh realities of life, Carl lifts his house into the sky with thousands of balloons in this adventurous story.
Toy Story (1995)
Andy's toys come to life in this epic journey of friendship, loyalty and family. A classic family friendly movie, follow Buzz Lightyear and Woody around town as they get up to mischief.
Encanto (2021)
Filled with catchy music, Encanto is about the family Madrigal and their magical powers. Mirabel Madrigal is the only member of her family that doesn't have special powers. Feeling like an outcast, Mirabel must find a way to save the family house, which their magic comes from.
Jungle Cruise (2021)
Based off of the Disneyland ride, Dwayne Johnson and Emily Blunt star in this thrilling film. Needing a river guide on the Amazon River, Lily Houghton employs the help of Frank Wolff. With corny humor and reminiscent of the ride at Disney, this movie will have everyone laughing all night.
Breakthrough (2019)
Inspired by a true story, Breakthrough highlights the life of a St. Louis teenager who fell through an icy lake in 2015. Under water for 15 minutes before he was pulled out, the young boy is stuck in a coma. His family and community relies on Jesus and their faith to get them through.
Mary Poppins Returns (2018)
A wonderful sequel to the 1964 film Mary Poppins, Emily Blunt stars in this sweet tale. Full of fun songs much like the first film, Mary Poppins shows two young kids what being young is really about.
A Dog's Purpose (2017)
Narrated and seen through the eyes of a dog, this touching film follows Bailey, a red retriever. He is taken in by a young boy and mother, and shows how the love of a dog can mean so much to everyone.
Heaven is for Real (2014)
Based off of the book by the same name, Heaven is for Real is also inspired by a true story of a young boy's account of Heaven. Taken in for surgery for appendicitis, 3 year old Colton describes how he left his body during the surgery and visited Jesus in Heaven.
The Lion King (1994)
Following the life of young lion Simba, The Lion King is a beloved Disney classic, exploring themes of family, betrayal and overcoming obstacles.
Bonus: High School and College Age
The Shack (2017)
Inspired by the book of the same name written by William P. Young, The Shack has more mature themes as the main character Mackenzie Phillips searches for his missing daughter. Mackenzie receives a note months later, inviting him to the shack in the same woods his daughter was lost in. Here, he meets depictions of the trinity, God, Jesus, and the Holy Spirit. It's an interesting view on our relationship with each part of the trinity and how we respond in the face of tragedy.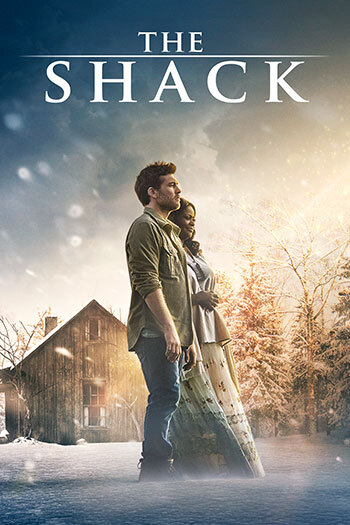 Redeeming Love (2022)
Based off of the popular book of the same name by Francine Rivers, Redeeming Love is also loosely based on the book Hosea in the Bible. Michael Hosea, a simple farmer falls in love with a prostitute named Angel. She has suffered years of abuse, and ends up with Michael, married in his home. This is a beautiful story about how God's love never stops chasing us, no matter how many times we run away. Filled with more mature themes, this movie is a hopeful addition to any young adult movie night.
Preparation is key!
Obtain the license for the movie of your choosing, and plan for a great and unforgettable night. Pick the perfect snacks to accompany the movie, share the event with everyone you know, and get excited for a fun-filled time!
Remember the purpose of showing the movie.
Choosing a movie can be challenging, but always remember the purpose of the event. As long as community and fellowship is at the heart of the night, you can't go wrong. Do your research as you search to find an appropriate movie for the night.
After all, you know your congregation better than anyone. Movies are fun and entertaining, and an easy way to gather everyone together. And while they can be fun, we can also strive to show a film with a deeper meaning that helps facilitate discussion.
More on Hosting Church Events