Finding truly innovative church stage design ideas can be a challenge. You want to create a beautiful and functional design – and break free from the methods we've been using for over a decade!
But building architecture and budget can limit your options.
So how do you create the best church stage designs that will bring the WOW factor?
This post offers inspiration for various design ideas for churches of all sizes.
Read on to find out how you can get creative and style a space that is beautiful but keeps the focus on God and worship.
Estimated reading time: 11 minutes
Overhead stages and ambient lighting
Churches are experimenting with new stage designs and trying to escape from the traditional sandwich backdrop.
Mosaic OKC, has an example of a stage with a unique layout. They've also used more ambient lighting, something we see more of below.
This can create a really dramatic and innovative looking space.
Worship music stage design
Maybe you've seen some modern church stage designs with this look in recent worship music videos.
Rather than utilizing a traditional stage background, ambient lighting floods the space from above.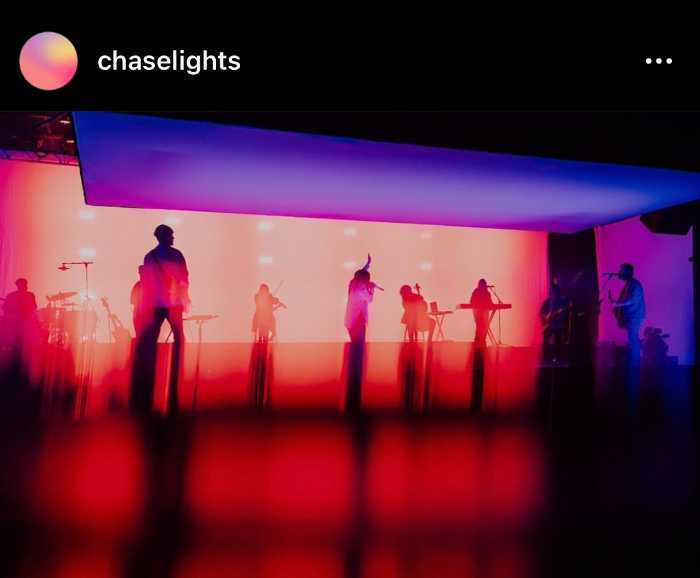 The pictures above are from a recent Kari Jobe live album (video recording available on YouTube).
And this room design below is from the Elevation Worship live album recording.
Cheap Design Ideas for Smaller Church Stages
Before we move on to more costly ideas, let's look at some more budget-friendly church stage options.
If you have a building that was architected a few decades ago, or a smaller auditorium, you don't necessarily need a big and flashy stage design.
In fact, sleek and simple, even minimal, can be better for a smaller platform.
You don't want to add too many elements or busy backgrounds. This will only make your room feel cluttered.
Also, your church stage designs should never take the focal point away from worship and the teachers and speakers.
The stage design ideas below are great for smaller churches or auditoriums.
Deco shapes with hanging lights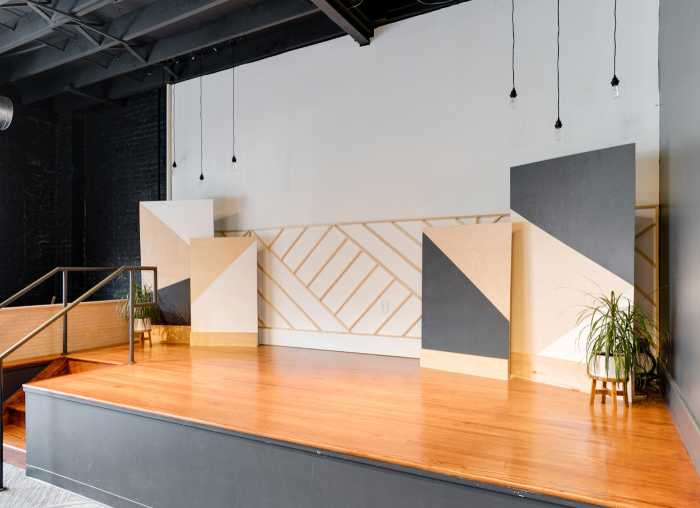 This modern church stage background idea is simple and extremely versatile. You could use a variety of inexpensive materials, such as plywood and chloroplast.
Also, you can easily alter the shapes, colors, and designs to match your church branding or current sermon series theme.
Finally, add some hanging cafe lights or Edison bulbs for dimension and depth.
Mini bulb (ping pong balls) design
Here is an example from a youth auditorium. This genius stage design idea starts with a pegboard painted black.
Then, ping pong balls are hot glued onto the board in a staggered pattern.
Finally, the boards are hung on a metal rod and lit up with LED lights. You can use any color combination you like!
Find more details on materials and assembly here.
Wood Design Ideas
You can do a lot with wood to create an attractive worship space. And depending on the type of lumber you use, these designs can be inexpensive and versatile.
This material provides a neutral and natural look, which works well at Easter, Christmas, and other times of year.
Whether you use boards or pallets, you can make a great backdrop or feature piece.
You can also paint the wood or cover it with foam or fabric to add more color and dimension.
Styrofoam Bright Lights
If you're in a traditional building but want a more modern look, lighting can make a huge difference!
This design starts with a black backdrop.
Then, the team utilized volunteers to assemble styrofoam balls cut in half and assembled onto black panels.
As you can see, if you're willing to DIY, you can save money and fully transform the look of your platform.
More about assembly.
Christmas stage design ideas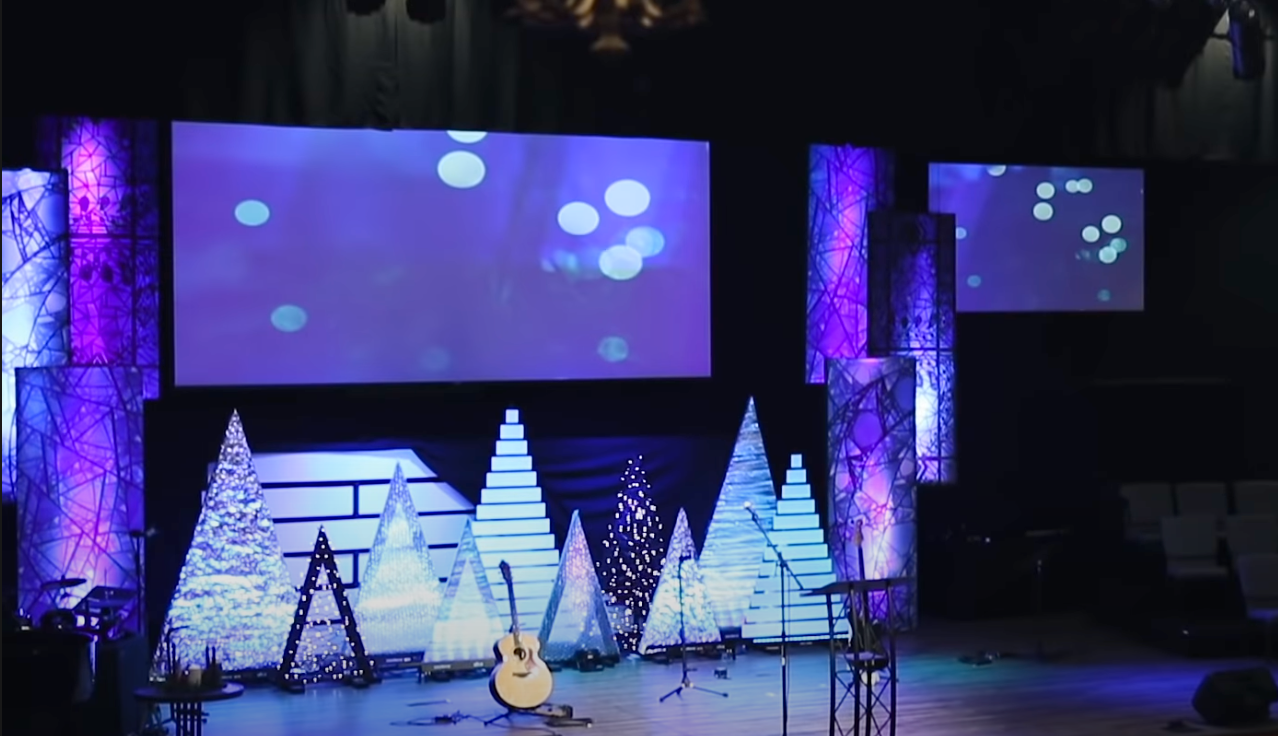 These trees are cut and assembled from wood and chloroplast (a long-time favorite).
The shiny trees are wrapped in saran wrap, bubble wrap, and Christmas string lights.
Behind the trees, you can also see a background made of horizontal pieces of chloroplast.
Find more details about lighting and materials here.
Also don't forget about Easter service ideas! Using the theme of the cross and resurrection never gets old.
LED Lights and Walls for Church Stages
Having great lighting is everything when it comes to stage designs with a wow factor. And LED lights and screens are a popular choice for stages.
These screens, panels, strips, and tapes can transform the room and work for any style.
LED Wall
LED walls are a popular choice for churches. And if you have one giant wall on the back of your stage, it makes a huge impact.
You can use LED screens and panels to provide an attractive backdrop for your stage and can also use them to display lyrics, scripture verses, and other essential information.
Plus, LED walls are perfect for backgrounds and creating a visual effect that will capture your congregation's attention.
If you're interested in an LED wall or screens, be sure to consult with a professional. They can help you choose the right size and color for your needs, as well as recommend specific types of content that would be most effective on an LED wall.
You can get as creative as you like when it comes to sizes, shapes, and arrangements of LED panels.
LED Tape
LED tape is a great way to add an extra flair to your church stage designs.
You can use it to create a backlight for your stage curtains or to light up the front of the stage.
Or you can also use it to create designs and patterns on the stage floor or your back drop.
Strips, bars, and tape lighting are also a great way to add color. You can incorporate different palettes to match your service's theme or create a visually appealing effect.
Here's another example and how-to.
How to Successfully Create Your Own Church Stage Designs
If you can afford to have a professional lighting and stage design company come in to provide you with equipment and setup, that's ideal.
But many churches don't have the budget, so that means it's time to get creative with DIY designs.
Many of the designs in this post were created by volunteer teams from the ground up. If you go that route, here are tips to keep in mind.
Tips for creating your own church stage designs
Start with a blank slate.
That way, you can be as creative as you want and not feel limited by preexisting designs.
Do your research.
Look online or at local churches for inspiration, tools, and examples to spark your creativity. This will provide you with some direction, then let your creativity take wings!
Set up a project timeline.
Creative projects often take longer than you think. Make sure you're realistic about the time and effort your vision requires. Each element needs to be created, then you need to assemble and test lighting and video.
Keep it simple.
When it comes to church stage design, less is often more. Be true to your style, pick one main focal point, and think about what best serves the congregation.
Get help!
Don't try to do it alone. The most important thing is to build a team of staff and volunteers. You probably have creative folks and those with power tools and expertise in construction in your midst – just ask!
Before and After Stage Design
It can be tempting to compare yourself with other churches, whether its services, attendance, or buildings.
But remember, everyone has a different culture, style, and budget. God has called you to serve your congregation.
The best church stage designs make the most of your space, lighting, and focus on worship.
Instead of comparing yourself with the most popular church on social media, give yourself and your team credit for the improvements you've made. This is the most important thing.
Just consider the epic difference in these before and after photos!
More Resources for Church Stage Design Ideas
It can be challenging to come up with church stage design ideas on your own. Luckily, there are lots of resources available to help you. Here are a few of our favorites:
Worship Leader Hangout is a YouTube channel featuring worship, sound, and production tips. It also has amazing ideas, how-to tutorials, and church tours to help freshen up your church stage design.

Follow @chaselights on Instagram. If you're looking for some inspiration in church stage design and lighting, you need to check out Chase Hall. He's a trendsetter and top-of-the-game when it comes to fresh church stage design ideas. His work is absolutely amazing.

For step-by-step ideas, equipment, and processes for church stage designs, check out this website. These church stage designs come directly from local church leaders around the country.
Bottom Line
When it comes to design and media, the goal is authentic worship. Nobody is trying to replace the church mission with a spectacular media show.
The platform is just one element of a worship experience that changes peoples' lives.
We come together in services to worship, hear a message from the Lord, and grow together.
Do you have a great church stage design that would be helpful for other churches to see? Let us know in the comments below and we can feature it here!
More on design for churches