Church visitor cards (or "Church Connection Cards") are still one of the best ways to track new visitors and collect their information. However, many churches struggle with creating connection cards that people want to fill out.
You may have an online form or digital church connection card, use paper, or offer both options. In any case, the same principles apply. You're trying to figure out what to put on the card, how to incentivize people to fill it out, and how to follow up effectively.
In this blog post, we have six excellent examples of church connection cards to consider. In addition, we'll talk about other considerations like whether you should have more than one church connection card, digital versus physical cards, and how to get people to fill them out.
Estimated reading time: 15 minutes
What to Include on Your Church Connection Card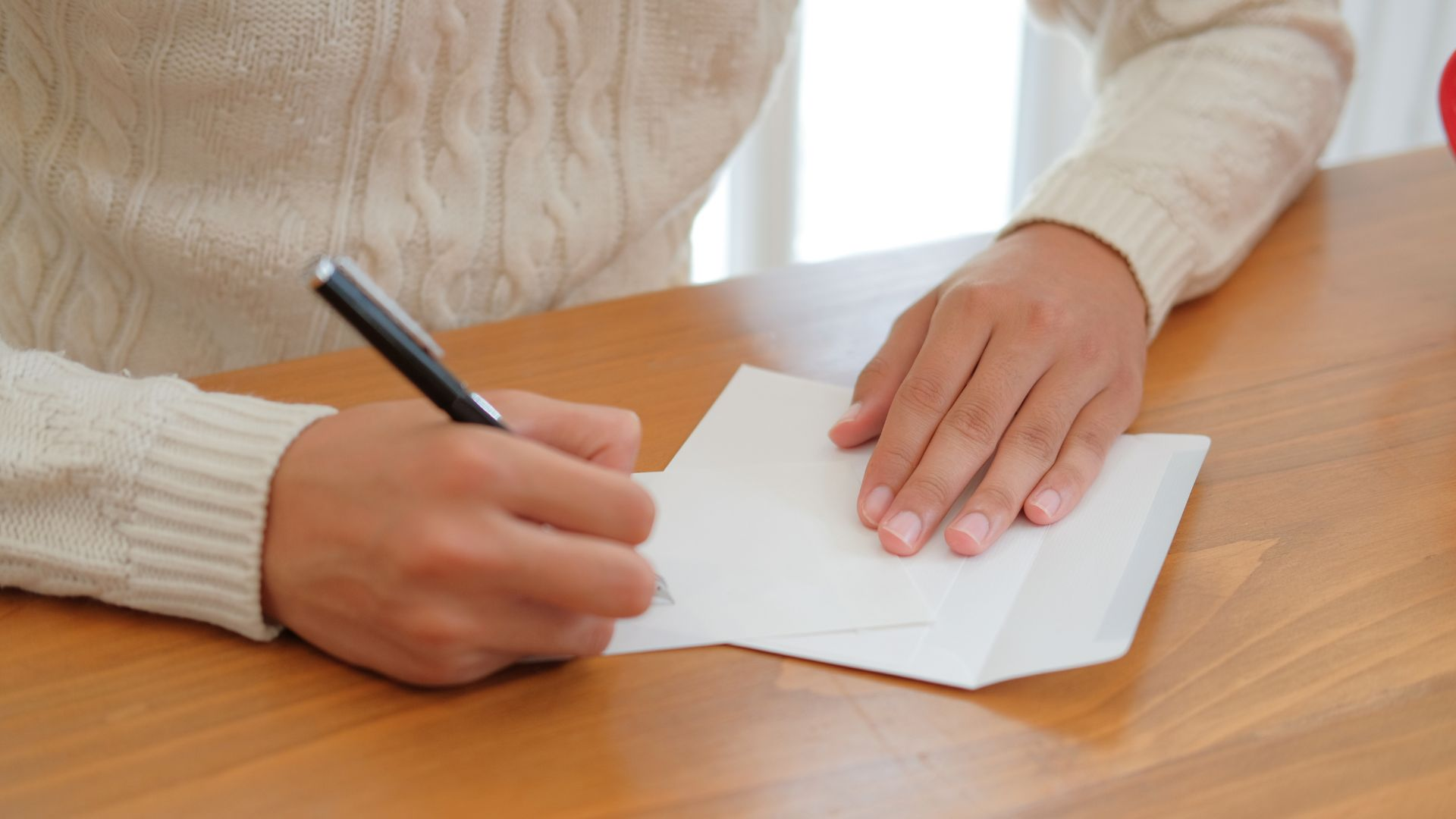 When designing your church connection card, you do need a few critical pieces of information: a name and email for follow-up.
The content of your church visitor cards will vary depending on your follow-up funnel and assimilation process. If you aren't going to send them something in the mail, you don't need their physical address. If you're tracking the locations of where visitors are coming from, maybe ask for just a zip code.
In every way, the shorter and simpler you can keep the card, the more likely people will be to fill it out.
Another way to do this is to ask questions with prepopulated answers in checkboxes. This speeds up the process for them. Also, it's a more effective way to process and measure data on the backend.
Think about your goals and follow-up process:
Do you need basic info like gender and birthday/age?
Do you have a special follow-up for families with children or teenagers? Then you'll want to ask about the number of children and their ages.
Do you want to measure your marketing efforts? Then ask how they found/heard about the church.
Do you want people to take the next step of joining a new member class or small group?
Do you want to follow up for discipleship purposes? Then ask if they made a decision to follow Christ, would like to be baptized, or have a prayer request.
General Connection Card Format
If you need all of the information above, the general format of your church visitor cards could contain the following sections:
Name
Email
Gender and Birthday
Names and Ages of Children
How did you hear about the church?
Today I made a decision to (follow Christ, recommit my life to Christ)
I'm interested in the following: (offer checkboxes for ministries, classes, baptism, etc.)
How can we pray for you?
When all of that information is laid out, the card may be a little lengthy. You can determine if it's better to save some of those questions for later follow-up. Or, you can use multiple cards, as discussed previously.
Examples of Awesome Church Connection Cards
Here are some church visitor card templates.
1. Online Form
The first thing you see when you land on the homepage of Good News Church is a button that says "Connect" which leads to their online connection card. Prioritizing the card in the homepage header makes it easy for people to find and fill out. Furthermore, the form only requires a name and email, the other information is optional. The card says, "Please fill out as much information as you are comfortable with."
2. Three Card Option
Here's a template for a three card option. You can customize these brightly colored connection cards for connecting, getting involved, and prayer requests. Make sure all your cards are branded with your church language, website, and social media.
3. Super Simple Connect Card
If you want to keep the card extra simple and easy for people to fill out, then check out this small 4×6 card. It contains just three lines for name, email, and phone number. Another simple connection card example would be this one from Elevation Church.
4. Getting To Know You
Some church visitor cards are about gathering basic family info and getting to know people, like this example from Trinity Reformed Church. With a digital church connection card connected directly to your church database, you can ensure information is properly stored and even trigger workflows and automated responses.
5. Plan Your Visit
Although we traditionally ask people to fill out a church connection card after they're sitting in service, you could get information on the front end. Like Aloma Church in Winter Park, Florida, many churches have a "Plan Your Visit" online form. When visitors fill this out, they can more quickly check in their kids and don't have to hassle with entering basic contact information when they arrive.
6. Online Church Experience
Don't forget about your online viewers. Make sure you have a link to the church connection card easy to access. Also, speakers need to use language that applies to filling cards out in person or online. Life Church.tv has a "Connect" button that takes you to multiple next step options. Each of these leads to a simple form to complete for more info.
7. Church Connection Card Examples
Here are some examples of connection cards from real churches to get you inspired.
Engage City Church
Anchor Young Adults
E91 Christian Church
We hope these examples of real connection cards from real churches was able to inspire you to design your own!
Should You Have More Than One Connection Card?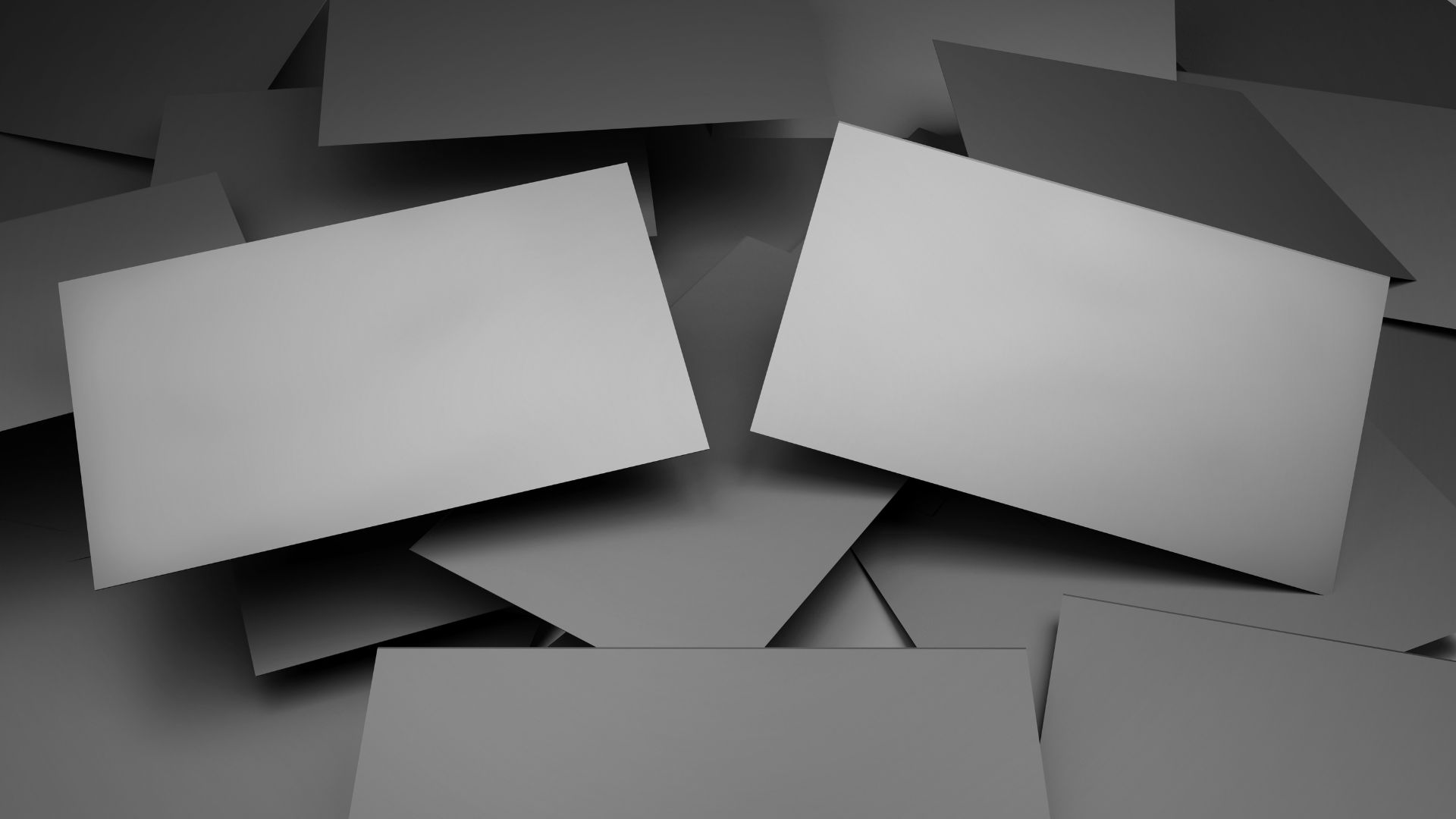 Some churches have one general connection card, and others have multiple cards for different purposes. So which is the best way to do things?
Well, it depends. Are you simply connecting with new visitors to add them to your weekly email newsletter? Or do you want them to take their next steps or sign up for additional ministry opportunities? Outlining your follow up and assimilation process is key to determine what types of visitor cards you need.
Advantages of One Connection Card
The advantage of having one connection card or form is that it simplifies things. For example, church announcements can be less wordy and direct people to one thing. In addition, church visitors won't have to duplicate basic information if they fill out multiple cards.
Having one church connection card reduces the workload for church staff and volunteers. There will be less design, printing, and stocking work required with only one card.
The major disadvantage is that if you have only one church connection card, it can become too long, and people may not want to take the time to fill it out.
Advantages of Multiple Connection Cards
The advantage of having multiple church connection cards is that it allows you to target different audiences. For instance, you can have separate cards for new church visitors, members, and volunteers.
This way, you won't overwhelm brand new church visitors with too many options. In addition, people who have been coming for a while will realize they have a unique next step; they're not filling out the same card multiple times.
To avoid confusion, limit yourself to 2-3 cards max. So it's easier to identify which church connection card or form is which, use clear, simple titles when talking about them. Example names for cards could be:
Welcome
Connect
Next Steps
Serve
Prayer
If they're physical church connection cards, color-coding is very beneficial. Make sure your color choices stay coordinated with your overall church branding.
Should Your Church Connection Cards be Digital or Physical?
The onset of the COVID-19 pandemic changed a lot about how we do church. Most churches have been forced to embrace online church services and move to digital methods. This also applies to church visitor cards. There are pros and cons to physical and digital church connection cards.
Digital Chuch Connection Cards
The main advantage of using digital cards is follow-up efficiency. You can track who has filled out the form, add people directly to your email list, and even respond immediately via automated texts or email. In addition, you don't have to worry about cards getting lost in seat cracks, forgotten in purses, or damaged along the way.
As a church, you can save time and money if you no longer have to design, print, and stuff seatbacks with physical church connection cards. You also don't have to deal with the backend work of entering data and deciphering messy handwriting!
Physical Church Connection Cards
The advantage of physical church connection cards is that people may be more likely to fill out a card they can physically touch. This is because they can immediately grab the card, see how long it is, and have a tangible reminder.
Physical church connection cards are also more convenient for less tech-savvy folks or those who have trouble navigating their phones. However, a disadvantage of digital cards is that some people may not feel as comfortable giving out their personal information online.
How Do You Get People to Fill out Church Visitor Cards?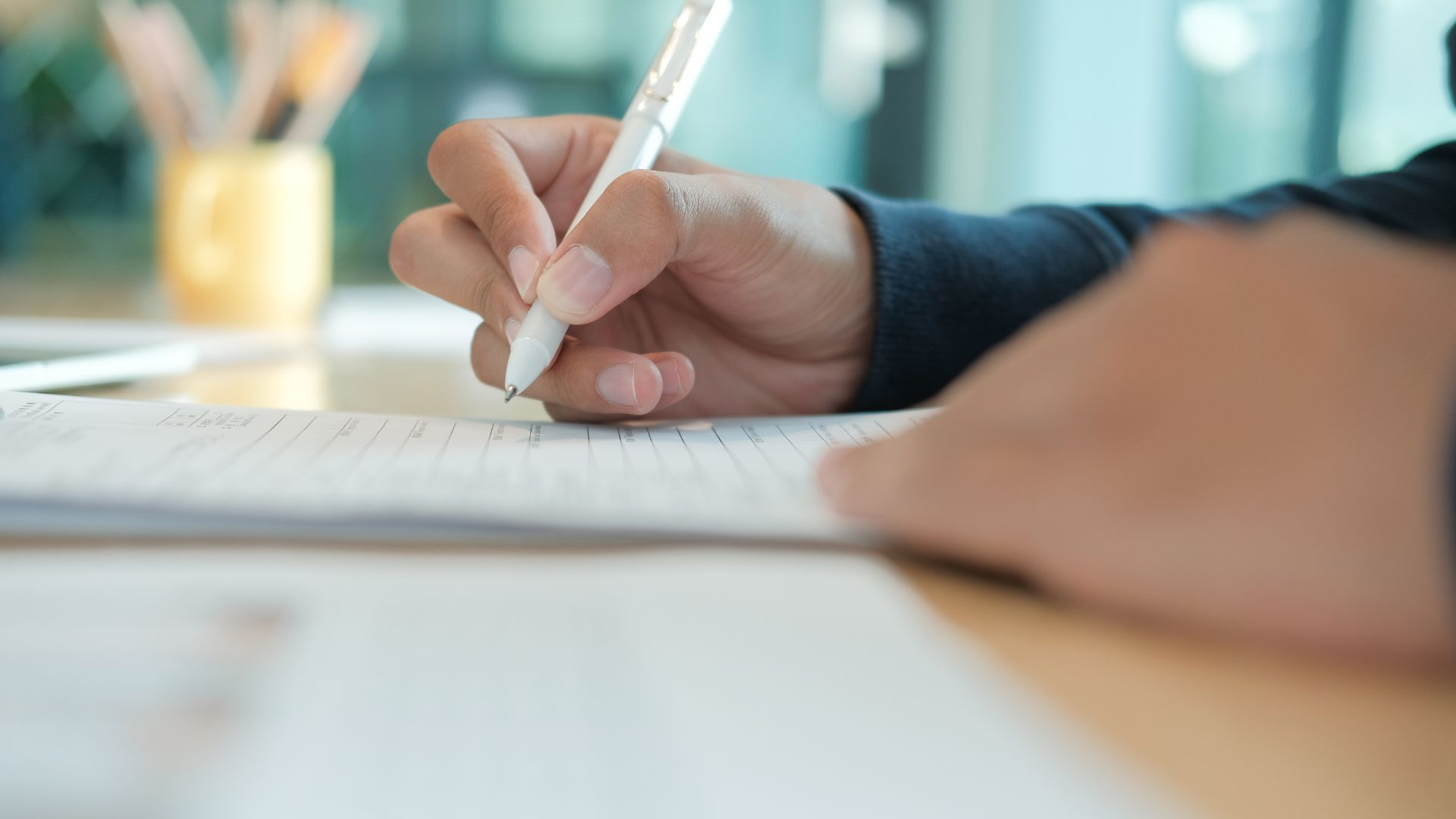 Whether you have a physical or digital church connection card, the keys to getting people to fill them out are similar.
Make Them Easily Accessible
You can do this by placing cards in a visible spot when people walk into your church or sit down. If you're using digital cards, make sure the URL is easy to type in. Even better, use a QR code so people can scan and go directly to the form. Talk about the card or form every single service.
Set Expectations
Address people's concerns by saying things like, "We just want to say thank you for coming, and we would love to stay in touch." Lighten things up and let church visitors know you won't bombard them with information or show up at their house. Let them know what to expect, like whether they'll get an email or call from a staff member.
Keep Them Short and Sweet
Your church connection card must be easy to fill out! Keep the questions short and sweet. If you're using a physical card, make sure there's plenty of space for people to write their answers. Also, only ask for information you genuinely need. Remember, the visitor card will not be your only opportunity to connect with people and get information. Maybe all you need initially is a name and email address. Then, you can send them a welcome email with more options.
Offer an Incentive
Most churches know that offering an incentive makes it more attractive for people to complete the visitor card. Here are a few ideas for incentives or first-time guest gifts:
Shirts or hats
Journals with pens
Coffee mugs, tumblers, or water bottles
Free coffee or another item at your coffee shop
Gift cards
Thank you card with a personal note from the pastor or staff member
Bible
A popular book on spiritual life
Tickets to a church-sponsored event or concert
Digital media download, book, or videos
Gift bag with multiple smaller items
Test different incentive options to figure out which are most successful. Track how many visitor cards are turned in, but also consider the time of year and overall attendance trends when looking at these numbers.
Barriers to Filling Out Church Connection Cards
Visitors don't want to fill out a long and tedious church connection card. Also, they may wish to stay incognito until they learn more about your church. If so, new visitors may fear that filling out a card means they'll get bombarded with emails, texts, and phone calls.
Another issue is that people, particularly millennials, don't want to share too much personal information. For example, consider some of these statistics quoted from the Barna study, "What Millennials Want When They Visit Church."
The only piece of information a sizeable majority of Millennials is comfortable sharing with a church is their first name (82%)
Half are willing to give last names (53%)
One-third are comfortable sharing their email address (33%)
One in five Millennials are comfortable handing over their physical address (19%)
Few are comfortable submitting their phone number (12%)
About one in six Millennials would rather not share anything (15%), and among non-Christian young adults, it's more than one in four (28%)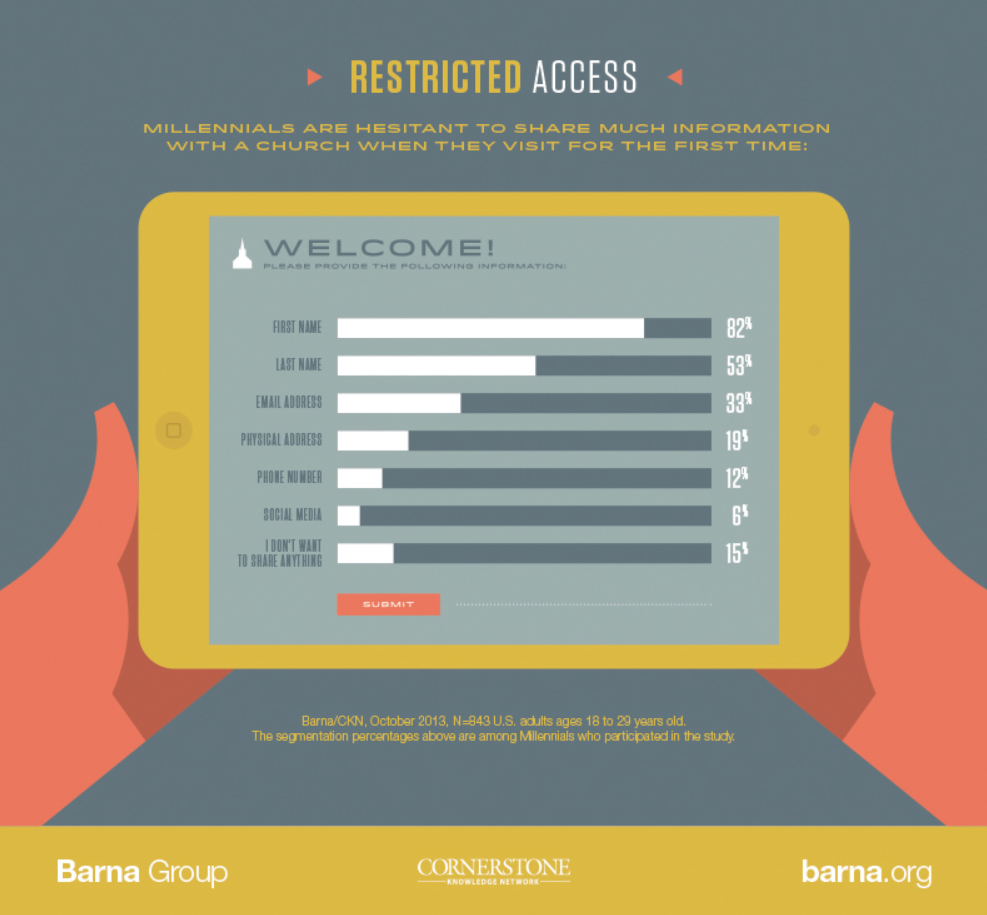 You may need to adjust your approach to church visitor cards as you consider these factors; cards may need to be simplified and allow visitors to stay in the driver's seat.
Crafting Strong Calls to Action
Crafting a compelling call to action (CTA) on your Church Connection Cards is crucial to encourage newcomers to engage with your church community, breaking down those barriers. A well-designed CTA can significantly impact the effectiveness of your cards. Here are some tips on creating CTA's for your church connection cards.
CTA Tips
Be Clear and Direct: Your CTA should leave no room for confusion. Use concise and straightforward language that tells newcomers exactly what you want them to do. For example:

"Join Us this Sunday!"
"Get Connected Today!"
"Let's Worship Together!"

Emphasize Benefits: Explain the benefits of taking action. Highlight how newcomers will find belonging, support, and spiritual growth within your church community. For example:

"Experience a Welcoming Community"
"Discover Purpose and Faith"
"Build Meaningful Relationships"

Use Action Verbs: Utilize strong action verbs that convey a sense of urgency and motivation. Action words can inspire people to take immediate steps. For example:

"Attend"
"Explore"
"Connect"

Incorporate Visual Elements: Make your CTA visually appealing by using eye-catching fonts, colors, or icons. Ensure that it stands out on the card. Visual cues can draw attention and create a memorable impression.
Highlight Upcoming Events: If you have specific events or services to promote, consider incorporating them into your CTA. For example:

"Join Us for our Easter Service!"
"Don't Miss our Community BBQ Next Week!"

Create a Sense of Inclusivity: Use inclusive language that makes newcomers feel like they belong already. Phrases like "Join our family" or "Be part of our community" convey a sense of togetherness.
Provide Contact Information: Include contact information or instructions on where newcomers can get more information or ask questions. For example:

"For more details, call (phone number)."
"Visit our website for upcoming events."

Keep it Concise: Avoid overwhelming newcomers with too much information in your CTA. Keep it short and focused on the immediate action you want them to take.
Consistency Across Materials: Ensure that the CTA on your Connection Cards aligns with other marketing materials and church communications. Consistency helps in building a recognizable brand and message.
Printing and Distribution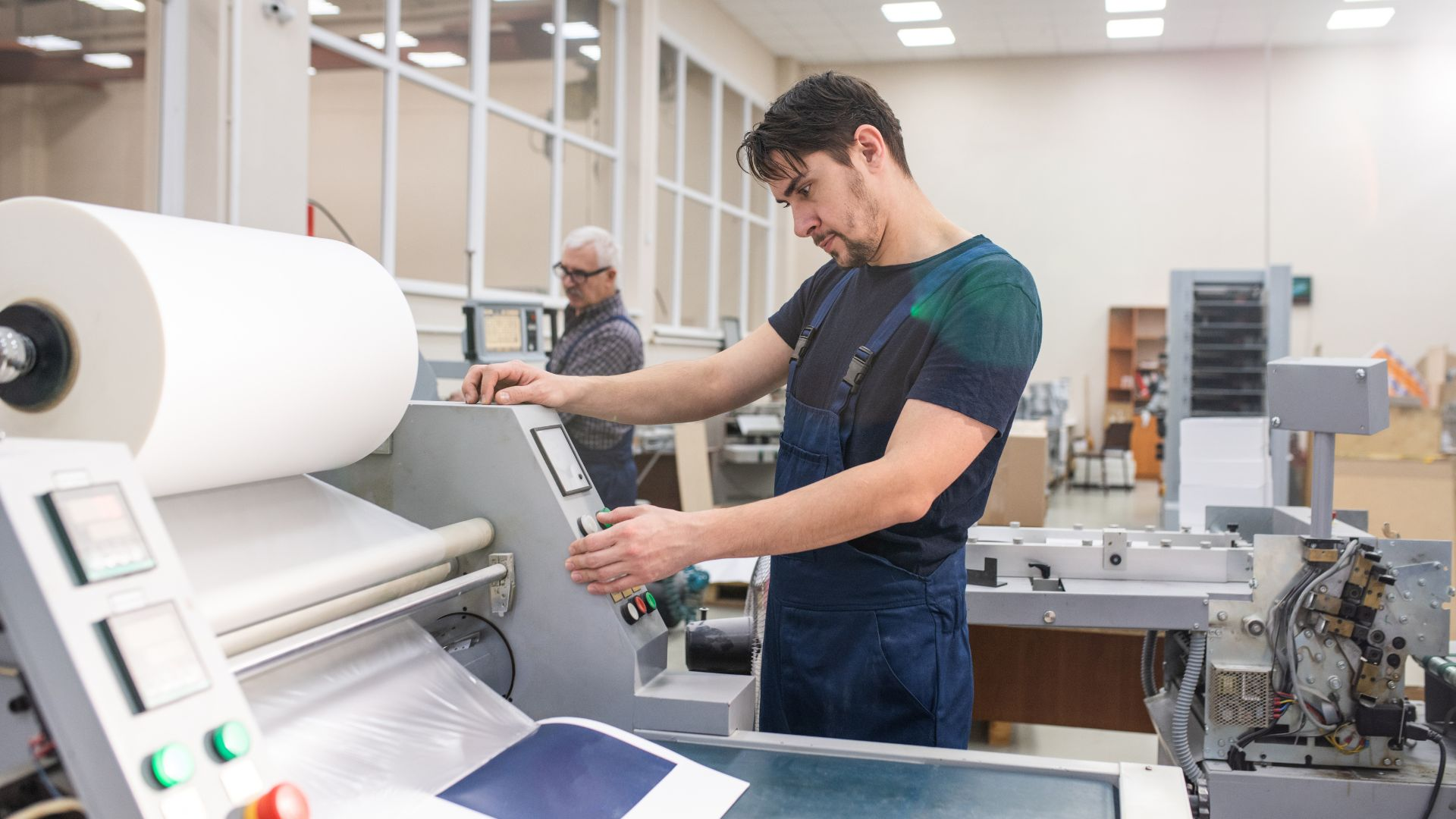 After designing your Church Connection Cards and crafting compelling calls to action, the next crucial step is to handle the printing and distribution process effectively. This stage ensures that your cards reach the right hands and make a positive impact.
Here's a comprehensive guide for the printing and distribution of your Connection Cards.
Printing Tips
Selecting the Right Printing Method and Material: Choose a reputable printing company or service that specializes in producing high-quality cards. Select the appropriate cardstock material that suits your design and budget, considering factors like paper weight, finish (glossy or matte), and durability.
Printing Quantity: Estimate the number of Connection Cards you'll need based on the size of your congregation and any special events or campaigns.
Quality Control: Before proceeding with a large print run, request a sample or proof to ensure the design, colors, and content are as expected.
Distribution Tips
Distribution Strategy: Determine where and how you will distribute the Connection Cards. Common distribution points include: Entrances and exits of the church building, information tables or welcome centers, pews or seats before services, special events and newcomers' gatherings, and train volunteers or ushers to assist in the distribution process and provide information to newcomers.
Online Distribution: Consider offering a digital version of your Connection Card on your church website or mobile app for those who prefer to submit their information electronically.
Integration with Church Management Systems: If you have a church management system (ChMS), ensure that the data collected from Connection Cards can be seamlessly integrated into your database for follow-up and engagement.
Provide Writing Tools: Place pens or pencils alongside physical Connection Cards to make it easy for newcomers to fill them out.
Promote During Services and Events: Announce the availability of Connection Cards during services and special events, encouraging attendees to fill them out.
Collect Completed Cards: Designate collection points where completed Connection Cards can be returned, such as designated boxes, baskets, or collection trays.
By carefully managing the printing and distribution of your Church Connection Cards, you can maximize their impact and create a seamless process for newcomers to connect with your church community. This step is pivotal in turning initial interest into long-lasting engagement and membership.
Church Connection Cards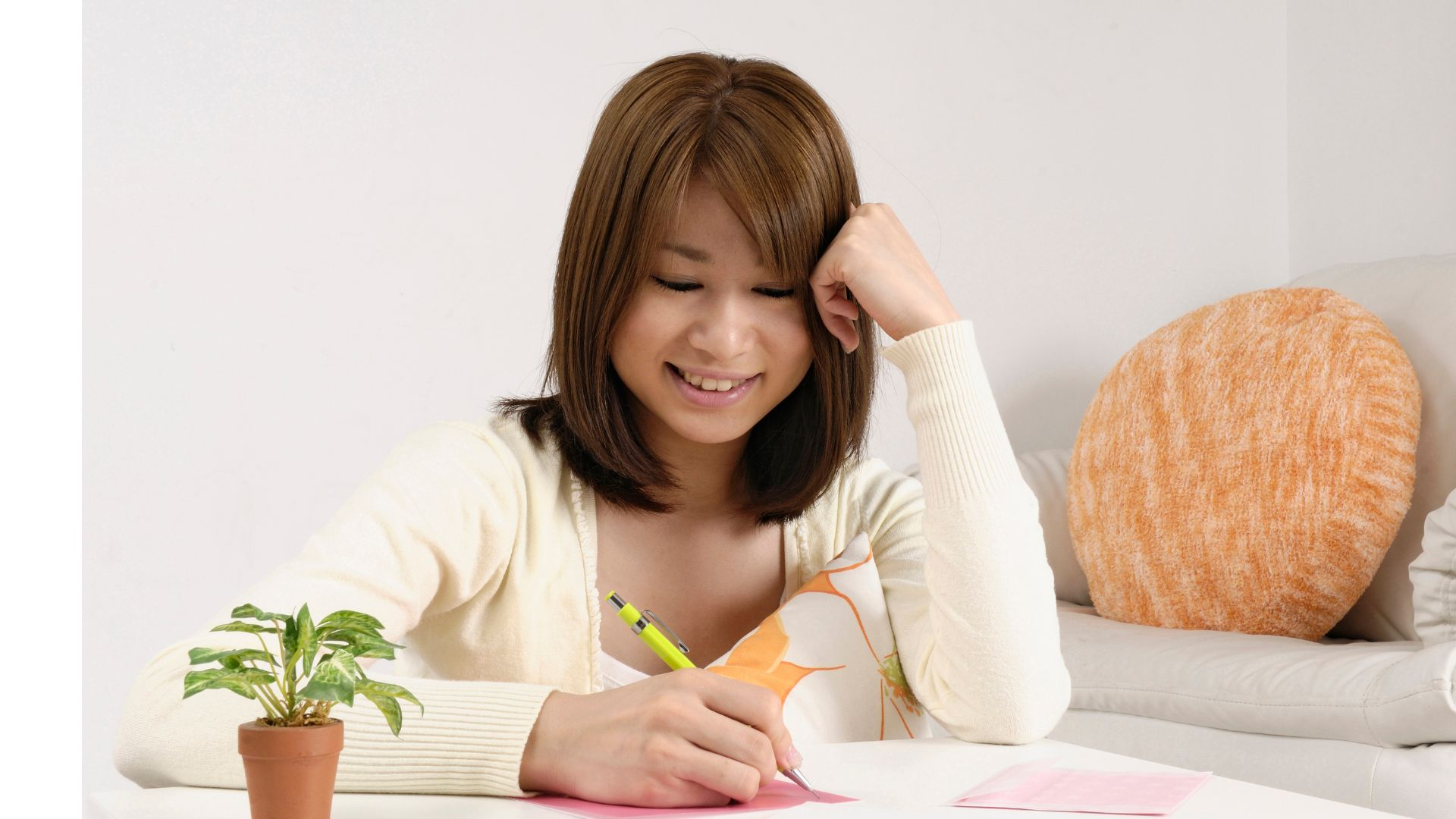 Creating effective Church Connection Cards is a fundamental step in welcoming newcomers into your church community and fostering meaningful connections. Throughout this article, we've explored the key elements and strategies for designing connect cards that leave a lasting impression and encourage engagement.
As you embark on the journey of creating Church Connection Cards, remember that these cards serve as more than just pieces of paper. They are the initial bridge to building lasting relationships within your church. With thoughtful design, compelling CTAs, and a commitment to genuine hospitality, you can extend a warm welcome to newcomers and create a vibrant, thriving church community.
By implementing the strategies outlined in this article and adapting them to the unique needs of your congregation, you'll be well-equipped to connect with newcomers and help them find a spiritual home in your church.
Further Resources on Church Communication