The Christmas season is a time for Christians to celebrate the birth of our Lord Jesus Christ. For churches, it's an opportunity to welcome attendants who usually may not go to church. It is important during this time to create a warm and inviting atmosphere that resonates with congregants and visitors alike. And what better way to do that than with fun, festive church christmas decorations?
The way a church is decorated during the holiday season can play a vital role in conveying the message of Christmas. From traditional and timeless decor to innovative and modern twists, there are numerous creative ideas that can help your church come alive during this holiday season.
In this article, we'll explore a curated list of the top 27 ideas for church Christmas decorations. Whether you're a member of a church congregation looking to suggest ideas or part of the church leadership planning the decor, these ideas will inspire you to create a magical and meaningful Christmas experience for your community.
Let's embark on this journey to make your church a shining beacon of joy and love during the holiday season.
Estimated reading time: 11 minutes
Traditional Decoration Ideas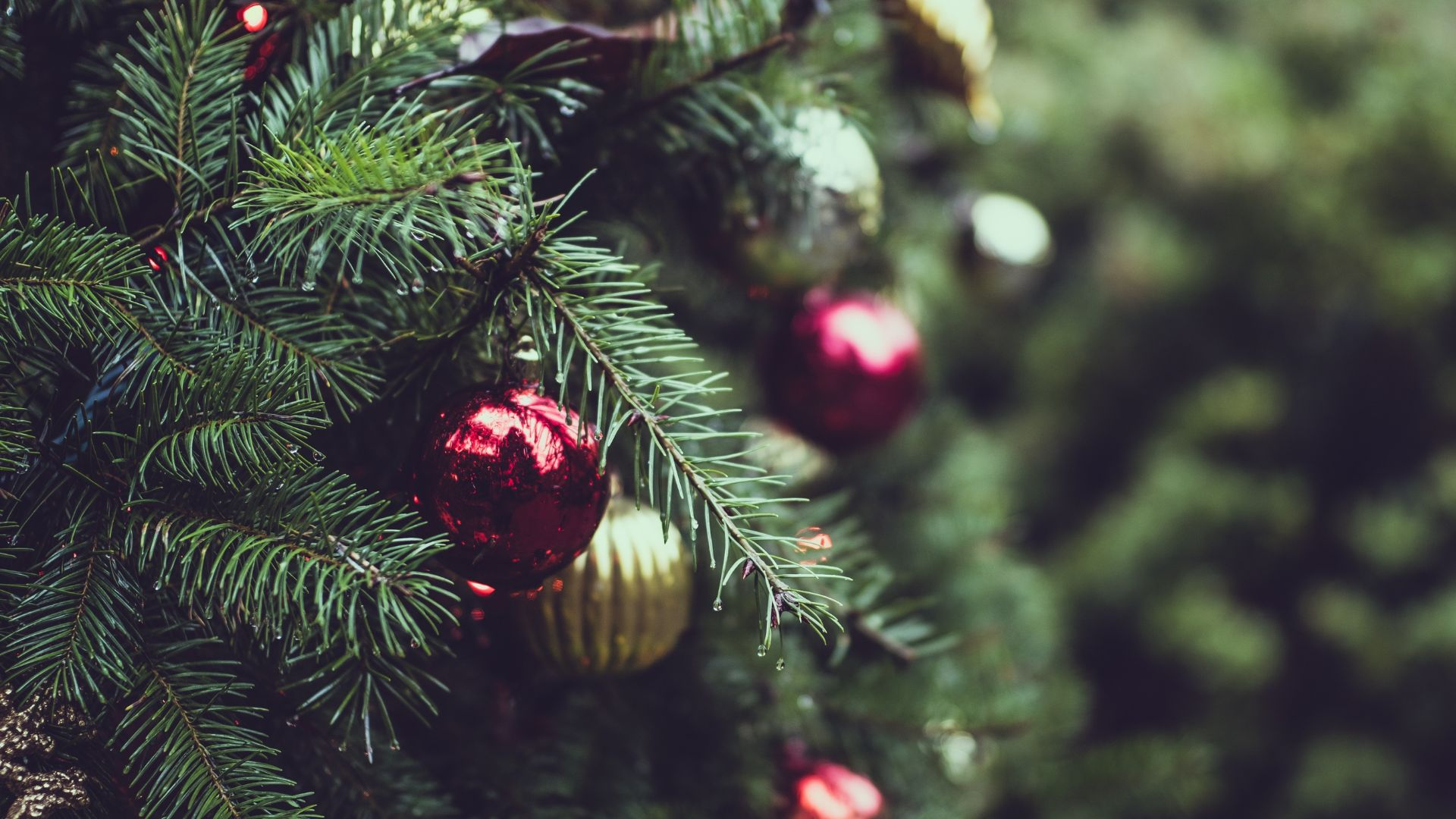 Sometimes there's nothing better than traditional Christmas decorations. They can evoke a powerful sense of nostalgia and spiritual reverence. These classic adornments have long been cherished for their ability to infuse spaces with a palpable sense of warmth and joy.
They often serve as poignant reminders of the sacred origins of the holiday. Let's explore a collection of cherished ideas that will help transform your church into a haven of festive delight and spiritual reflection during this season.
1. Nativity Scene
Firstly, you can consider setting up a classic nativity scene near the altar or front of the church. This is a powerful visual reminder to every one of the birth of Jesus Christ. Size can completely vary, but for something especially sacred and vivid, you can use life-sized figurines and a well-lit backdrop.
2. Wreaths and Garlands
Secondly, think about adorning the entrances, pillars, and pews with wreaths and garlands. To fit a more Christmas aesthetic, consider incorporating red bows, golden bells, and symbolic ornaments. These can add a festive touch while maintaining a traditional aesthetic.
3. Classic Christmas Trees
Sometimes there's nothing better than a good 'ol typical Christmas tree. You can place a beautiful Christmas tree in the central gathering area or near the altar. Decorate it with handcrafted ornaments, angels, and symbolic representations of the Christian faith, evoking a sense of reverence and joy.
4. Candlelight Display
Another idea is to arrange clusters of candles in strategic locations. This adds a warm and serene glow to the church, making it more comfy and cozy. If you want, you can use candle stands, candelabras, and votives to create a more serene and reverent atmosphere, especially during evening services. Sometimes the candlelight can even be used in place of regular christmas lights.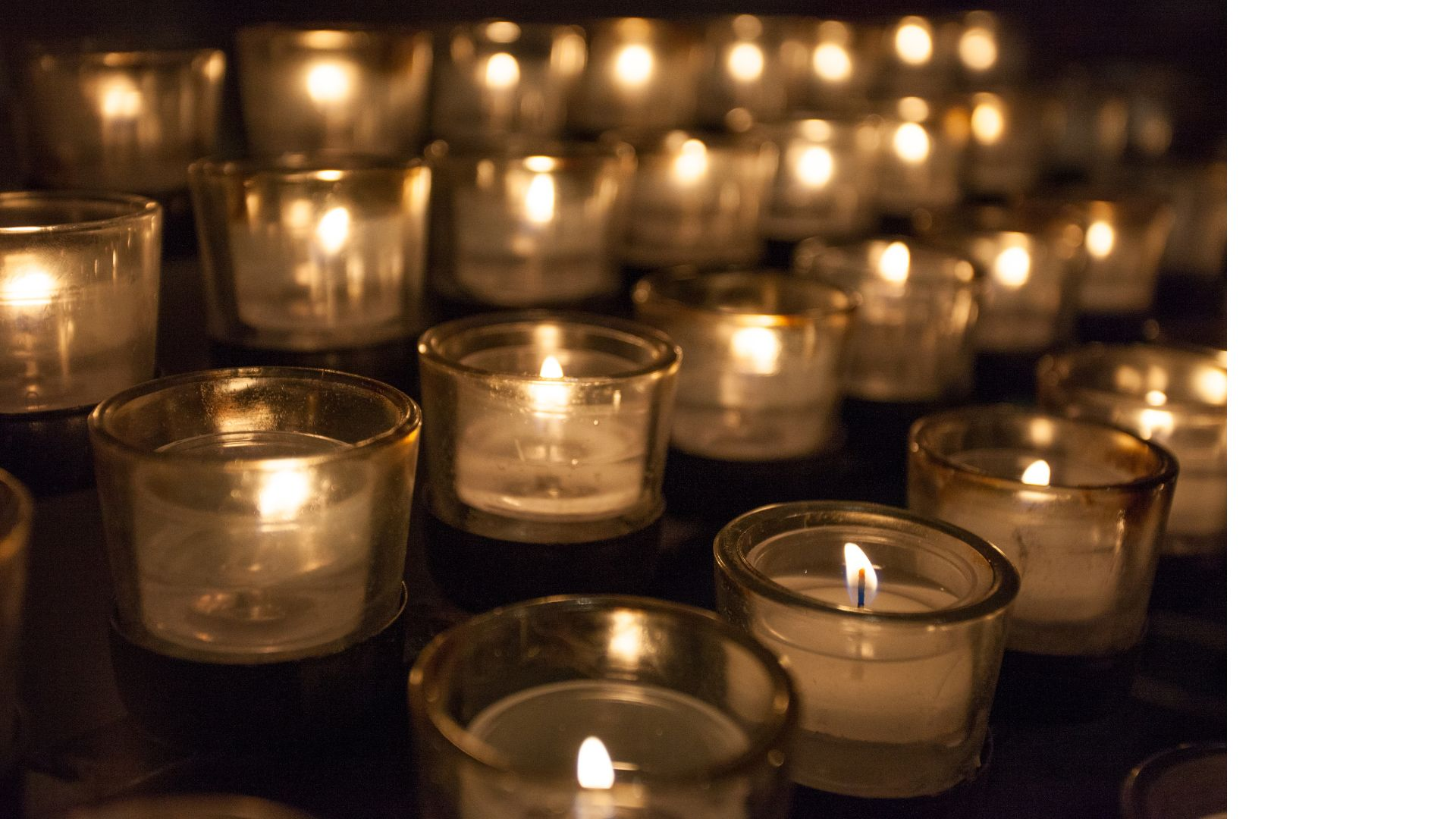 5. Poinsettia Arrangements
Spruce up the corners and windowsills with vibrant poinsettia arrangements. Combine red, white, and pink varieties to infuse the space with the traditional colors of Christmas, creating a visually stunning and festive ambiance.
6. Hanging Christmas Ornaments
Consider suspending clusters of ornate Christmas ornaments from the ceiling using delicate ribbons or transparent threads. You can choose ornaments that reflect the religious significance of Christmas. This includes things like crosses, doves, and stars.
7. Advent Wreath
Display a prominent Advent wreath at the altar, emphasizing the anticipation and preparation for the birth of Christ. If you want to lean even more traditional, you can arrange four candles around the wreath, each representing the four Sundays of Advent, and light them successively during the season.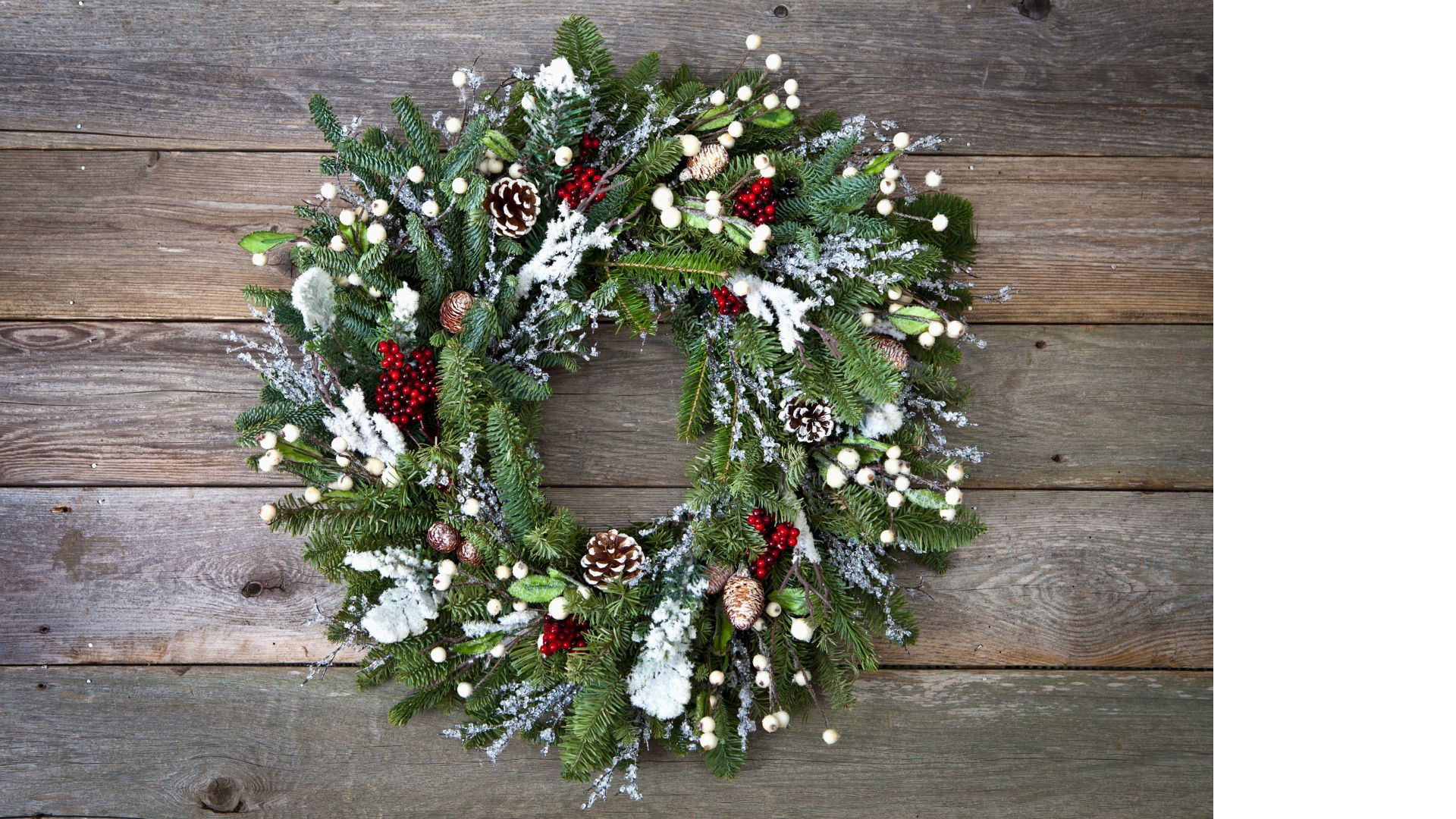 8. Cathedral Window Decorations
If you celebrate church in a cathedral or similar sort of building, you can adorn the stained glass windows with translucent, colorful decorations that enhance the beauty of the natural light. Utilize simple, elegant designs that complement the existing architecture and highlight the spiritual significance of the season.
9. Choir Loft Decor
If you have a choir loft or a space where your musicians play, you can spruce it up with thematic decorations. Think of integrating elements that resonate with the musical celebration of Christmas. Hang musical note-themed ornaments or create a display that reflects the harmonious spirit of the holiday season.
By implementing these traditional Christmas decoration ideas, your church can foster a sense of warmth, reverence, and spiritual joy during this magical season, inviting congregants and visitors alike to embrace the true spirit of Christmas.
Modern Decoration Ideas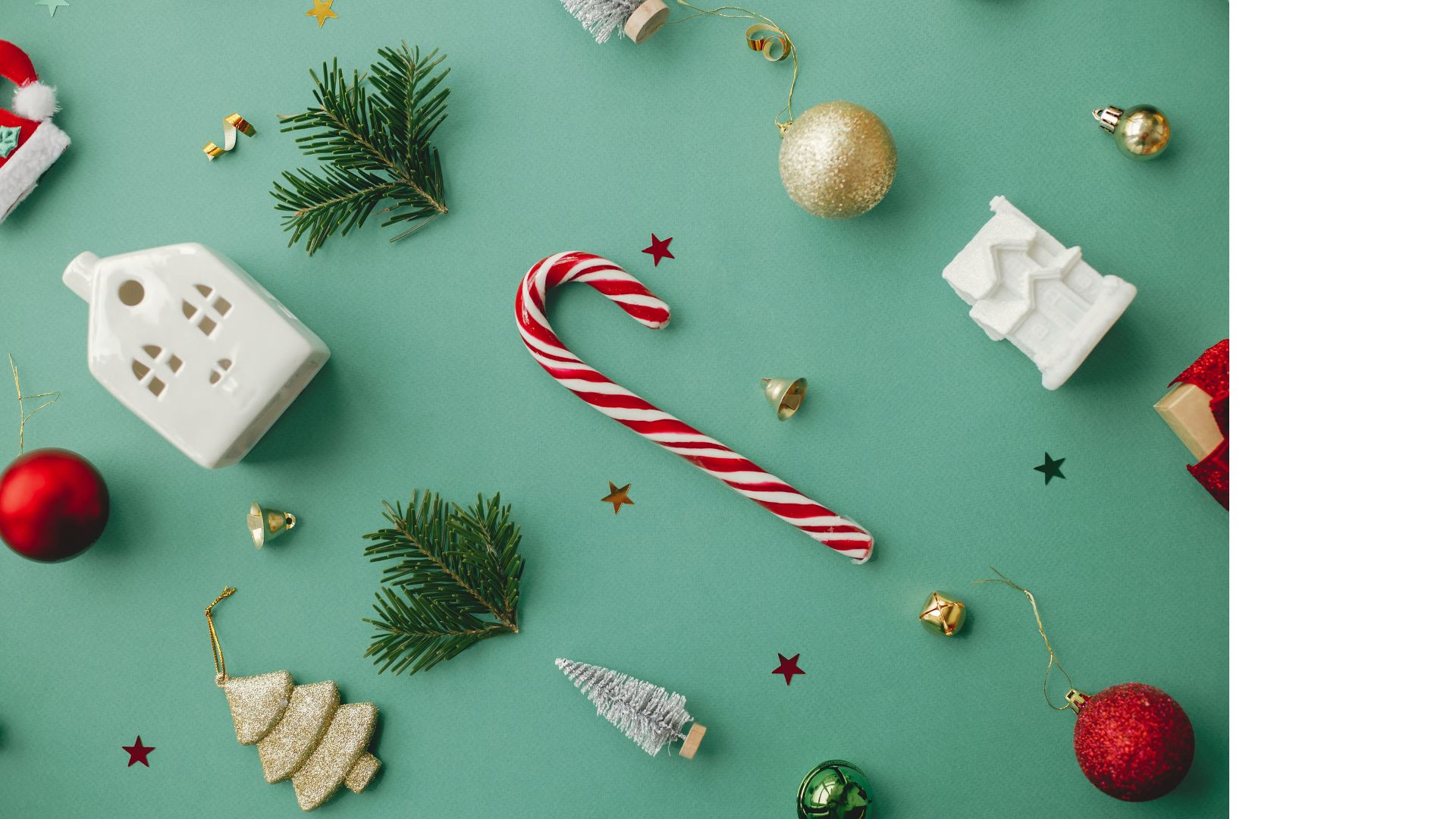 Now that we've looked at classical decorations, let's explore the fusion of innovation and spirituality. Let's showcase an array of modern Christmas decorations that breathe new life into traditional church settings.
From cutting-edge technology to minimalist designs, these contemporary adornments are curated to infuse your church with a sense of wonder and spiritual reflection, inviting congregants to engage with the timeless narrative of Christmas in fresh and dynamic ways.
10. Projection Mapping Displays
Firstly, you can utilize projection mapping technology to create dynamic and visually captivating displays that narrate the story of Christmas. Project images and animations onto church walls or ceilings, incorporating vibrant visuals that bring the festive spirit to life.
11. Interactive Christmas Light Shows
Secondly, you can install interactive LED installations of sparkling Christmas lights that respond to music or the movement of congregants. This can create an immersive experience that encourages active participation and engagement.
12. Contemporary Christmas Trees
Another modern Christmas decoration idea is contemporary Christmas trees. Experiment with non-traditional materials and avant-garde designs for the Christmas tree, such as metallic or minimalist structures adorned with modern art-inspired ornaments. This can infuse the space with a sense of contemporary elegance and creative expression.
13. Digital Art Installations
You can commission digital artists to create immersive and spiritually resonant digital art installations that depict the essence of the Nativity scene or symbolize the virtues of the season. You can display these artworks in prominent areas to inspire contemplation and awe.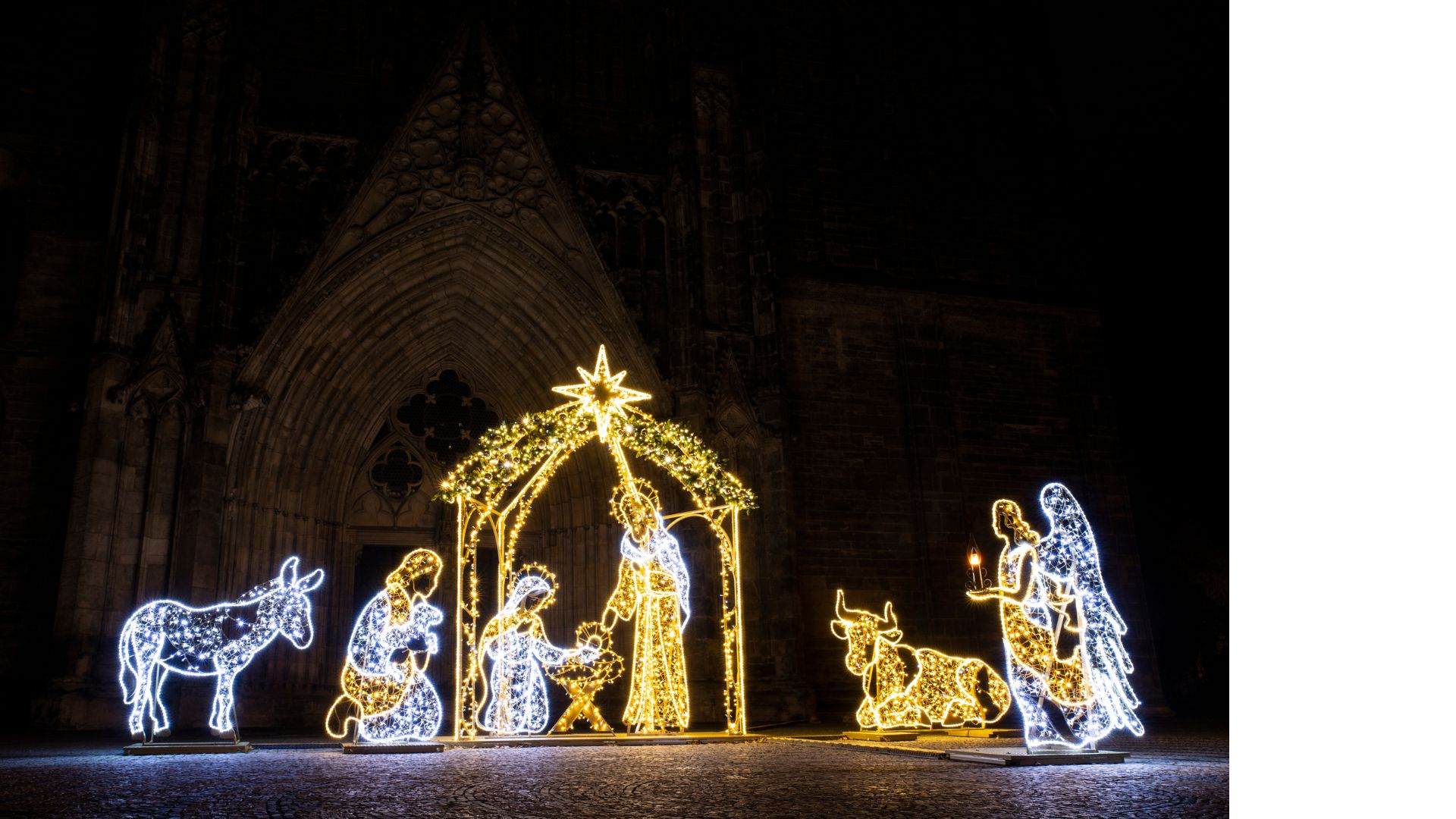 14. LED Wall Displays
Install large LED screens that showcase serene wintry landscapes, religious motifs, or scripture verses in vivid detail. Use these displays to convey messages of hope, love, and peace. This can foster a sense of spiritual introspection and communal harmony.
15. Minimalist Advent Calendars
Design sleek and minimalist Advent calendars that blend seamlessly with the contemporary aesthetics of the church. Incorporate digital components or interactive features to engage congregants in a modern and meaningful countdown to Christmas.
16. Modern Candle Alternatives
Another great Christmas decoration is to substitute traditional candles with LED or holographic candle replicas. This offers a safe and technologically advanced approach to creating that magical Christmas atmosphere. Make sure that these modern alternatives retain the serene ambiance and symbolic significance of candlelight.
17. Smart Lighting Systems
Implement smart lighting solutions that can be controlled remotely, allowing for dynamic adjustments in color, intensity, and pattern. Create immersive lighting experiences that adapt to different ceremonies and services, enhancing the spiritual atmosphere within the church.
By embracing these modern Christmas decoration ideas, your church can cultivate an atmosphere that resonates with contemporary sensibilities while remaining deeply rooted in the sacred traditions and messages of the Christmas season.
DIY Craft Decorations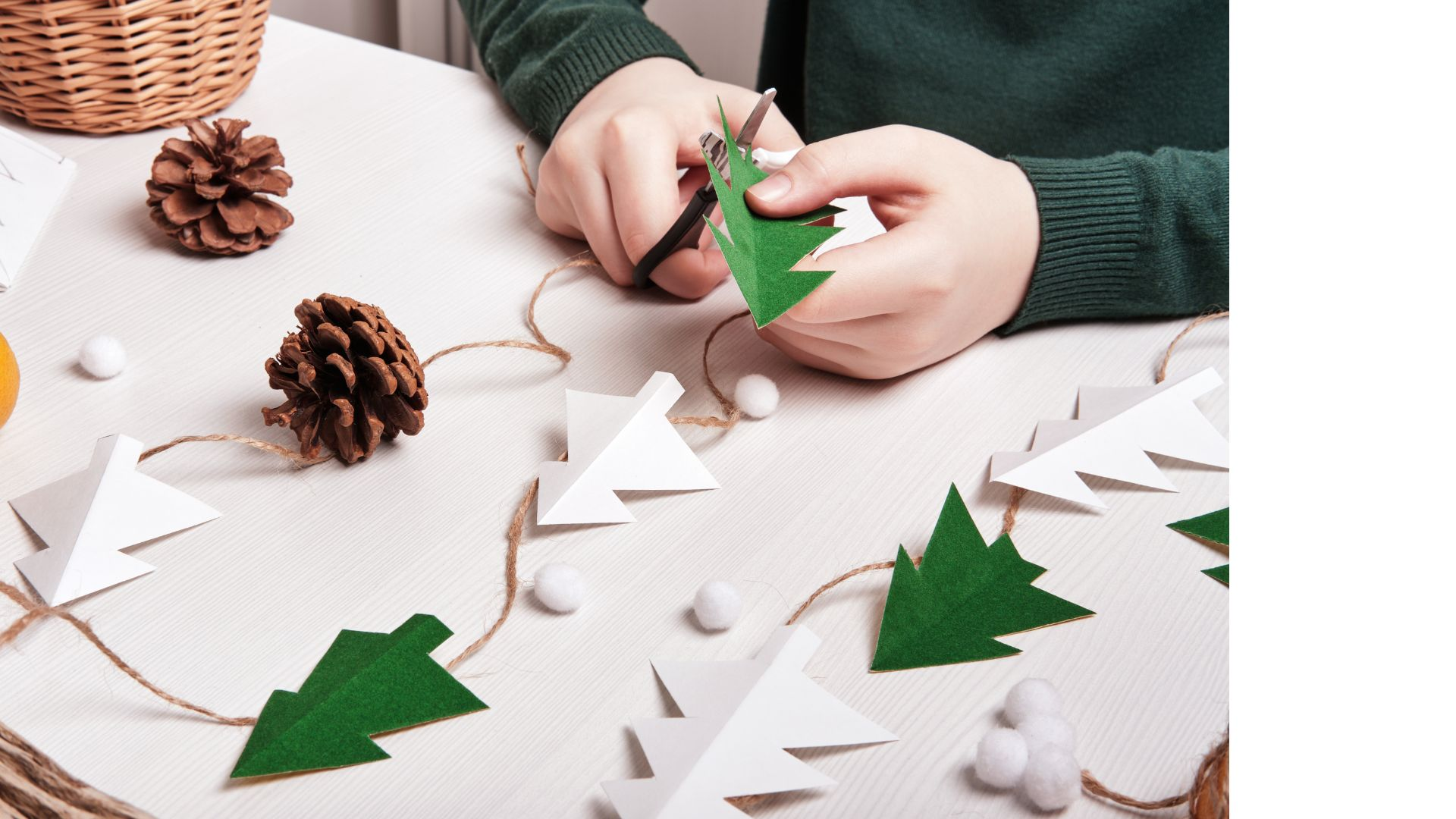 Finally, we want celebrate the spirit of communal creativity and spiritual devotion through a collection of enchanting DIY craft decorations for your church. These decorations empathize the joy of collective artistic expression and the warmth of handmade decor.
These craft ideas are tailored to infuse your church with a sense of intimacy and heartfelt reverence during the festive season.
Let's jump in.
18. Paper Chain Garlands
Firstly, consider organizing crafting sessions for congregants to create long, decorative paper chain garlands using vibrant colored paper. You should encourage them to add personalized messages or prayers, making the garland one-of-a-kind and memorable.
19. Hand-Painted Ornaments
Secondly, you may host workshops where participants can paint wooden or ceramic ornaments with Christmas designs and religious symbols. You can display these handmade ornaments on the Christmas tree or around the church. This can really highlight the beauty of collective artistic expression.
20. Festive Origami Displays
You can think about organizing origami tutorials for creating intricate paper decorations. These can include origami stars, angels, and other Christmas symbols. String them together to form captivating displays that capture the essence of the season's spiritual significance.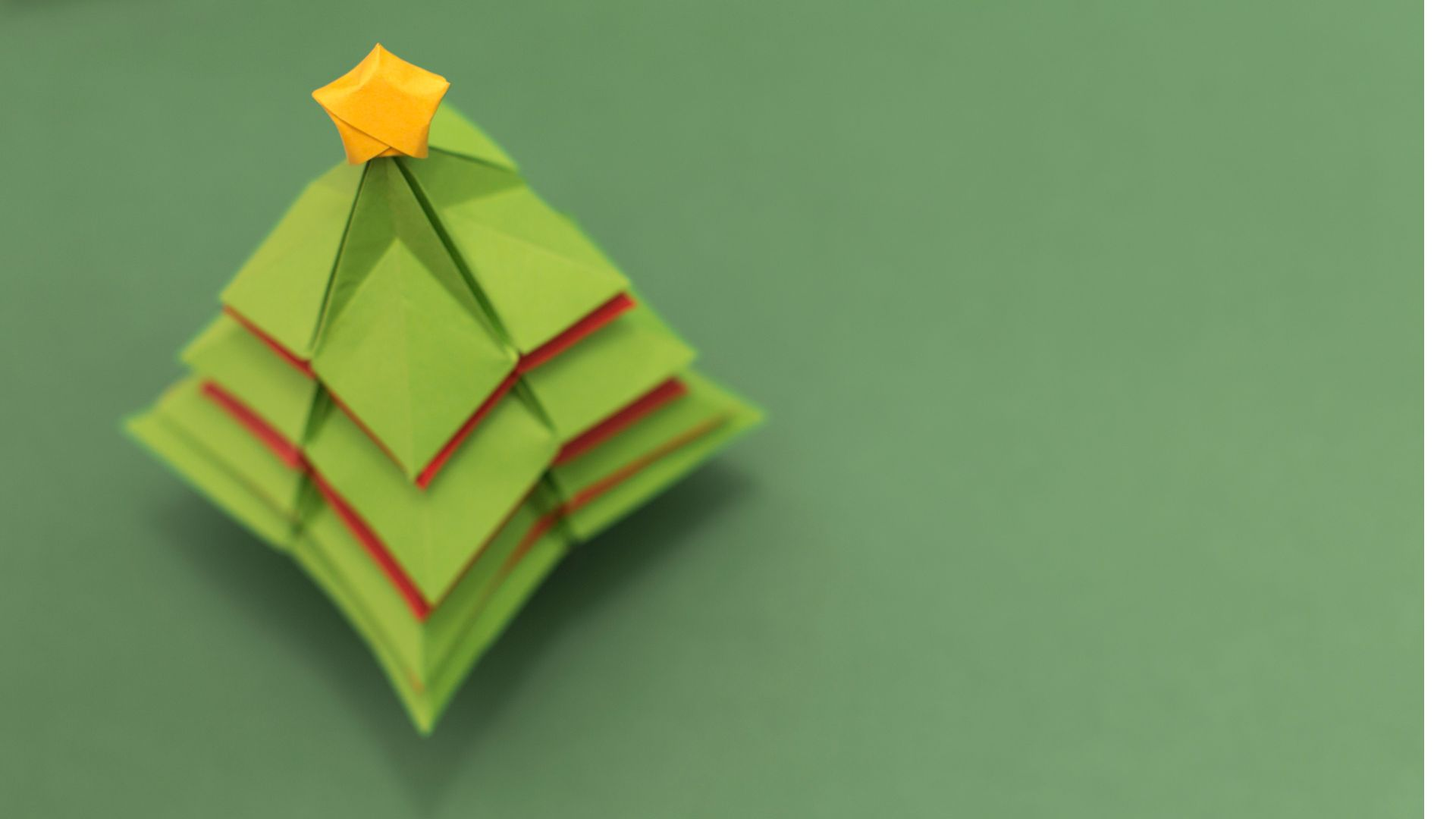 21. Homemade Advent Wreaths
Guide attendees in crafting personalized Advent wreaths in the Christmas theme. You can use natural materials like pinecones, berries, and foliage. Incorporate candles and ribbons to create a symbolically rich and visually stunning centerpiece for the Advent season. They can use it to decorate the church or bring it with them and use it to decorate their home.
22. Fabric Banner Creations
For the Christmas celebrations, consider creating banners. Provide fabric and craft supplies for congregants to design and assemble Christmas-themed fabric banners featuring inspiring messages, scripture verses, or Christmas imagery. You can hang these banners in key areas of the church to infuse the space with a sense of spiritual contemplation and joy.
23. Hand-Embroidered Wall Hangings
A cool idea is to conduct embroidery workshops where attendees can create intricate wall hangings featuring scenes from the Nativity story or meaningful Christmas motifs. Your church can display these handcrafted pieces in prominent areas to evoke a sense of reverence and artistic devotion.
24. Community Quilt Project
You can facilitate a collaborative quilt-making project where members of the congregation can contribute fabric squares embellished with personal messages or illustrations related to the Christmas story. Display the completed quilt in a prominent area as a symbol of shared faith, creativity, and unity within the church community.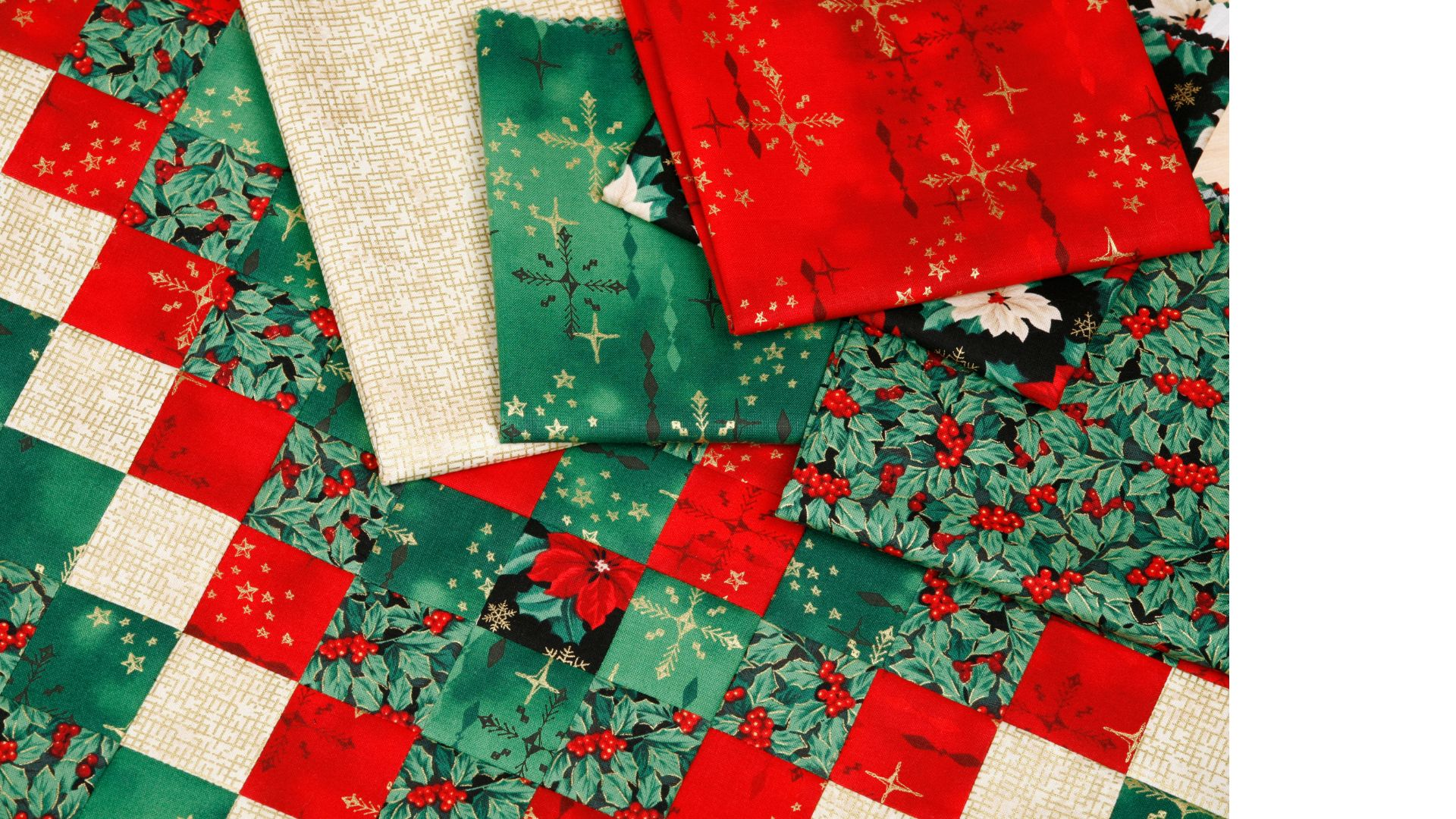 25. DIY Candle Holders
Guide congregants in crafting personalized candle holders using clay, glass, or other malleable materials. Encourage them to incorporate religious symbols or seasonal imagery, providing a beautiful and practical addition to the church's candlelit displays.
26. Papier-Mâché Christmas Figures
Organize sessions for constructing papier-mâché Christmas figures. These can be things like angels, shepherds, and the Holy Family. Invite participants to embellish these figures with paint, glitter, and other decorative elements, contributing to a vibrant and visually appealing holiday display.
27. Recycled Nativity Scene
Finally, you can encourage the use of recycled materials to create a unique and environmentally friendly Nativity scene. Therefore, you should invite participants to craft figures and structures using repurposed cardboard, fabric scraps, and other recycled items, emphasizing the values of sustainability and creativity.
By embracing these DIY craft Christmas church decoration ideas, your congregation can foster a sense of togetherness, creativity, and spiritual reflection. This enriches the holiday experience with heartfelt and personalized touches.
Church Christmas Decorations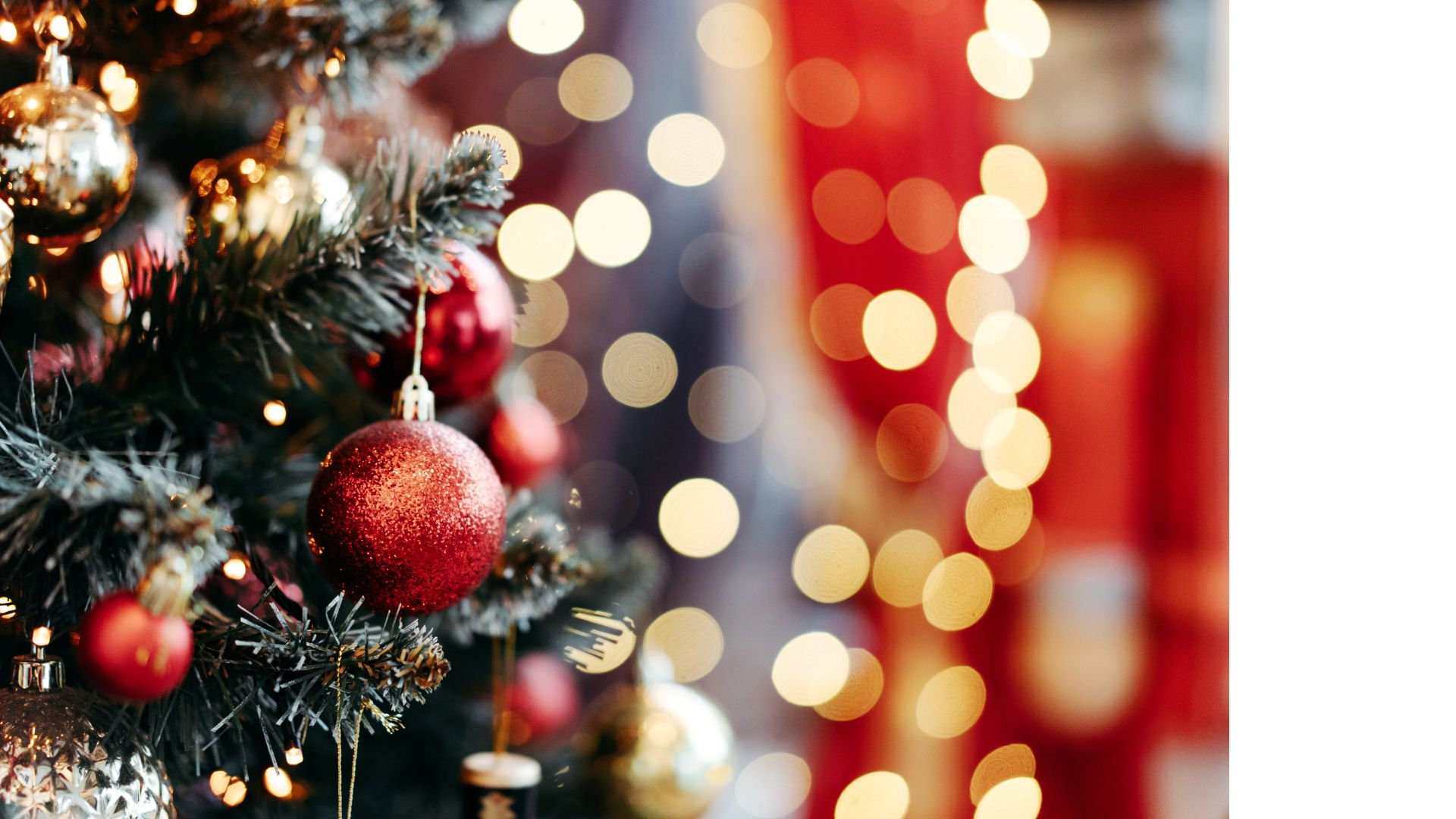 As the Christmas season approaches, the opportunity to adorn your church with thoughtful decorations serves as an invitation to the congregation and the community at large, welcoming them to experience the beauty and essence of the holiday.
Whether through timeless traditional ornaments, innovative modern displays, or heartfelt DIY creations, the decorations in your church can symbolize the universal message of love, hope, and unity, fostering a sense of peace and joy that transcends the boundaries of the season. Embrace the spirit of Christmas with open hearts and creative minds, and may the festive decorations in your church surely radiate the warmth of the season to all who enter its doors.
Further Resources on Christmas
About The Author