Church welcome gifts for first time guests are a pretty standard item at most churches. But how do you find something intentional that appeals to everyone, and is still within your budget?
A first-time guest gift conveys that you've been eagerly anticipating new visitors. It also demonstrates generosity and shows that people are a big deal to you.
Here are eleven unique and thoughtful church welcome gift ideas that will help make your newcomers feel at home. Church is a place where friendships are made, relationships are strengthened, and lives are changed. So begin that relationship with a memorable gift of appreciation!
Estimated reading time: 15 minutes
16 Church Welcome Gift Ideas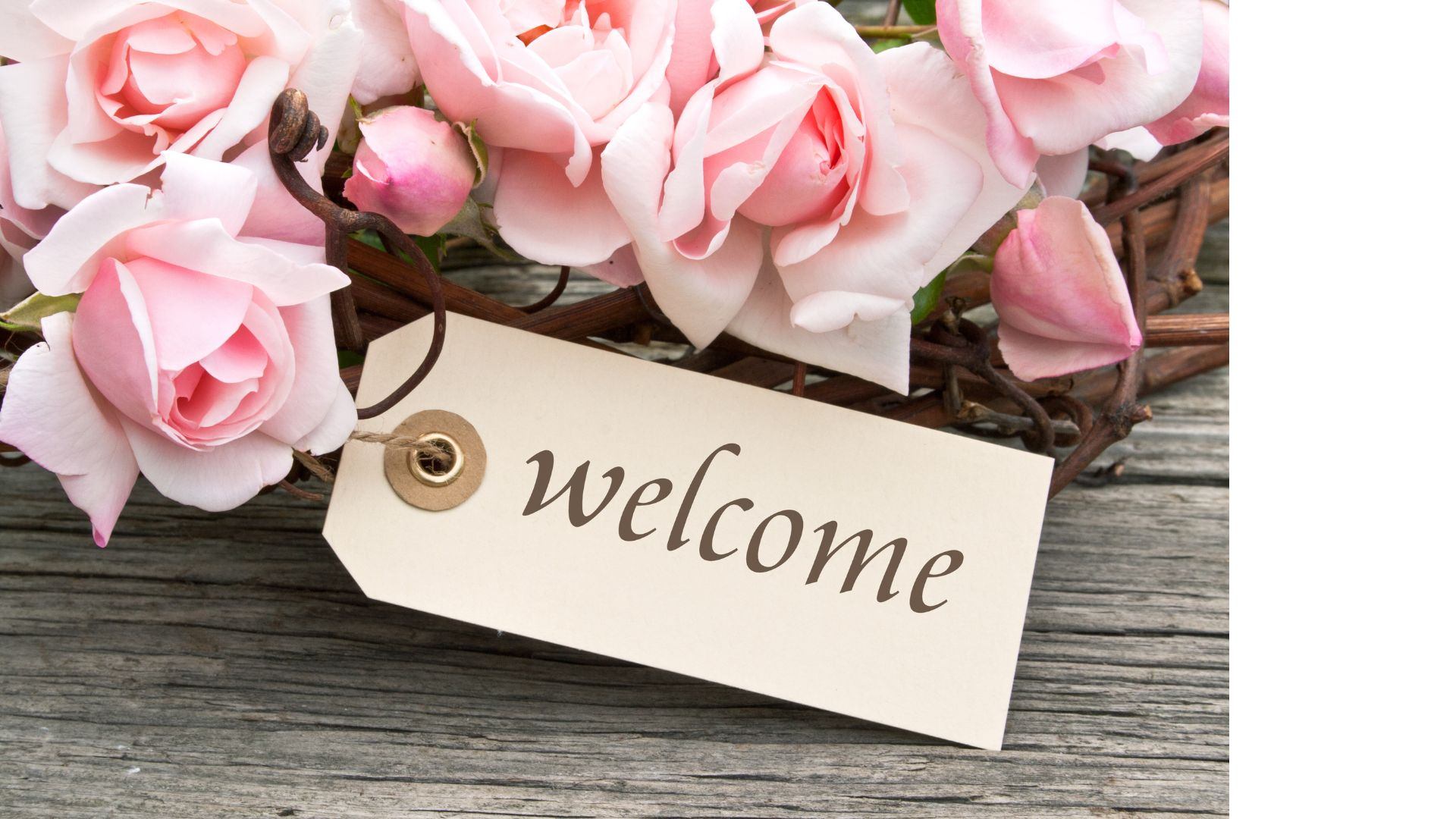 1. Church Welcome Kit or Bag
Having a small gift bag or box can be a great way to present people with gifts and information. An advantage to bundling everything together is that you can include multiple pieces of promotional information, such as flyers from various ministries. Plus, it makes everything easier to carry.
According to Lifeway Research, bags are given as gifts only about 18% of the time, meaning this is more of a unique, exclusive gift for your visitors.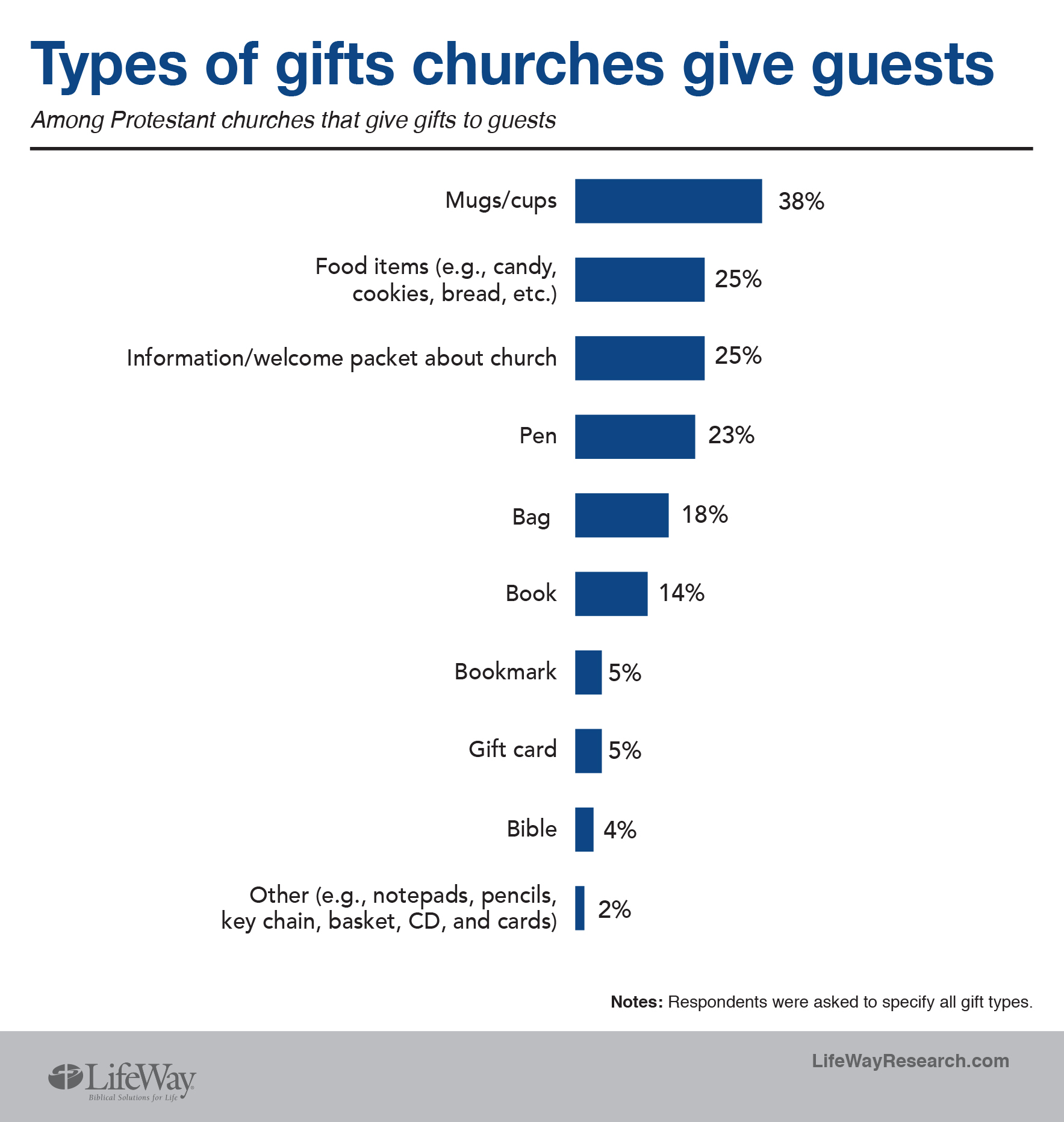 In addition, if you don't have the budget for a more costly guest gift, you can bundle less expensive items together in attractive packaging. Presentation matters and can make smaller gifts feel more intentional.
Examples of small items to include in a welcome gift bag that are popular at many churches include:
Stickers or decals
Candy
Card for a free coffee from the coffee shop
Keychain
Bookmark
Button or magnet
Pens or pencils
Customized notepad
Mints
2. Customized Bibles for Churches
Most people come to church to grow in their faith. So offering them a Bible is a significant gift they can certainly put to good use. It also emphasizes the value and priority your church places on reading the Word of God.
You can customize Bibles and order them in bulk for a unique touch.
For example, you can imprint your church's name or logo on the cover. In addition, you can add customized pages inside the Bible such as church info or next steps for new believers to pursue learning more about God. You can also choose your preferred Bible translation.
A few options for ordering bulk customized Bibles include:
3. Exclusive Download Resource
A downloadable resource such as a video, audio, or pdf resource is an excellent choice as many people prefers digital resources to paper. Also, this gift can be given to online church participants and in-person visitors alike.
New visitors have likely checked out your website and social media before visiting in person for the first time. They may have even listened to a sermon on YouTube, a podcast app, or your website.
So, when it comes to providing a digital resource, it won't feel like much of a gift if everyone else has access to it. Instead of sending them a link to a publically posted sermon, create a resource that's exclusive and tailored to first-time guests.
You can get creative with this; some ideas might be:
A personalized welcome video from the pastor
A Bible study or prayer guide
A theology or new believer basics course
An eBook or teaching on Christian living topics
Printable Scripture art or coloring pages (especially great for a kids' resource)
A guide or list of resource recommendations
4. Worship Music Playlist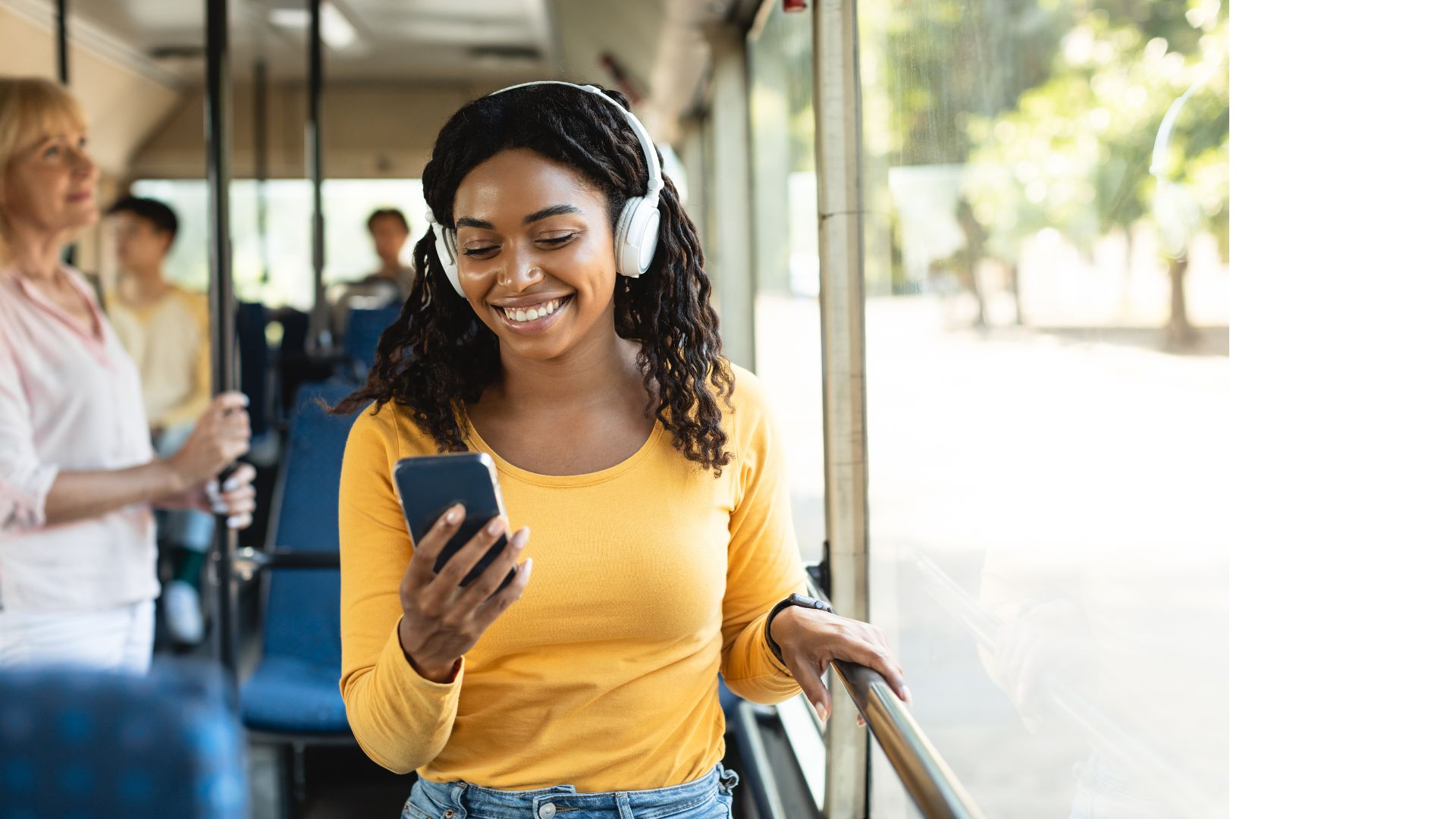 If your church is known for its worship music, this could be a great gift for newcomers. And if you don't have originally produced music, you can curate a playlist using songs from other Christian artists or churches.
You could create a playlist on Spotify, Apple Music, Amazon Music, or another streaming service and hand out a card providing people a link or access code. You could also send the information in a follow-up email.
When creating the playlist, include some of the most popular worship songs at your church, as well as a few that may be new to them. You can also add in some personal favorites of the pastor and church staff.
Here are a few tips for creating an excellent church worship playlist:
Include a mix of fast and slow songs and various styles to appeal to different preferences
Make sure the songs are easy to follow
Include well-known worship songs along with some lesser-known ones
Ensure the overall playlist has a good flow
5. Journal and Pen Set
A journal and pen set is a handy church welcome gift that can be used for personal worship and reflection time, taking sermon notes, or jotting down prayer requests.
Of course, they could also use it to make their grocery list, but it's an ideal way to encourage people to process their individual faith journey.
Although the notebook and pen combo is a classic church gift, it's success depends entirely on the quality of the items. If your budget only allows for a tiny journal and cheap ballpoint pen, you may want to opt for another gift. On the other hand, a journal with high quality paper and a pen that feels great to write with will make an impression.
6. T-shirt
Providing t-shirts requires extra logistics because you need to have multiple sizes available. Allowing people to choose their best fit is a must, otherwise, the shirt may sit in a drawer and eventually get donated.
T-shirts are a gift that can serve as a walking billboard for your church. They also come in handy if you ever do any type of service project or event where everyone needs to be easily identified.
When ordering shirts, be sure to select a comfortable and stylish shirt that people will actually want to wear. If possible, try to get a unisex style so it will appeal to both men and women and a simple design that will appeal to various ages.
7. Coffee Mug, Tumbler, or Water Bottle
Why are coffee mugs and water bottles so popular as a first-time visitor church gift? Because it's a gift anyone can use regardless of age, gender, or beverage preference!
Similar to a t-shirt, a mug or water bottle can also do double duty from a marketing standpoint, allowing you to get your church name out there. People will use these items on their commute to work, at the office, or when they're out and about running errands.
When choosing mugs or water bottles, be sure to find something that's high quality and will last a long time. You should also consider putting an attractive and catchy message with a trendy design on the cup, not just your church logo.
8. Reusable Bag
A reusable bag is a church welcome gift that's both practical and eco-friendly. It's also another great way to promote your church if you have the church name or logo printed on the bag.
Reusable bags come in all shapes and sizes, so you'll want to find one that's a good size for carrying groceries, books, or other items. You'll also want to choose a bag that's durable and reusable.
Similar to idea #1, you can stuff the reusable bag with informational materials from the church, and maybe even a gift, some candy, or other small items.
9. Food or Treats
Free food is always a win! If you're offering something fresh, such as coffee and donuts, you can serve it in a special welcome room or location away from the crowd and use it as an opportunity for a meet and greet with staff and volunteers.
Or, you could feature a "grab and go" item or drink bar. Feature something unique (not generic bagged snacks from your local wholesale store). Some examples might be:
A flavored lemonade bar
A popcorn bar with various toppings
A build-your-own trail mix bar
Baked items from a local bakery
Nuts, dried fruit, salsa, jam, or specialty from a local farm or business
10. Kid's Gift
Kids can be fairly easy to please, and if you have a small item for children of new guests it will be sure to make them feel special!
It could be as simple as a sheet of stickers, small coloring book with the church logo, or a simple toy or game.
You could also include a note from the children's ministry staff or volunteers inviting the family to check out the kids' area. A small step like this communicates a ton of value to families with children.
11. Gift Card
A gift card is always a welcome gift! You can give a general gift card, or you could get a specific card for a restaurant, store, or other business near the church.
If you have a coffee bar or shop onsite at your church, that may be the best source for the gift card.
When giving a gift card, be sure to include a personal note or message letting the recipient know how glad you are to have them at church. When it comes to your online audience, you can also send an e-gift card so they are included.
12. Community Service Opportunities Pamphlet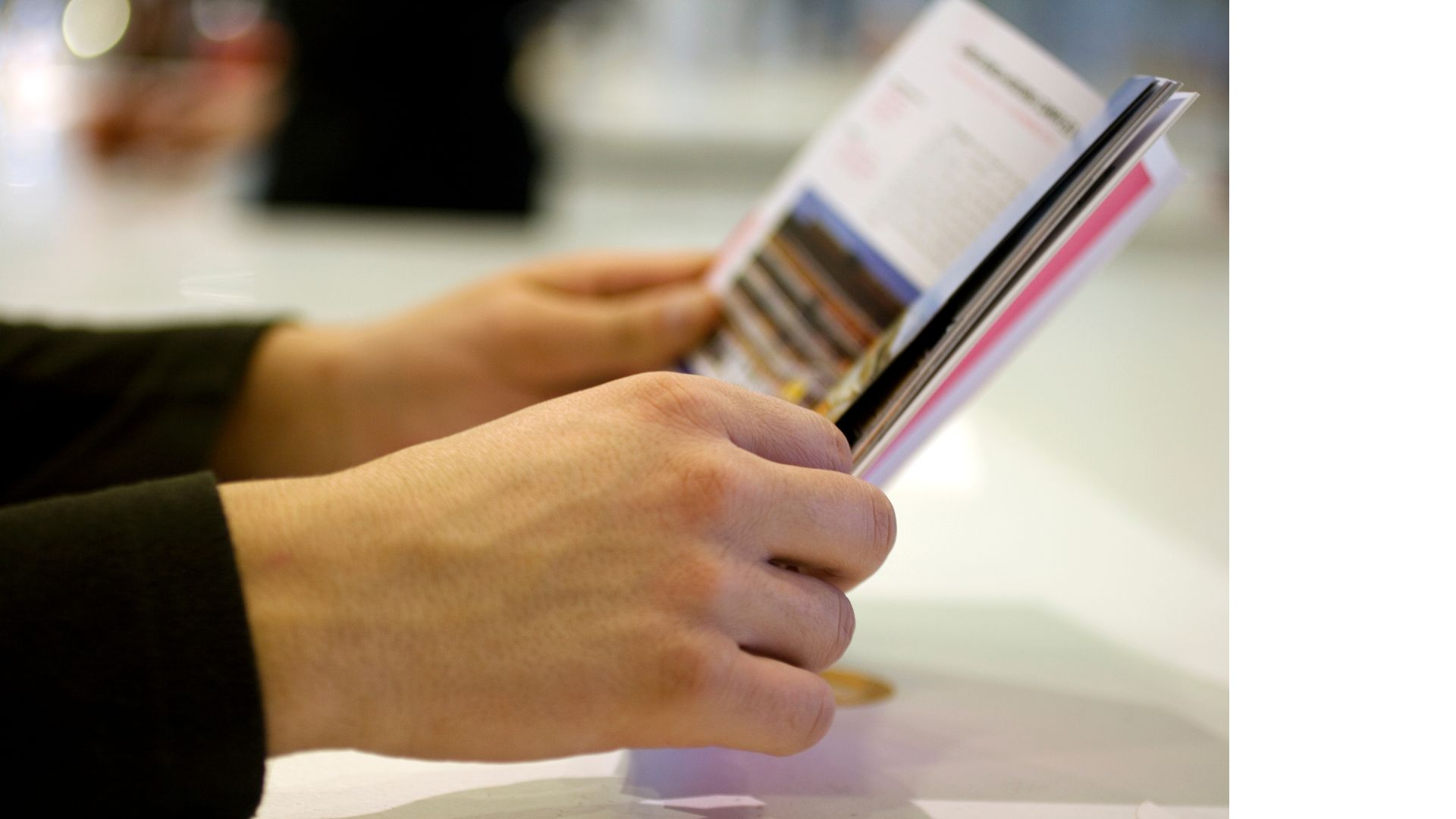 The Community Service Opportunities Pamphlet is among the unique church visitor gifts. It is a comprehensive guide aimed at fostering community engagement and altruistic participation among church visitors. Within its pages, it lays out an array of local outreach programs and volunteer initiatives. Make sure to include a diverse spread of opportunities to cater to varying skill sets and interests. Through vivid descriptions of partnering organizations and their altruistic endeavors, the pamphlet can serve as a beacon of hope, illuminating pathways for compassionate souls to contribute meaningfully to the greater community.
Within its contents are not only schedules of forthcoming service events but also testimonials and anecdotes of transformed lives, exemplifying the profound impact of selfless service. Clear-cut guidelines and expectations ensure a smooth and secure volunteering experience. Emphasis on long-term engagement opportunities promotes the cultivation of enduring relationships within the community.
By advocating for active involvement in community-building activities and underscoring the reciprocal benefits of service, this pamphlet transcends its physical form, cultivating a culture of empathy and social responsibility within the church. Its succinct but powerful message resonates, echoing the ethos of communal unity and fostering a shared vision of a compassionate, empowered society.
13. Potted Plant or Flowers
Welcoming church visitors with a potted flower or plant is like sharing a piece of joy that keeps growing! It can be your way of saying, "Hey, we're thrilled you're here!" and making them feel at home in your church family. This little green buddy isn't just any gift; it's a reminder that just like the plant, their faith journey can bloom and flourish there with your church.
They can feel the good vibes as they watch it grow, just like the connections they'll build with you over time. It's a symbol of your support and a little something to brighten up their day, even when they're not with you at church. Plus, taking care of it can be a relaxing way to unwind and connect with nature, reminding them of the beauty in the world around us.
So here's to new beginnings and a growing friendship!
14. Welcome Brunch or Dinner Invitation
Fellowship over a meal is a great way to welcome church visitors. Its a fun and efficient way to get to know them better and have some good food and great conversations together. It can be your way of saying thanks for checking out your church and giving them a taste of the awesome community you have there.
Tell them they can come hungry and leave with a full heart! Make sure to have some of the best homemade dishes (and maybe a few secret recipes) that are sure to delight your guests. It's not just about the food, though; it's about making them feel like part of the gang and showing them what you're all about – good vibes, good company, and a lot of love.
So tell them to mark their calendar, bring their appetite, and get ready for a warm welcome and some serious fun. Let them know that you're looking forward to having them join you and becoming part of your church family!
15. Biblical Bookmarks
Next on our list of awesome gift ideas for first-time guests is some cool biblical bookmarks! These aren't just any bookmarks; they're little reminders of the wisdom and inspiration found in the Bible. Use them to mark your favorite verses or passages that speak to your heart.
Tell your church visitors you hope they bring a little extra encouragement and positivity to your day. They can think of them as their spiritual sidekick, keeping them company as they dive into the wonderful world of God's word. Whether they're a seasoned Bible reader or just starting out, these bookmarks are here to make their journey a little more colorful and exciting.
So tell them to grab their favorite book, pop in one of these bookmarks, and let the words uplift and guide them. They can consider it your way of helping them connect with the powerful messages within the Bible and making their reading experience a whole lot more enjoyable.
16. Subscription
Finally, we've got our last suggestion for first time guest gifts: a subscription to some seriously inspirational content! Your guests can consider it a warm welcome to your church family. You're all about spreading positivity, and what better way to do that than by sharing uplifting stories, sermons, and messages that can brighten their day?
With this subscription, they'll have access to a treasure trove of spiritual insights, motivational talks, and heartwarming stories, right at their fingertips. It's like having a dose of encouragement whenever they need it, whether they're seeking inspiration or just a bit of daily motivation.
Let them know that you know life can get busy, so this subscription is your way of saying you're here for them even when they can't be with you in person. It's a little reminder that you care about their spiritual growth and well-being.
Tell 'em to sit back, relax, and soak in the good vibes. You're thrilled to have them as part of your church community, and this subscription is your way of ensuring they always have a source of inspiration and connection, no matter where they are.
Factors for Giving Out Church Welcome Gifts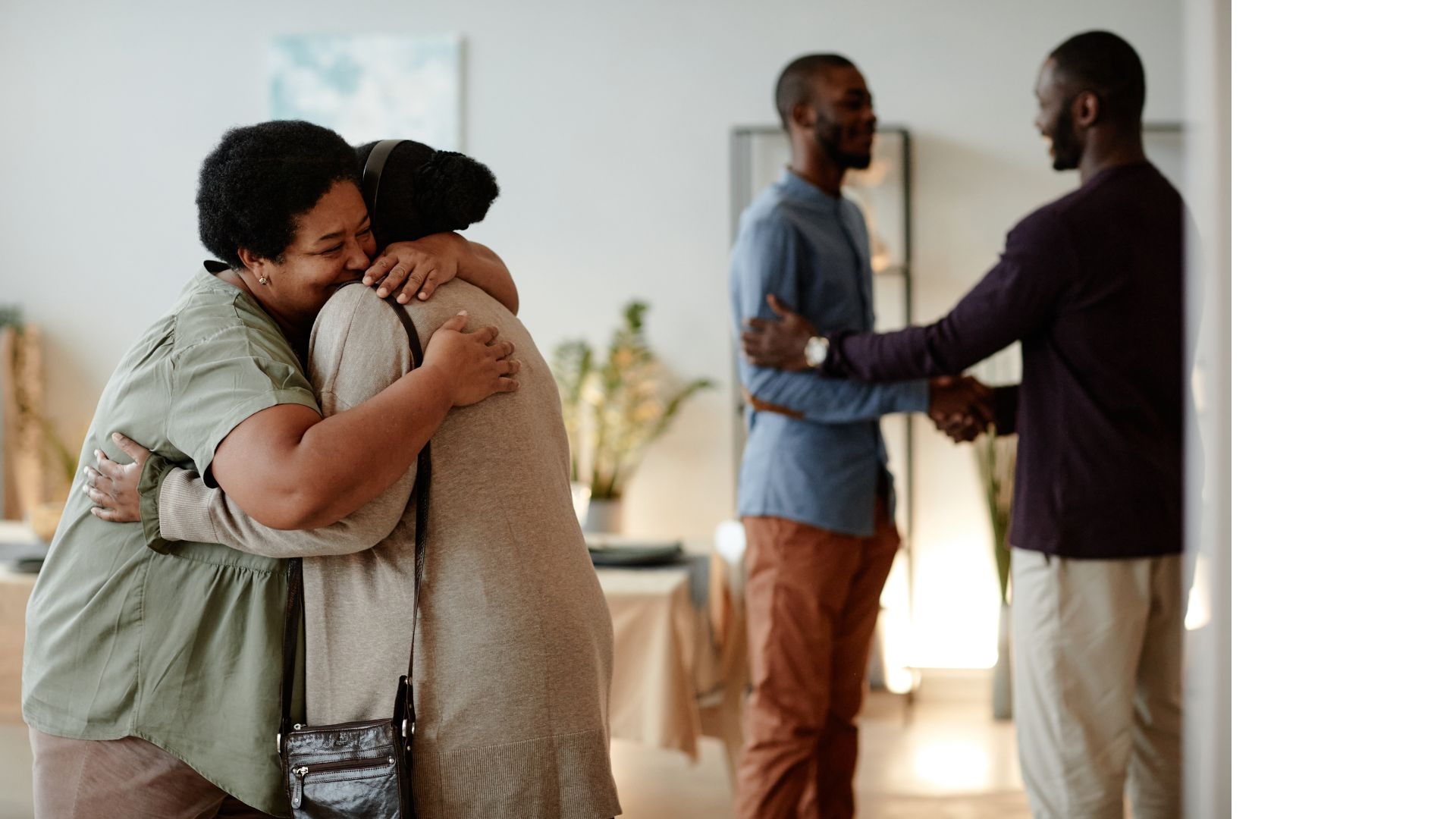 When it comes to giving out gifts and appreciation, it's not just the gift itself that matters – what about the manner in which it's given? A personal touch that includes interaction with a welcoming church member is the biggest win.
Timing
Should you give the gift before or after service? There are advantages to both.
Handing out gifts before the service ensures that new church guests feel welcomed and comfortable from the start. The spirit of a freely given gift on the front end communicates: we don't need you to do anything for us, we're just glad you're here.
Another advantage to giving the gift on the front end is that it's a signal for all your team members and staff that this person is a first-time guest and needs VIP treatment.
The disadvantage to gifts before service is you're likely to miss a lot of new guests. For one thing, new guests tend to run late and have a lot on their minds during the first visit, from navigating parking to checking in kids.
Waiting until the end of the service has the advantage of allowing guests to fully experience church without any distractions. It also allows you additional time to interact with them and get to know them before presenting the gift.
Budget and Quality
The biggest challenge with first-time guest gifts for most churches is having a limited budget. And nobody wants to look stingy when giving a gift! For example, if you can only afford $3.50 per guest, gift cards probably aren't you're best option unless they're for a specific drink or low-cost item.
There are a few ways to work around this. You can solicit physical or monetary donations from church members or local businesses to help offset the cost.
Another consideration is that the only cost for digital resources is the investment to create them. Once they're made, you can send them out as many times as you need.
Unfortunately, cheap and cheesy gifts might make your church look…well, cheap and cheesy. So choose something that balances budget and quality.
People to Think About For Your Church Welcome Gifts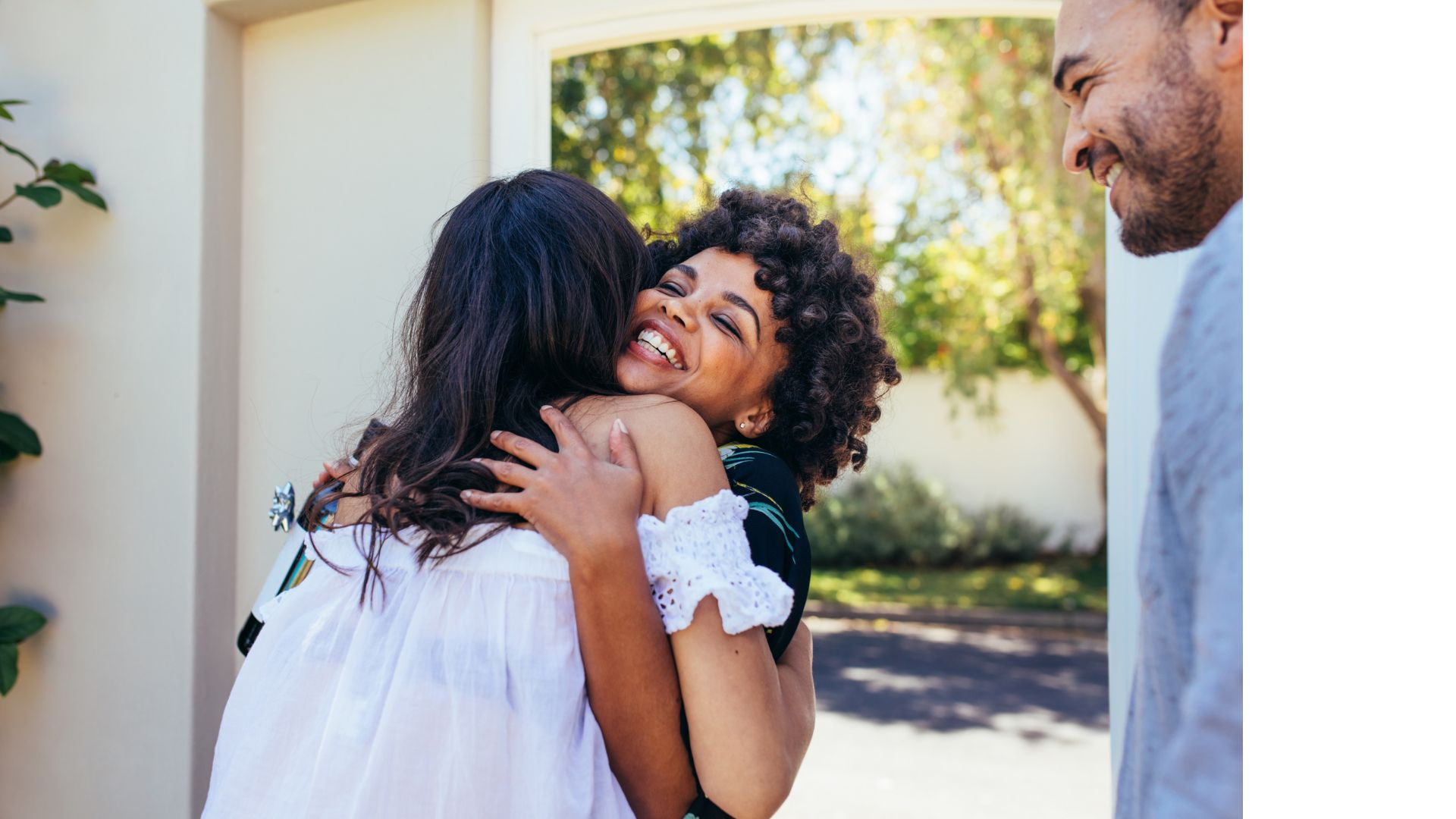 Another challenge to think about when it comes to gifts is finding something that will appeal to everyone regardless of their life stage and personal preferences.
Remember that everyone who comes doesn't fit within the typical family mold. You might have young singles or elderly couples in addition to families with young children.
Although it's difficult to find the perfect gift everyone will love, keep in consideration that you have unique people coming to you and want to ensure people feel welcomed.
Church Welcome Gifts and Follow Up
One of the primary reasons most churches hand out a first-time guest gift is to gather new visitor information for follow-up. Although this can feel like a bit of a bait-and-switch tactic, the intentions are good.
As a church, you want to be able to contact new guests and let them know about church events, how to get more involved, and answer any questions they might have. So have them fill out a simple church welcome card to get their gift.
The information you gather will also help you plan church programs and ministries that better meet the needs of your community.
Summing it Up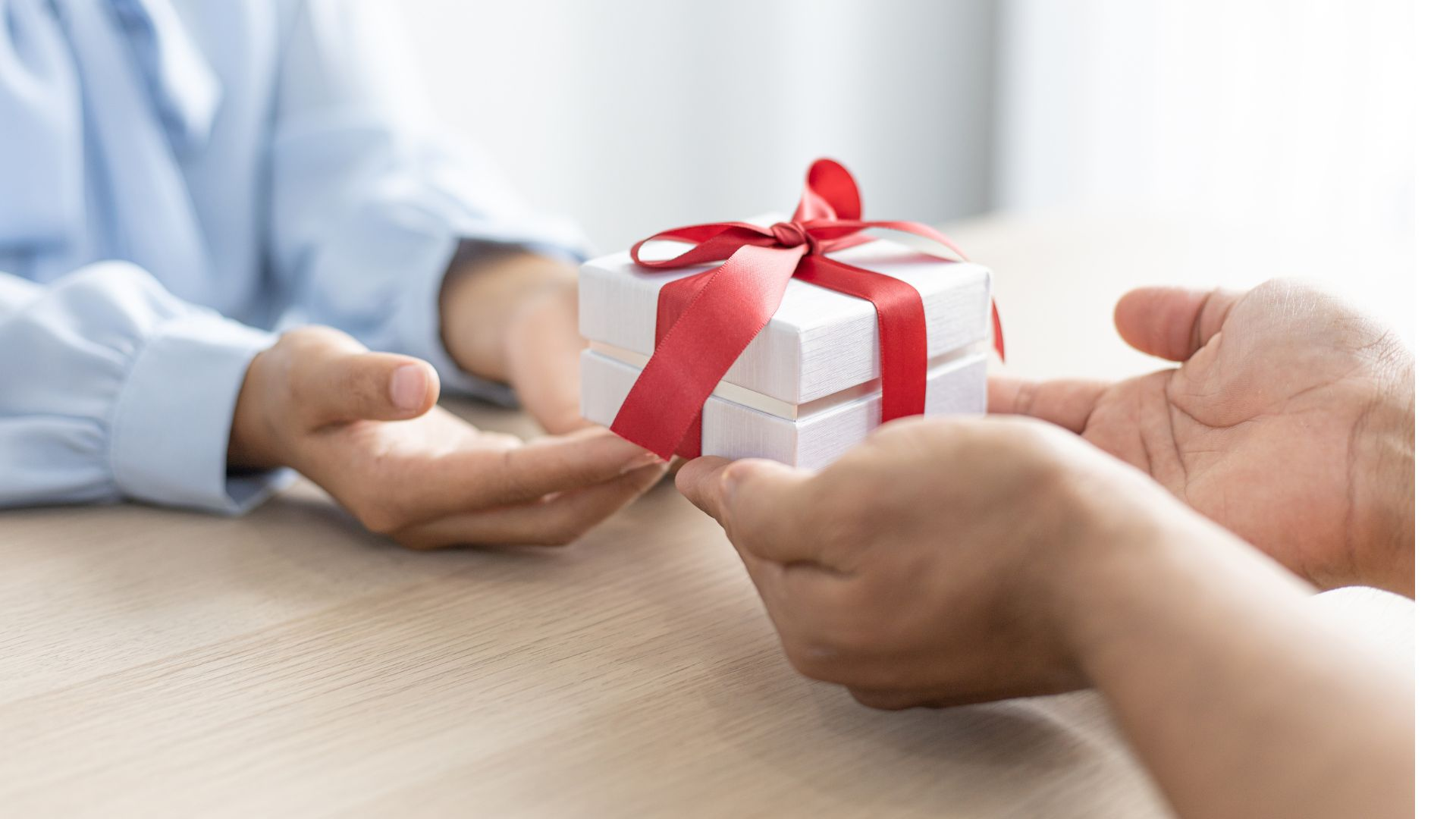 Church welcome gifts are a great way to show your guests that you appreciate them. Not only do they make newcomers feel welcomed, but they also provide an opportunity for church members to get to know first-time guests better.
There are many different types of church welcome gifts, so it's important to choose something that will appeal to a broad range of people.
What has been your winning idea for a first-time guest gift? Let us know in the comments below!
Further Resources on Church Visitors
About The Author