Have you ever done a women's Bible study that changed your life? Most Christian women would answer with a resounding YES! But there are tons of options out there. So how do you sort through them to uncover the next best Bible study for women?
You can visit your local bookstore and browse shelves packed with Bible studies.
Or you can do a quick online search and explore endless possibilities…but we know you're probably short on time.
So, we've gone ahead and done the legwork for you. We've scoured the internet and looked through results to uncover 15 of the best Bible studies for women out there today.
Estimated reading time: 12 minutes
What Type of Women's Bible Study is Best?
When it comes to Bible studies, there are all sorts of options available for you to grow. There are video-based, workbook-based, and even online courses.
How do you know which type of Bible study is best for you?
Women's Bible Study Format and Learning Style
The most important thing is finding a Bible study that makes sense to you, is easy to understand, and that you will be able to complete.
Which comes down to preference and learning style.
Do you like watching videos more than reading and then processing what you learned with a group of women? If so, a video-based study might be the best option.
Or do you prefer to read, reflect, and take notes in the margins? If that's the case, then a workbook-based study might be a better fit.
Do you like the structure and community of an online course? If yes, one of the many online Bible studies might be the best option.
Or, you can take an option from this list and bring some women together for a group Bible study.
Women's Bible Studies vs. Christian Books
The line between a Bible study and a Christian living book can be fairly subtle. After all, studies and books typically both feature Bible verses and stories.
However, in general, Bible studies will have a specific focus on books of the Bible, biblical figures, or biblical concepts. They use Scripture as their primary source with supplemental stories.
Christian living books, on the other hand, are usually about a certain topic (marriage, motherhood, etc.) or the author's life experience. They use Bible stories and biblical principles to support their points.
Both types of resources can be helpful in your faith journey; it's simply wise to understand the difference.
And, in every situation, books don't replace studying the Bible, they simply supplement your direct study of the Bible.
15 All-Time Favorite Bible Studies for Women
1. The Woman's Study Bible
You can find a number of different study Bibles for women, but one of the favorites out there is The Woman's Study Bible: Receiving God's Truth for Balance, Hope, and Transformation.
If you want to dive straight into the Word, then this Bible will help you find deeper meanings in scripture.
You'll find thousands of verse-by-verse study notes and hundreds of articles.
This particular Bible also comes in NIV and NKJV translations. Studying God's Word directly will impart biblical lessons while equipping you to handle your own modern-day struggles.
2. The Bible in 52 Weeks by Kimberly D. Moore
Dr. Kimberly D. Moore has created a fantastic tool for exploring God's Word. It's called The Bible in 52 Weeks: A Yearlong Bible Study for Women.
This book guides women through scripture, a little bit at a time. Each week you read from a different book of the Bible.
That might sound daunting, but Moore breaks it down into manageable chunks and mixes things up.
Plus, each day's reading includes a devotional that relates to everyday life, questions for reflection, and space to journal your thoughts.
You can use this resource on your own or in a group setting. And by the end, you'll have read through the entire Bible in a year!
3. The Armor of God by Priscilla Shirer
Priscilla Shirer is one of the most beloved and acclaimed Bible teachers out there.
She's known for relatability, honest humor, and helping Christian women with modern-day struggles live out their faith.
In her book, The Armor of God, Shirer walks through Paul's letter to the Ephesians.
This powerful six-week Bible study helps readers understand how the enemy operates. And it also equips them with a battle plan to triumph through the grace of Jesus Christ.
Shirer also focuses on the power of prayer, and arms Christian women with practical, purposeful prayer strategies.
4. Women of the Word by Jen Wilkin
Jen Wilkin has written several amazing Bible studies. The book Women of the Word: How to study the Bible with Both Our Hearts and Our Minds sets a great baseline for any Christian woman who will be leading Bible studies, or simply wants to deepen her own Bible study.
In this book, Wilkin covers how to keep your focus and maintain your passion when studying God's truth in His Word.
As Jen says, Bible study is a means to an end…which is experiencing God's love and learning to live our own life differently.
If you're just getting started with studying the Bible, or if you want to reignite your passion, this book will help you dive deeper.
5. Esther: It's Tough Being a Woman by Beth Moore
Beth Moore has written amazing Bible studies for many years now. Her Bible studies for women have helped countless individuals dive deeper into the Word and mature in the Christian life.
Esther is one of her most beloved Bible studies, featuring the story of one of the most popular heroines in the Bible.
When you read Esther: It's Tough Being a Woman, you'll see how God can use anyone, even a woman who was an orphan and taken into a foreign culture, to do great things.
God's timing doesn't always make sense, but this Bible study for women offers biblical assurance that the Lord is in control no matter what.
6. Matchless: The Life and Love of Jesus by Angie Smith
Angie Smith is a bestselling author of several women's Bible studies.
If you're interested in learning more about who Jesus is and how you can know Him, you should definitely check out Matchless: The Life and Love of Jesus.
This 8-week Bible study will open your eyes to the truth about Jesus, enrich your understanding of His cultural and historical context, get equipped to share the gospel.
7. Ecclesiastes: Wisdom For Living Well by Courtney Joseph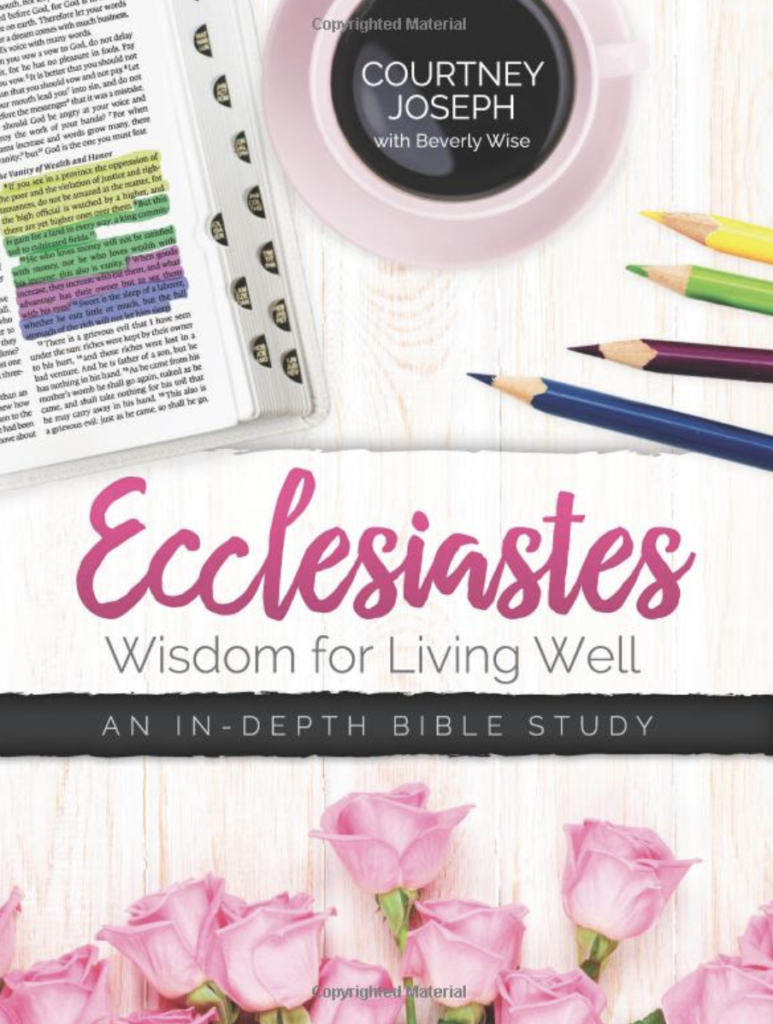 Some of the Bible studies for women on this list dive into a specific book of the Bible, like this one from Courtney Joseph.
Ecclesiastes: Wisdom For Living Well will take you chapter by chapter and verse by verse through the book of Ecclesiastes.
This sound biblical teaching will help you explore your desire to find meaning in life.
You'll learn how to guard your heart, order your priorities, and live well as you serve God in a world filled with busyness and distraction.
8. How to Study Your Bible by Kay Arthur
Kay Arthur is known for championing the inductive Bible study method.
How to Study Your Bible: Discover the Life-Changing Approach to God's Word is written along with David Arthur and Pete De Lacy.
Arthur's Bible study methods empower you to discover how to study the Bible for yourself. You'll learn how to observe, interpret, and apply God's Word.
This systematic and thorough approach to Bible study will greatly deepen your understanding of scripture and equip you on your intimate journey with the Lord.
Arthur will inspire you to dig deeper into God's truth for yourself!
9. Trustworthy by Lysa Terkeurst
Lysa Terkeurst is known for her vulnerability and relatability. Many of her books help women navigate hard realities and unsettling relationships, and embrace brokenness.
Trustworthy: Overcoming Our Greatest Struggles to Trust God is a Bible study of 1 & 2 Kings.
Terkeurst honestly discusses places of distrust by revealing stories from her personal life.
She also explores how the Old Testament applies to our own journey and how we can learn to trust God's goodness and faithfulness.
10. Ruth: Loss, Love & Legacy by Kelly Minter
Bible studies for women that are about women are always relatable! That's certainly the case for Kelly Minter's Bible study on the book of Ruth.
Ruth: Loss, Love & Legacy tells the inspiring rags-to-riches story of Ruth.
Ruth experienced loss, redeeming love, and is part of a divine legacy.
This study will help you apply biblical lessons to process unmet expectations and past frustrations while continuing to trust God with your future…even with uncertain outcomes!
This study features group discussion questions and individual homework. It's perfect for women's ministries and Bible studies for women.
11. Becoming the Woman God Wants Me to Be by Donna Partow
Can you live as a Proverbs 31 woman? While some women feel it's an impossible standard, Donna Partow says, "No problem!" and lays out a holistic plan that you can follow.
Becoming the Woman God Wants Me to Be: A 90-Day Guide to Living the Proverbs 31 Life is a 90-day guide through living the Proverbs 31 life.
This longer timeframe allows you to deeply explore and discover lessons hidden in this particular chapter of the Bible (and others).
You'll see that as you develop God's character and apply lessons from His Word, you'll find yourself on God's path to living well in all areas.
12. A Great Cloud of Witnesses by Trillia Newbell
Have you ever wanted to know more about the lives of the heroes of the faith?
In A Great Cloud of Witnesses: A Study of Those Who Lived by Faith, Trillia Newbell walks you through Hebrews chapter 11.
Hebrews 11 showcases the stories of heroes who walked through trials and find lasting contentment and strength.
Their faith in God is key, and these stories are still applicable to women today!
Newbell's Bible study can be done in six or eight weeks.
The lessons cover particular stories of ordinary people who walked by faith, with reflection questions to connect you to the Bible studies you're reading.
13. Significant – A Study of Women in Jesus' Genealogy by Rachel Risner
If you want to learn more about the lives of significant biblical women, this is another book to top the list of your collection of Bible studies for women.
This title says it all…Significant – A Study of Women in Jesus' Genealogy: Six Ordinary Women, One Extraordinary God.
Risner's study explores the lives of Sarah, Leah, Tamar, Rahab, Ruth, and Bathsheba.
Throughout the study, you'll see how God captured the hearts of each of these women.
Even when you find yourself weary and broken, this study will inspire you to stand strong and focus on the Lord.
His love story is the greatest story ever told!
14. Elijah Faith and Fire by Priscilla Shirer
We had to include another of Priscilla Shirer's Bible studies on this list because this one has also been so impactful for women from all walks of life!
Elijah Faith and Fire, as you may guess, explores the life of the prophet Elijah.
Although we may be familiar with Elijah's dramatic moments, Shirer focuses on the backstory. She shares the importance of strengthening your faith, character, and boldness.
And how these attributes are shaped in the hidden fires of silence, sameness, solitude, and adversity.
If you're ready to radically encounter God, then this women's Bible study is for you!
15. CSB She Reads Truth Bible
Rounding out this list of 15 best Bible studies for women, we have another study Bible.
The CSB She Reads Truth Bible will enhance your study of God's Word. It features wide margins for notetaking as the Holy Spirit leads you in your Bible studies.
This Bible includes maps, timelines, charts, and reading plans. You'll also find nearly 200 devotionals to help you dive deeper.
You can rest assured, the Bible is the most exquisitely profound book of all time.
How Do I Choose the Right Women's Bible Study For Me?
With so many different Bible studies for women available, how do you choose the right one for you?
The good news is: you can't go wrong with any of the options on this list!
All of the Bible studies for women mentioned above are excellent choices. They will help you understand God's Word better, help you walk through challenging times, and find freedom and abundant life.
So, here are some steps to choosing the right Bible study:
Pray about it
Think about the time investment you'd like to commit to
Consider any books of the Bible or topics you're interested in
Just start!
We know there are many other fantastic studies beyond the ones we've listed here.
What is your favorite women's Bible study? Let us know in the comments below!
More on Church Life