Church presentation software hasn't always been around. With the evolution of technology, comes the evolution of how we do church. This means that new inventions give us new creativity. By using church presentation software, you can elevate your services.
Thankfully, most of the church presentation software companies have free trials so you can test out which software works best for your church. The goal is to elevate your worship service with custom slides, motion backgrounds, Bible scripture and other key features.
Estimated reading time: 12 minutes
What even is church presentation software?
Church presentation software is the technology that takes your service to the next level. This software helps you present lyrics on screens, videos, images, and slides during the service. Think of church presentation software as the digital hymn book.
The church presentation software that we want to highlight will help boost congregation participation. Having the ability to have Bible scripture on the screen as you preach can help your congregation take sermon notes. Just as having any lyrics on the screen helps new people be able to fully engage.
Best Church Presentation Software
The best church presentation software is the one that works best for you and your team's needs. Whether you're in need of a full worship graphics library, the ability to have Bible translations or other key features, we hope you find the best fit.
1. OpenLP

OpenLP is a church presentation software with various features to make church services interactive and more interesting for church members. You can use it to create slides from templates or custom ones for church services or make announcements. OpenLP comes with a free Android remote control app allowing you to control your presentation using your Android device anywhere inside your church.
If you're using Linux or FreeBSD as your church's operating system, then OpenLP is the best church presentation software for you because OpenLP was made specifically for these operating systems. You'll be able to use it to search and download a few selected Bible verses from a Bible site for use during presentations. You can use OpenLP to set up custom liturgies and setlists to make church services personalized in response to your congregation's needs.
2. Pro Presenter

Pro Presenter is one of the best editing and playback tools of any of the presentation software options out there. It can be simple to operate for most churches but takes more advanced users to set things up. It provides plenty of articles and video guides and has a strong user group. However, it is also one of the most expensive, as copyright Bibles are purchased one by one for $15 and on a per-computer basis.
Many of the more advanced tools also have additional add-on costs. The base program is available for Windows and Mac at the price of $399 for a single license or $999 for a church campus license, plus the price of whatever copyrighted Bibles you need.
With ProPresenter 7, you'll get a year of support and software updates for free. After that year is up there is a yearly cost to continue getting support, bug fixes, software updates, and improvements. That cost is $159 per computer or $399 per campus license. If this membership expires for longer than 12 months following the first anniversary of purchase, it will require the purchase of an entirely new license according to ProPresenters website.
3. FreeWorship

FreeWorship allows you the customization of presentations to help you prepare for worship services in advance. It is an easy-to-use software for creating and managing presentations for use during worship services and other church events. It has a video enhancer feature for adjusting brightness and contrast, ensuring optimal viewing of videos. FreeWorship also allows you to search for specific hashtags when searching for multimedia items.
FreeWorship is best for smaller churches because it has basic features and is not complicated to use. It has a drag and drop functionality, making adding files and images straight to your service list easier. FreeWorship has a Child Lock feature to keep your files and formats secure by limiting who can make changes on critical files and presentations.
4. EasySlides
EasySlides contains fitted lyrics databases in multiple languages. The variety of languages makes this a popular application. You'll be challenged, however, if you're moving to this software from another presentation software. It won't allow you to relocate any existing database of songs from your old software to this one without a lot of painful steps.
There is also a limited amount of Bible versions and no ability to import versions from other sources. But the media possibilities are impressive. For example, it will play video and audio files with live backgrounds and even simultaneously project lyrics in two different languages on multiple screens for better visibility. Its HTML generator also allows you to publish lyrics. EasySlides is available only on Windows.
5. MediaShout 7

At $399 per year, MediaShout is a higher-tier paid worship presentation software solution that is very popular.
The slide editor is powerful, even supporting advanced features like scrolling text. There's support for stage screens with limited customization, audio and props layers, and audio playlists.Strangely, MediaShout used to be cross-platform but went Windows-only in its latest release (sorry, Mac users!), while its remote app is iOS-only.
Unique capabilities for this software include a sermon builder, and support for an announcements layer or rotating mode. Volunteer Mode turns MediaShout's settings and edit functions off and simplifies the control and user interface, so that anyone can run a show with minimal training.
6. EasyWorship

EasyWorship seeks to find the balance between power and simplicity, and it does so fairly well (with a few limitations). The focus here is on slide design, with different tabs for songs, scripture, media, presentations, and themes. Media integration includes content from several providers, which is a nice touch.
There's a remote app for Android and iOS, allowing you to send alerts to the stage or audience. There's even support for a stage view or confidence monitor as well. Overall, in terms of design and capabilities, EasyWorship seems more limited than some other options.
EasyWorship is one of only a few solutions to include broadcasting support, which is a big plus. EasyWorship does have a few limitations you should be aware of. First, it's Windows-only, and the app includes native support for English alone.
7. Proclaim

Proclaim is available as part of the Faithlife suite of products, and you might recognize them as the creators of the well-known Logos Bible Software. This software is a cloud-based app that allows multiple users to collaborate in real-time. It has a great set of integrations, including SongSelect, CCLI, Logos, and the higher-level subscription come with an extensive media library of motion graphics and video clips.
The slide editor is okay though a bit different than others. It's easy to use, but it's not revolutionary. In some ways, the Faithlife ecosystem is like Microsoft 365 for churches. The power isn't in any single app or service; it's in all the features and deep integrations.
However, of all the ones listed, Proclaim is the on the range of the more expensive option. The software is only a subscription, which, depending on church size and features, ranges between $200 to $1175 per year. The website suggests the most popular option for the average small church is $300/year.
8. Song of Songs

Songs of Songs is fantastic free church worship presentation software to create or import songs from CCLI, so you can use a song library during worship services. You can use it to create presentations manageable by operators or yourself via remote control during services. It also has a liturgy builder functionality to help you build and manage your liturgy in a centralized location for easy access during services.
Free software is always a great thing to try and can help your church save money, so if you want free church worship presentation software, then Song of Songs is the best one for you. It has periodic free upgrades, so your software always has the latest features at no cost. Song of Songs is easy to use, making it ideal for users even if they are not tech-savvy.
9. OpenSong

OpenSong is another great open-source presentation app focused on lyric management, chord sheets, and bible verses. It supports timed loops of slides and allows you to keep track of song metadata and CCLI information. It is cross-platform, available for Windows, macOS, and Linux operating systems, and supports multiple languages.
OpenSong is best for you if you want a church presentation software without spending a dime because this software is free! OpenSong is also open-source, allowing you to alter and improve the software to suit your church's unique needs. It can also save your church money because, aside from being free, open-source software is less demanding when it comes to hardware requirements.
10. ZionWorks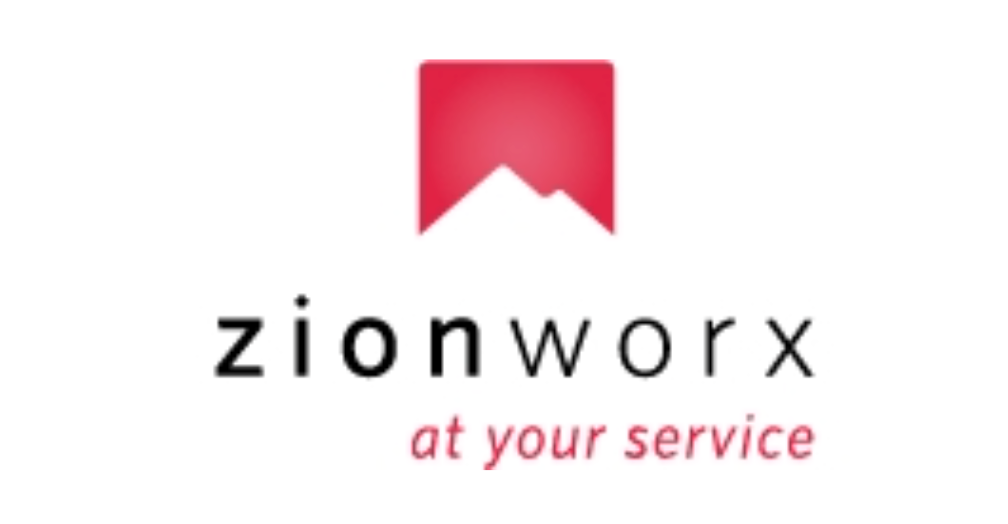 ZionWorks is a very easy-to-learn software that you can use for church presentations. It is like an all-in-one toolbox that helps you to present videos, audios, PowerPoint slideshows, etc. You can plan a seamless church experience for your audiences with just a few simple steps. You'll be able to use a remote control to have access from anywhere.
This presentation software is on the cheaper side if this is the one you choose. For a monthly subscription of $17.50 you'll have full access, and if you choose an annual subscription, it's slightly less at $14.50 a month.
11. Big Screen
Big Screen is a great church presentation web app to help you create and manage presentations for church services and social events. You can use it to create themes giving presentations a consistent look and feel on different platforms. It supports multiple outputs making it ideal no matter how many output devices you have.
Big Screen is best for your church if you need church presentation software to create presentations with multilingual Bible verses. It comes with so many scripture translations from the New American Standard Bible, New King James Version, La Biblia de las Américas, Japanese Contemporary Bible, etc. With Big Screen's multilingual capability, you can promote inclusion and make non-English speakers feel more welcome in your congregation.
12. Slipity

Slipity is an iOS app for projecting texts, song lyrics, media, and YouTube videos on an external display. It allows full customization of slides letting you control the size, duration of transitions, and background elements, so your slides look precisely how you envision them. You can use Slipity's time-based triggers, allowing you to schedule the launch of a specific presentation.
If your church uses Mac and iOS devices, Slipity is the best for your church because this software works best for those operating systems. You can use AirPlay Mirroring to control presentations projected on a full screen. Its Stage Display feature lets you view current and succeeding slides on plain text on your control monitor while displaying full output on your projection screen.
13. Praisenter

Praisenter is a church presentation software for producing slides and presentations with song lyrics, Bible verses, images, and videos. You can use this software to search for Bible verses and save them for later use. It also allows you to import translations from The Unbound Bible, letting you present two translations of scripture simultaneously, making it ideal if your church has multilingual members.
Praisenter is the one of the best church presentation software for your church if you need to project lyrics for your congregation. You can use the software to search, edit, and create songs for worship services. It has a slide editor that allows you to customize different aspects of your slides or templates, including gradients, text outline, video looping, and others. Praisenter also lets you add images, pictures, audio, or video on your templates for full customization.
Summary
Take your time as you research and try out which church presentation software works best for your needs. There's no need to pay for the biggest software if you don't need all the functions they have to offer. Be creative with motion backgrounds, and elevate your sermons with the ability to put key points and bible verses on screens.
Related Links:
About The Author