Having a good church website design is essential! Not only is the function and organization important, but so is the look and design. These are all things that evolve over time and can be updated regularly. best church websites
When you have a great church website, you provide information for new members and inform existing members about resources, events and other ways to get involved.
If you want to begin building your church website or are looking to revamp it, we've found some great church websites to inspire you below!
Estimated reading time: 15 minutes
Characteristics of a great church website
So what exactly goes into making great church websites?
There are a few key things to remember when designing your website. While the design is important, so is the function. Thankfully, there are a ton of great website builders that provide church templates.
Communicating the right message
The focus of your message should always be on Jesus. Keep Jesus as the purpose and let everything flow from that. Your message as a church is to lead people to a new life with Jesus. On your website, you can do this by providing information, direction and inviting people to attend church on a Sunday gathering.
Organized
It's vital to have a well-organized website. At times it can be frustrating to have to hunt and search for something on a website you're not familiar with. By having a functional website, you make it easy for new guests to find what they're looking for.
Visually appealing
Next after organization, is the look and design of the website. Think about your favorite websites or your favorite brands and what their websites look like. They usually have a clean look, beautiful pictures, and a clear vision. Don't choose too many fonts or colors, stick to one theme throughout the whole website to keep things cohesive.
Provides important information
Since you have the right message, you then want to make sure you're providing accurate information. Keep your website updated with upcoming events and recent pictures. Some of the most important elements to have on your church's website are the location and service times. These are two of the things new guests will look for immediately.
Church contact information
It's important to include your church phone number and email address so that people can get in contact with you. Set up a specific church email that is linked to the website so that if people have an inquiry, you can be sure they get answered. You can also direct them to any social media links you may have so they can get a faster response.
20 beautiful church website designs
To have a great website doesn't mean you have to have thousands of members. By putting time and effort into the design and organization of your church's website, then you are setting a good first impression for any first-time visitors. Below is a list of 20 great church websites; feel free to visit their pages and explore why we think they work so well.
Passion City Church
https://passioncitychurch.com/
Why it works: Passion City Church has a beautiful layout with videos that play on the home page as you enter. They have a tab at the top of the page that says "Start Here" that goes into detail about the beginning of the church and tells you a little more about their Lead Pastor Louie Giglio and his wife Shelley. They invite you to join them for a Sunday service either in person or online with their service times clearly posted. Their website is clean and as you hover your mouse over different sections, it highlights them with images behind it. This is a great Christian church to be inspired by.
Elevation Church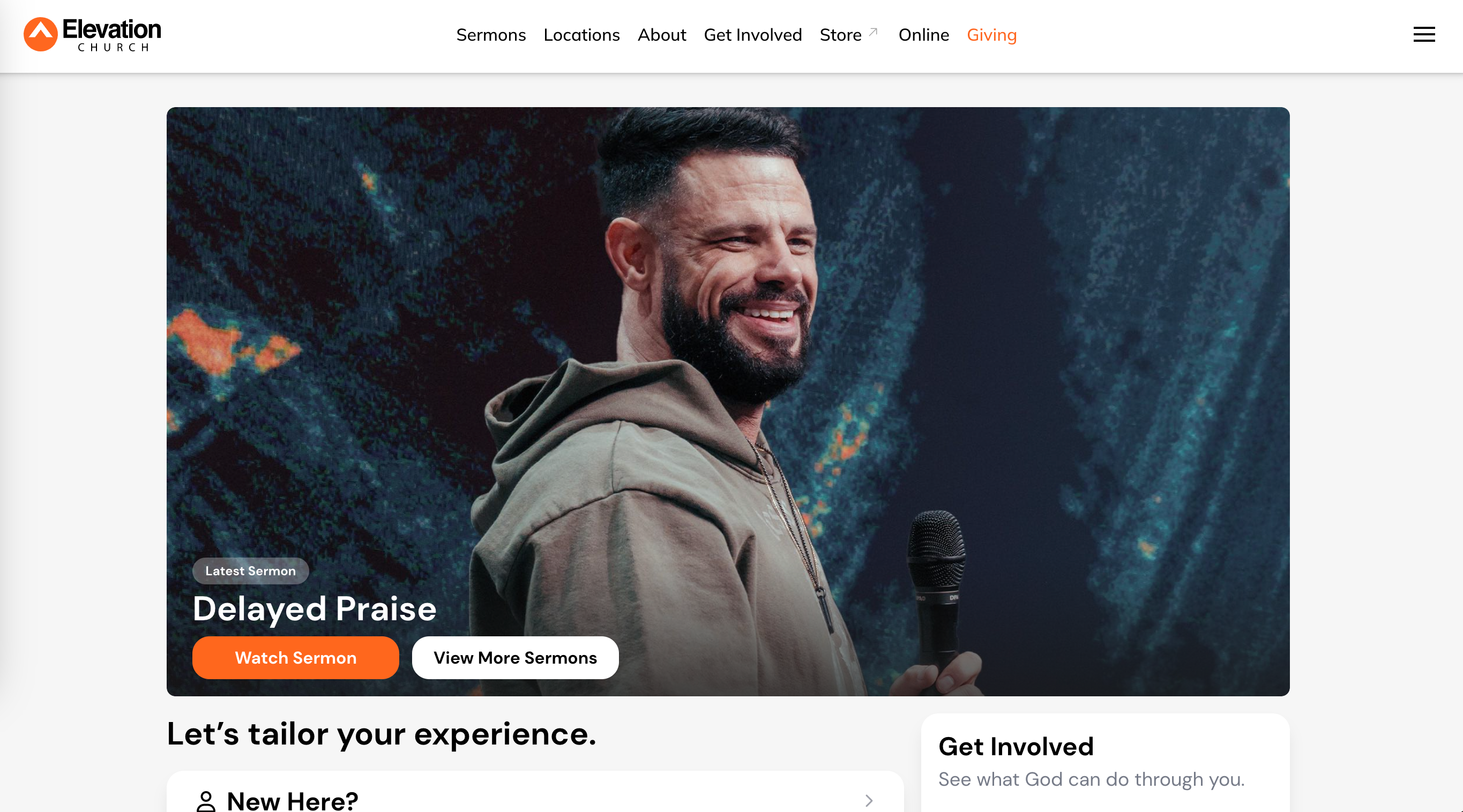 Why it works: Elevation Church has a very simple design so that you can always find what you're looking for. Their home page is not overly long and is condensed into small sections based on parts of the church such as "Get Involved", "For Your Family", and "New Here?". Their social media links are clearly displayed as well, guiding you to follow them and stay up to date. Every week they update the latest sermon.
Park Community Church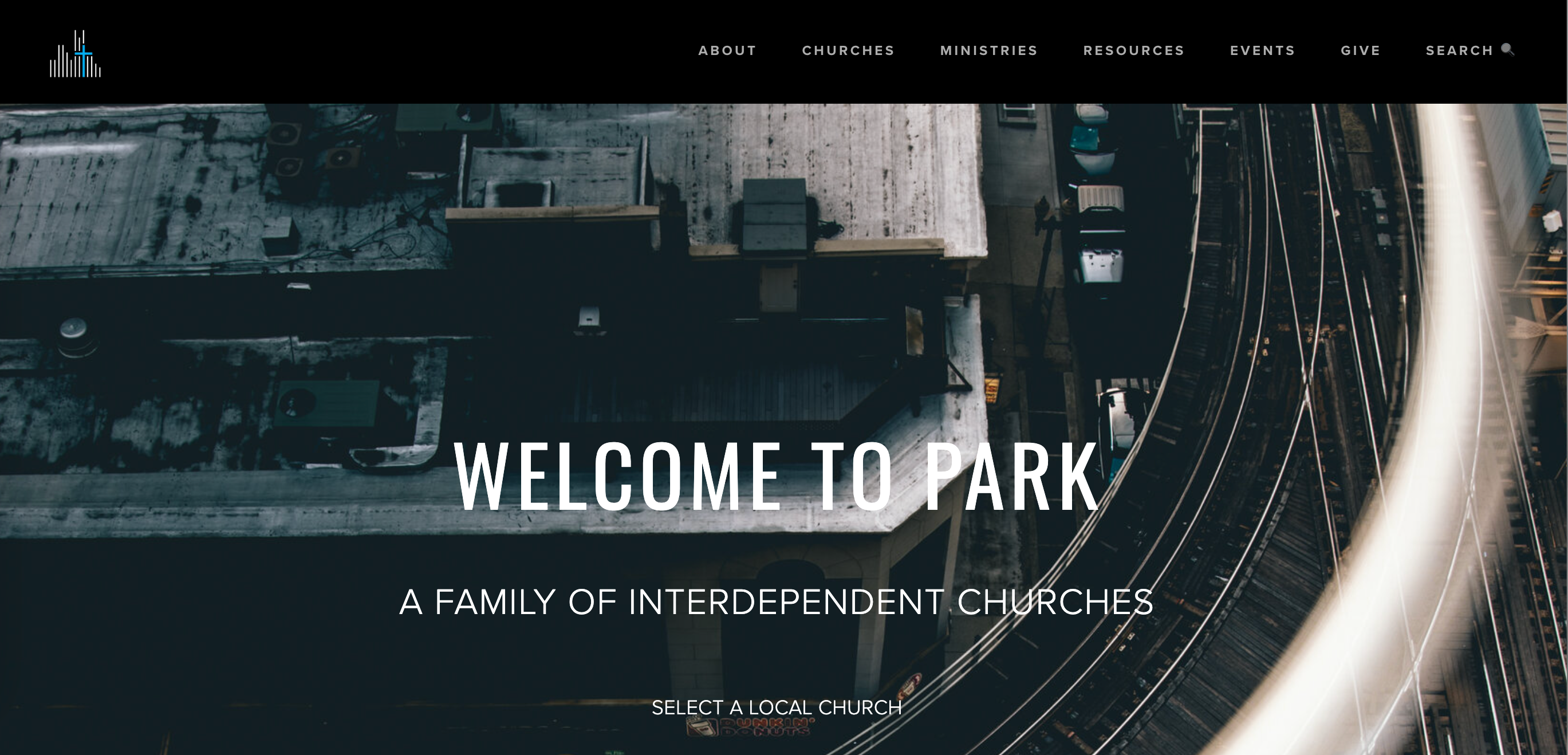 Why it works: I love the overall aesthetic look of the home page of Park Community Church. Right away, they have all of their church locations listed so that you can find a location nearest you. Their home page is simple with important drop down menus up at the top. They incorporate recorded videos throughout their website to explain and welcome new visitors.
Church of the Highlands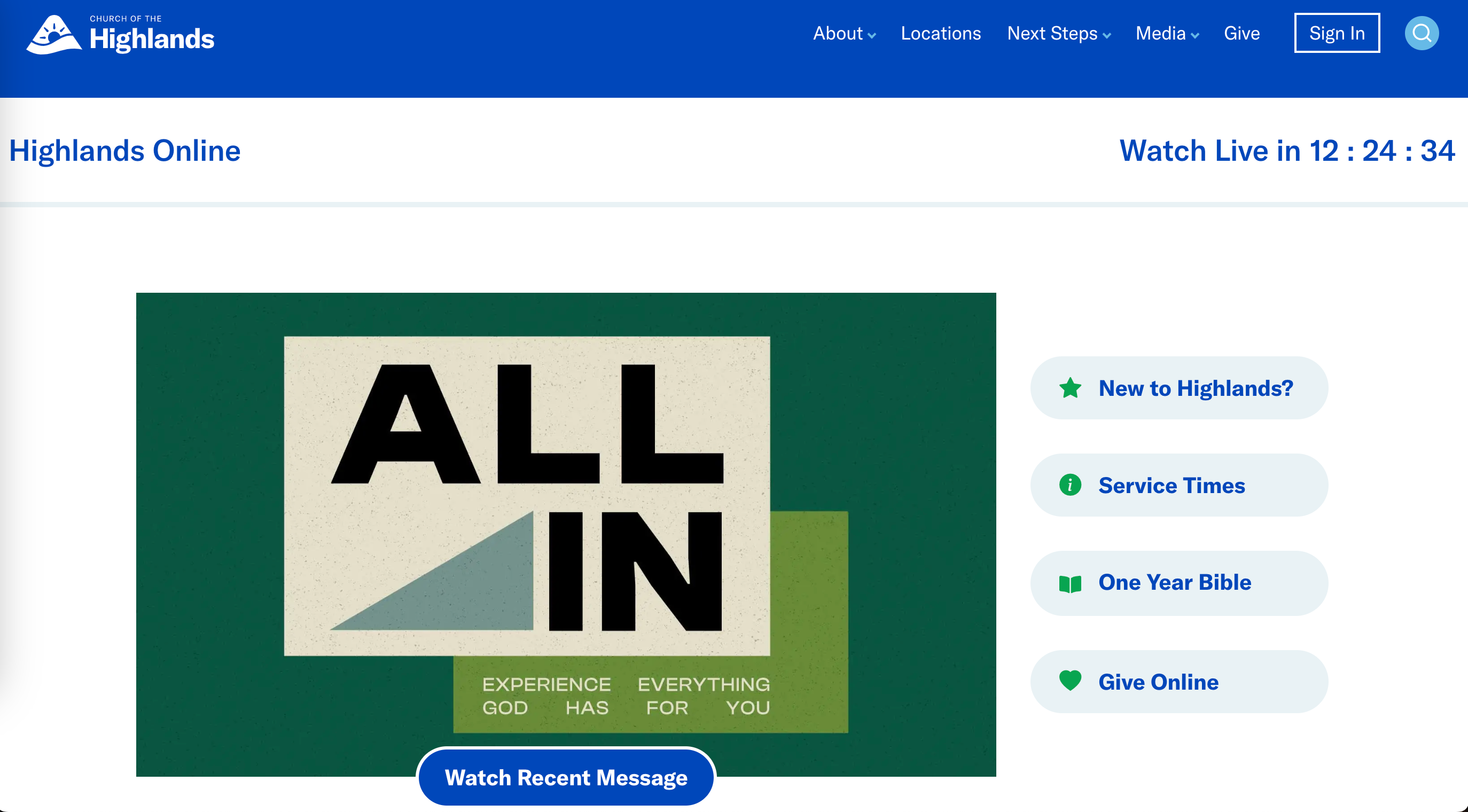 https://www.churchofthehighlands.com/
Why it works: Church of the Highlands has many locations located all over Alabama. They highly encourage church online and have a countdown counter in the corner to their next live service. As well as quick access to the most recent sermon, they have important information located on the side so that you don't have to scroll down to find what you're looking for.
Faith Community Church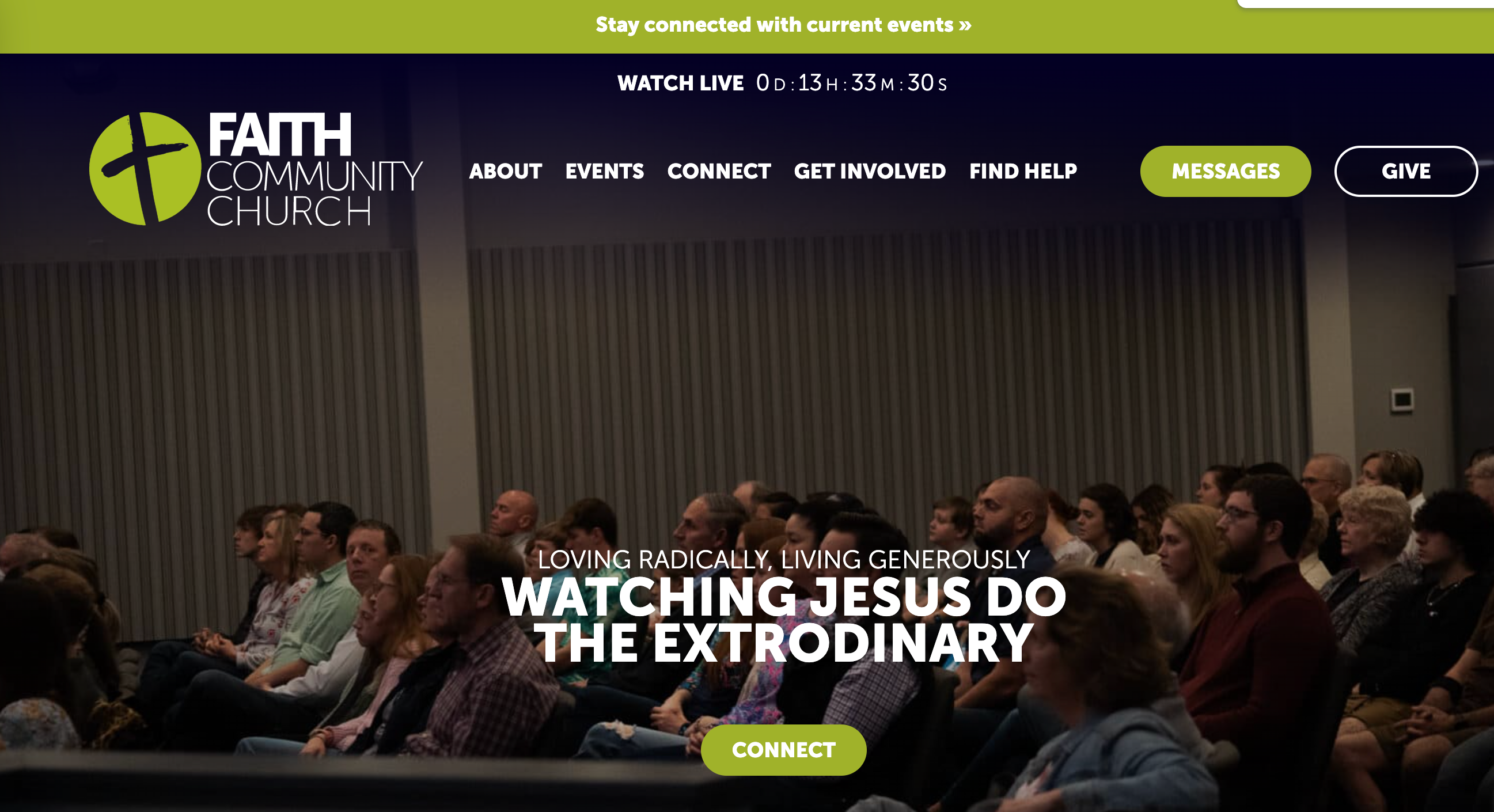 Why it works: Faith Community Church sticks to a nice design with a pop of green all throughout their church site. You are immediately greeted with great pictures showcasing the community of this church. They have tabs for online giving, current and past messages, different ministries and encourage with testimonies from people in their congregation.
Lancaster County Bible Church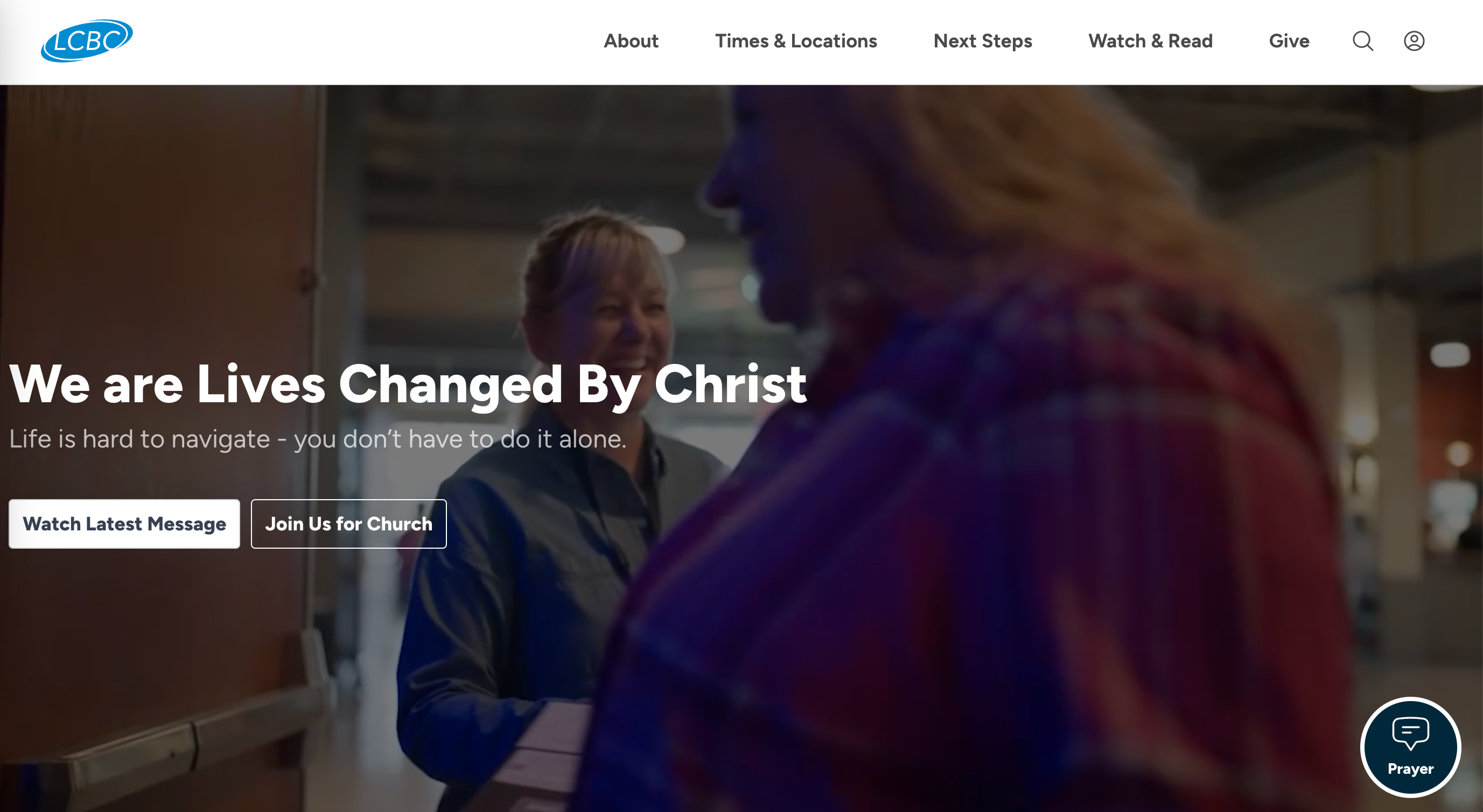 Why it works: Lancaster County Bible Church uses a video background loop on their homepage, highlighting what their church looks like. They have a "Live" button that directs you to watching their online service. LCBC has a strong focus on faith resources such as blog entries, podcasts and Bible reading plans. In the bottom right corner, they have a great feature, a prayer request button can be clicked and filled out at any time.
Granger Community Church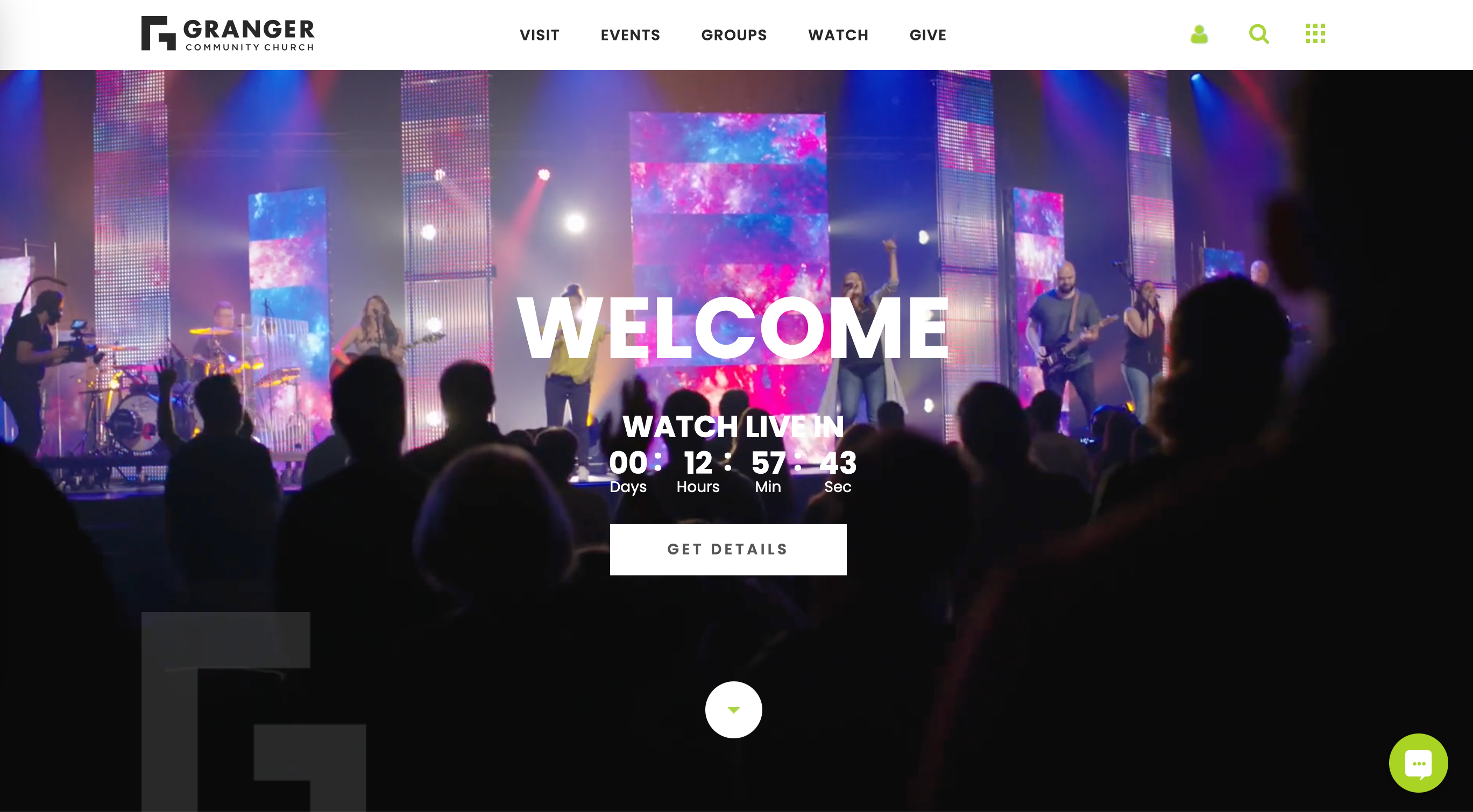 Why it works: As with other great websites, Granger Community Church uses a video background loop. To make sure you don't miss a chance to watch online or come visit them in person, they have a countdown clock on the home page. They allow you to make a profile on their site so that you can stay updated and easily give online.
Grace Church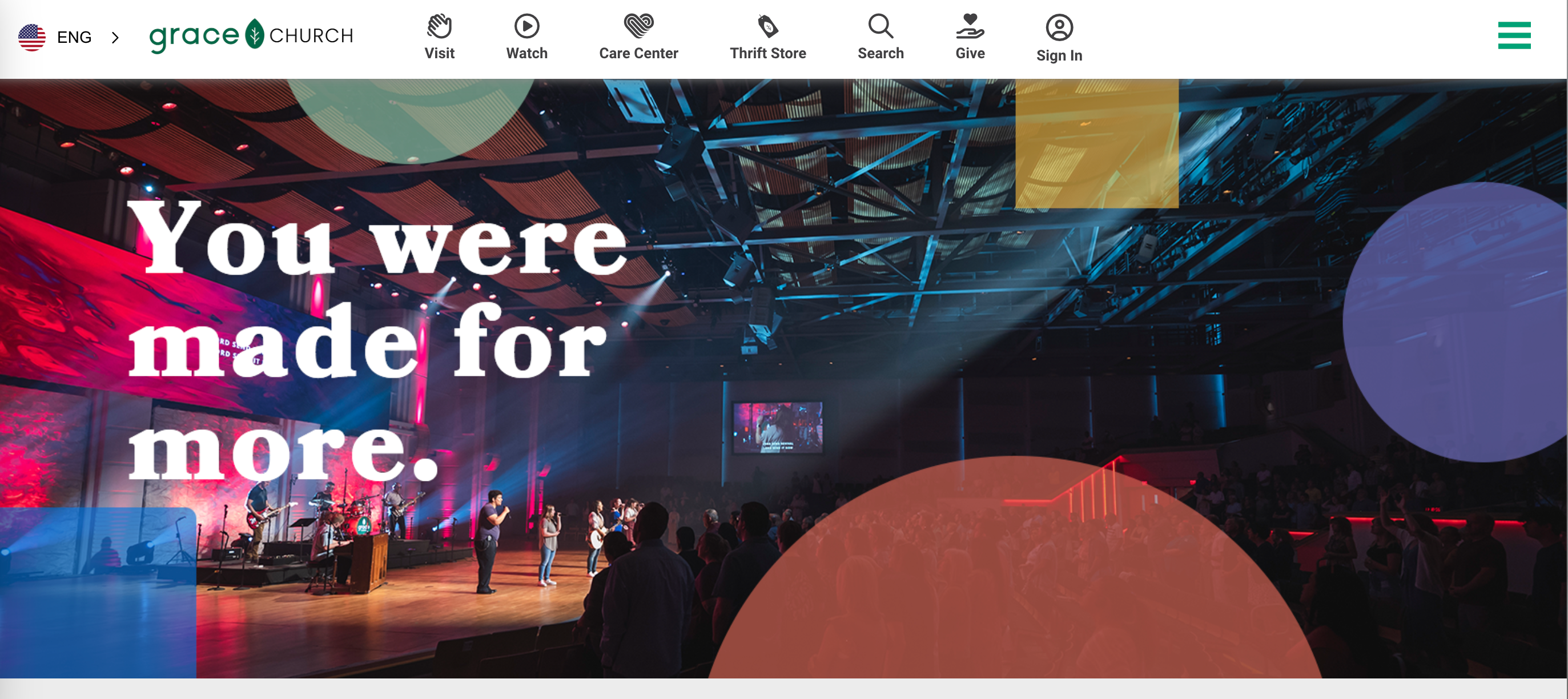 Why it works: Grace Church is a very colorful and appealing website. They use nice fonts and have small icons representing different resources. Their website is very engaging and has a high energy. The layout is very simple, but effective.
Christ's Church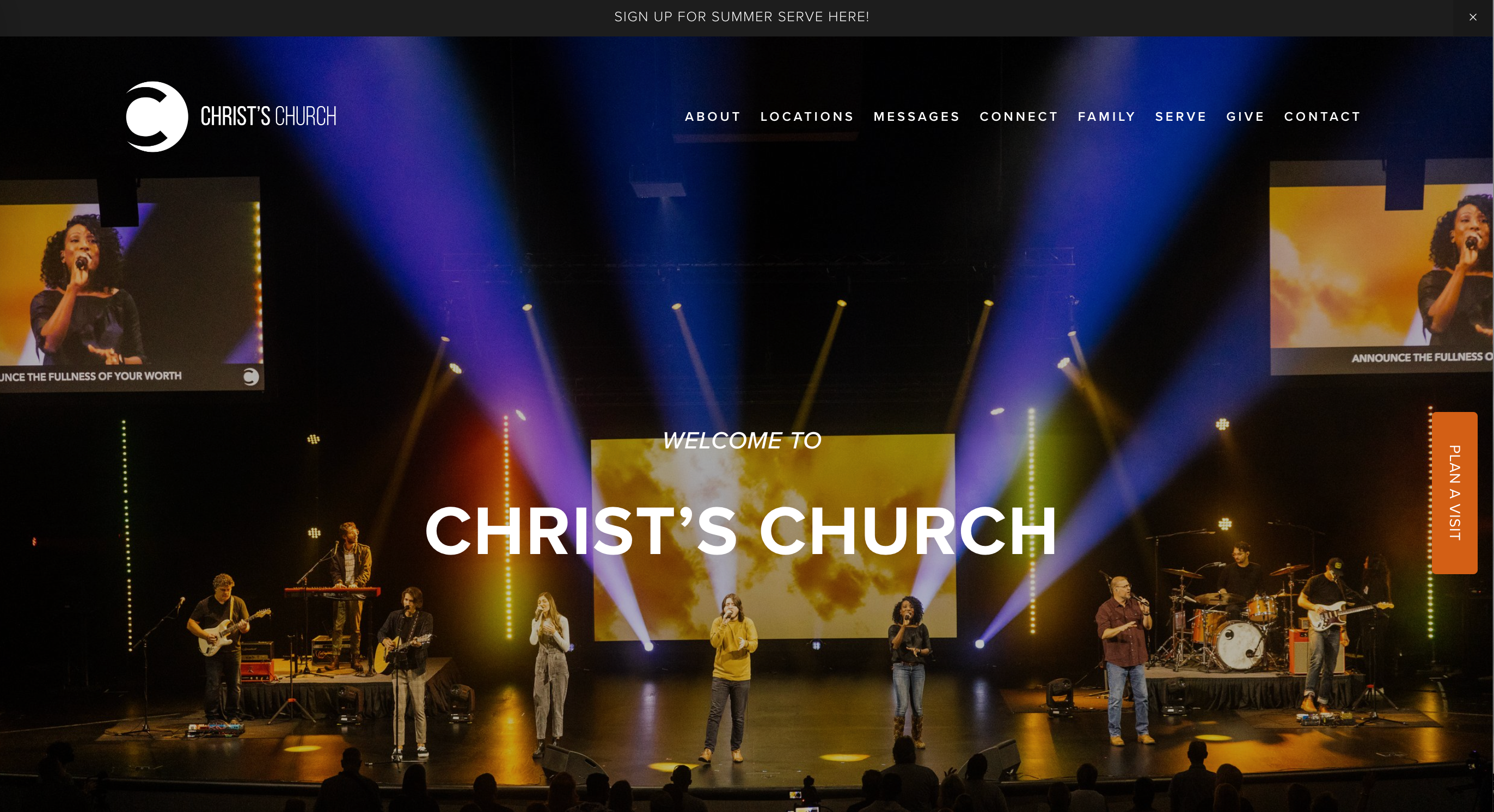 Why it works: Christ's Church has a great website that highlights their church members. It is a modern and clean design and as you scroll you can easily find quick resources to what you need. As you hover over the top pages, a drop down menu appears so you don't have to search through too many things.
Celebration Church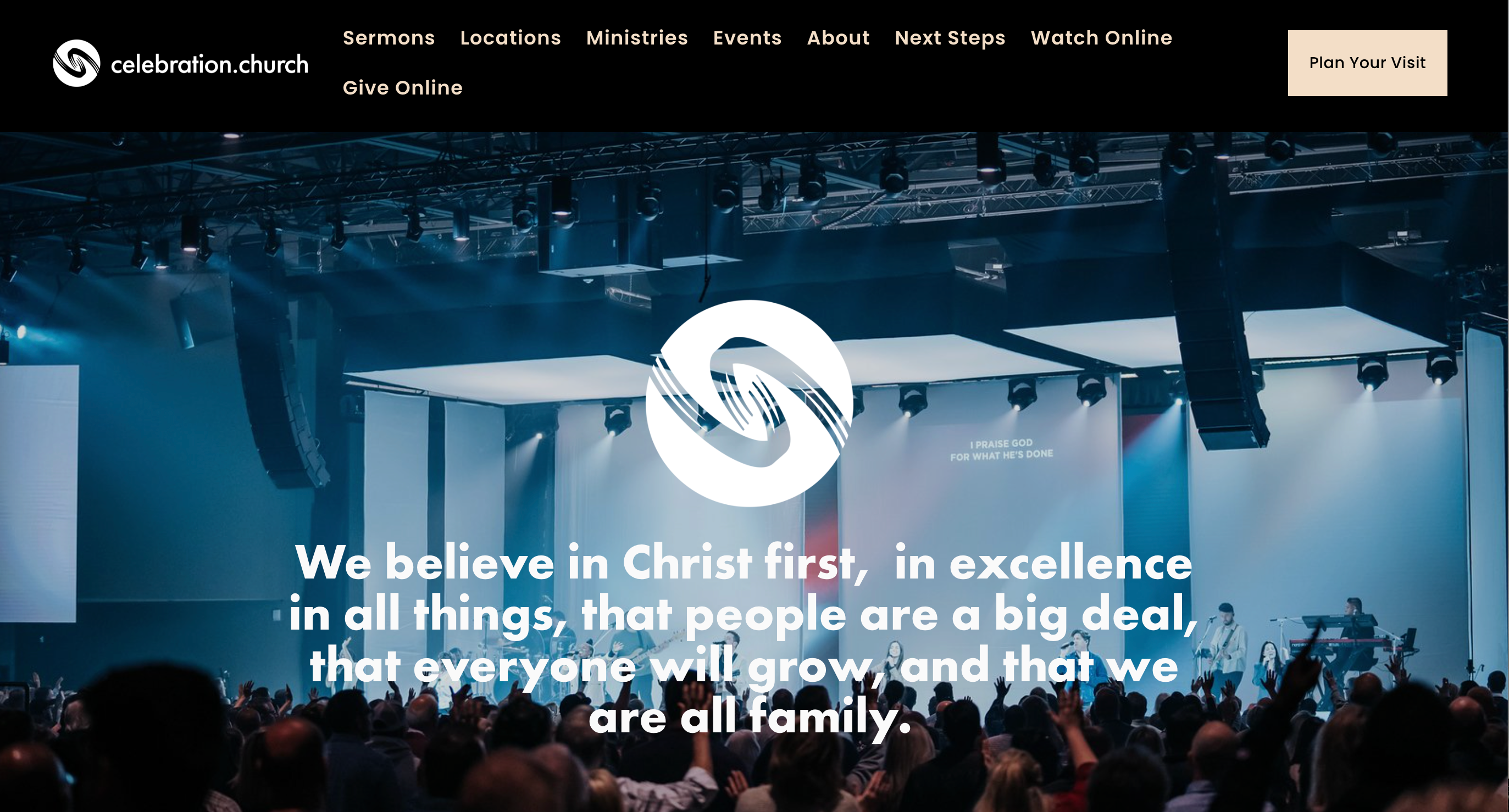 https://www.celebration.church/
Why it works: Located in Austin, Texas, Celebration Church has a great design. You can find pages for past and current sermons, locations with addresses, upcoming events and ministries. Celebration Church wants to make sure you get involved and make it easy to do so by highlighting outreach opportunities, and volunteer areas. You will also see the church's mission statement upon entering the website.
Oaks Fellowship
Why it works: Oaks Fellowship integrates high quality images all throughout their website. Right away you can see their church services and times displayed, as well as their social media links. For first time visitors, this is a great site to visit as you'll find resources immediately. Near the bottom of their home page, you'll find out more information on their Lead Pastors Chris and Cara Railey.
Gateway Church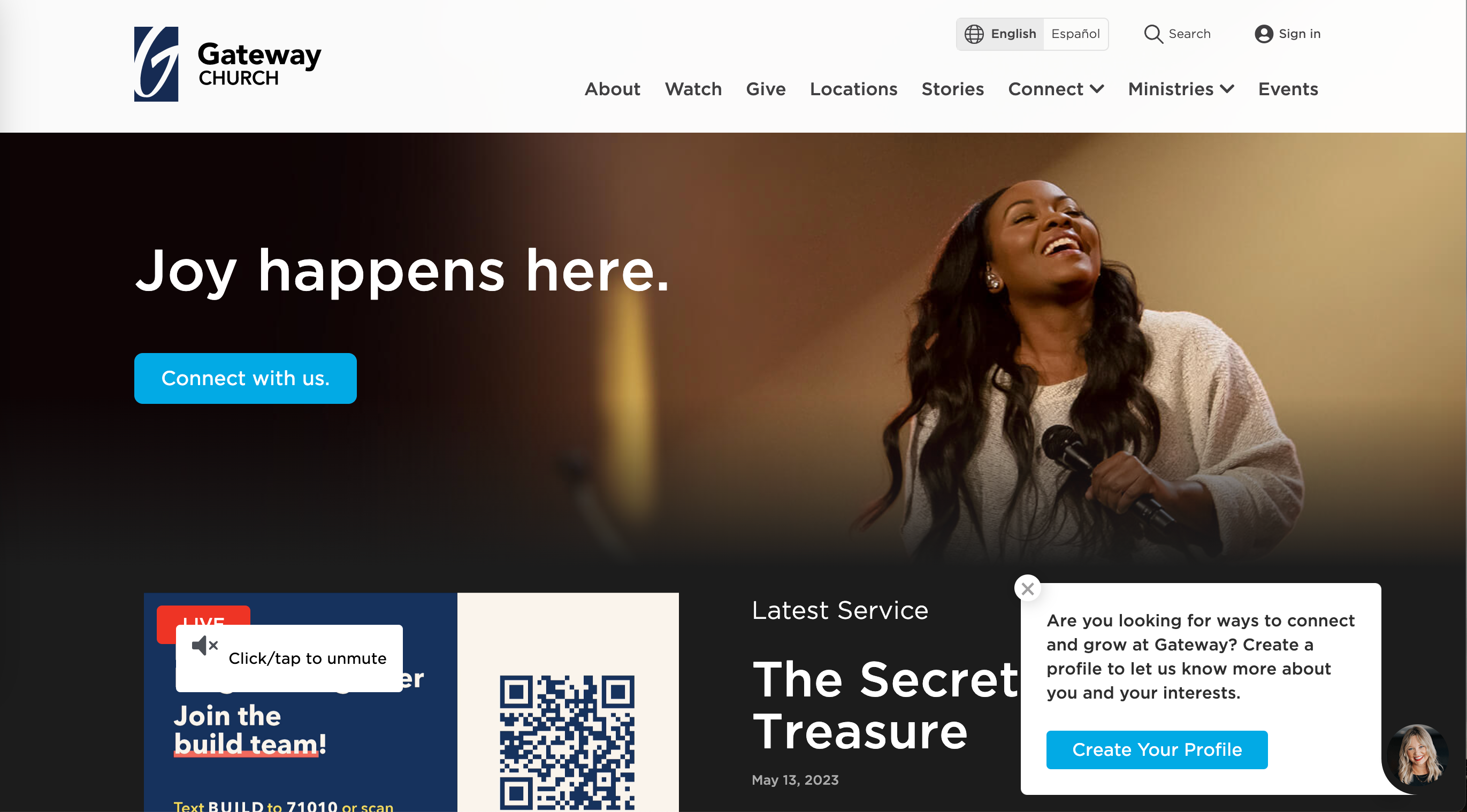 Why it works: Gateway Church has a great home page and even include a live view of any services that are currently happening in real time and continue to play on the home page until the next service. As you scroll down, you will find current events with high quality pictures. Gateway wants to connect with people right away and display this as their main focus on the home page.
Mosaic Church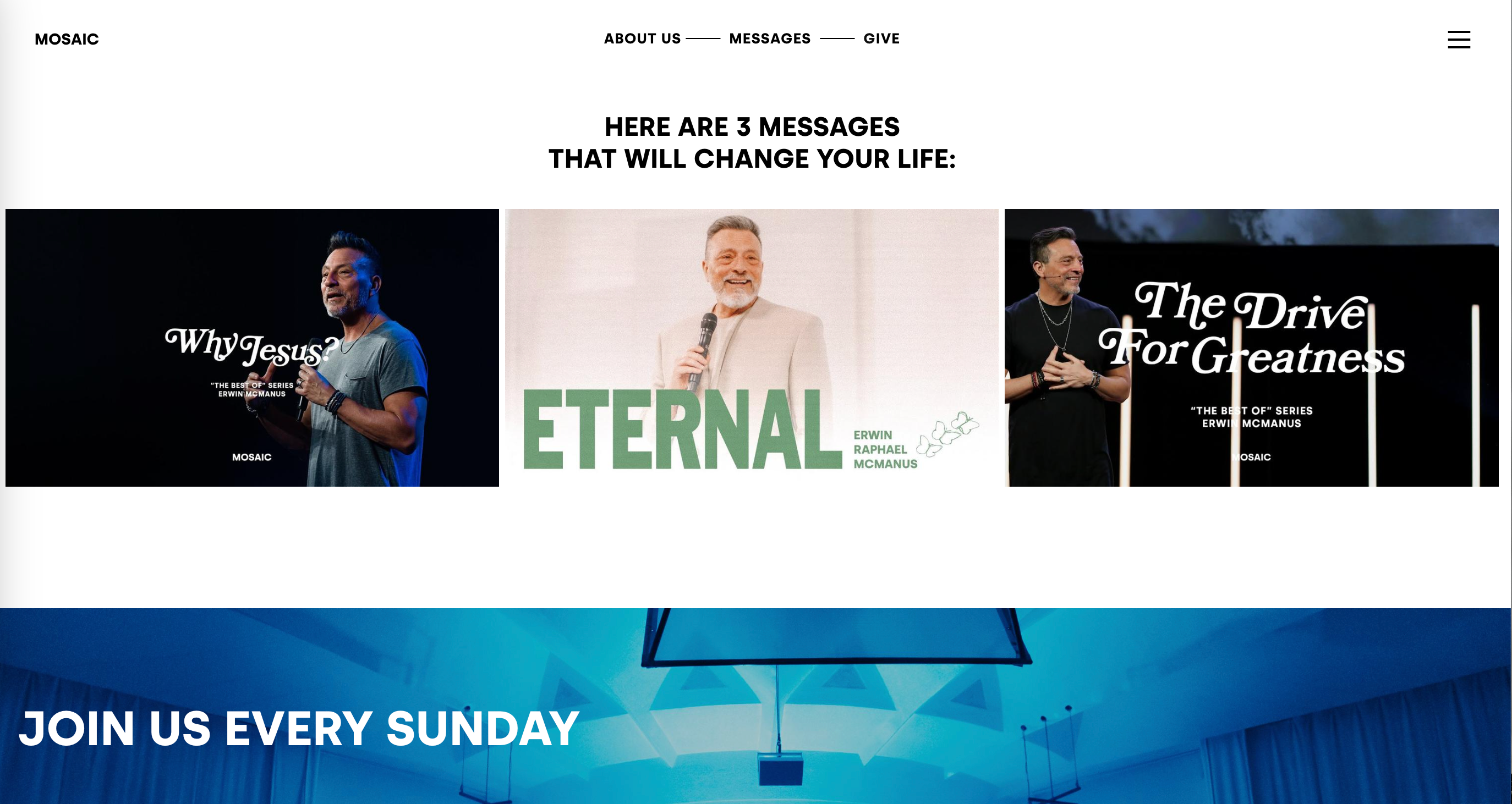 Why it works: Mosaic is known for having a great design and aesthetic. Not only do they have a great worship group, Mosaic MSC, but great teachings they highlight from lead pastor Erwin McManus. I really liked the section of their website that says "Community is one click away" and has tabs so that you can connect, receive prayer, join a team and serve the community.
Hillsong Church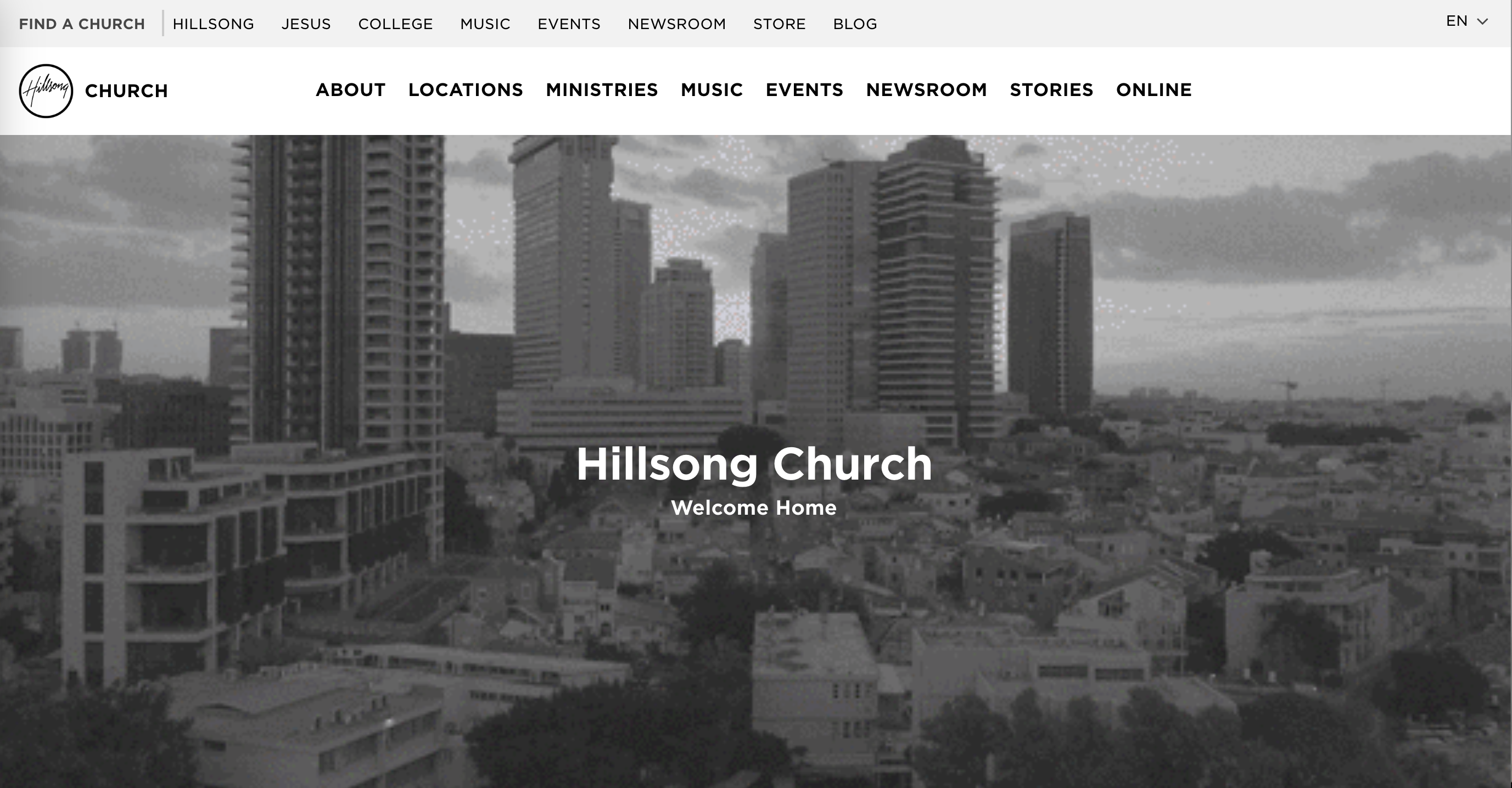 Why it works: Hillsong Church is known for their worship music from Hillsong United and other worship groups. Their website is home to locations globally and makes it easy for you to find one close to you. Whether you're looking for more information about their music or want to watch a recent sermon, you can do this easily. Their design is a clean black and white look with pops of color pertaining to different ministries and events.
The Belonging Co.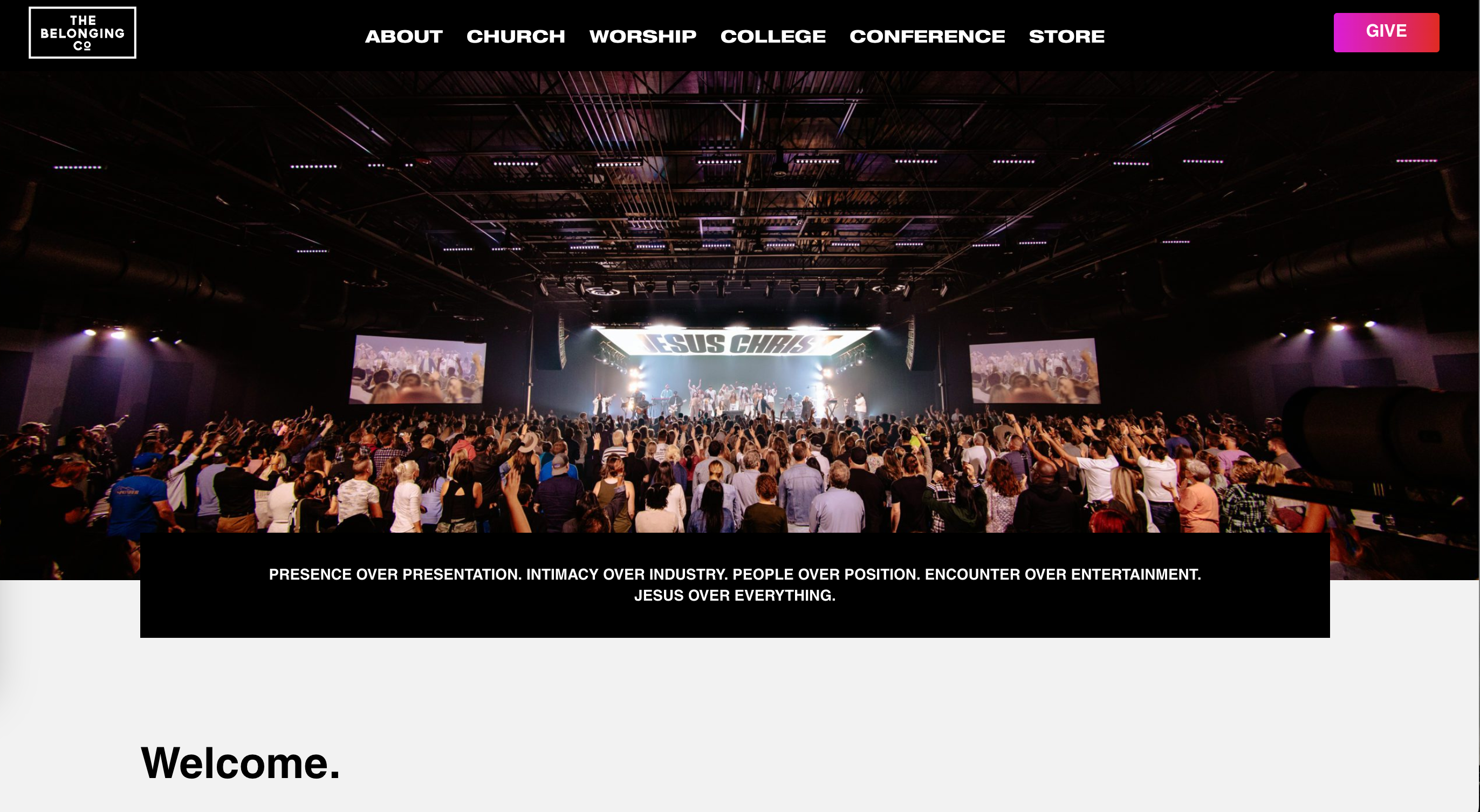 Why it works: The Belonging Co. Church has a fantastic website, that has a simple layout. Their mission statement is directly on the home page, followed by their two locations. The Belonging Co. also has a music group and makes sure that this is a focus. Their website is not too distracting and doesn't have too many pictures which makes it well organized.
High Pointe Baptist Church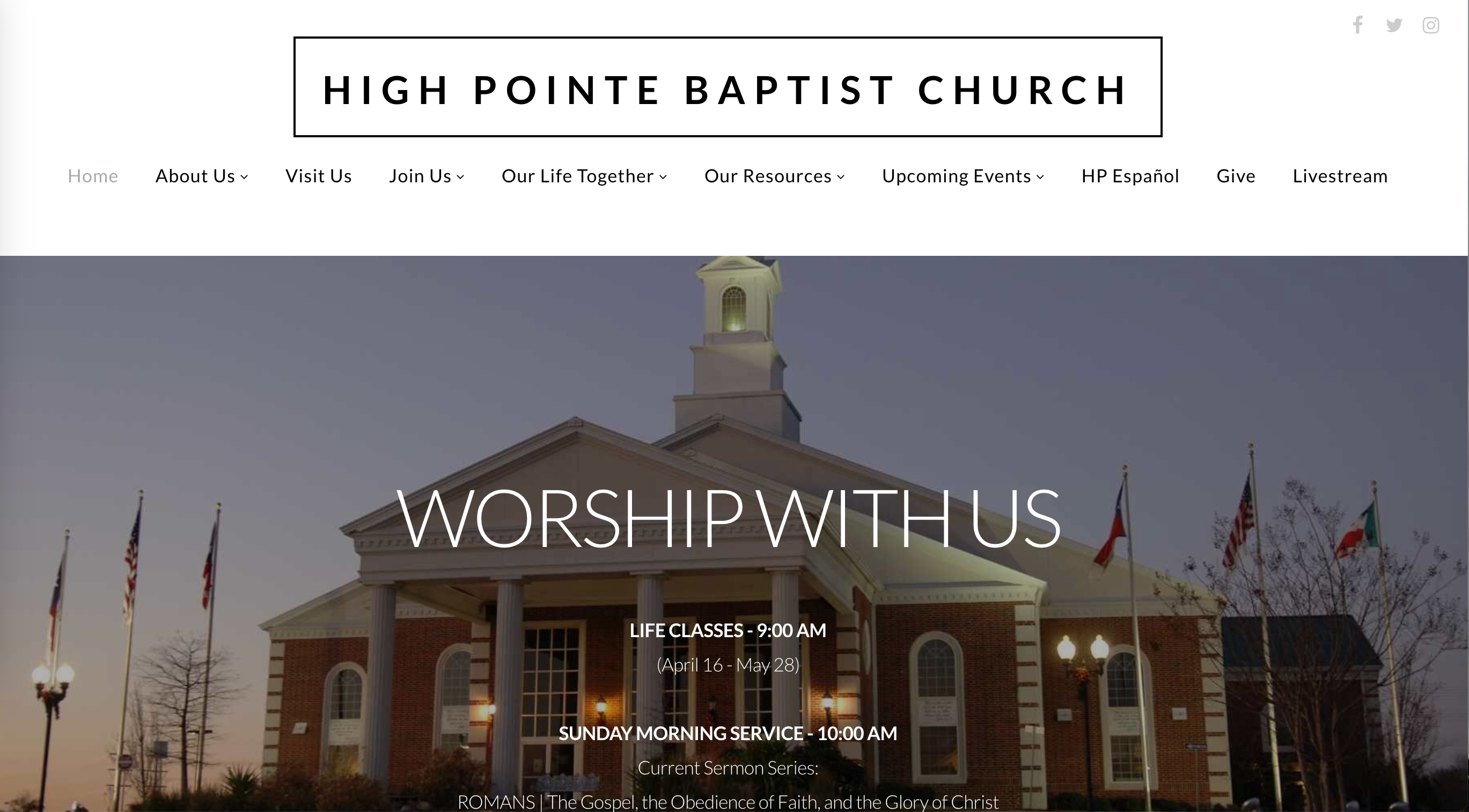 https://www.highpointeaustin.org/
Why it works: High Pointe Baptist Church has a great design template, and they also have an option for a Spanish version of their website. You will find important information about their location, times and upcoming events directly as you enter. They have important drop down tabs directly at the top for easy navigation. Each page has a creative design and uses high quality images behind other information.
River Valley Church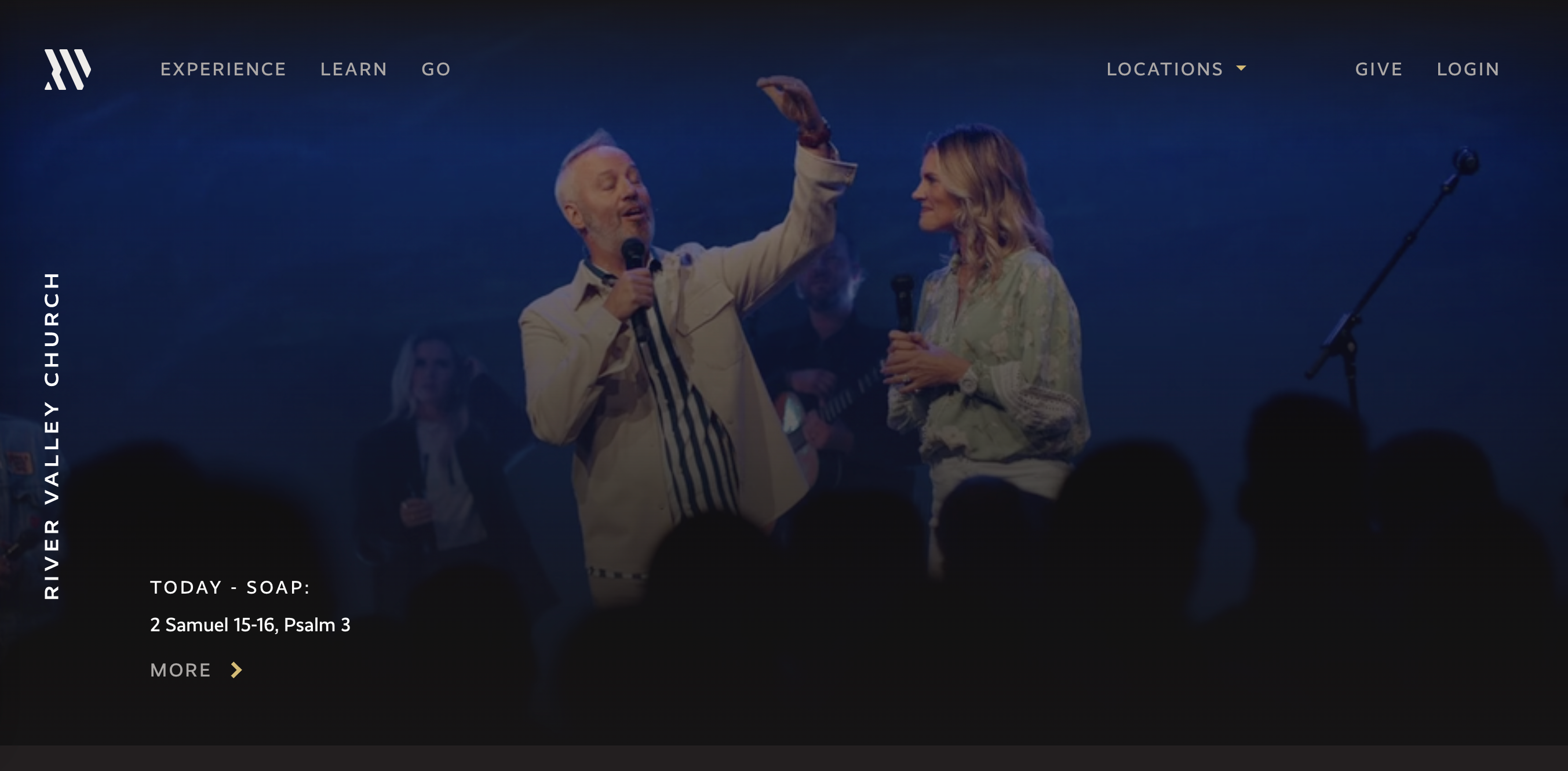 Why it works: River Valley Church uses a video loop background that plays on the home page. This is a great way to show what their church life is like and invites you to be be part of that community. Their design is very sleek and modern, implementing unique design elements. They use a side menu to direct you to all other information about their ministries and upcoming events such as their women's conference.
Austin Ridge Bible Church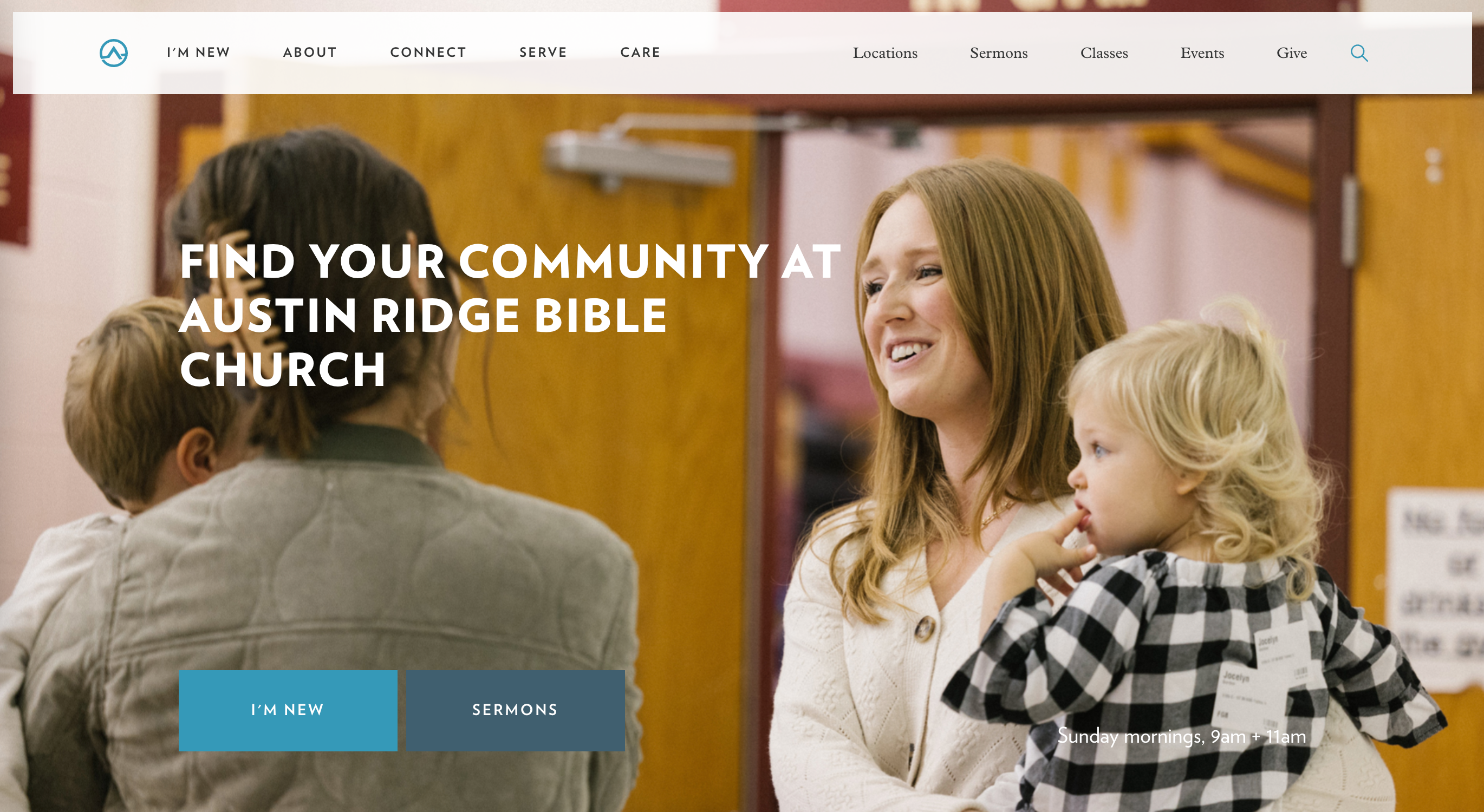 Why it works: A few reasons I love the website for Austin Ridge Bible Church is that they place a big focus on connecting new members. You'll also find the times for their Sunday services with an invitation to pre-register kids for an easier time. They are one church with three locations. On their home page, you'll find a carousel of images highlighting different areas of their church.
Red Rocks Church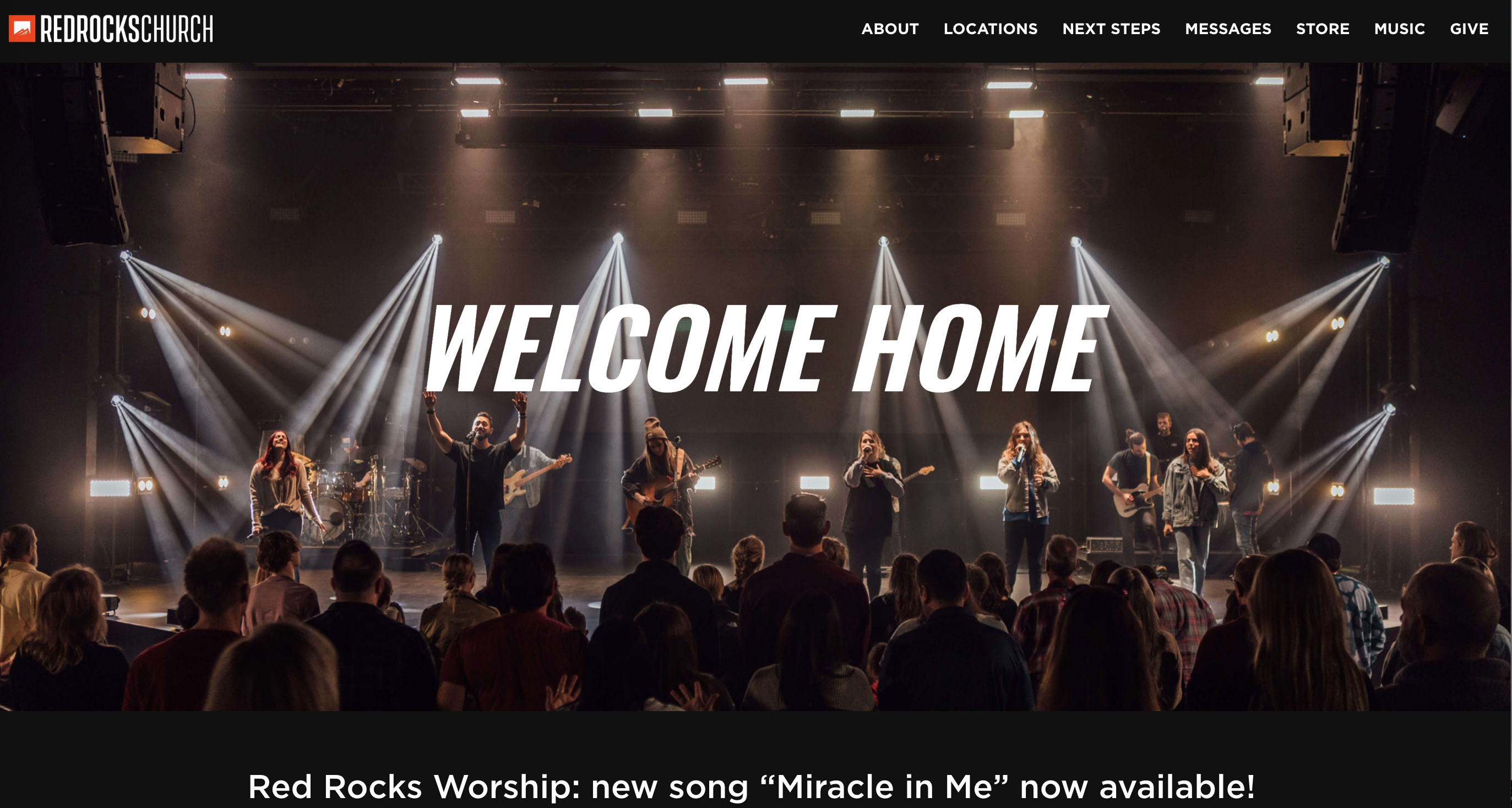 https://www.redrockschurch.com/
Why it works: Red Rocks Church has an amazing worship group, and you can see new songs displayed on their home page. I love the "Welcome Home" greeting as soon as you enter the website. You'll find many ways to get connected and watch online, via social media and Youtube. On each of their different ministry pages you'll find the staff about bios about who they are. This is a great feature to have as people love getting to know the other people that make up the church and all the hard work they put into it.
Bethel Redding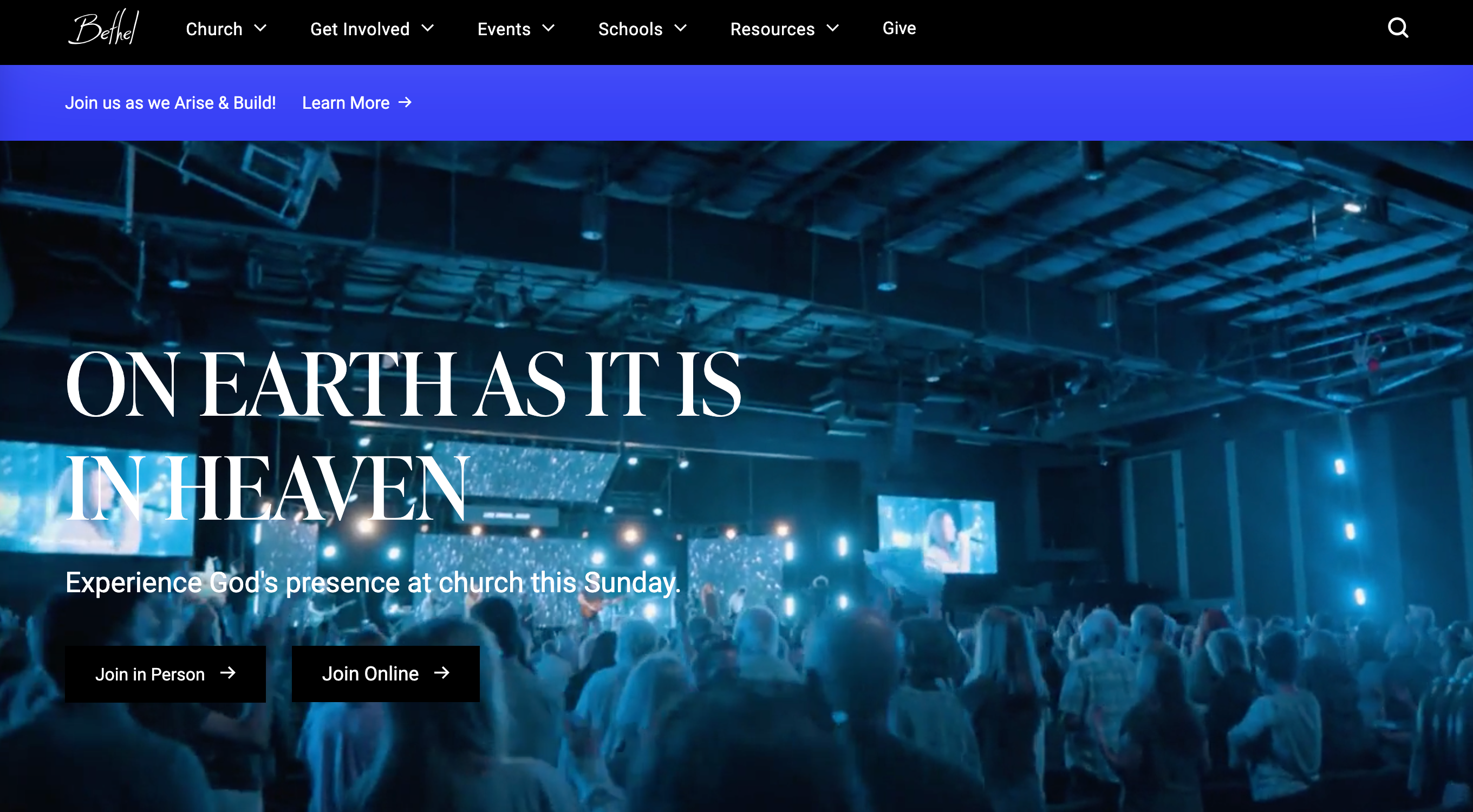 Why it works: Bethel is more than a worship group with popular songs, they have a blossoming church in California. Their website focuses on community and bringing people in to be a part of that community. Along with their music, they focus on their different schools, one for healing and revival. Teaching people how to follow Jesus is a large part of their mission and you can see this well on their site.
How to set up a church website
Custom Domain Name

You will need a custom domain name otherwise known as the website URL. This is the name of the website that people will type in. Some websites offer free domain names, while some require a small monthly or annual fee.

Web Hosting

Essentially, this is where your church website lives such as wordpress or squarespace.

Design

It's important to focus on the design of your website. Is it functional? Is it appealing to look at? Take a look at your favorite websites and write down all the reasons you like it. Design is an important aspect, as it is a reflection of your church and gives off their first impression.

Content

Next to design, is the content of your church website. This will be all the information you want to include on your site, from live streaming to online donations.

SEO

SEO is search engine optimization which is how your website is able to be found amongst all the others that appear on a search engine. SEO uses keywords to find your website and put it at the top of the search. It's important that a website builder uses SEO and optimizes it well.
What to include on a church website
Deciding what to include on your church's website is entirely up to you. As you take a look above at many different church websites, you'll find they all have similar things in common. Most church websites will have their location, name, service times, and images. When creating your church website, here are a few things to consider adding.
Home Page
About Us
Social Media
Sermons
Ministries
Events
Next Steps
Locations
Give Online
Church Website Builder
REACHRIGHT's mission is to build church websites that help you reach more people online. Our focus is specifically on Church websites, as opposed to another website builder. Use REACHRIGHT and our church website templates to get started in designing your website today.
REACHRIGHT focuses on building a mobile-based site since 63% of website traffic comes from mobile rather than desktop. Your site will be SEO focused to ensure that it will come up in a search among thousands of other churches. REACHRIGHT has a support team ready to answer any questions you might have!