There is a lot that goes into building a great church website. From choosing the right domain name to the perfect website host. Church website hosting should be simple and stress-free.
Finding the right hosting provider can take time, which is why we've compiled a list of some of the best and most affordable web hosting companies. They are experts in their field and take out the hassle of building a website.
There are many web hosting services that provide free hosting and some for as little as $2 a month. You'll need somewhere to host your church website, so let's get started on finding the right one for you.
Estimated reading time: 12 minutes
What even is website hosting?
Think of web hosting as the physical space that your website takes up online. Essentially, you rent space on the internet for your website to live. You want to make sure that your web host is safe and secure since you'll most likely have important information and data stored on your website.
Many website builders offer web hosting along with the other components that it takes to build a website. But there are specific websites that attend to the hosting technology. Church websites need a host just like any other website.
Servers
A server can either be a physical machine, a virtual machine or a software program that performs certain services. A server requires two different components: an operating system and an application.
A lot goes into how a website runs, and we won't get too much into that here.
Why should I have a church website?
Maintaining a church website can be a lot, so it's a good idea to think about the reasons why you might need one. Nowadays, almost every company or business has a website. Guests can look up important information such as upcoming event days or the service times at each location you have. A church website is also a great place to set up online giving and have a place for guests to contact you.
Key components for a church website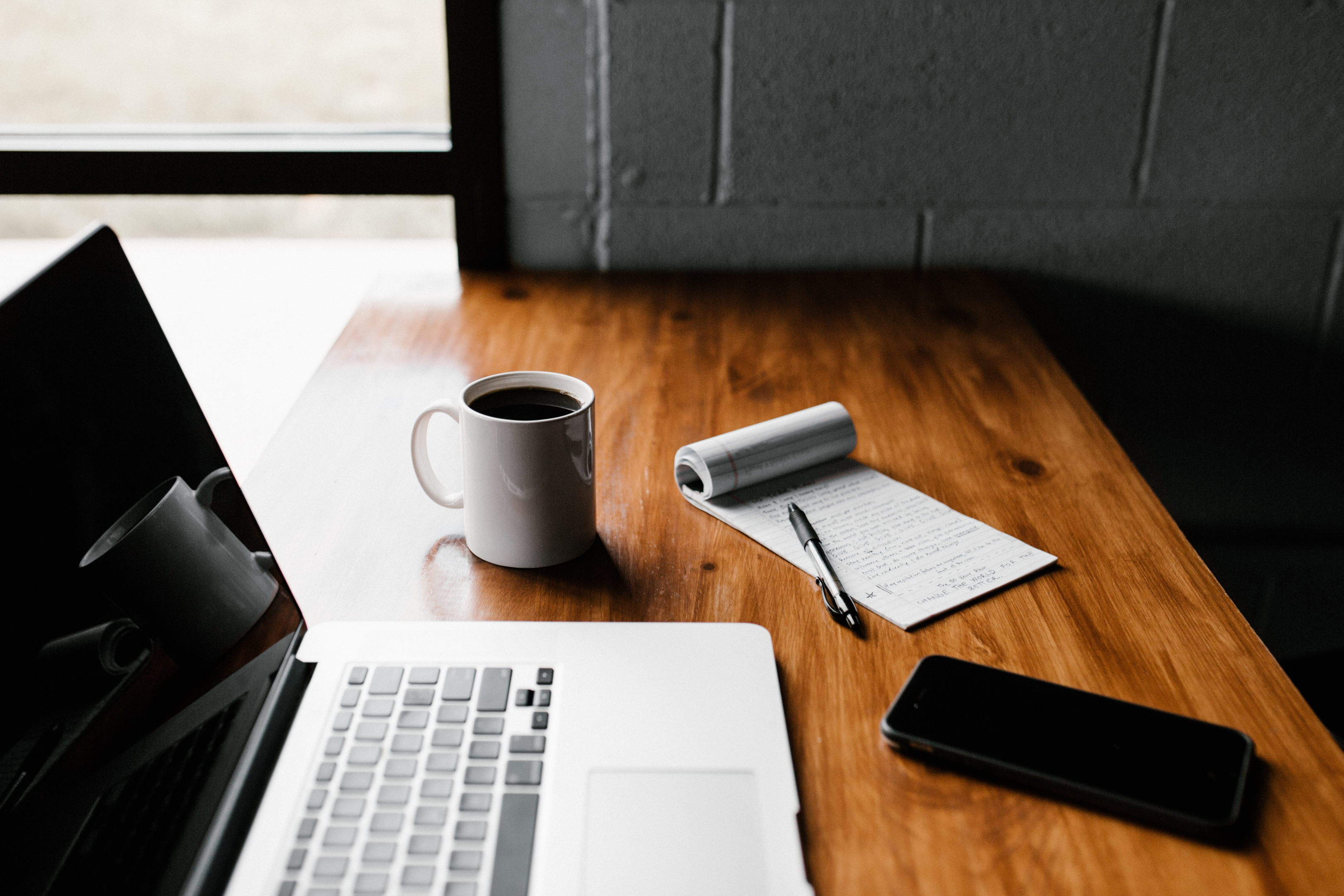 About Page – Often, people want to get to know more about your church and how it started. Include information about what year it began and some history behind it.
Location – It's important to list the location of your church on the website so that people know where you are. Some churches have the same name, so make sure your is listed and attach a link with the address.
Service Times – One of the most important things to include on any church website is the service times. Guests will want to know when they can attend a service, so these should be listed on the first page.
Sermons – Including past sermons on your website is a great way to have traffic on your website. Sometimes people can't always watch a sermon live or in person, so they will watch it when they have the time.
Social Media – Connect your church's social media pages for quick and easy access so that new and long-time guests can stay up to date.
Events – Post-up-to-date event times and dates so that guests know when events are happening in the future and where to register if they need to.
What to look for in a website host
One of the most important factors in looking for a great hosting provider is their "uptime". This just means the amount or percentage of time that they stay up and accessible. Sometimes websites crash or go down, especially if there is a lot of traffic.
Top 8 Church Website Hosting Providers
1. InterServer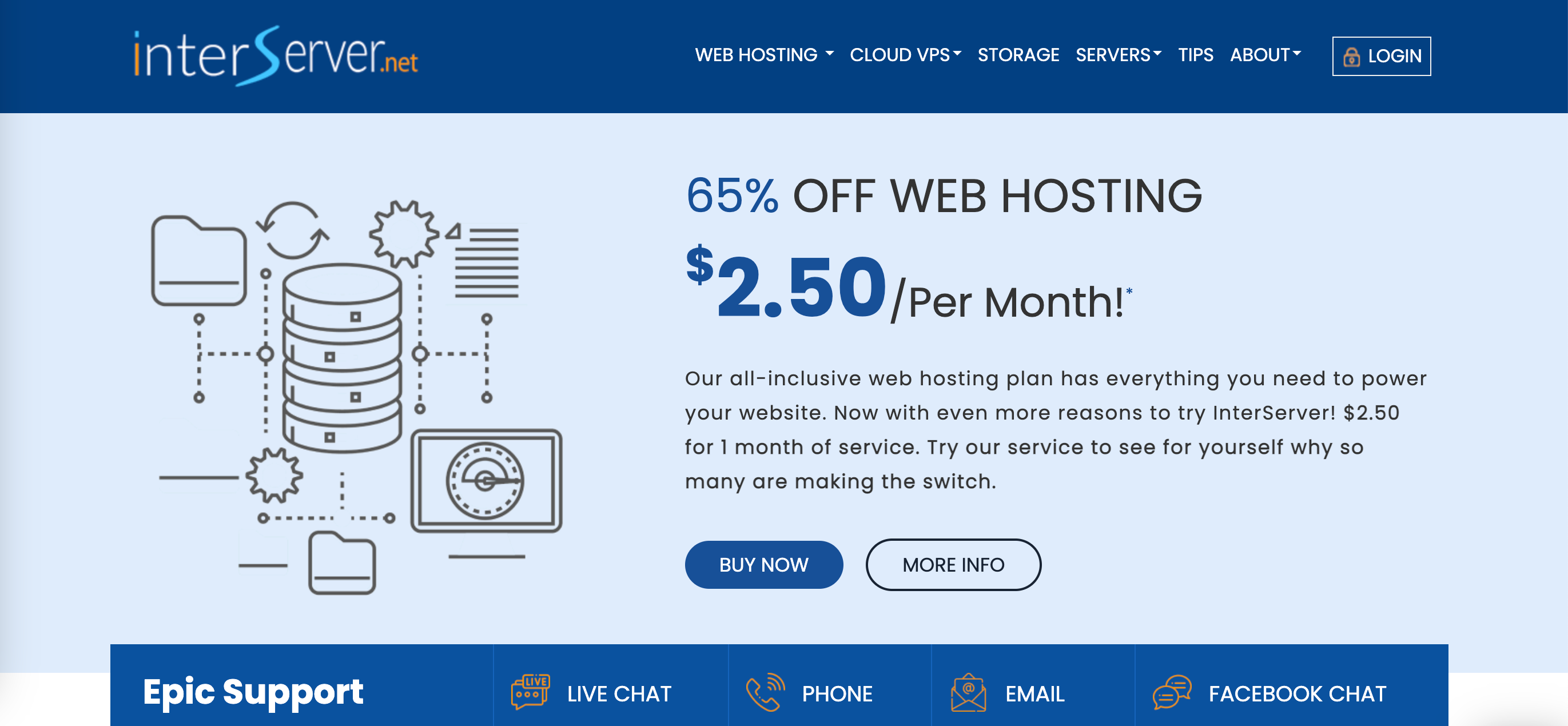 InterServer is a great option as they provide free hosting to nonprofit organizations such as a church. You'll be able to set up your website and fully customize it. You'll need to follow a few steps to be considered for their free hosting services.
First, create an account on their website. Next, you will send an email to [email protected] with a copy of your IRS 501C3 tax identification letter. In that email, you'll provide them with the domain name you would like to host with them.
From there, they will set up the account and you'll need to place a text footer at the bottom of your website that states that InterServer is providing for the hosting services along with a link to their website.
Pricing Below:
ASP.Net – $8.00 a month
easy to use control panel
speed optimization
unlimited storage space
free website migration
unlimited support
VPS Special – $6.00 a month
2GB Ram + 30GB SSD Storage
multiple operating systems
instant activation
cPanel or direct admin
unlimited support
Dedicated Servers – Varies
xeon E3-1230
Memory – 32GB
Hard Drive – 2000GB
Hardware Replacement Guarantee
unlimited support
2. Hostinger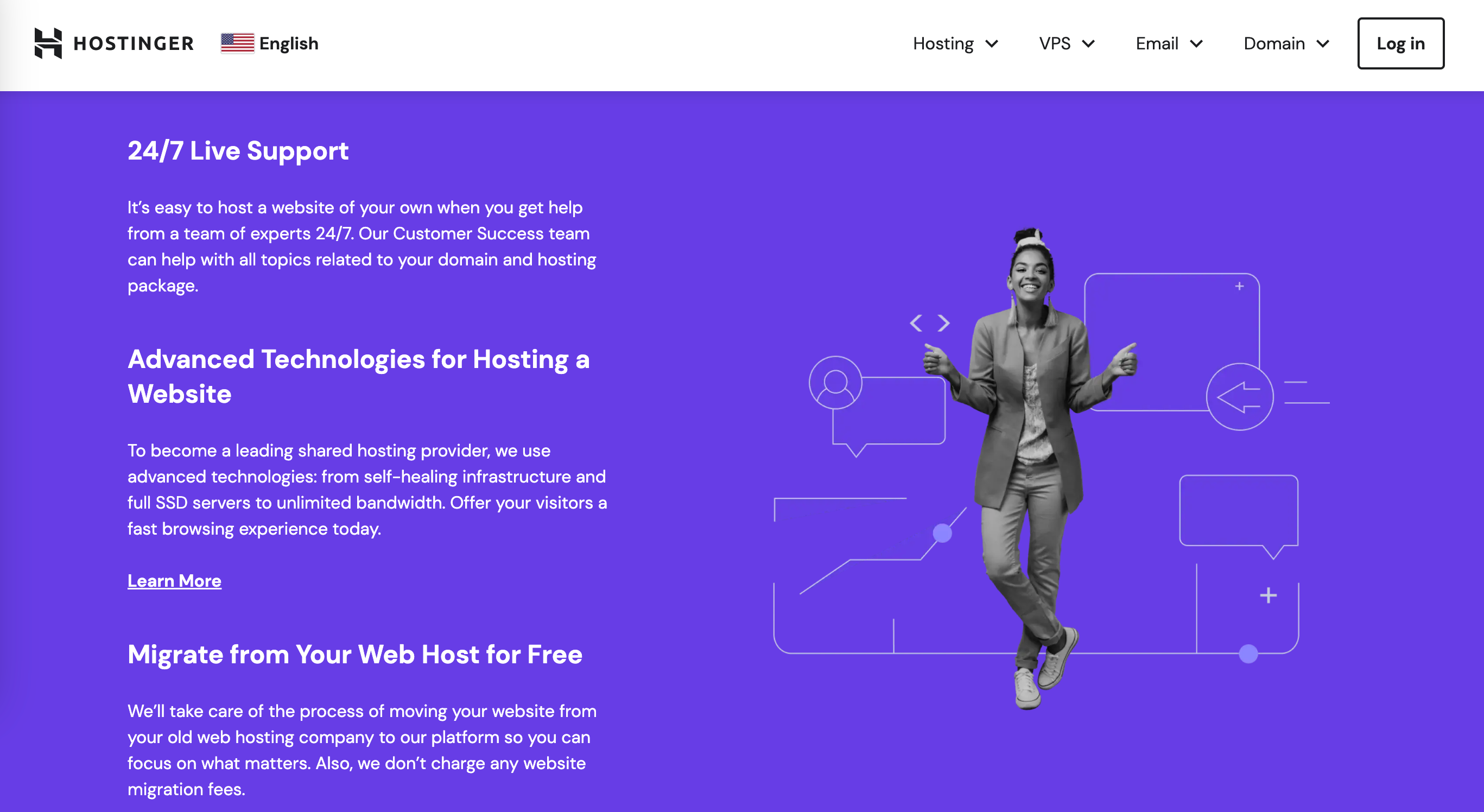 For a low price, Hostinger offers an easy-to-use hosting site as well as top performance. Hostinger focuses primarily on small to medium-sized websites, so it's a great option for a church website. Chances are you'll only need one website and not hundreds, so you'll be able to choose the cheapest option.
They have a 100% guarantee that their website will work and will work fast, loading within less than 3 seconds. They are one of the highest-rated hosting providers and one of the most affordable.
Pricing Below:
Single Web Hosting – $1.99 a month
1 website
50GB SSD Storage
100GB Bandwidth
Premium Web Hosting – $2.99 a month
100 websites
100GB SSD Storage
Unlimited bandwidth
Free domain name
Free email
Business Web Hosting – $3.99 a month
100 websites
200GB SSD Storage
Unlimited bandwidth
Free domain name
Daily backups
3. Bluehost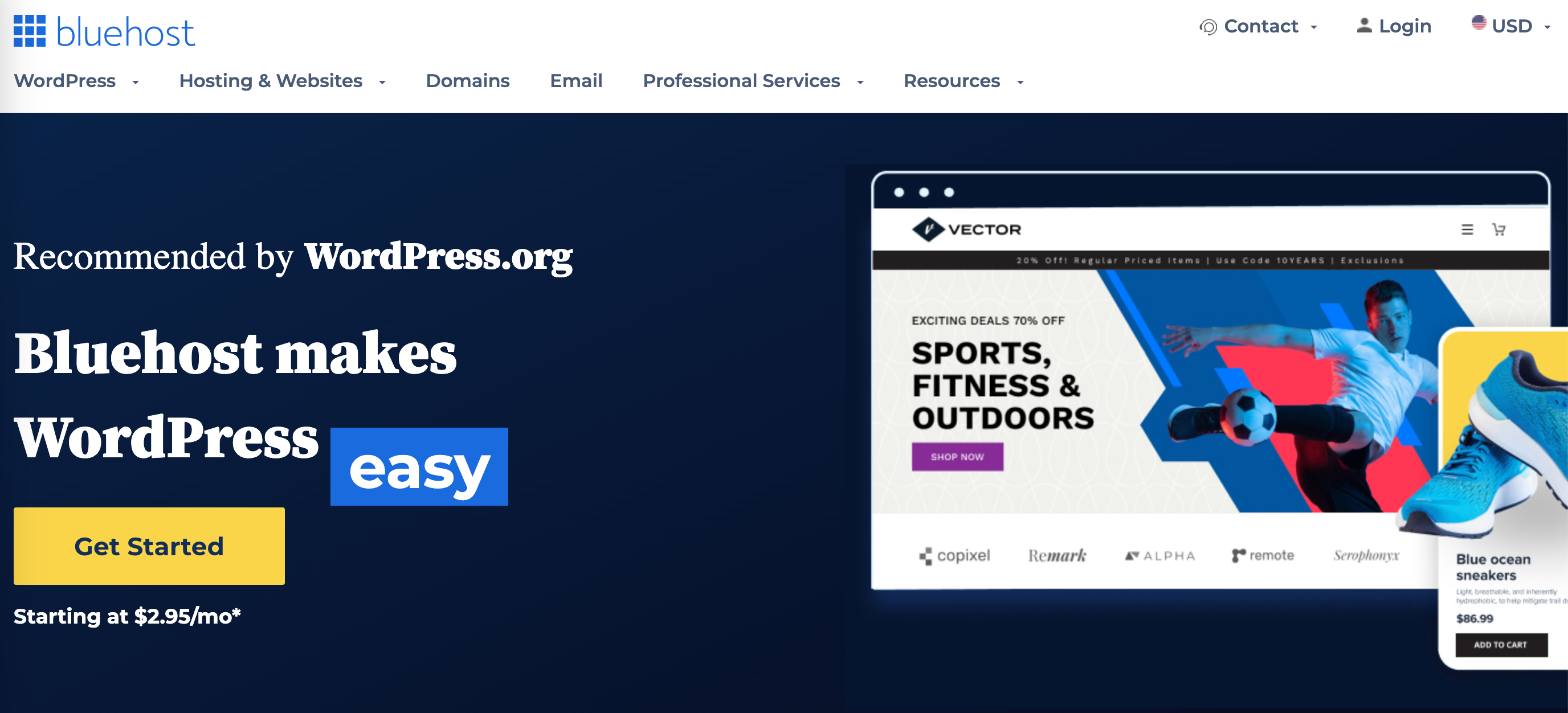 Bluehost is one of the more well known sites for web hosting, known for affordable pricing and options for WordPress hosting. They also allow you to make a simple and clean website with them after you answer a few questions with preferences.
Pricing Below:
Basic – $2.95 a month
For one blog or site
10GB SSD Storage
Free CDN
Free domain for the first year
Choice Plus – $5.45 a month
40GB SSD Storage
Free CDN
Unlimited websites
Free domain for the first year
Online Store – $9.95 a month
100GB SSD Storage
Free CDN
Unlimited websites
Free domain for the first year
Pro – $13.95 a month
100GB SSD Storage
Free CDN
Unlimited websites
Free domain for the first year
Free dedicated IP
4. SiteGround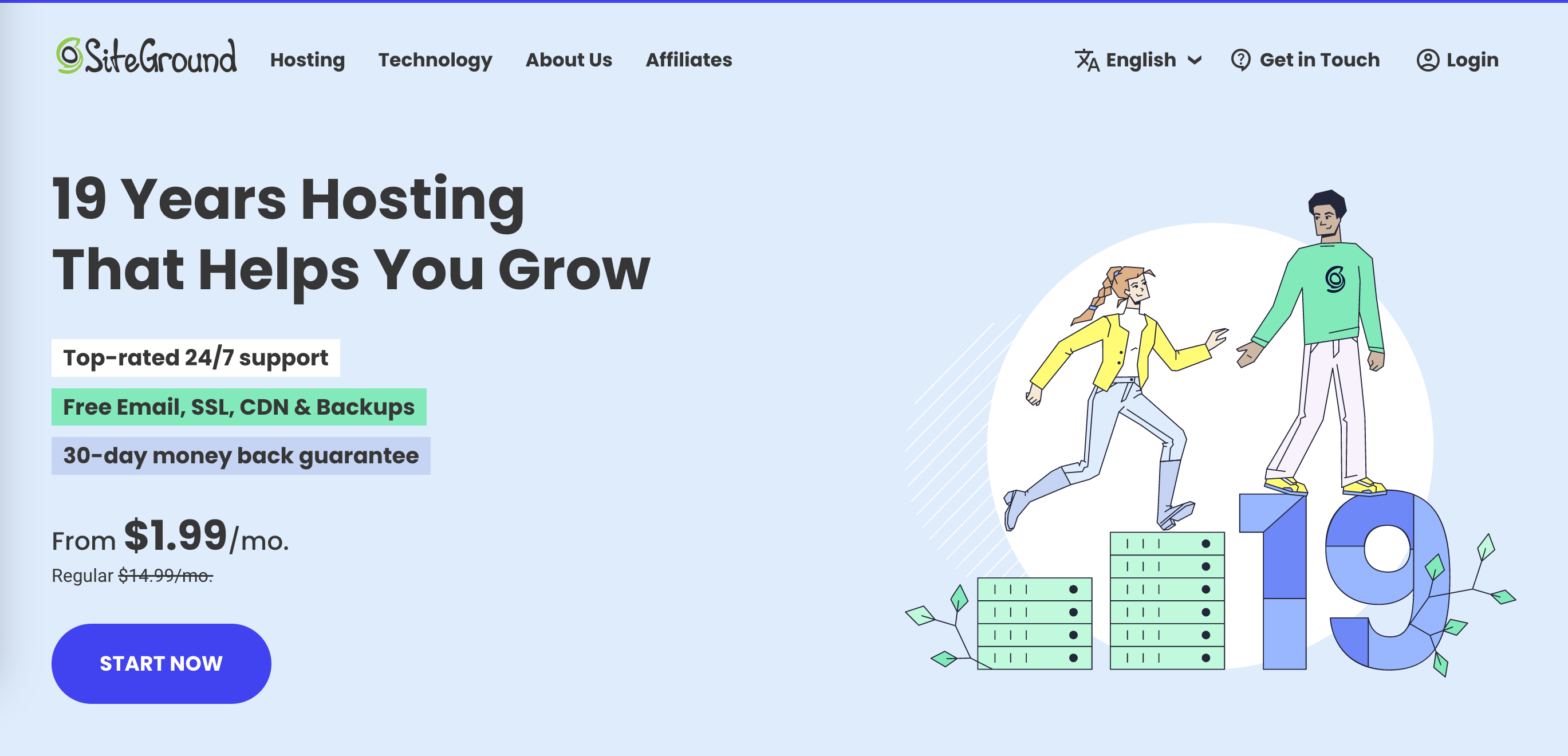 SiteGround offers affordable website hosting, as well as the ability to build a church website. They provide ultra-fast speed, top-notch security, easy site and domain management and has managed WordPress hosting. They have a fantastic client area with and easy and intuitive interface to get you started.
Pricing Below:
StartUp – $1.99 a month
1 website
10GB Webspace
10,000 visits monthly
GrowBig – $3.99 a month
Unlimited websites
20GB Webspace
100,000 visits monthly
GoGeek – $5.99 a month
Unlimited websites
40GB Webspace
400,000 visits monthly
5. DreamHost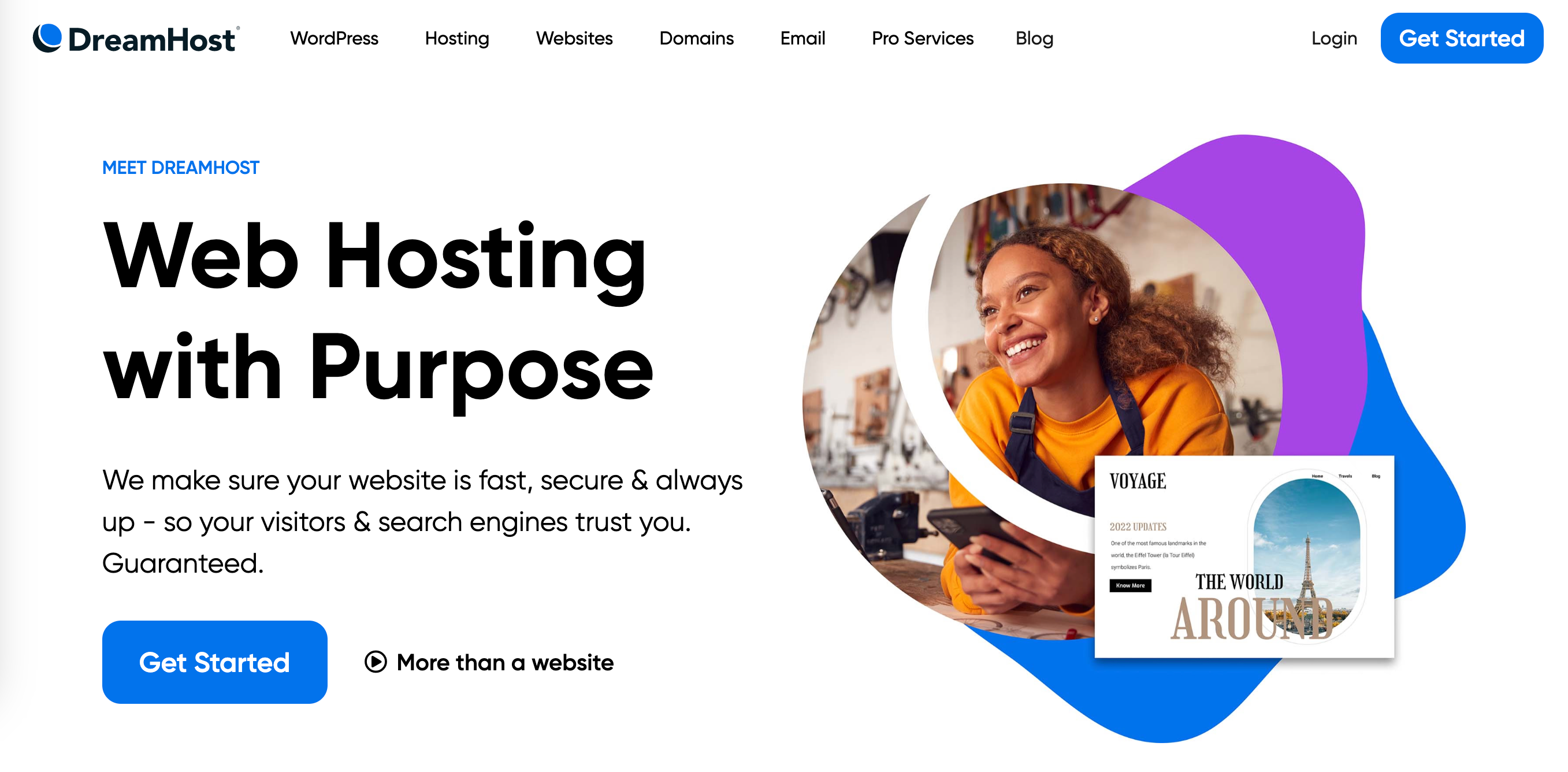 DreamHost is very easy to use and comes with a custom control panel that will remove the headache of managing a site. They have so many options to choose from when searching for the right website hosting provider.
Pricing Below:
Shared Hosting – $2.95 a month
DreamPress – $16.95 a month
specifically designed for WordPress
VPS Hosting – $13.75 a month
for new or small websites
6. A2 Hosting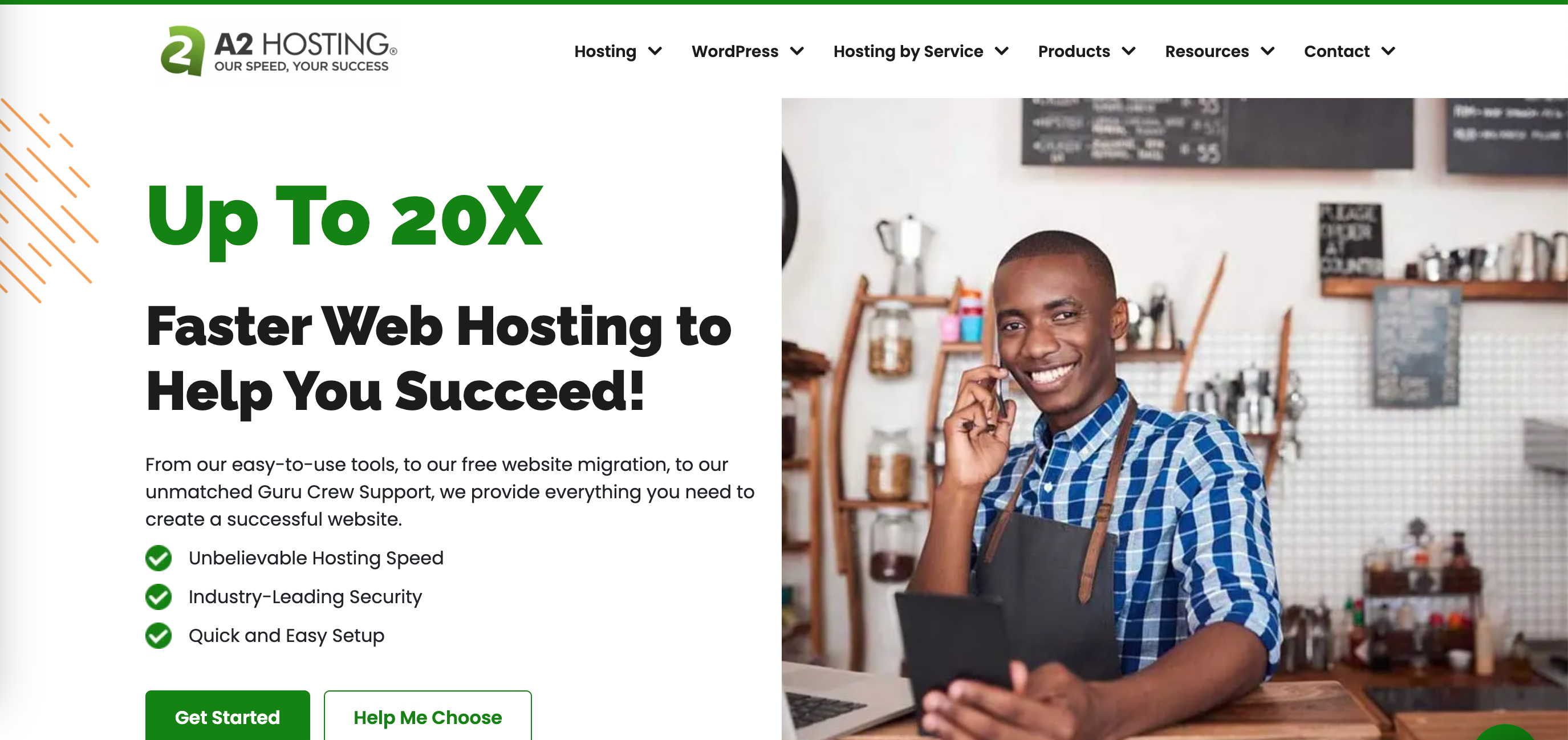 A2 Hosting provides shared hosting, managed WordPress hosting, VPS Hosting, dedicated server hosting, reseller hosting, email hosting, turbo hosting, and cPanel hosting. They work closely with WordPress and allow you to customize to fit your exact needs.
Pricing Below:
Shared Hosting – $2.99 a month
1 website
100GB SSD storage
free and easy site migration
Drive – $5.99 a month
unlimited websites
unlimited storage
free and easy site migration
free automatic backups
Turbo Boost – $6.99 a month
unlimited websites
unlimited NVMe SSD storage
free and easy site migration
turbo (20x faster speed)
Turbo Max – $14.99 a month
unlimited websites
unlimited NVMe SSD storage
free and easy site migration
turbo (20x faster speed)
5x more resources
7. GoDaddy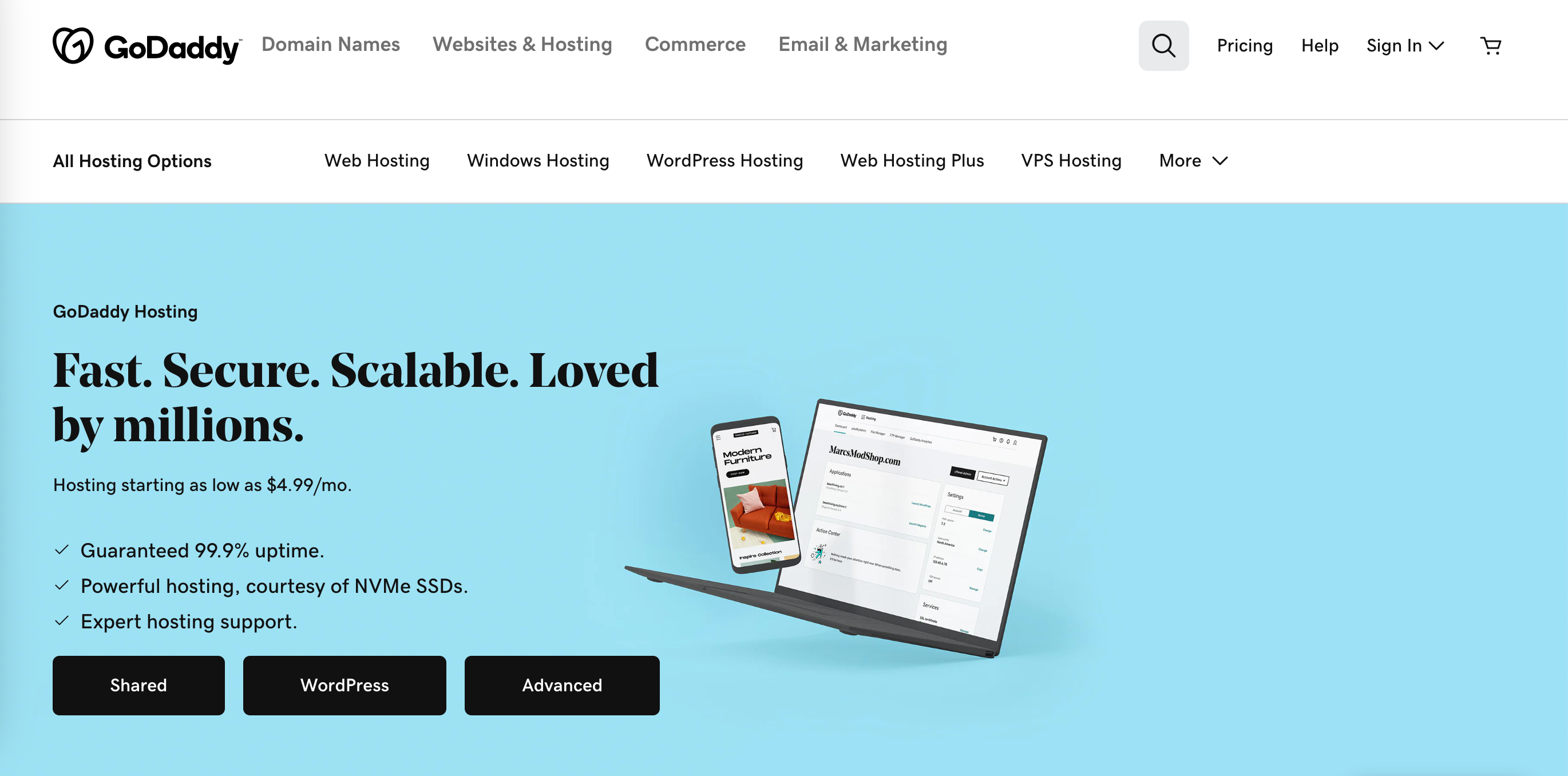 GoDaddy not only is a popular website builder but provides fast and reliable hosting. They have a guaranteed uptime of 99.9%. With GoDaddy, you can launch, manage and grow your online presence from your .com to ssl certificates.
Pricing Below:
Shared Hosting – $5.99-$17.99 a month
Basic websites
Free domain name
Free email
WordPress Hosting – $8.99-$19.99 a month
fully managed WordPress site with built-in security tools
daily backups
Advanced Hosting – $9.99-$129.99 a month
powerful and reliable VPS and dedicated servers
for managing multiple projects
unlimited traffic
8. Christian Web Host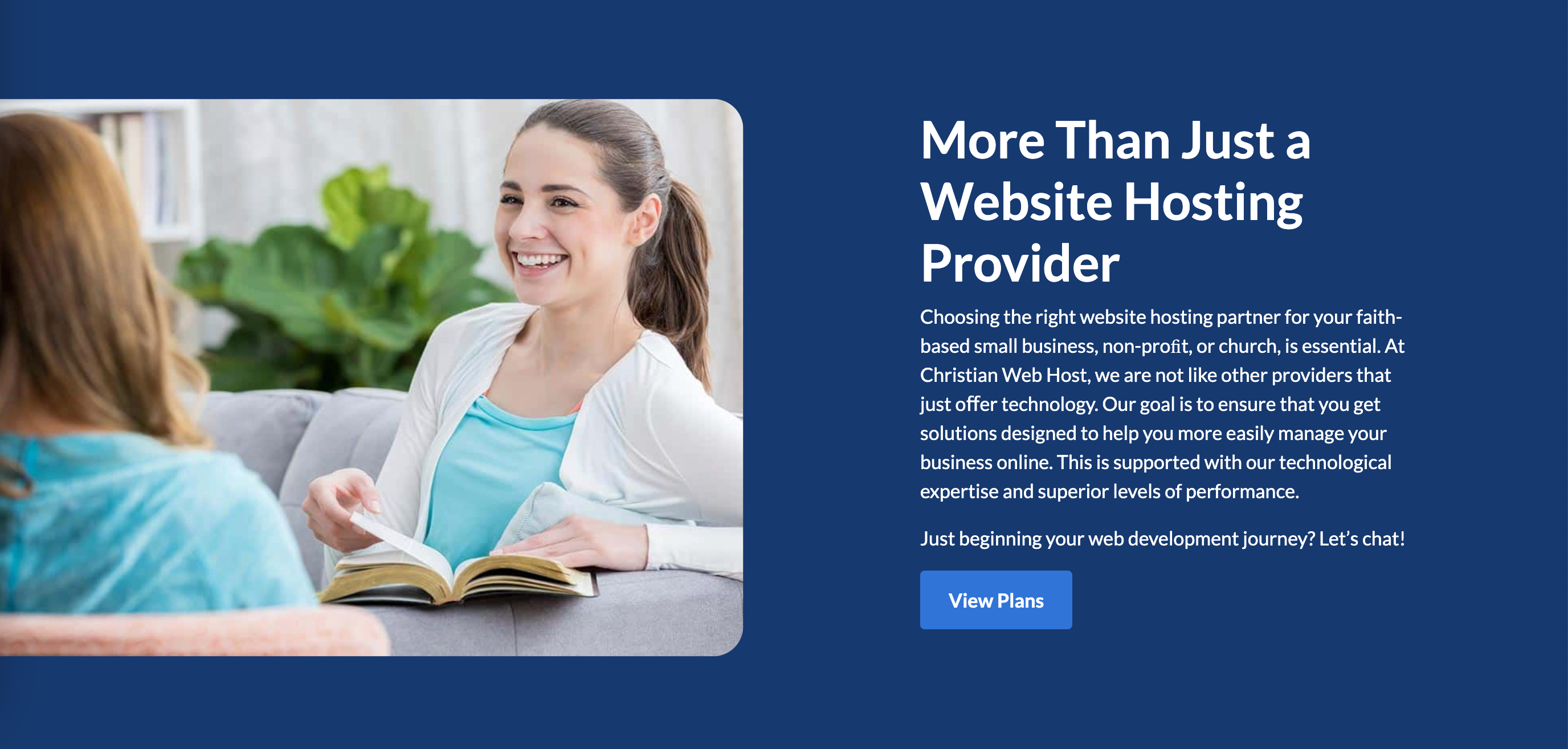 Christian Web Host is a great choice and one of the most popular web hosting companies for churches. They focus specifically with working with churches so they will understand your needs. CWH also has a wide range of templates so you can use them as a website builder.
Pricing Below:
Stacked Plan – $10.99 a month
10GB storage space
100GB monthly bandwidth
host up to 10 domains
Layered Plan – $15.99 a month
15GB storage space
150GB monthly bandwidth
host up to 15 domains
Expanded Plan – $20.99 a month
20GB storage space
200GB monthly bandwidth
host up to 20 domains
Church Website Builders
Besides church website hosting, you can also find a great church website builder. A website builder typically has many templates to choose from and can get you started from choosing and registering a domain name to the final check.
1. REACHRIGHT

REACHRIGHT's mission is to build church websites that help you reach more people online. Our focus is specifically on Church websites, as opposed to a general website builder site. A team of highly skilled artists designs each site to make sure that each website is unique to your church website needs.
REACHRIGHT focuses on building a mobile/app-based site first since 63% of website traffic comes from mobile rather than desktop. Our site is SEO focused to ensure that your website will come up in a search among thousands of other churches. REACHRIGHT has a support team ready to answer any questions you might have!
Pricing Below:
$97 per month + $997 one-time SET-UP fee
$297 per month + one-time fee waived for a limited time
$597 per month + one-time fee waived for a limited time
2. WordPress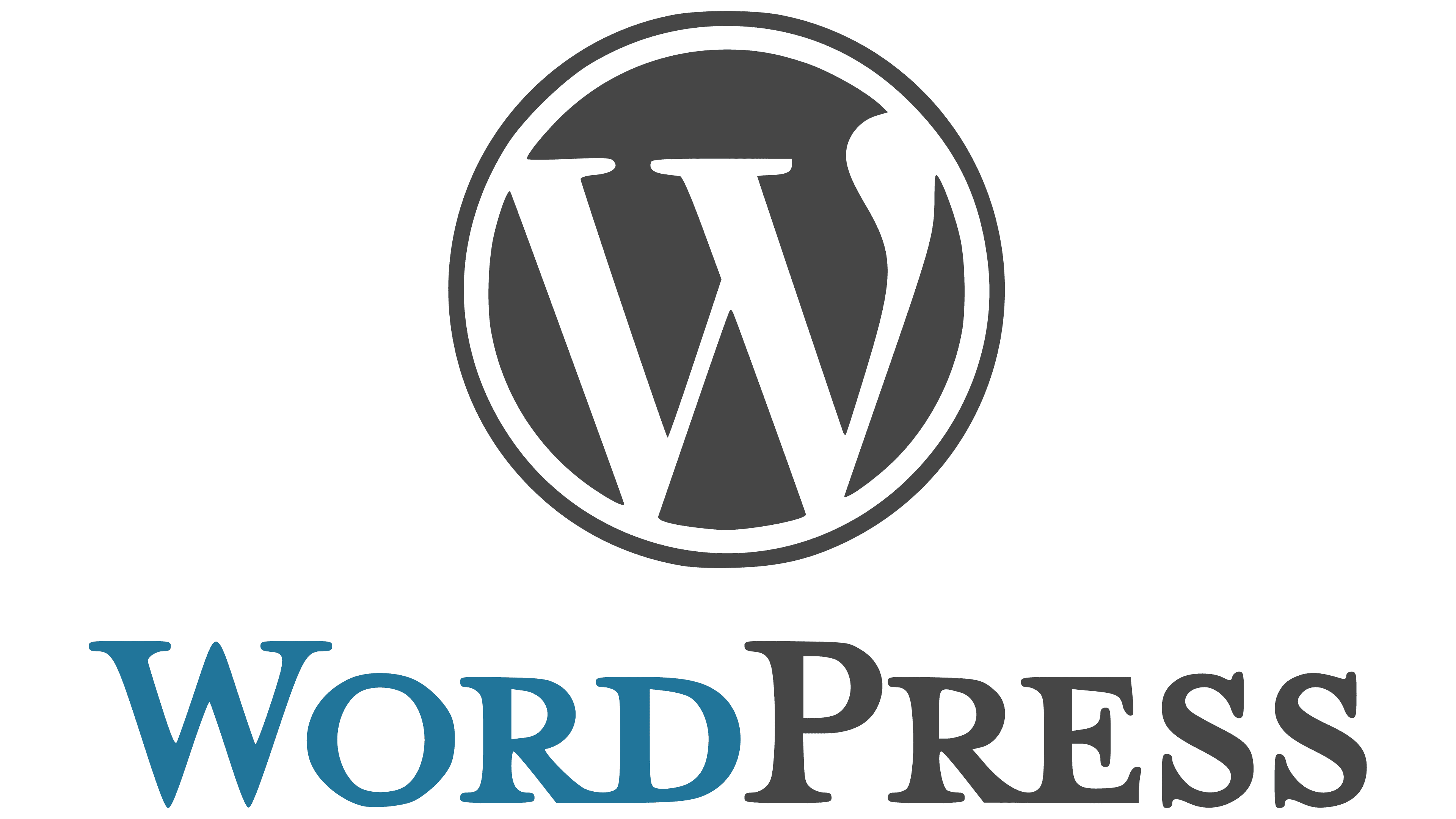 WordPress is an incredibly popular website builder. It's very versatile, being a fully custom site. There are SEO tools, social media tools, as well as monetization tools to implement online giving should you so desire. The first year is free with a custom domain name with any annual paid plan. WordPress focuses on extensibility, performance, security, and reliability.
Pricing Below:
Free
Personal: $36 per month
Premium: $108 per month
Business: $324 per month

install plugins
unrestricted bandwidth
3. Squarespace
Squarespace is a widely used website company that provides fully customizable templates. With several different pricing plans, they also offer a free trial with no credit card required. You will also receive a free custom domain name with the first year of an annual payment plan. Squarespace is an all-in-one custom management system.
With your subscription, you can make a website, host content, register your free domain name, and track your site's analytics. Squarespace offers the help of their experts. Simply follow the instructions listed on their website to get started. You provide the specific instructions, general outline for design and hire one of their talented website designers.
Pricing Below:
Personal: $16 per month
Business: $23 per month

advanced website analytics

Commerce (Basic): $27 per month
Commerce (Advanced): $49 per month
Summary
As you can see there are so many different church web hosting companies to choose from. And thankfully, they don't cost very much!
Any of these websites would be great for church website hosting. You'll need a fast and reliable host for your website to run smoothly. A lot of website builders will allow you to host your website there as they work with companies to host their own sites.
It's entirely up to you which web hosting services you want to work with and depends on your budget. But you may not want to choose the cheapest option, because then you might be sacrificing quality, so continue to look over each company we listed to find the best fit for your needs.