Most churches have websites, but sometimes they aren't always the best. A good church website is one that is well organized, creative, visually appealing, and provides all the information a guest might be looking for. If you want to increase visitors to your own site then you want to be a church website using WordPress.
WordPress is one of the best website builders and one of the most cost-effective. It's completely free to set up a website using WordPress. There are certain features and themes that are paid for, but the base cost is nothing.
It can feel overwhelming when creating the design of your church website, which is where WordPress comes to help. They make it easy with experts to help guide you from the beginning of an idea to the completion and execution.
We've gathered some of the best church WordPress themes that you can install to instantly have a wonderful new church website!
Estimated reading time: 13 minutes
Why Your Church Needs a Website
First, let's discuss why you even need a church website. By having a church website, you will be able to cater to new members. Not only new members but people that have been attending your church for a long time. Also, by using website analytics you can track the engagement and statistics of your church website.
By using a specialized church website builder, you can cater to the needs of your congregation. Church websites are the first place new guests are going to look when searching for a church. Yes, word of mouth still works, but the internet is used by so many people when looking for information. The point of a church website is to bring people in to visit and therefore here about the love God has for them.
How WordPress Works
Did you know there are actually two types of WordPress? WordPress.com., hosted blog solution, and WordPress.org, a self-hosted website builder platform, are from the same company, but provide different functions.
You'll need the self-hosted WordPress.org to use all of the features of the WordPress site.
WordPress.com is a hosting service that is a great idea for people wanting to start a blog, but you'll want to use WordPress.org to have more control and customizable function.
Themes control the design and look of the websites on WordPress. We've created a step by step list of how to setup your website.
When you have a WordPress site, the next step is to download you theme:
Log into your WordPress admin area at yourname.com/wp-admin
Go to Appearance > Themes > Add New > Upload Theme
Choose the theme zip file you downloaded, then click Install Now
After installation, click Activate
Then you'll have the opportunity to customize your new theme to make sure it's what you want and need. Play around with the colors of the website and high quality pictures to really elevate your church website. This process should be fun and exciting!
What to Look for in a Church Theme
You may be wondering what needs to appear on your church website design. There are many components that go into building a great site. I recommend making a list of non-negotiables that you want to incorporate into your site. People are looking for a clean and easy-to-navigate website design so find what church website design company works best for you.
Things to include:
Sermons
Online Giving
Locations
About Page (History)
Events
Watch Online Feature
Next Steps
Contact Forms
Your church theme, otherwise known as the design should have high flexibility to change as you need to. SEO optimization is another important feature and makes it possible for your church to appear at the top of search results.
Church WordPress Themes
Any of these WordPress church themes would be great for you to start building the best website. The good news is that some of these themes are free and most come with free trials. Investing in church WordPress themes is something you won't regret. WordPress themes take your website to the next level and all at the click of a download button!
Astra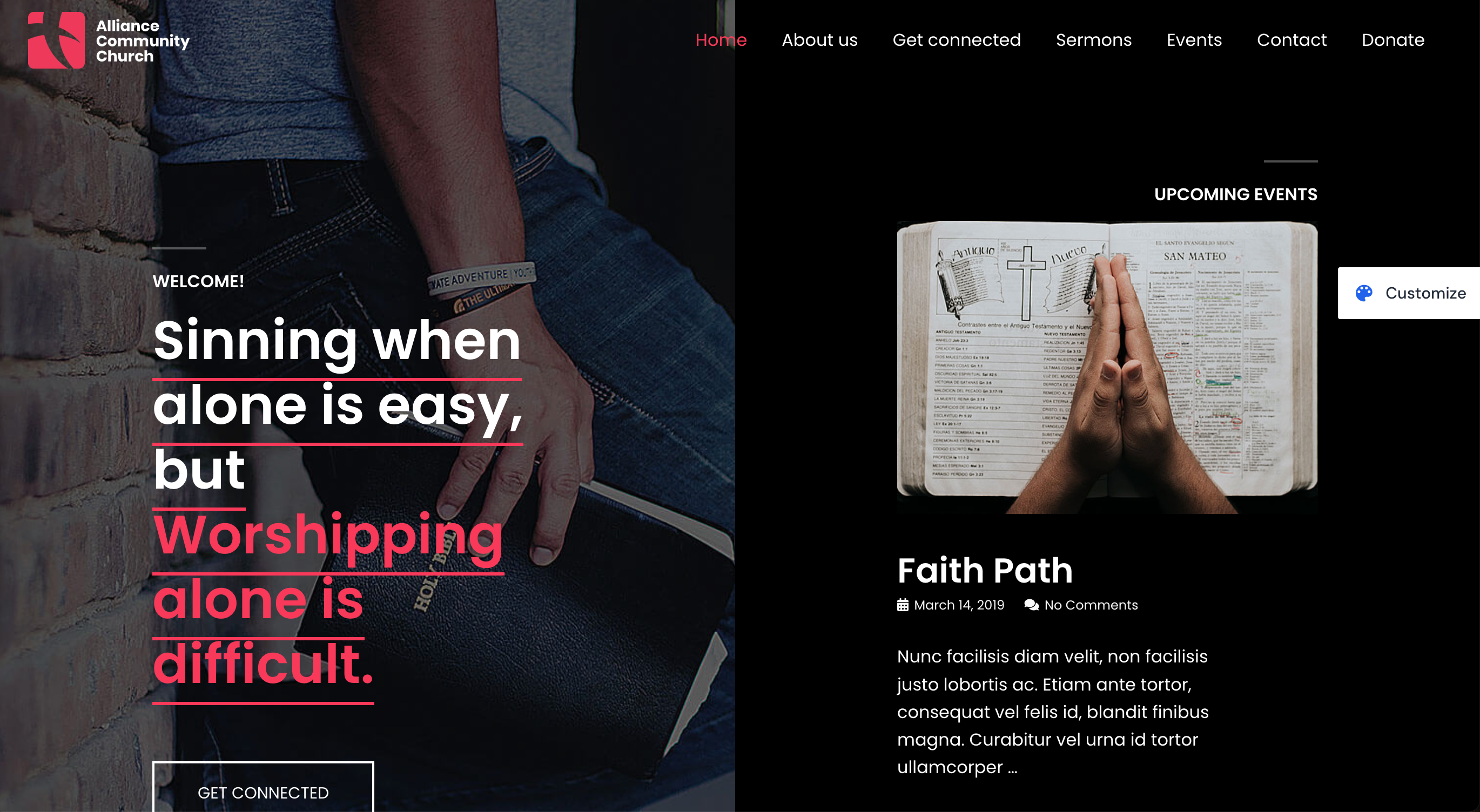 Astra has a serene feel while portraying the seriousness of the subject in a welcoming manner. The template opens with a full screen image and strong headlines and call to action. This is a very modern WordPress church theme and one we highly recommend.
The rest of the theme has a lighter feel and more open layout with images, content areas, offset sections and feature spaces. The extra pages are all relevant to the niche and provide lots of opportunities to continue spreading the good word.
offset page design
calm design with simple cool colors
easy home page navigation
Neve
Neve is a great WordPress theme that is fast and easily customizable. This theme for churches has a highly SEO optimized code which will help you result in the top rankings on Google search results. The Neve WordPress theme has a very clean and linear design with block style images. Neve is a free WordPress theme to download, but does offer additional paid commercial upgrades.
Divi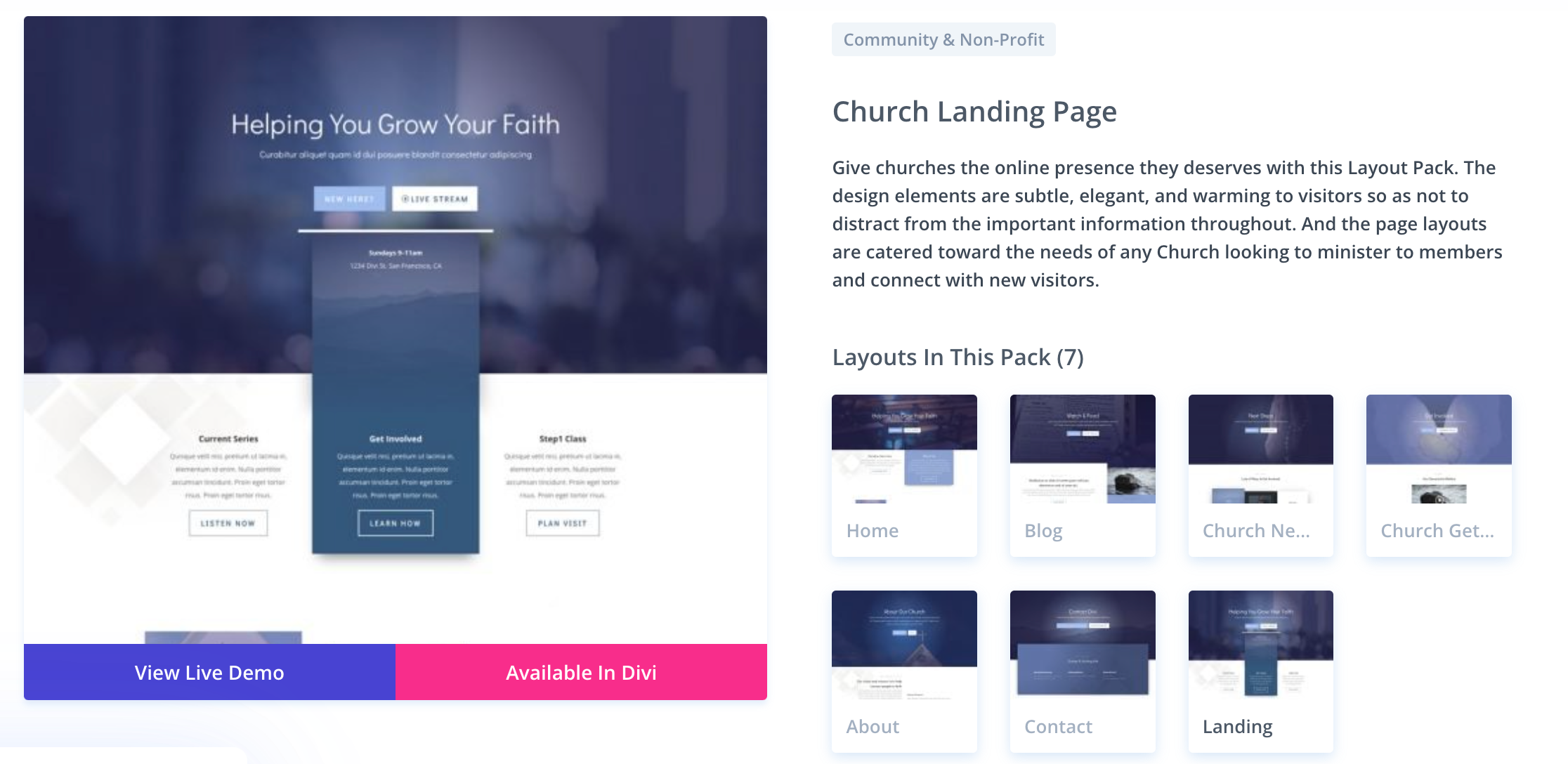 Divi is one of the most popular WordPress themes out there. It is not just one theme, but has hundreds of pre-made ready to go themes for churches. You will be sure to find a great theme or layout that will suit your needs. Divi also comes with elements and modules that you'll need to add certain features to your site.
You can try Divi free for 30 days, and if you like the design and customizable options, then there are two different pricing options. Remember, this isn't just one theme, but hundreds and you'll get access to experts that will help you design the perfect page for your church.
Pricing –
Yearly access: $89 per year
Lifetime access: $249 one time fee (highly recommend)
X Theme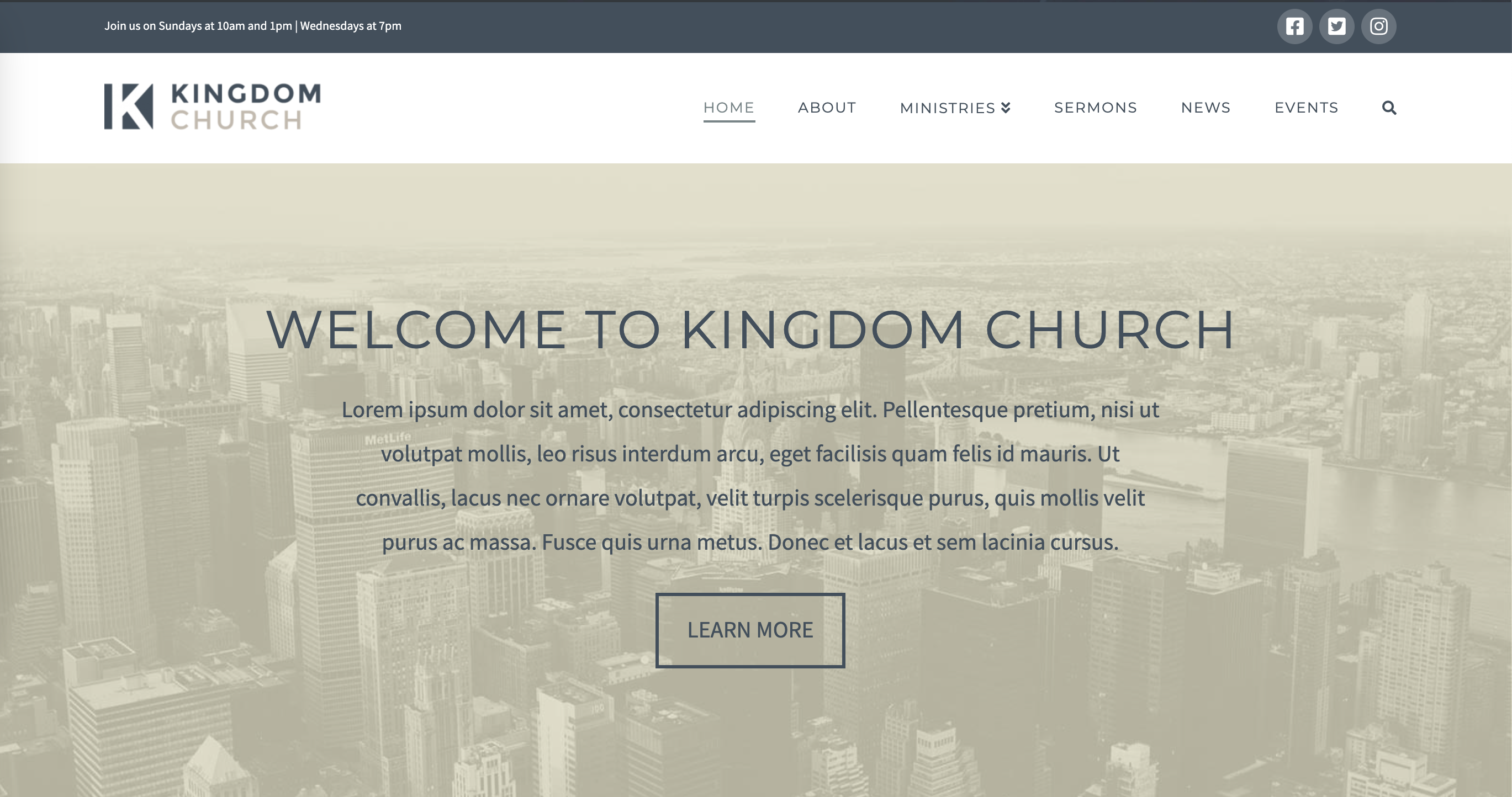 X theme is another fantastic WordPress theme builder. They have hundreds of creative designs, plus a "design cloud" that hosts all of these layouts.
Cornerstone allows you to to build live in the page as you go so what you see is what you get. It has a clutter free workspace with a simple work area and a live preview area at the same time.
responsive layout
native sliders
undo/redo buttons
dark mode
dynamic content
role manager
Pricing: $79 all inclusive
Ultra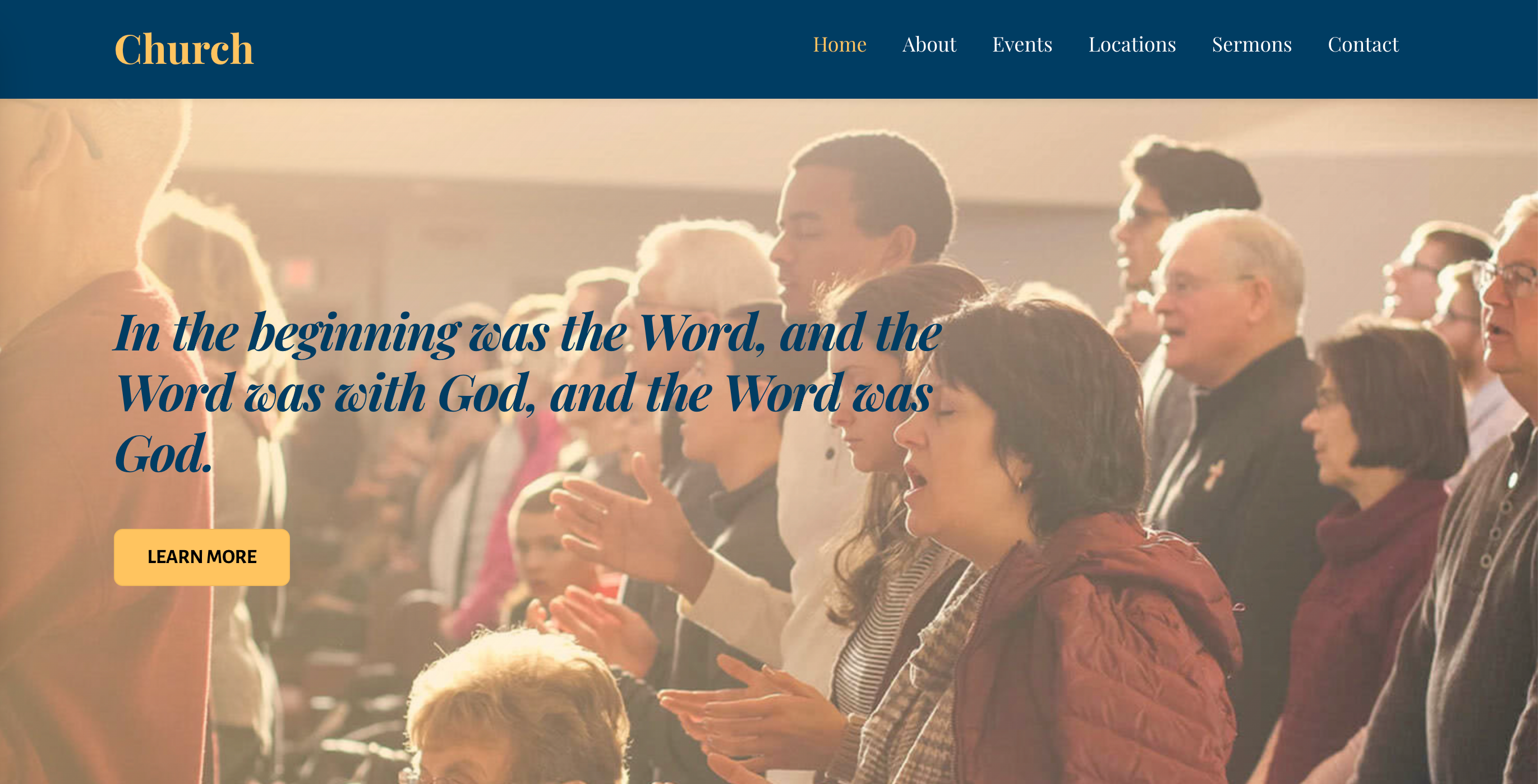 Ultra allows you to customize their pre-made websites. With a single click you can import the demo setup that includes theme settings, content, menus, widgets and much more. This theme has 17 different header and page styles for so many customizable options.
Pricing –
Single Theme: $59 per theme
Master Club: $89 per year – 42 themes, 11 plugins, 25 builder add ons, plus 5 PTB add ons
Lifetime Club: $249 – lifetime access
Faith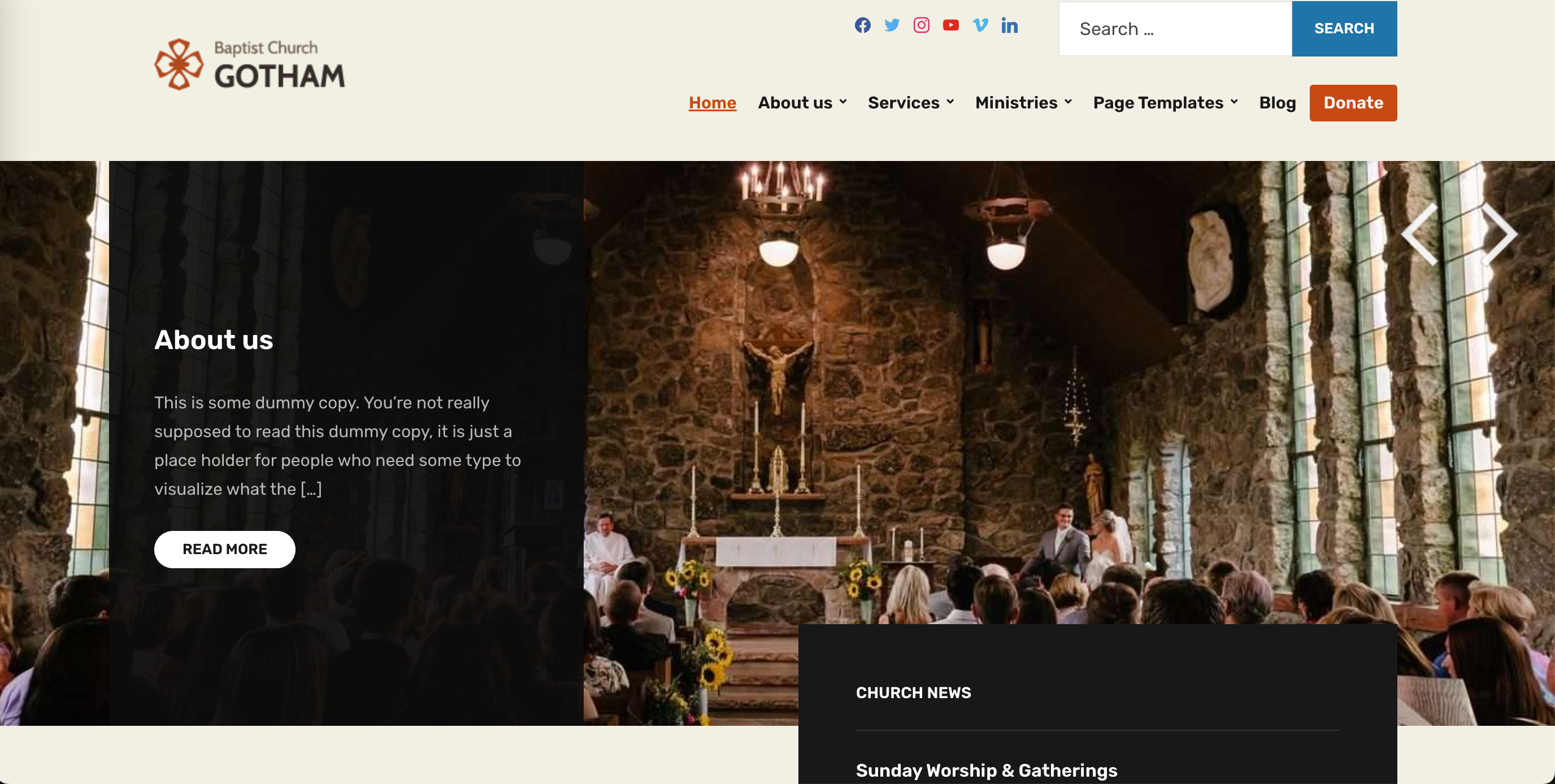 Faith theme for churches is completely free to download with WordPress. Up to 10 pages can be featured on the home page and 5 in the slideshow and 5 below it. This is a great theme for churches if you need something simple and clean. This theme is very easy to navigate and has great customizable features.
custom background image
editor style
footer widgets
threaded comments
Jubilee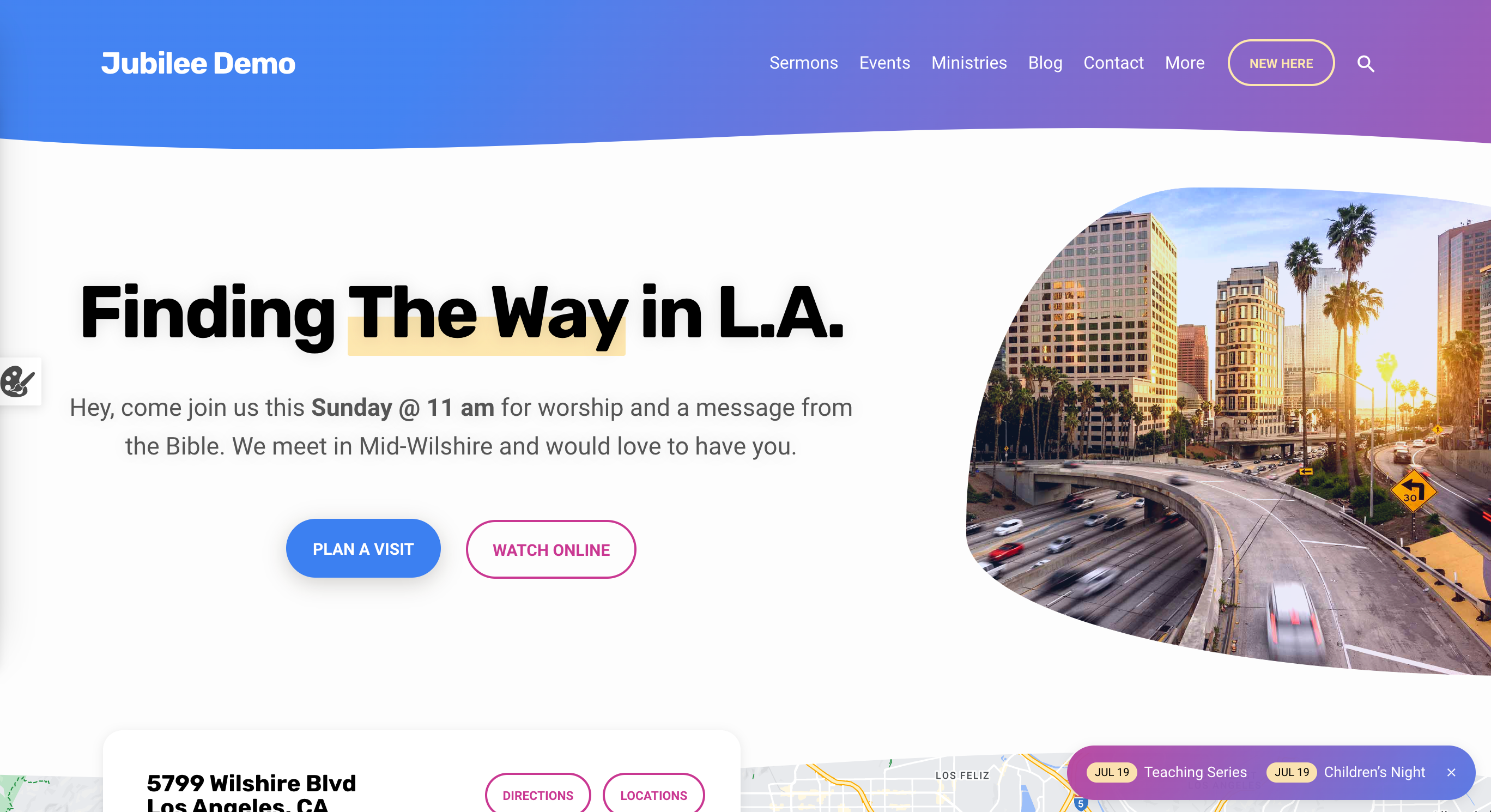 The Jubilee church WordPress theme is a fast loading theme perfect for professional looking churches. It has a point and click homepage builder and comes with a live preview builder tool. This theme is fun with vibrant colors and picture bubbles. It's very easy to navigate and there isn't too much going on to confuse visitors. The Jubilee theme includes the church content plugin for publishing sermon archives, events calendar, locations and team profiles.
Jubilee WordPress theme is created and hosted by Churchthemes.com and their prices are listed below:
Starter: $129 per year
Pro: $199 per year
Ultimate: $299 per year
Flash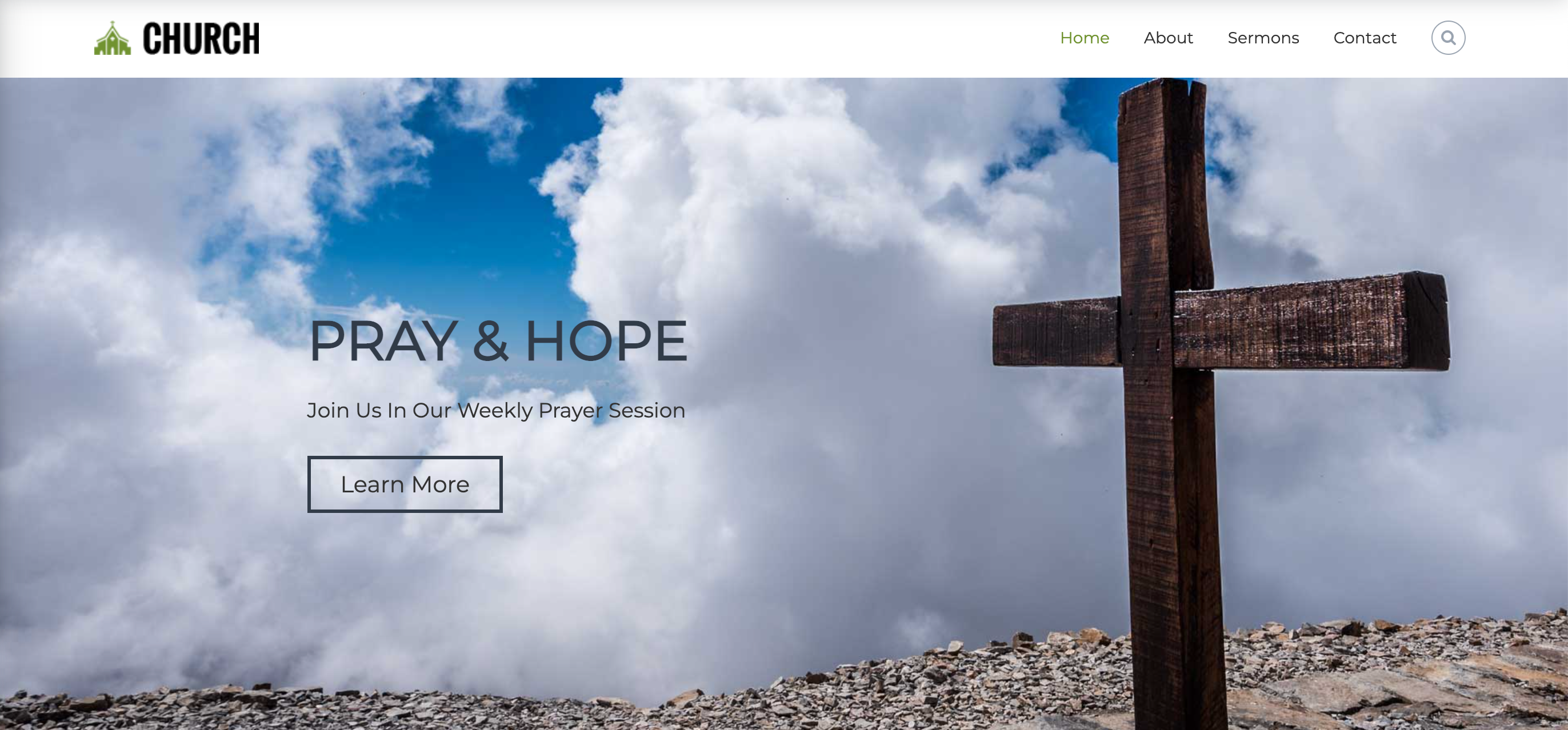 Flash by themegrill is the easiest, most flexible, feature-rich and advanced free multipurpose WordPress themes they offer. Their base of active users for this theme is growing rapidly. It has fast and amazing performance and allows for full customization. The design is simple and well organized with important information on the home page.
one click demo import
multiple widget areas
woocommerce compatible
page builder integration
You can start with a free version of this theme and upgrade at a later time, or you can purchase the single theme for $59.
One Church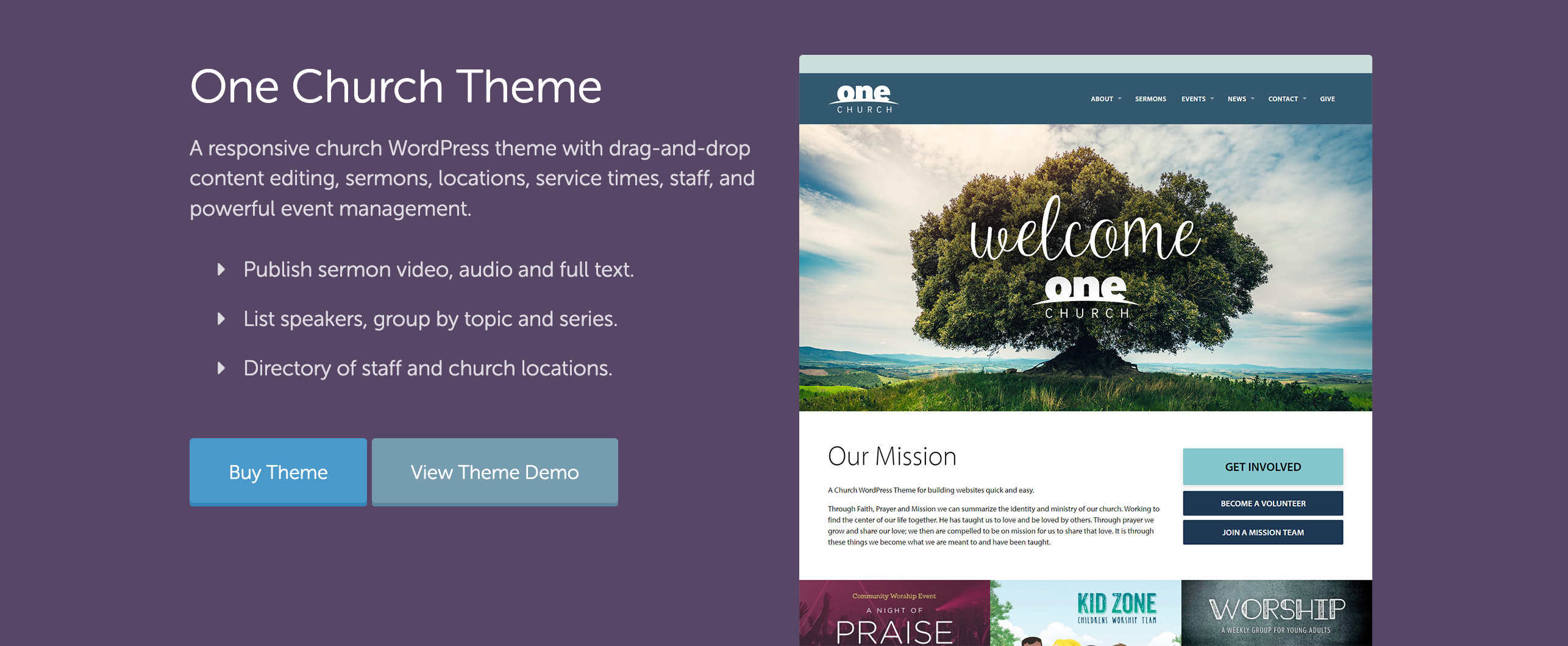 The One Church church WordPress theme created by Up Themes is a responsive WordPress theme with drag and drop content editing, sermons, locations, service times, staff, and a powerful event management feature.
Buy this single theme for $125
graceful design
mobile friendly layout
flexible layout structure
audio/video media galleries
maps, events and locations
enhanced search ability
Endurance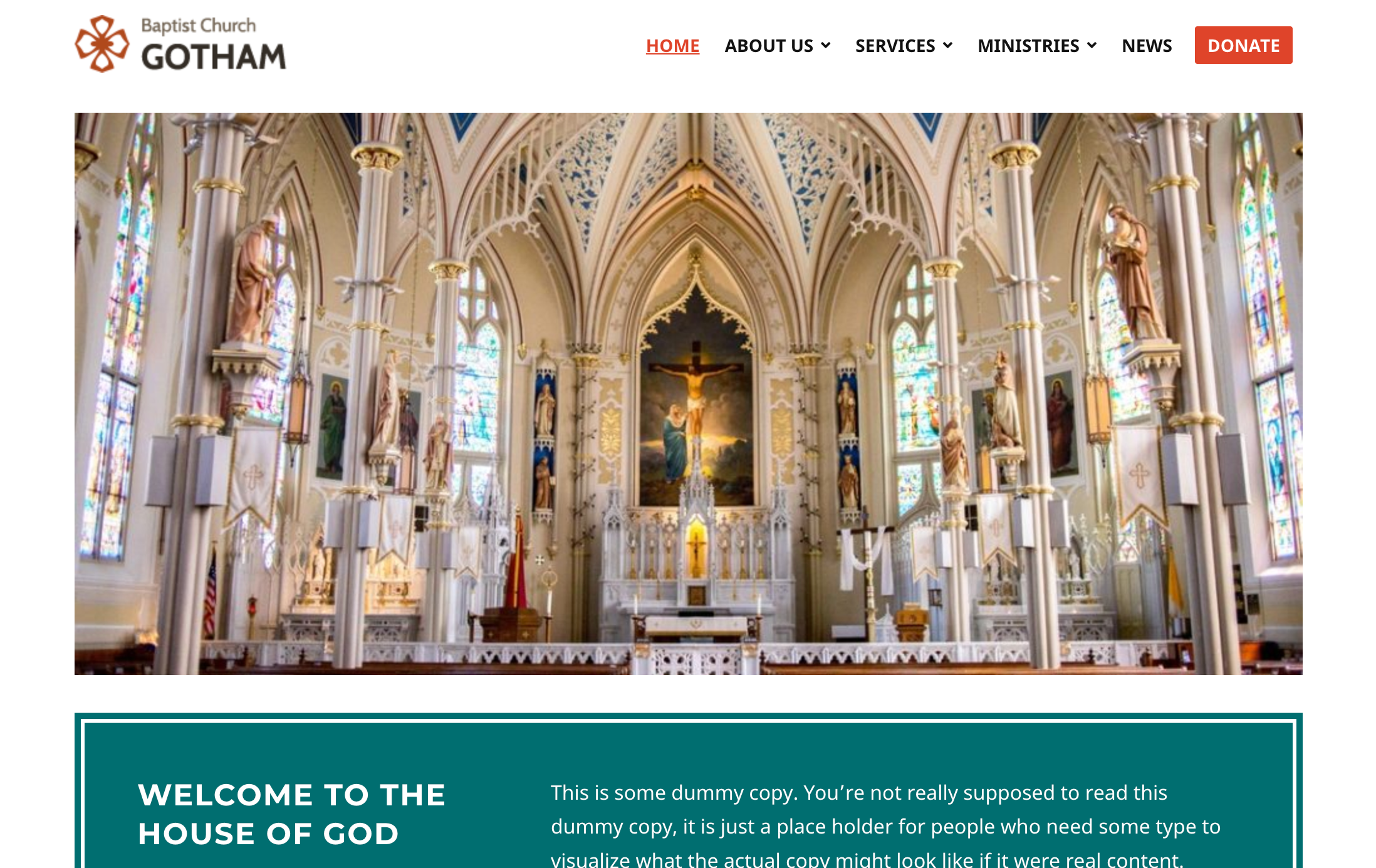 Endurance is another of our free church WordPress themes. It's also another easy going, approachable design that uses complementing colors, lots of white space and emotive imagery to set the scene.
The demo as you can see above is very high quality for being a free theme. It's a typical boxed layout with content blocks covering most requirements within the page. You can always add, change or remove as required. The colors, balance and layout all work incredibly well and this could be a very useful theme for churches.
It even includes an event calendar, donation option and a whole lot more.
Grassroots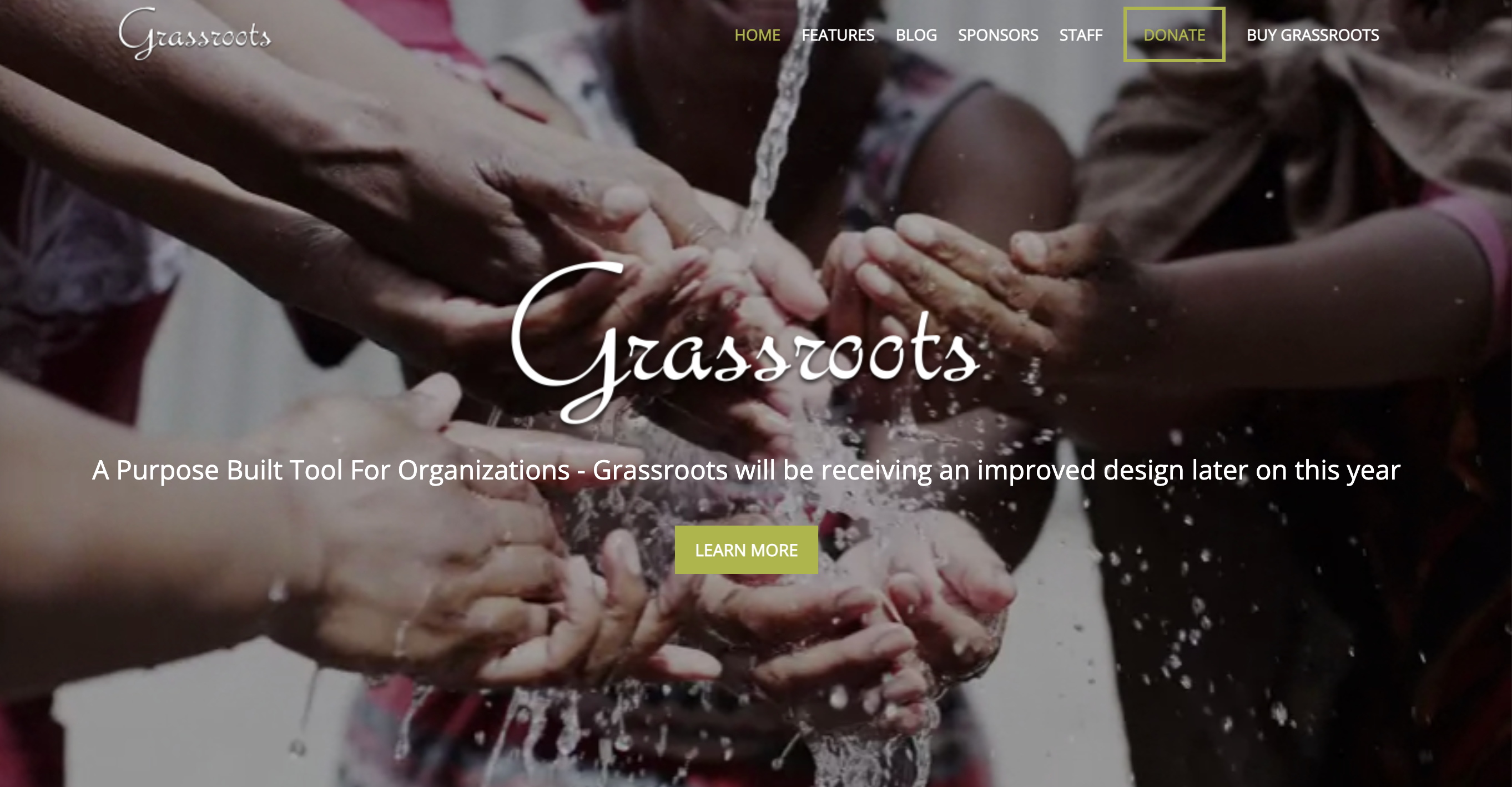 Grassroots is another great church WordPress theme that would be beneficial to any church website. This theme is more focused on fundraising and donating. The grassroots theme has a really nice feature to have a video on the home page behind the main logo. This would be a great website for online giving or for specific fundraisers that your church is putting on.
Pricing –
Single theme: $55
All Organized Themes: $85
All themes for lifetime: $95
Hestia Pro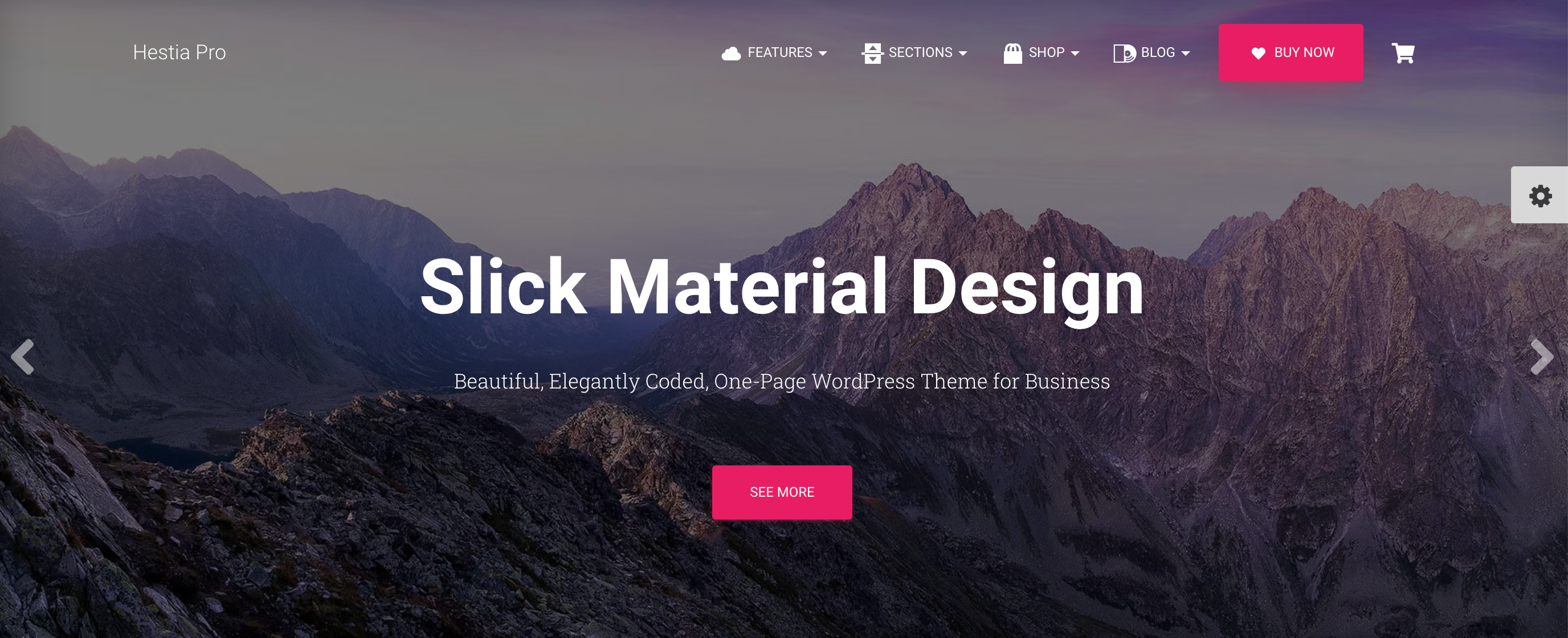 The Hestia design made by Themeisle is a beautiful church WordPress theme and has so many customizable features. There are ready to go starter sites that make creating your new church website easier than ever. You can add videos to the home page, portfolios and event calendars.
slick material design
page builder compatibility
access to all starter sites
SEO friendly
Pricing – $69 a year, best for single websites
Exodus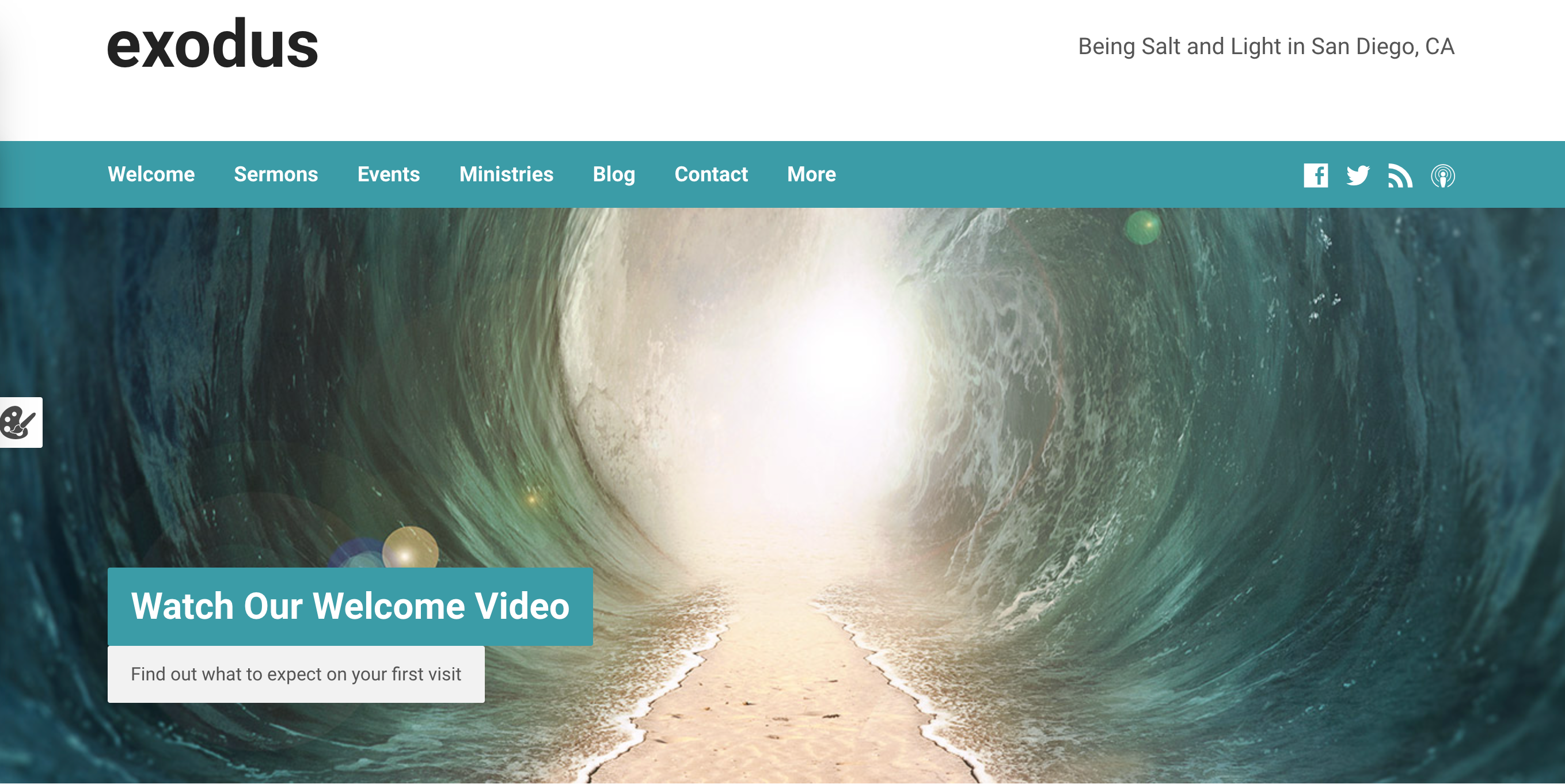 Exodus is a church WordPress theme designed to help you make a church website that gets more visitors through your door. It has a flat design and wide layout. It's responsive, so while it appears extra wide on desktop computers, it adapts to phone and tablet screens for a mobile-optimized viewing experience.
Exodus is easily customizable with no coding or design expertise needed and takes full advantage of the WordPress Customizer. This lets you see a real-time preview of color, font, logo and other design choices. Create a website that matches your church.
Pricing from Churchthemes.com
Starter: $129 per year
Pro: $199 per year
Ultimate: $299 per year
Holy Church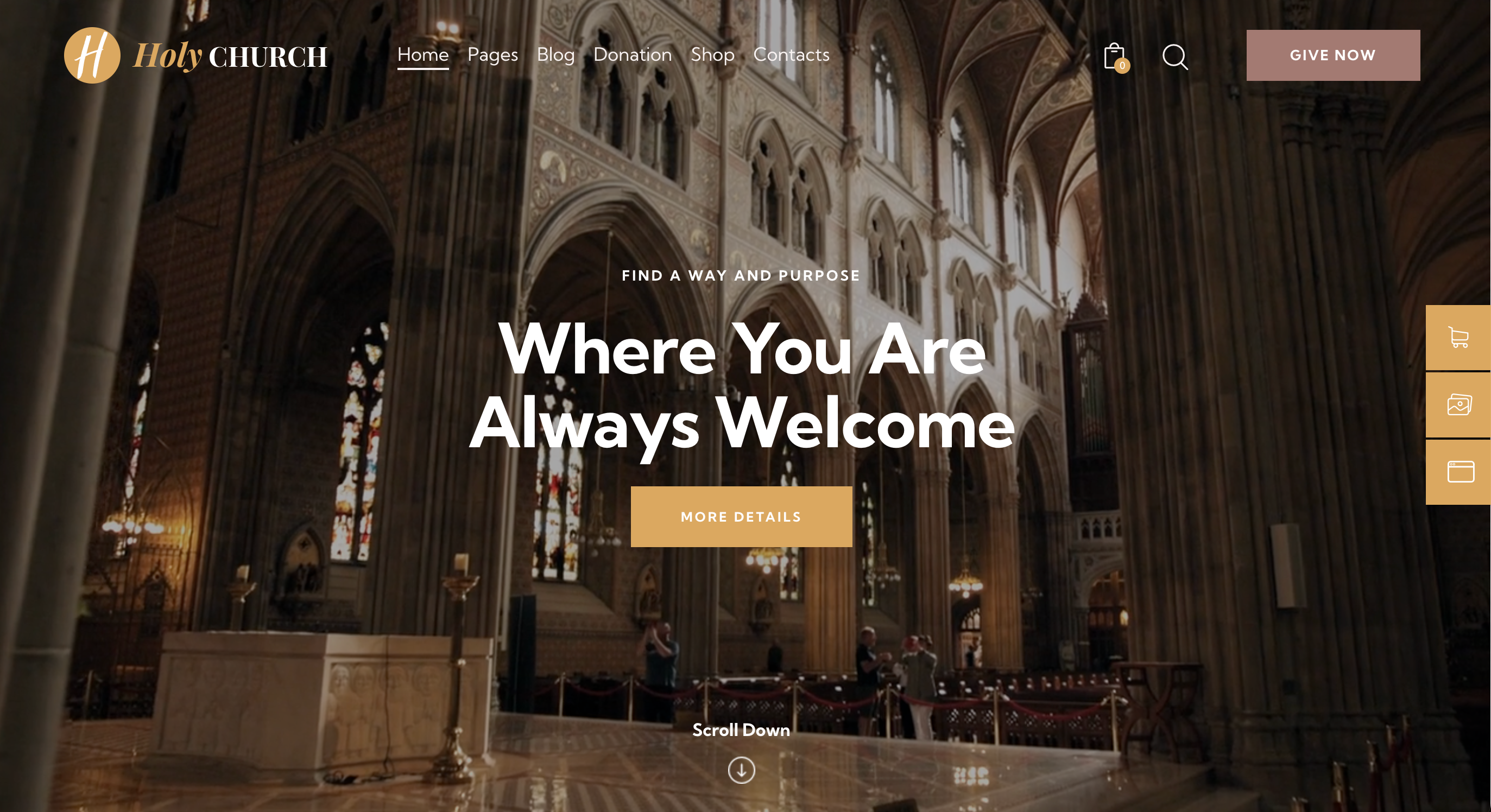 The Holy Church WordPress theme created by AncoraThemes is designed specifically for churches with everything your church might need. This theme has a beautiful design and incorporates a lot of unique features such as music integration and donation bars. You have the ability to add an events calendar and a portion of the website dedicated to blogs.
Powerful donations plugin
Events management & calendar
Beautiful premade pages: podcasts, media, events, about, serve, donate
Contact Forms
Full Woocommerce store compatibility
Pricing – $69
Prayer Pro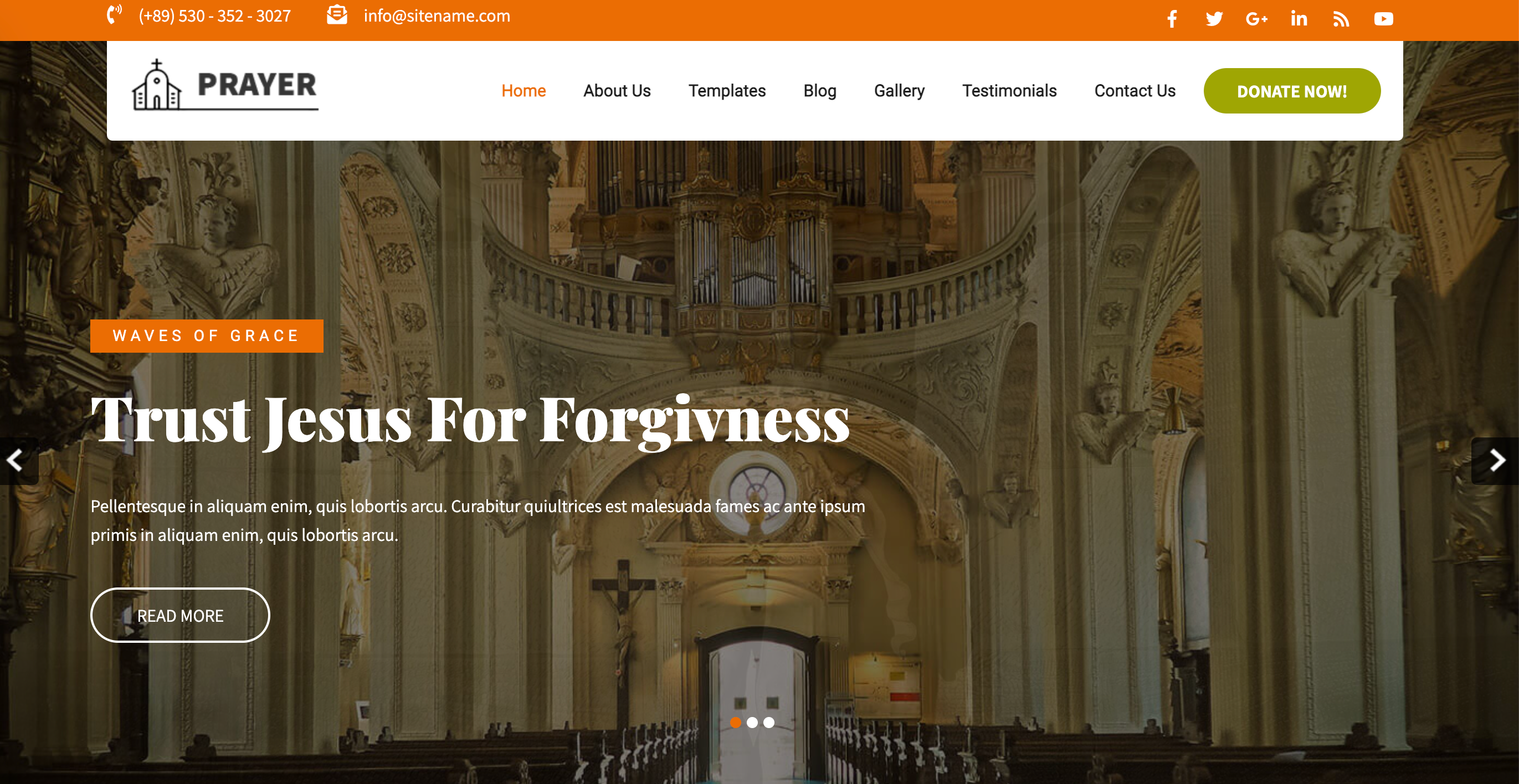 Prayer Pro created by Gracethemes has apt customization, and this theme is suitable for political organizations, fundraisers, donations for social causes, and other organizations. Specially designed for church websites, this theme is great for the ones who lack knowledge in website designing and yet want their organizations to have a digital platform.
This theme would be great for any church site and incorporates WordPress plugins very well to elevate the design.
Pricing –
Single Theme: $29
All Themes: $79
Lifetime Themes: $99
Summary
Any of these themes listed above can be the best church WordPress themes for you. Don't feel locked in to any one theme. Try out what suits your needs best and enlist the help of experts who do this every day. Here at REACHRIGHT we want to make sure your church website is the best it can be.