Planning for a sermon takes weeks, sometimes months of preparation, depending on the topic. While the words to your sermon are essential, so are the visuals.
This is when using sermon series graphics can enhance your message. Draw inspiration from the message you have carefully crafted to choose or design your sermon series graphic. When you're intentional about the image you choose, it will only help. A Sunday morning can be hectic, but it doesn't have to be!
Whether your incredible creative team designs a sermon graphic or you discover one on a sermon series graphic website, the possibilities are endless among so many high-quality design resources.
Usually, finding a graphic for your sermon is one of the last steps before a Sunday morning. But if you plan well, you can use graphics and other images related to your sermon to promote upcoming sermon series throughout the year.
Estimated reading time: 12 minutes
Benefits of Using Sermon Series Graphics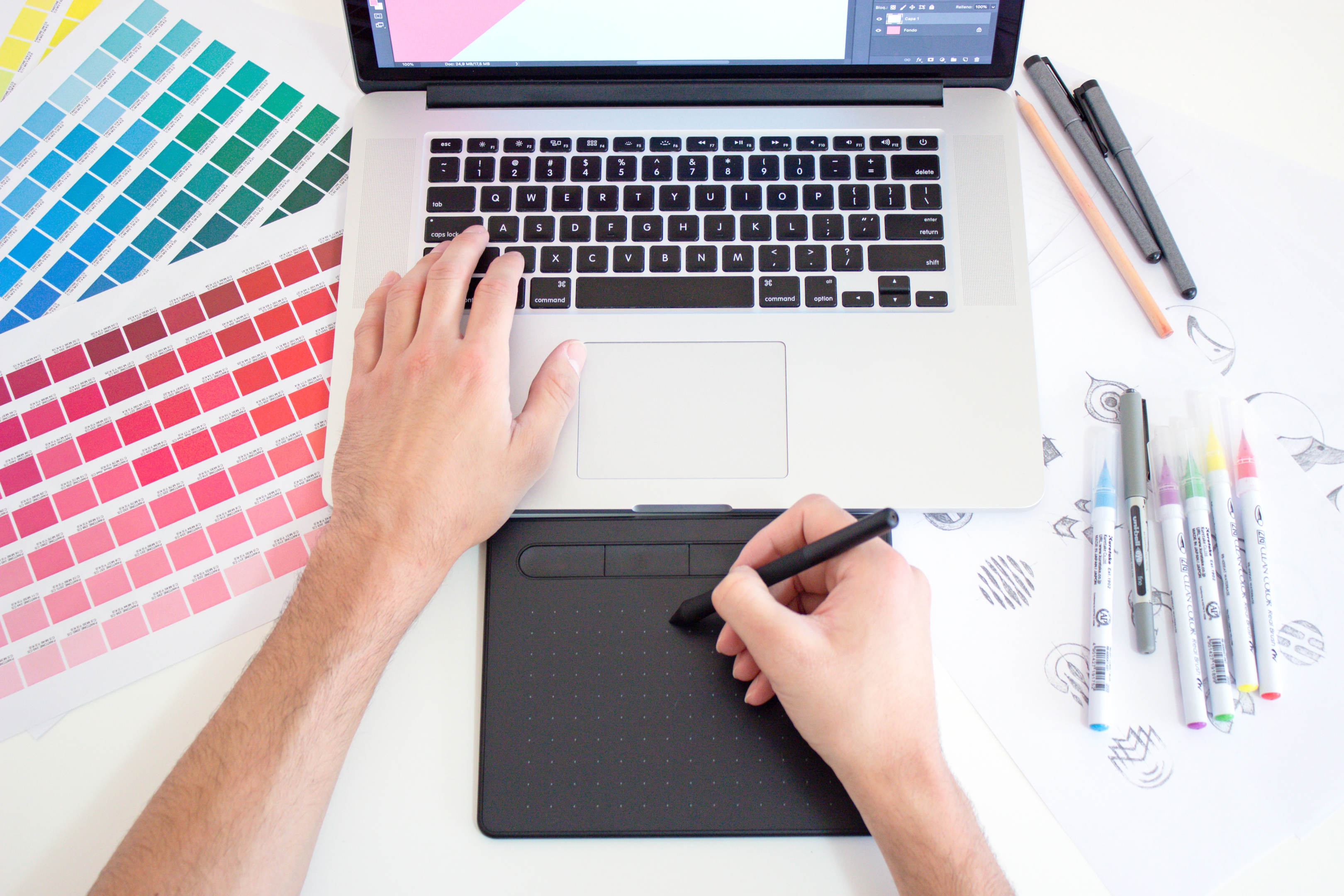 There are so many benefits to using sermon series graphics. When it comes to approaching the visuals for any sermon, think about it like branding. Using a sermon graphic is a marketing tool to show what your message is all about.
Draw people in

Some people are visual learners and images can catch their eye more than words can. They can even help people retain the information of the sermon as it relates. Imagine seeing a creative design posted on a billboard. Chances are, you're more likely to remember the image than the words. This doesn't mean that the message is forgettable, but our brains come sometimes be drawn to visual cues. When we see a bunny or an egg, we might think about Easter. Or when a manger and three wise men are pictured, the story of Jesus' birth comes to mind. By using a graphic for your sermon series, you're more likely to draw people in to hear the word of God!

A chance to be creative

Have fun with the design of your sermon series graphic. Take this chance to let your creative team come up with fresh and new ideas. If time is an issue, then there are pre-made sermon graphics ready to use and can be downloaded and edited to fit your specific needs. Choose from a wide variety of images and aesthetics to bring your vision to life. When you can't find just the right sermon graphic, create your own!

Promote your series

Practically, using a sermon graphic can help to promote your series. The graphic can be posted on social media for your church members to share, and posted weeks in advance to let people know what's coming up. Big events like Easter or Christmas can also be a great time to create graphics that are easy to share so that people can invite new people to a Sunday morning easily.
Sermon Series Resources
Living in a digital age, there are tons of websites that you can utilize for graphics. Plus, a lot of websites provide these images for free. There are thousands of high-quality media content to look through for any topic that you might need. You might even draw inspiration from the graphics and create a sermon series based off of them. Go onto any of these websites and download the graphics to your device and start using them right away!
1. Church Motion Graphics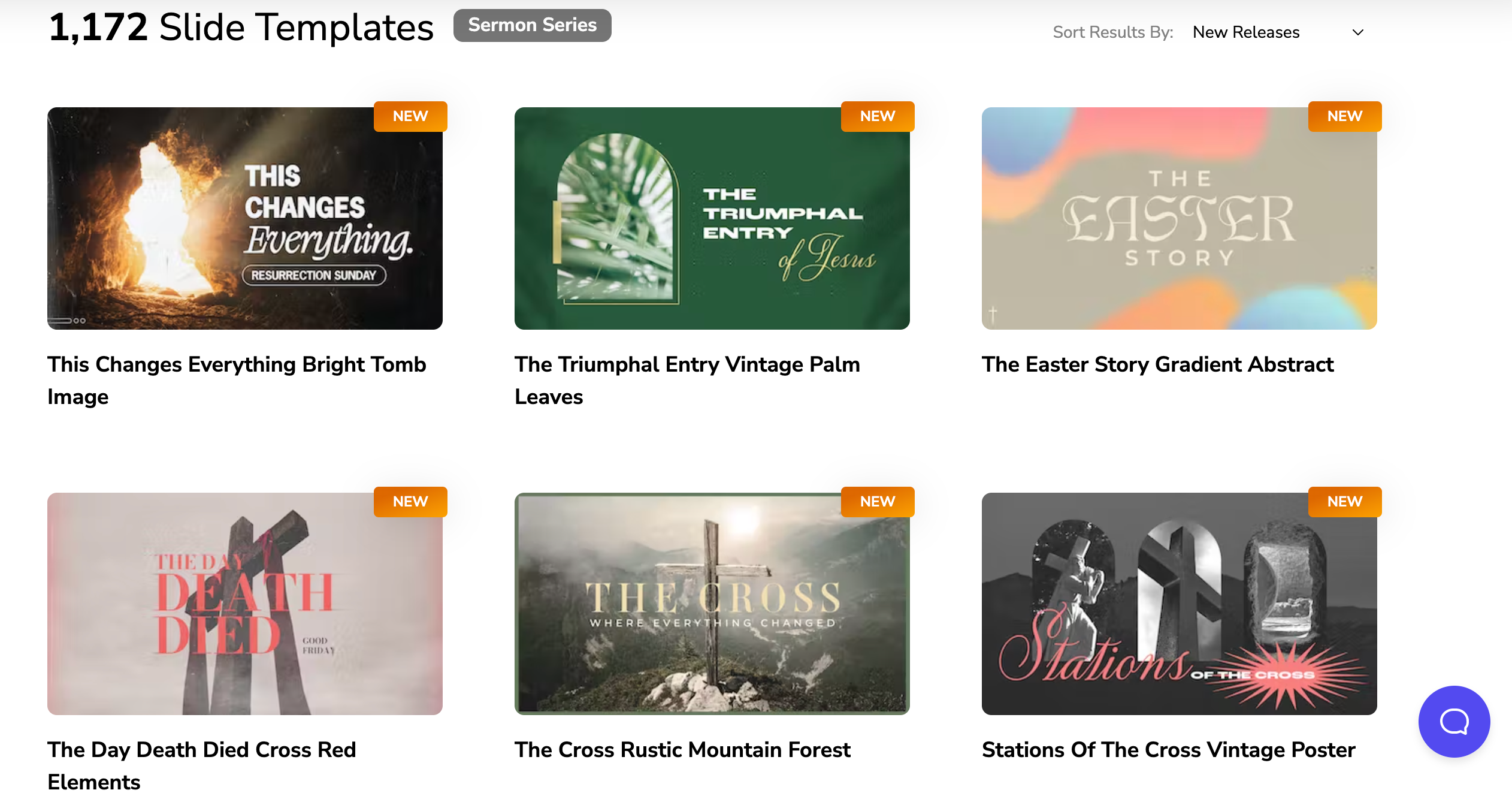 Church Motion Graphics is a fantastic website to find thousands of sermon graphics. They also have a great selection of worship motion backgrounds and social media graphics. While they do provide free packages of images, they offer sermon templates for a price. You can either purchase single images for a few dollars or subscribe to their website for their full catalog. Sign up for a free account to get a sample of what they provide.
Pricing:
Premium: $349 – All slide templates, mini-movies, lower thirds, CMG Designer, Pro Builder, CMG Remix
Standard: $249 – All motion backgrounds, countdown timers, motion titles, pro layers, video
2. Seed
Seed has an amazing focus on sermon series bundles. Not only will you receive series assets, but sermon and video assets as well. All of their graphics come in a PNG format, and in editable templates in Photoshop and Canva. Their site also includes a search bar so you can look up exactly what you want with specific keywords.
Pricing:
$94 per month vs paying annually for $70 per month (3 months free!)
3. Pro Church Media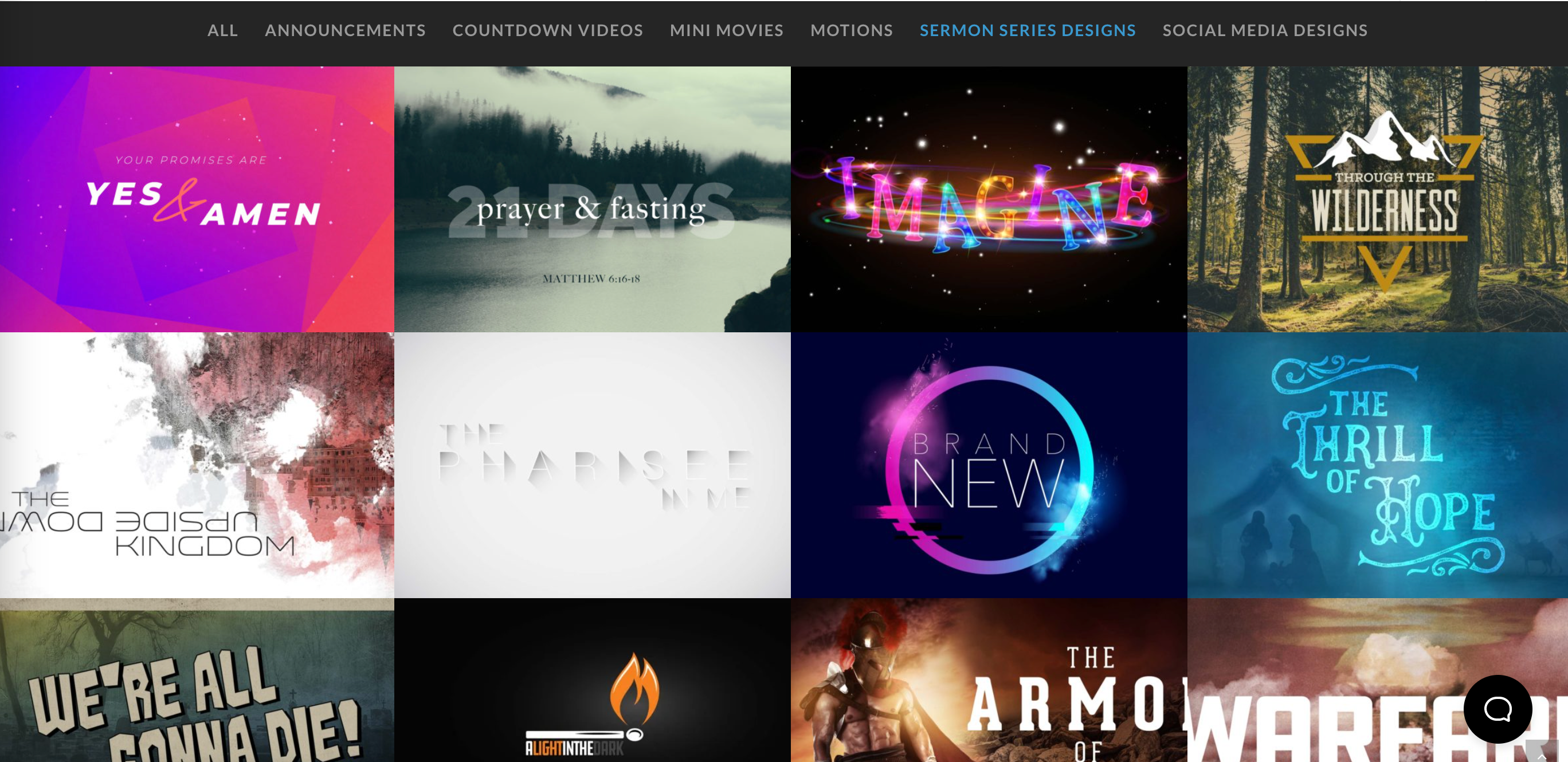 Pro Church Media focuses on supporting christian creatives and churches to communicate effectively to the whole world. They are a great resource not only for sermon graphics, but for all other sermon aspects. They work with Sermon Series Designs to catalog thousands of free and paid images.
4. Sermon Series Designs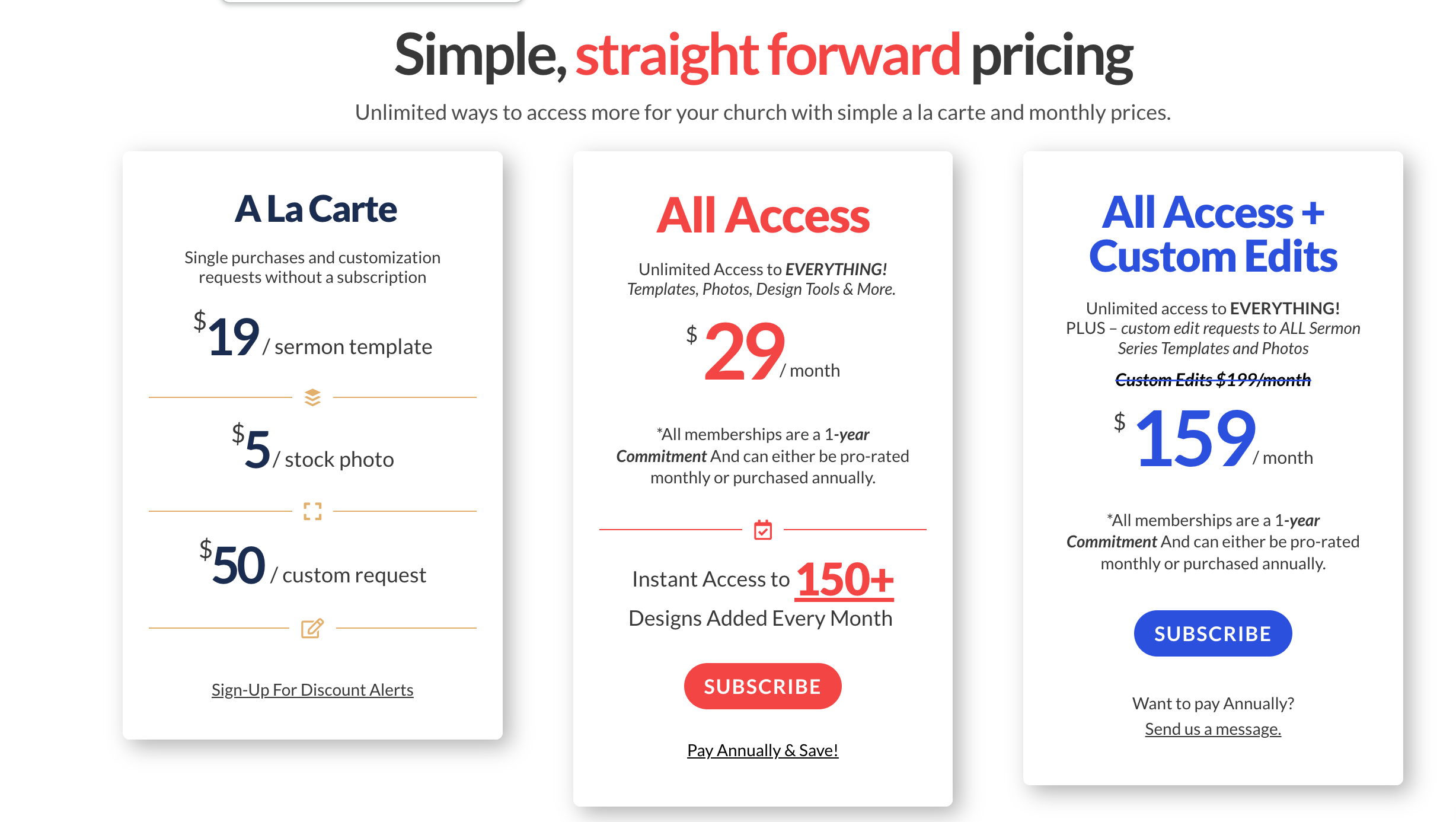 Sermon Series Designs not only has a wide variety of graphics to choose from, but they are templates so you can edit them just the way that you need. They use Smart Objects in their templates so that you can edit the text and background quickly. Most template bundles cost around $19 so it can get pricey, unless you go with their unlimited access to everything for only $29 a month.
Templates include:
Facebook Cover Photo
HD Title Slide
Notes/Background Slide
Social Square Image
Social Story Image
5. Church Sherpa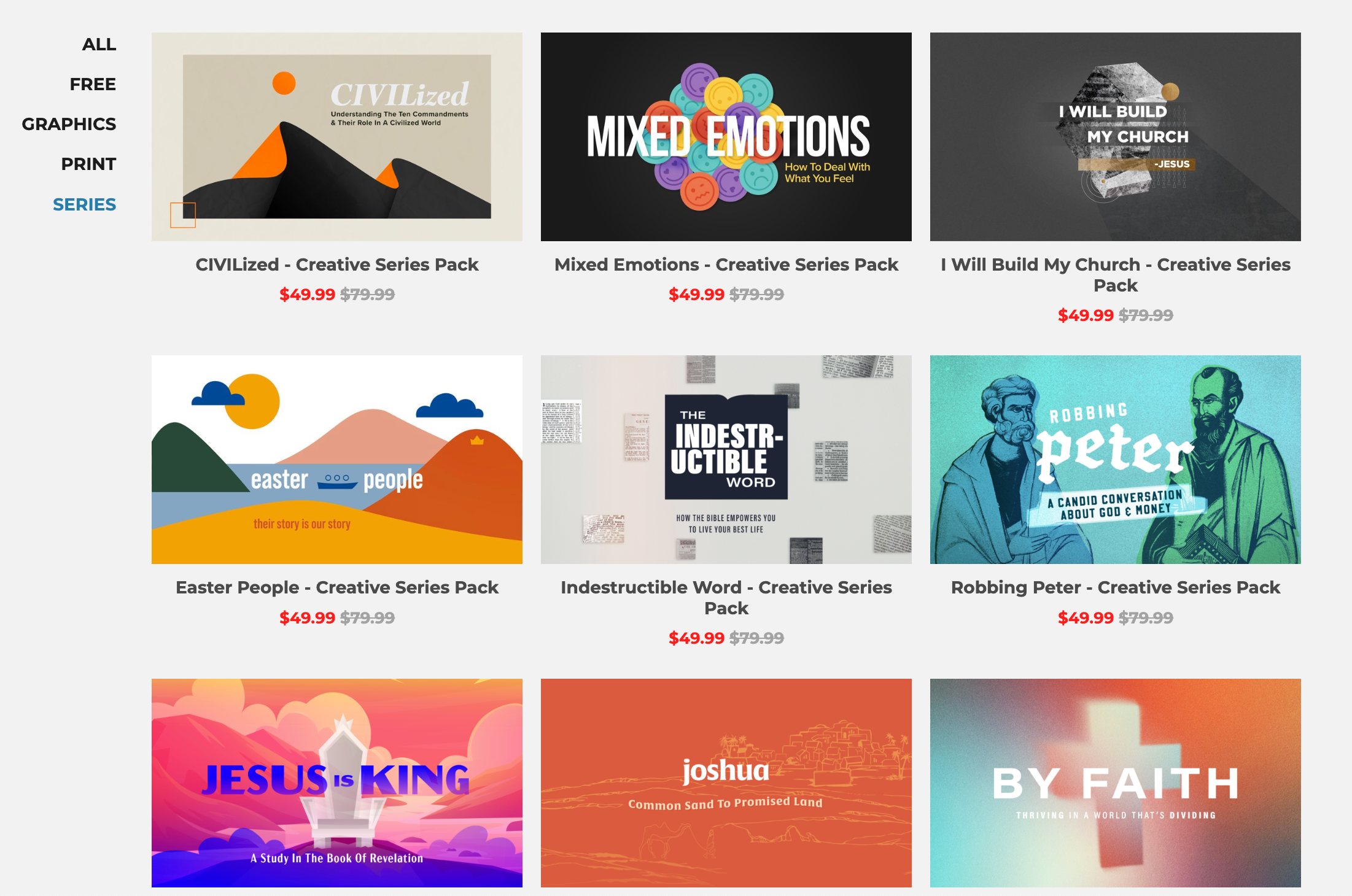 Church Sherpa has many free options as well as paid options. On their site you will find worship backgrounds, bumper videos, countdowns and many other graphics. Their creative series packs begin at $79.99, but often have sales of $49.99.
Creative Series Pack Includes:
Series slide
Promo slide
Facebook banner
Social Media square
Social Media story
Promo videos
Message bumper
6. Tithe.ly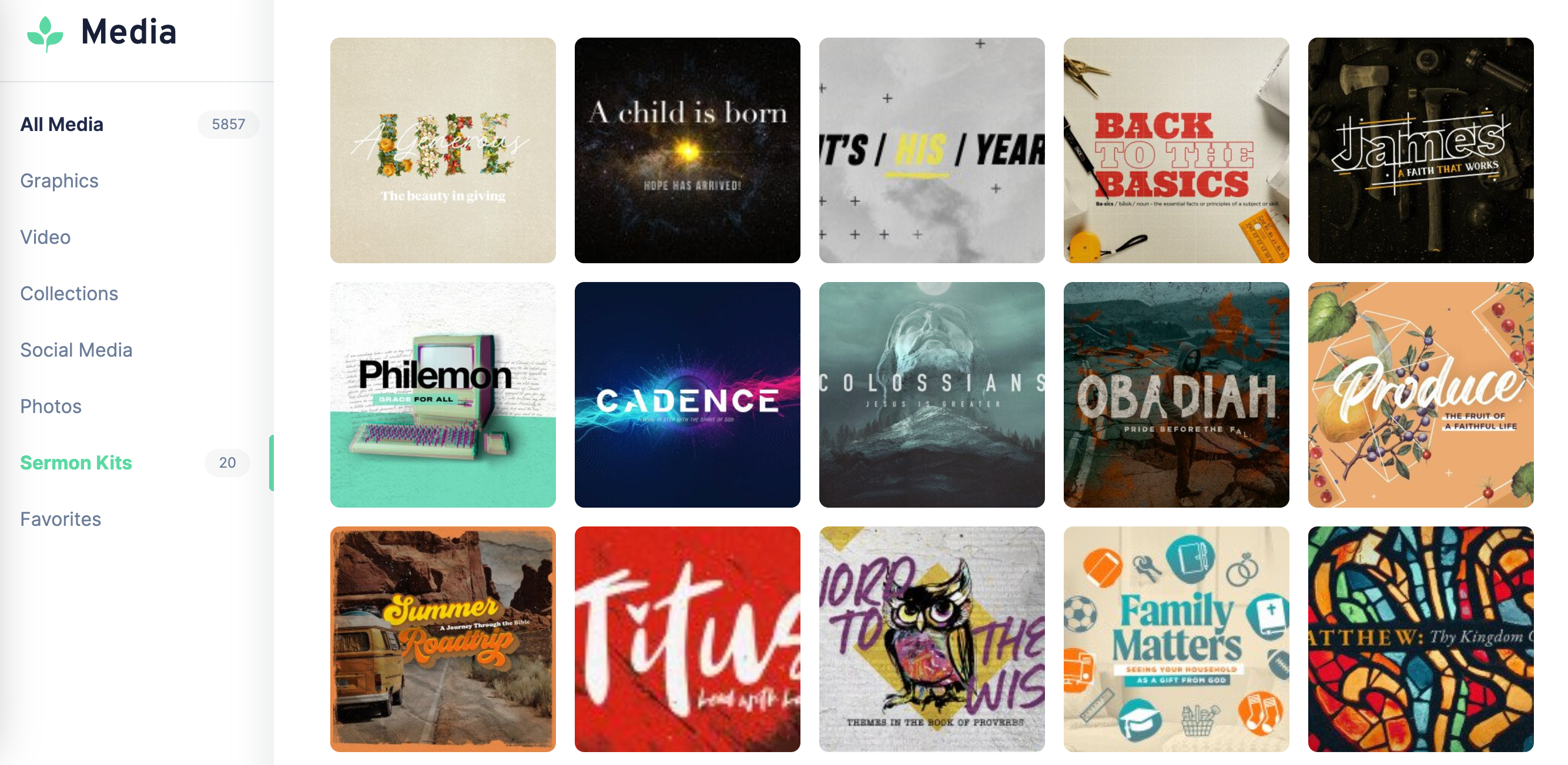 Tithe.ly is a smaller media site that provides sermon kits. You can find video, social media, and graphics for what you need. They have images that are specifically to be used as sermon titles, but they also have images that are used for print options such as bulletin covers and postcard templates.
7. Visual Media Church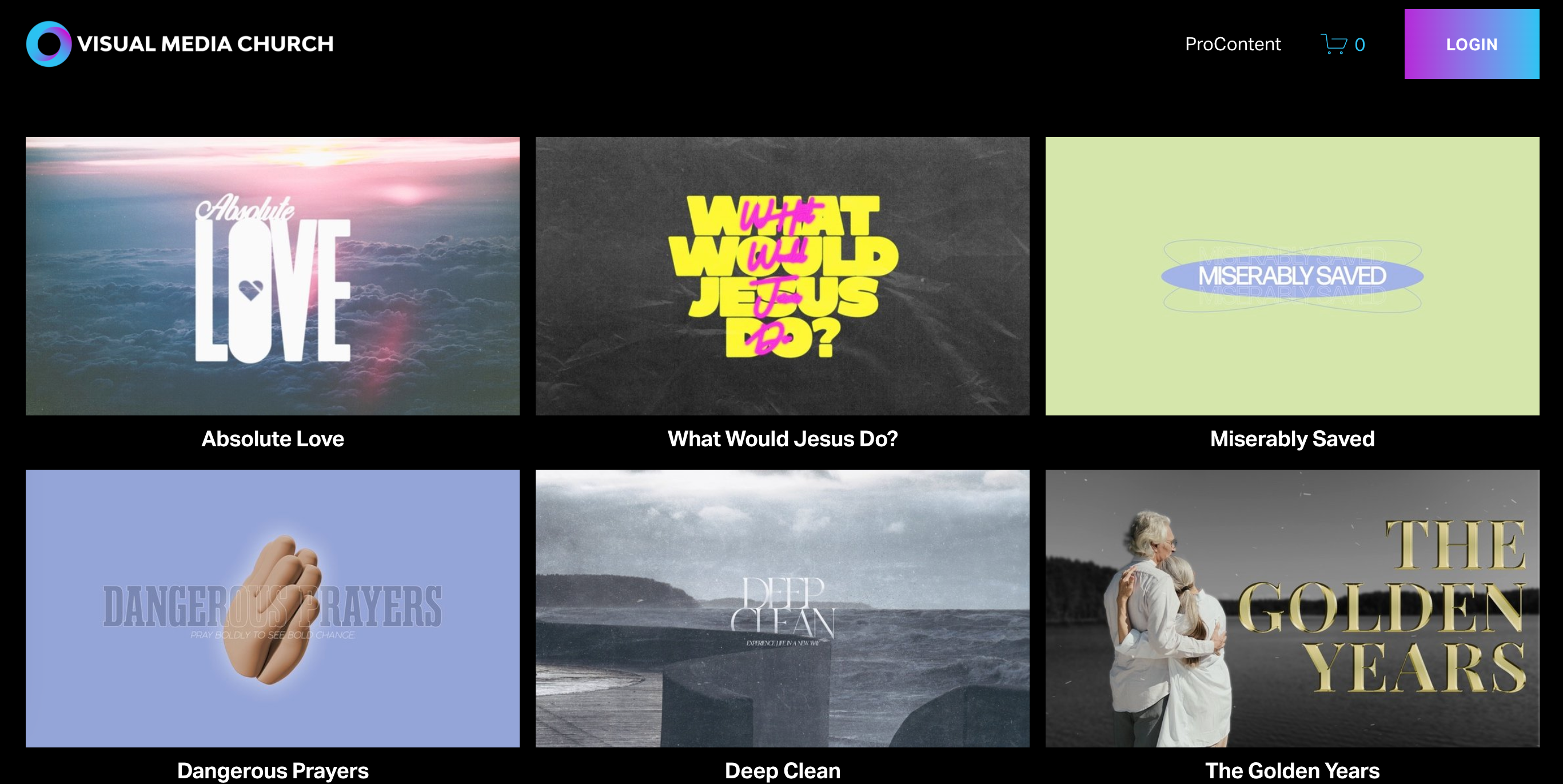 Visual Media Church harnesses different design skills in their graphics. Their series packs start at $25. They offer a free option for their site with thousands of free resources and a streaming license. You can sign up for unlimited access plus thousands more resources for $199 per year.
Packs Include:
HD Title
Sermon Notes Slide
Instagram Story
Instagram Square
Facebook Cover Photo
Lower Third
8. Igniter Media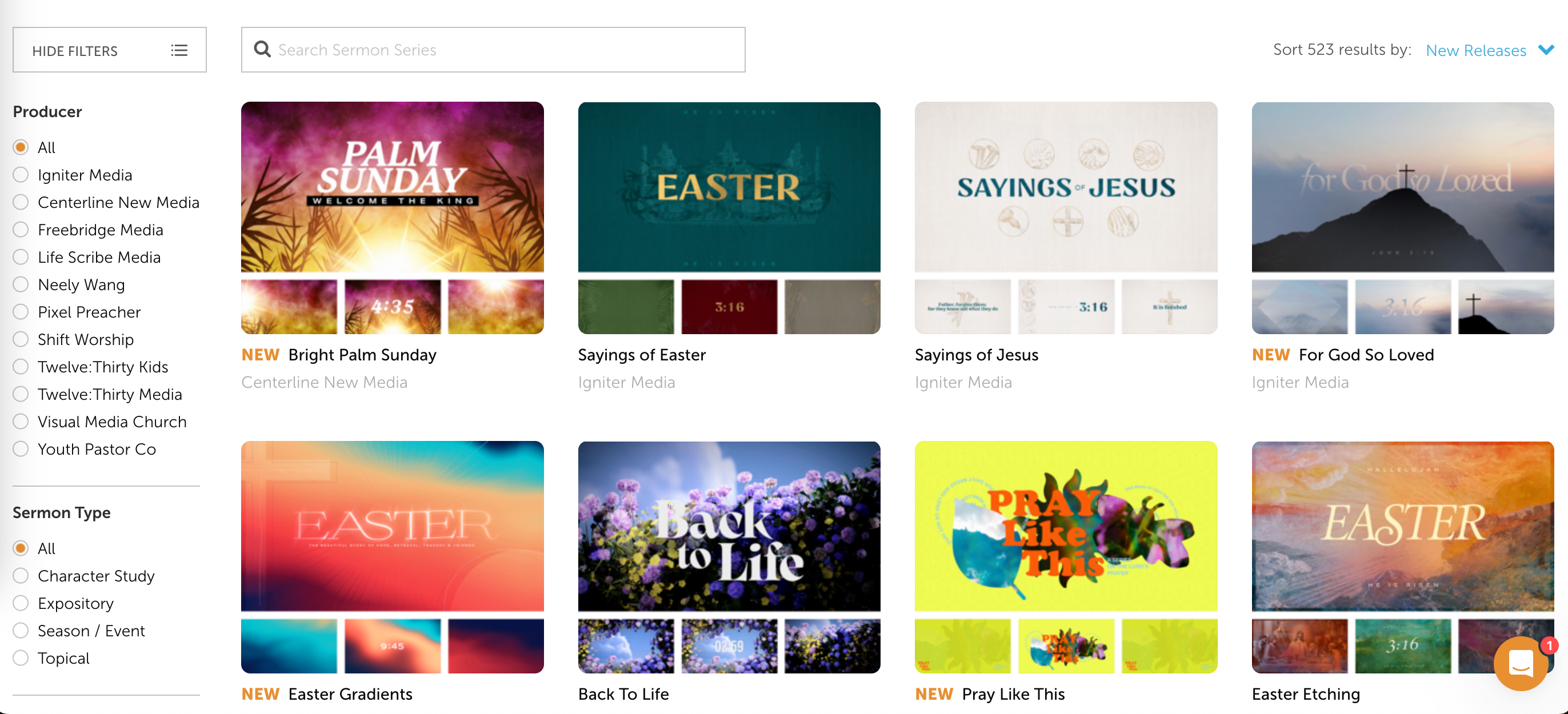 Igniter Media provides incredible packages on their site. Their sermon series collections include videos, mini-movies, worship backgrounds, countdowns, sermon bumpers, and social graphics. They have a free month trial so you can get a feel for if this is the best content for you. To become a member, there are a few different payment options with levels of options. Ranging from $45 to $85, you should be able to find the plan that fits your needs.
9. Dribble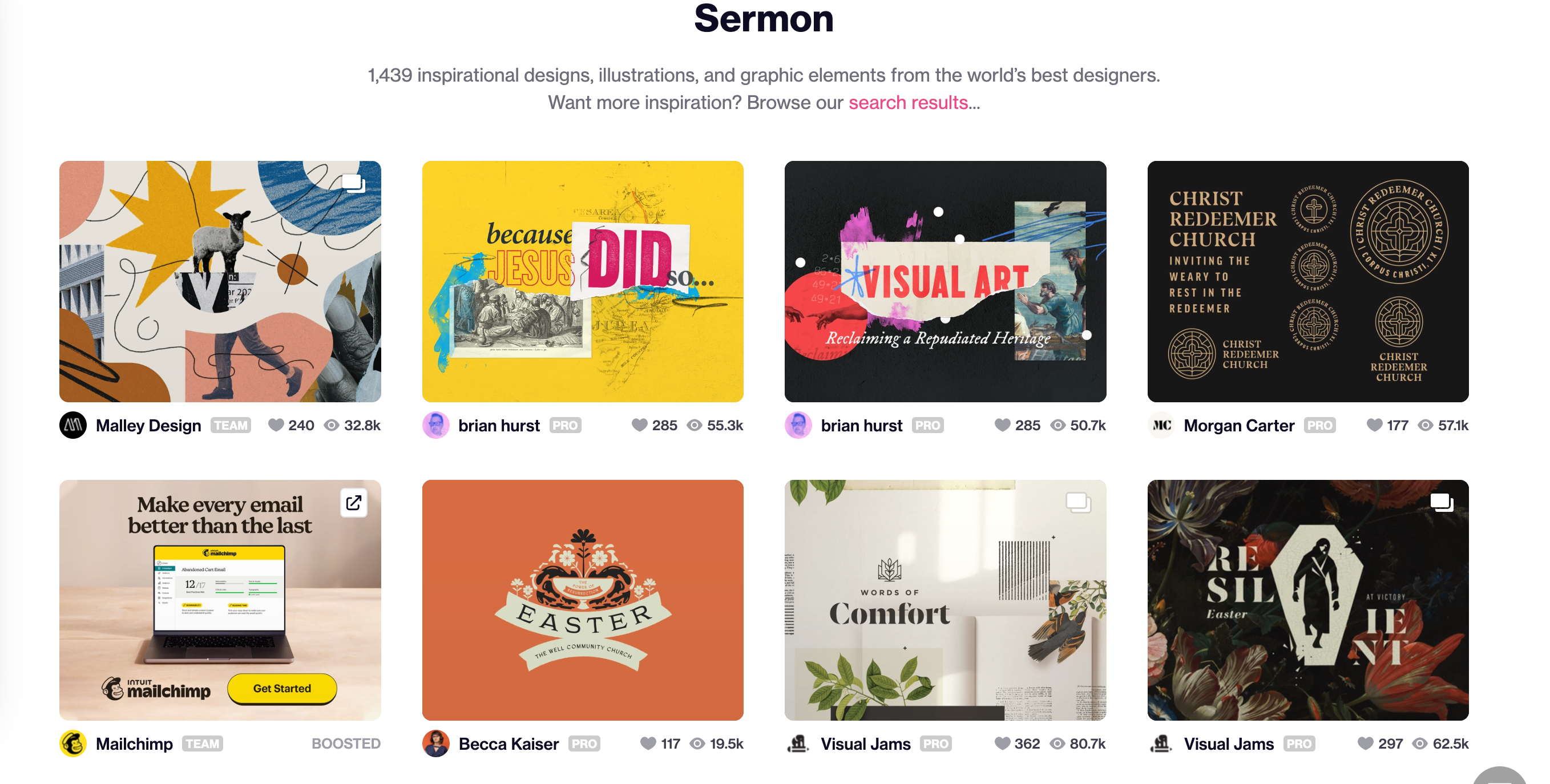 Dribble is a great site if you are wanting to sell your designs. They also have features on their website to learn how to design if you are just beginning. Dribble is not specifically created for churches, but has a sermon tag with over 1,400 creative designs. You can make a free account and start downloading right away.
10. Pixel Preacher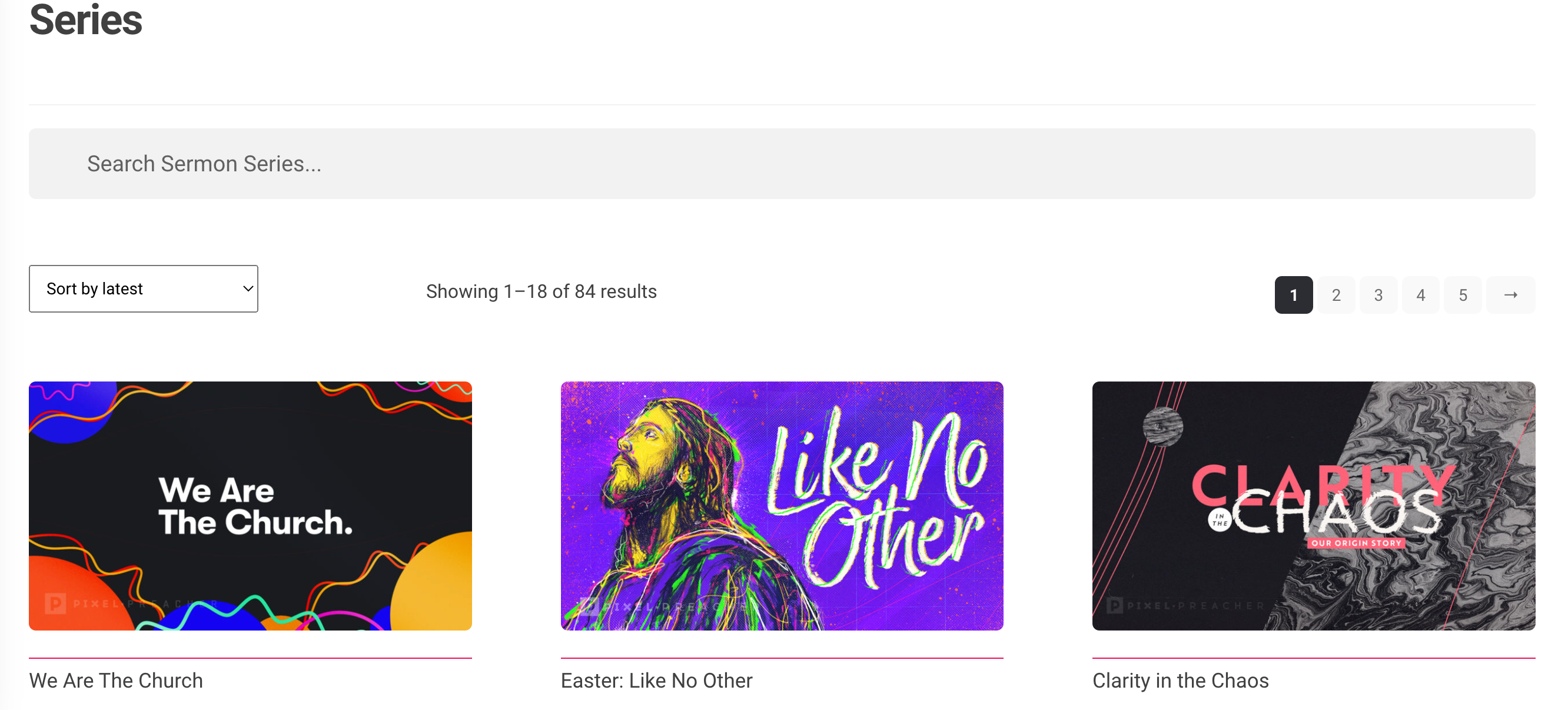 Pixel Preacher provides many free resources on their site from creators from all over the world. Each series bundle starts at $99 and you can pick and choose which ones you would like. To become a member, there are 3 different options.
Pricing:
Pay-As-You-Go – $99 per series
Monthly – $29 per month
Yearly – $299 per year

Unlimited downloads
Trial period, first 2 downloads for $1
11. Twelve Thirty Media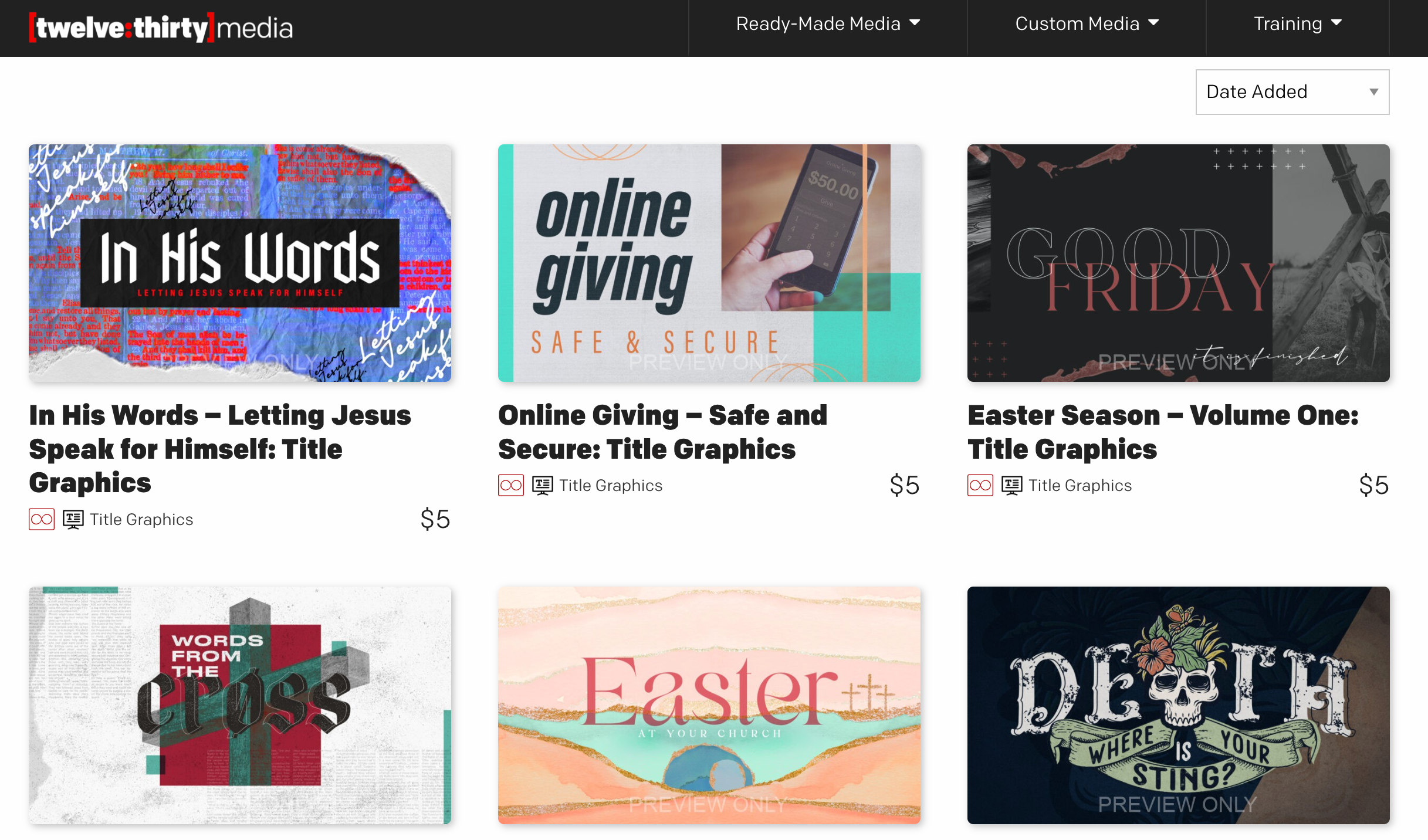 Twelve Thirty Media is more on the cheaper side of sermon graphics. Many of their bundles begin at just $5. In their packages, you will receive the Photoshop design file, title graphic, alt title graphic and a blank graphic. They also have the option for "Series in a box" which include more videos, bumpers, countdowns, motion backgrounds, worship backgrounds, social media content, lower thirds and print ready graphics.
Creating Your Own Graphics
If you can't find just the right graphic to represent your sermon, why not try making your own! It can be daunting to find out where to start with your graphic. Many websites offer creative tools to edit your own. If you would like to be more advanced, feel free to use any of the Adobe Suite programs such as InDesign or Photoshop.
What to Include in your Design
There are a few key things that should always be included in your sermon series graphics. As you plan your sermon, keep in mind the main theme. By having a title of the sermon, this can often be a keyword or main word on any graphic. You can design the graphic any way that you want, but keep in mind that less is sometimes more. When graphics become too cluttered, a lot of the key information can get lost.
Series start date
Promotional tagline such as "coming soon" or "next weekend"
Personal invitation such as "join us" or "you're invited"
Service times and location
Using Social Media + Graphics
Not only are sermon series graphics used for putting up on the screen, but for every aspect of marketing like email, print, video, apps and your website.
Email
If your church sends out weekly emails about upcoming events, then this is a great opportunity to attach the upcoming sermon series graphic as well.
Print
Another great way to implement sermon series graphics is by using them in print such as small cards to hand out or even in a church bulletin. This is a great way to physically invite people to church as it gets something tangible into their hands. You can even slip these into mailboxes with permission or ask businesses to hang them up on community boards. Print pieces are just one more way we can draw people to church.
Social Media
You can use the same graphics created for your sermon and post them on social media. This is a great way to promote the series and let people share to their own audience. You'll have to make sure that the aspects of the image are correct for posting to social media. Every social media app like Instagram, Facebook or Twitter have different aspect ratios to the images you can post. Instagram stories follow a 9:16 aspect ratio, while images posted to your feed follow either a 4:5 or 9:16. Basically, social media uses a lot of portrait (up and down) images as opposed to the typical landscape (side to side) images.
Video
If your church uploads past sermons to platforms such as YouTube, then what better thumbnail to use than a sermon series graphic. This will help viewers recognize which sermon it is and what the series is.
Website
Your website will be a great place to show off the sermon series graphics. Just like with a YouTube channel, your website can store past sermon series. Use the graphics to organize the sermons into an easy to find tab on your website.
Apps
Just like with you website, you can utilize the same graphics on your app. You can even make these interact-able and ready to download. Your app should include your Church logos, photos, important information such as location and service times. The app is a great function for easy and quick access and can be a place for your congregation to download any graphics to share.
Sermon Planning
When it comes to preparing for your sermon, keep in mind the strategic vision. You plan week after week for your ministry, putting in a lot of time and effort. The goal is always to reach people with the message of Jesus. Think of sermon graphics as illustrations that can help you reach your point in the message. God and Jesus are always at the center of every message, so as long as you maintain this in your illustrations, they will connect well and effectively. Have faith in your creative team as they use these tools in new ways.
More on Church Graphics