Think of your Church bulletin as a map to your service. They can be as simple as you want them to be, or packed full of important information. Thankfully, there are tons of websites that offer free bulletin templates to get you started.
The design of your church's bulletin is entirely up to you and the needs you want to meet.
Whether you start from scratch on programs such as InDesign or begin with a template, the opportunity to create an amazing church bulletin is waiting!
Estimated reading time: 10 minutes
What is a Church bulletin?
Church bulletins are essentially service guides, and can be used as great communication tools. They are great physical reminders of all upcoming events and any other information your church wants to share.
How long should a church bulletin be?
This is completely dependent on you. It can be a simple one-page, back and front with simple information regarding a few upcoming events. Or it can be several pages stapled together.
It can be tricky determining the right length, as you never want to create something just for it to get thrown in the trash or never looked at.
Be intentional about what you include in church bulletins. That's why using church bulletin templates can be so helpful in figuring out the content and the length.
Benefits of using a Church Bulletin
Bulletins are used as visual reminders and cues. And for any first-time visitors, they highlight important information for your congregation.
Often, it's the printed church bulletin that lies on each or every other seat in the auditorium as people sit down. People are physically picking these up as they find their seat and will typically glance at them before the service starts.
What should be included in a Church bulletin?
There are some key things that should always be included in any church bulletin. While many of these things can be optional, it really is dependent on what you want to include.
Notes/Message outline with fill in the blanks
Leave a blank page near the back of the church bulletin for people to take notes. People are likelier to do just this when given the tools for notes.
Another option is to create a fill-in-the-blank note template from the sermon for people to easily follow along.
Announcements with dates
This should be near the front with reminders of upcoming events. Feel free to even list all your service times as well as other locations you may have. The church can be a busy place with so many ministries and events. Lay it out by the 4 most upcoming events in each bulletin.
Social Media
Include your social media account names so that anyone interested can easily find them and follow!
Lyrics to Songs
An optional part to add to your church bulletin is a song list or song lyrics. While you will most likely have lyrics displayed on the screen, sometimes people may not be able to view it or can't see that far away.
Getting to Know You
An important part of any bulletin is an area for new guests to fill out their information about getting more involved if they wish to be contacted. Guests can either take their bulletin to a connection point area or you might want to design a space that can be torn off and dropped in a contact box.
Order of Service
Just like with a song list, this can be helpful for people unfamiliar with your service to understand what will happen next.
Prayer Requests
This section could also be a tear-away part of any church bulletins. Sometimes people may want to write down their prayer requests and turn them into a prayer team for them to pray over the week.
Place for Testimonies
Another optional part of the church bulletin is a place for inspiring testimonies. These can be amazing stories from your own congregation that get highlighted each month or weekly. It's a great place to share about all the wonderful things God is doing in the lives of the people of your church.
What is the importance of using a Church bulletin template?
Now that we've listed so many great benefits of using a church bulletin, it's time to talk about free bulletin templates.
There are so many websites that have templates ready to be edited. Whether you want to print your church bulletins or create them for a digital space, there are options for anything.
Church Bulletin Templates
Below is a list of great websites to get started on designing your church bulletin template.
Canva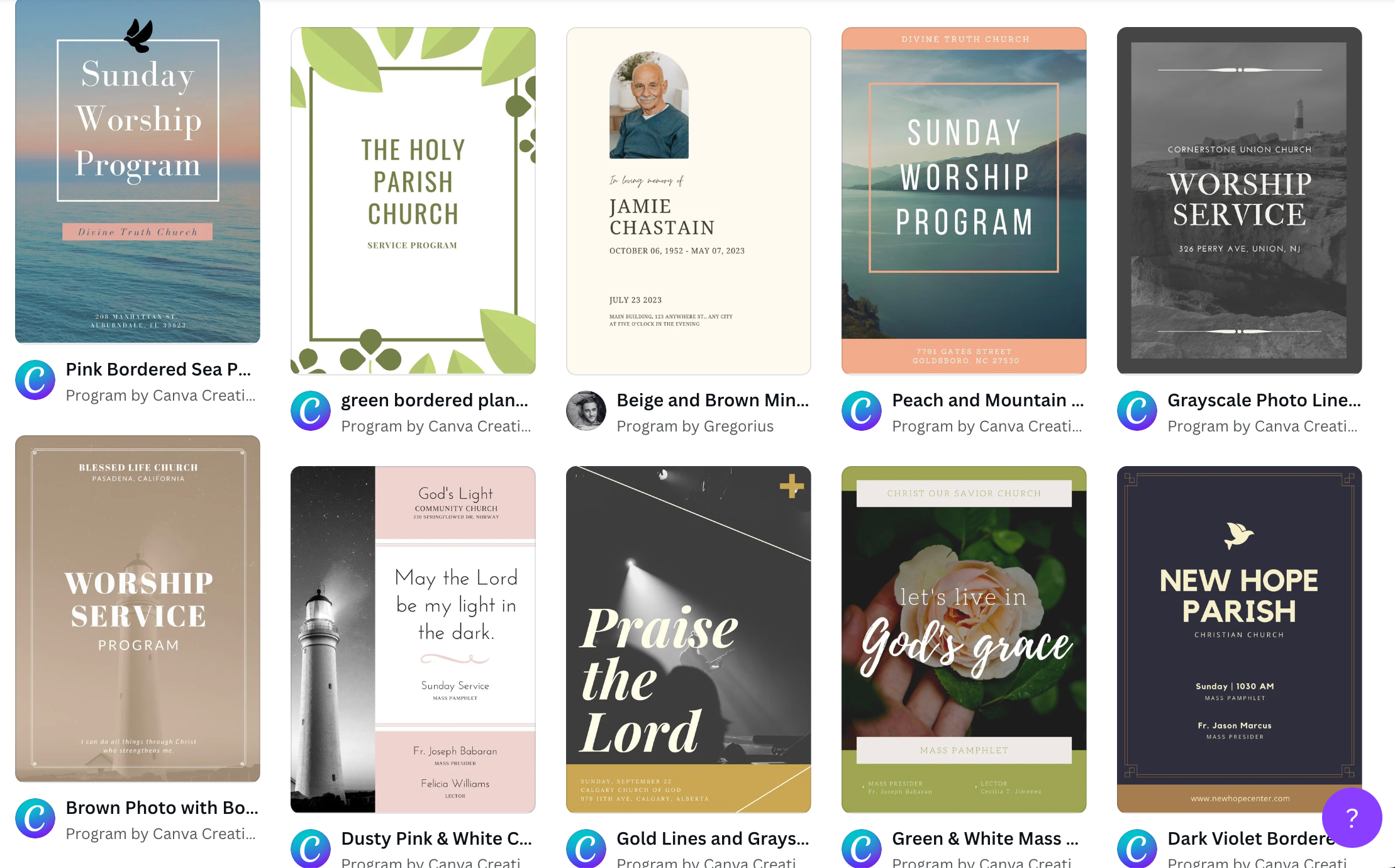 Canva has 34 different free bulletin templates to get y0u started. There is also the option to be creative and start with a blank space. Add as many or as little pages that you want. Change colors, fonts and images.
Concordia Supply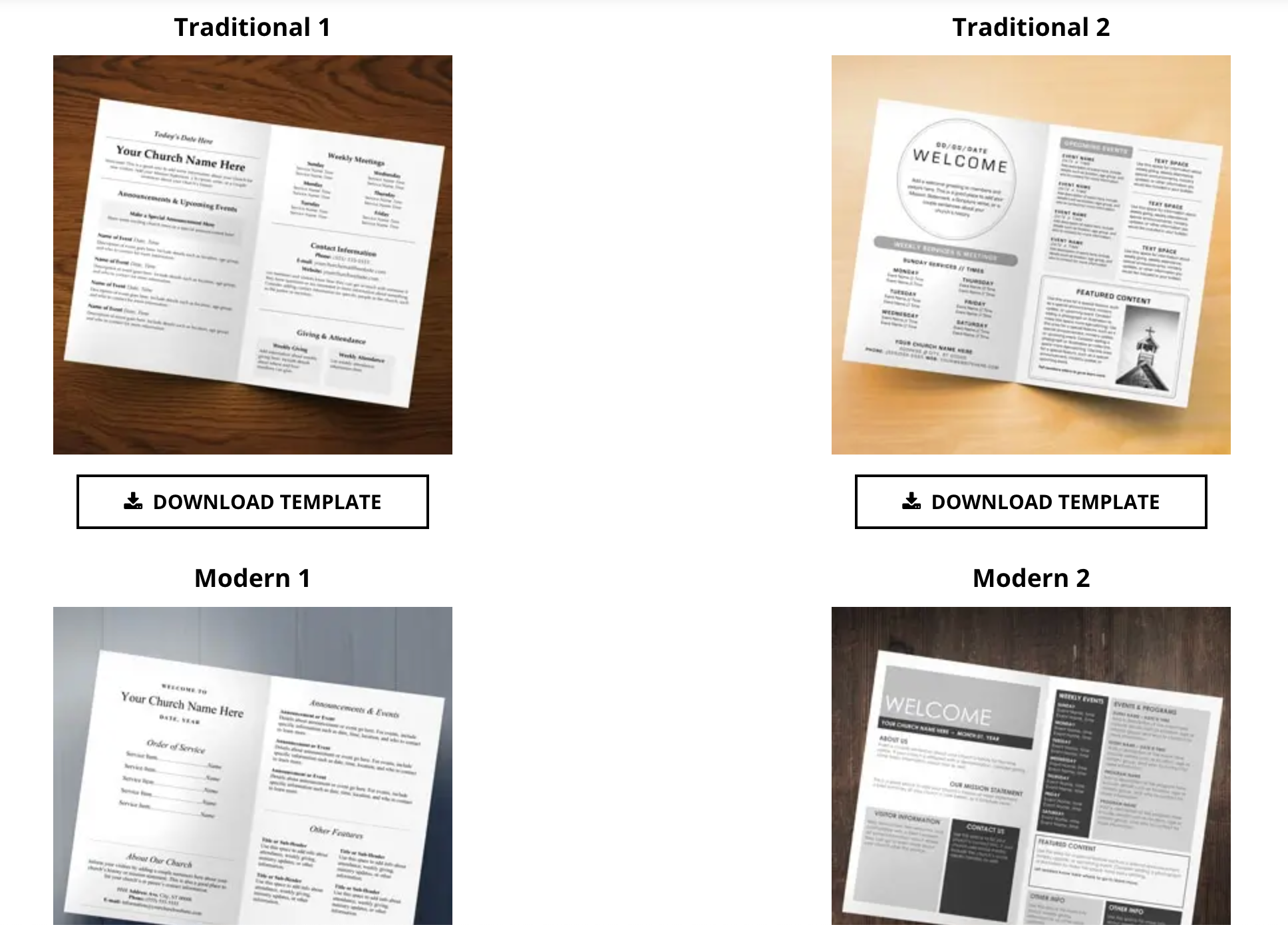 Concordia Supply builds their church bulletin templates using Microsoft Word. They do have 4 options for free bulletin templates that include 2 traditional styles and 2 modern styles.
They provide the option to purchase ready made bulletins that come in packs of 100. Prices begin at $8.99 for a pack of 100 bulletins and shipping is free once you spend $50.
Ministry Voice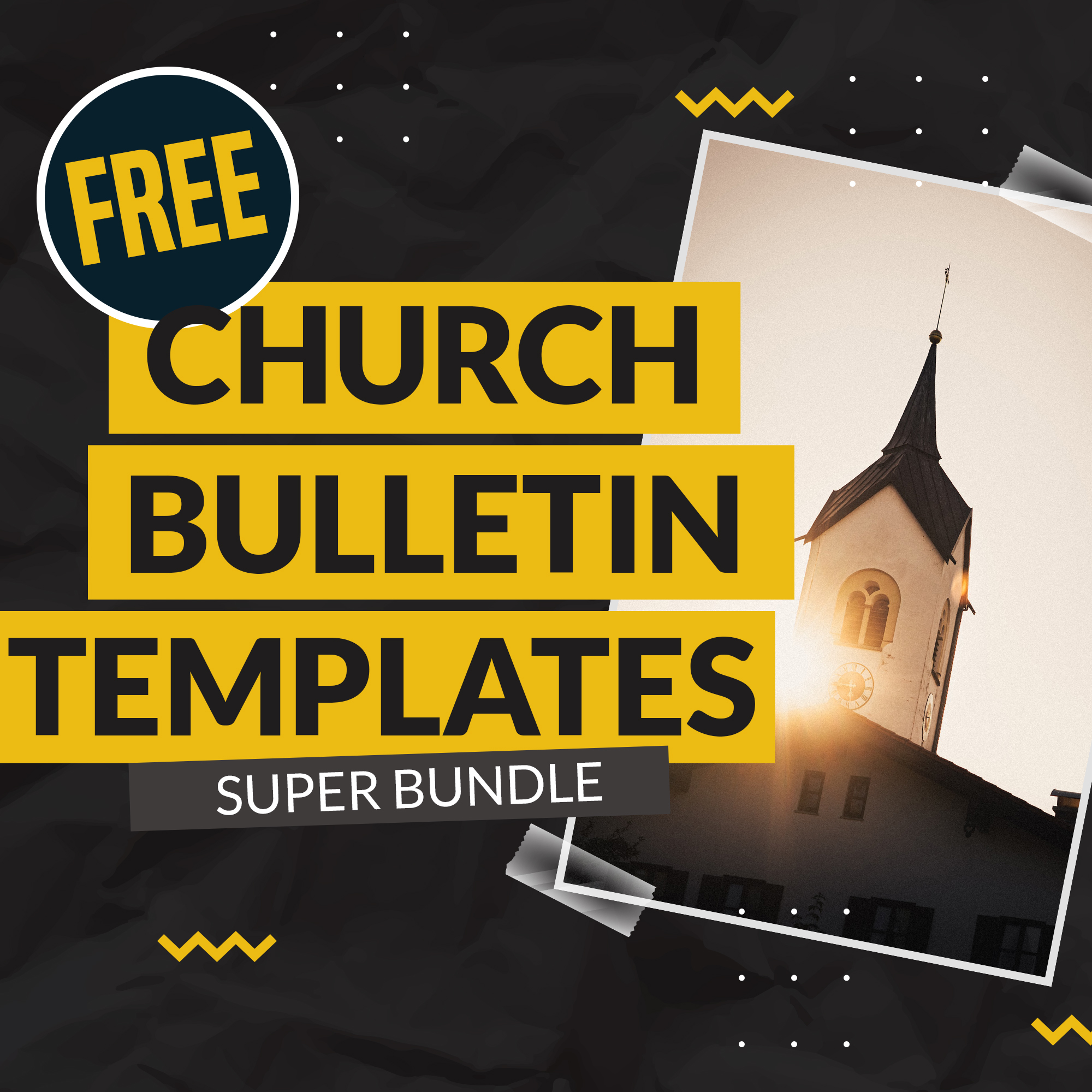 Ministry Voice designs their own templates free of use. They are 4-sided, consisting of covers that were designed by their graphic designers. Again, their templates are created with Microsoft Word.
Enter your email address on their site to access free customizable bulletin templates.
Lifeway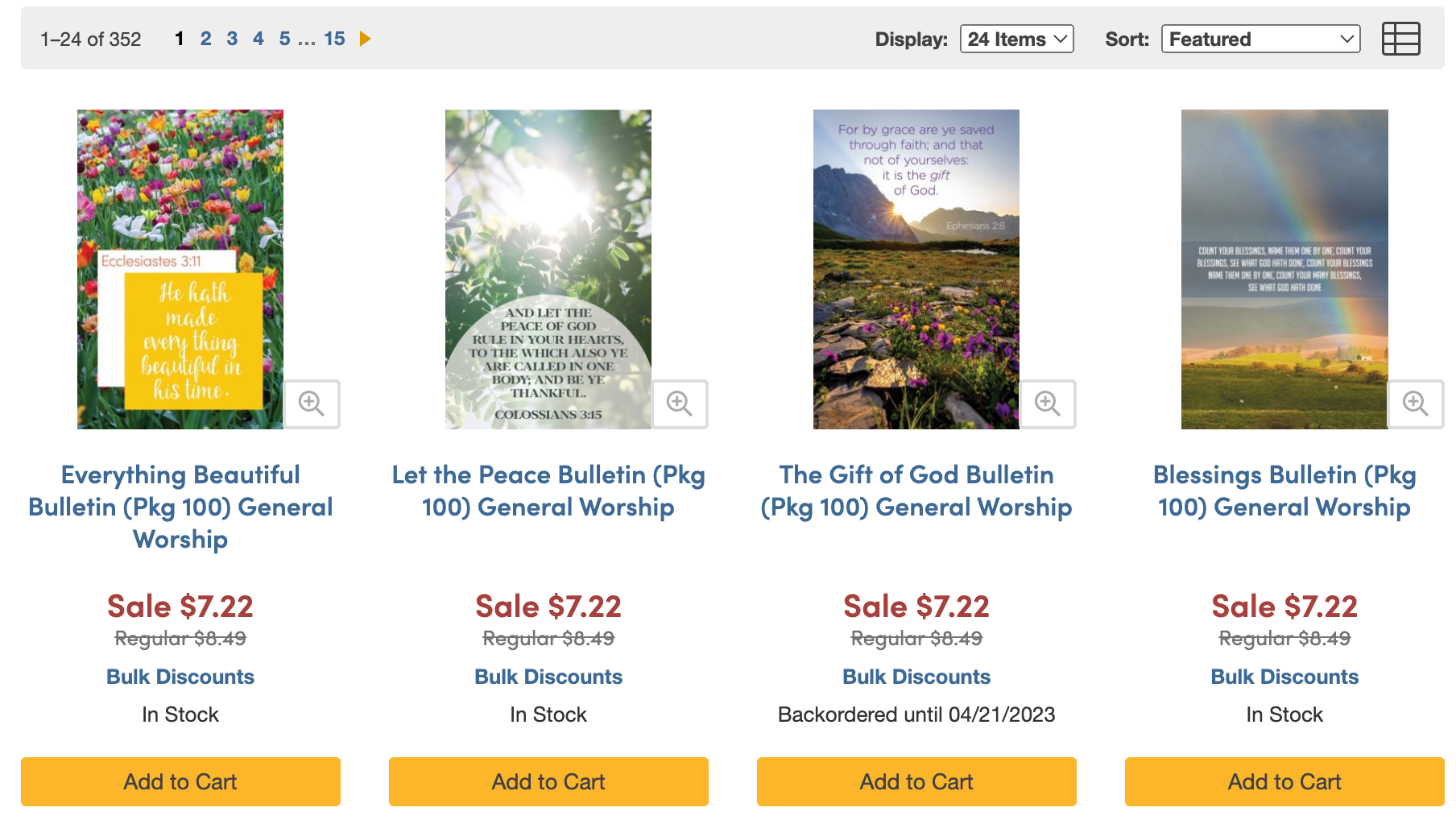 Lifeway has over 352 bulletin templates to choose from. Their packages include 100 printed bulletins that begin at $8.49.
They also have responsive bulletins that have perforated segments for guests to fill out their information or prayer requests. These prices begin at $0.09 per bulletin. Each bulletin comes with an edit option to customize before you purchase.
Template Lab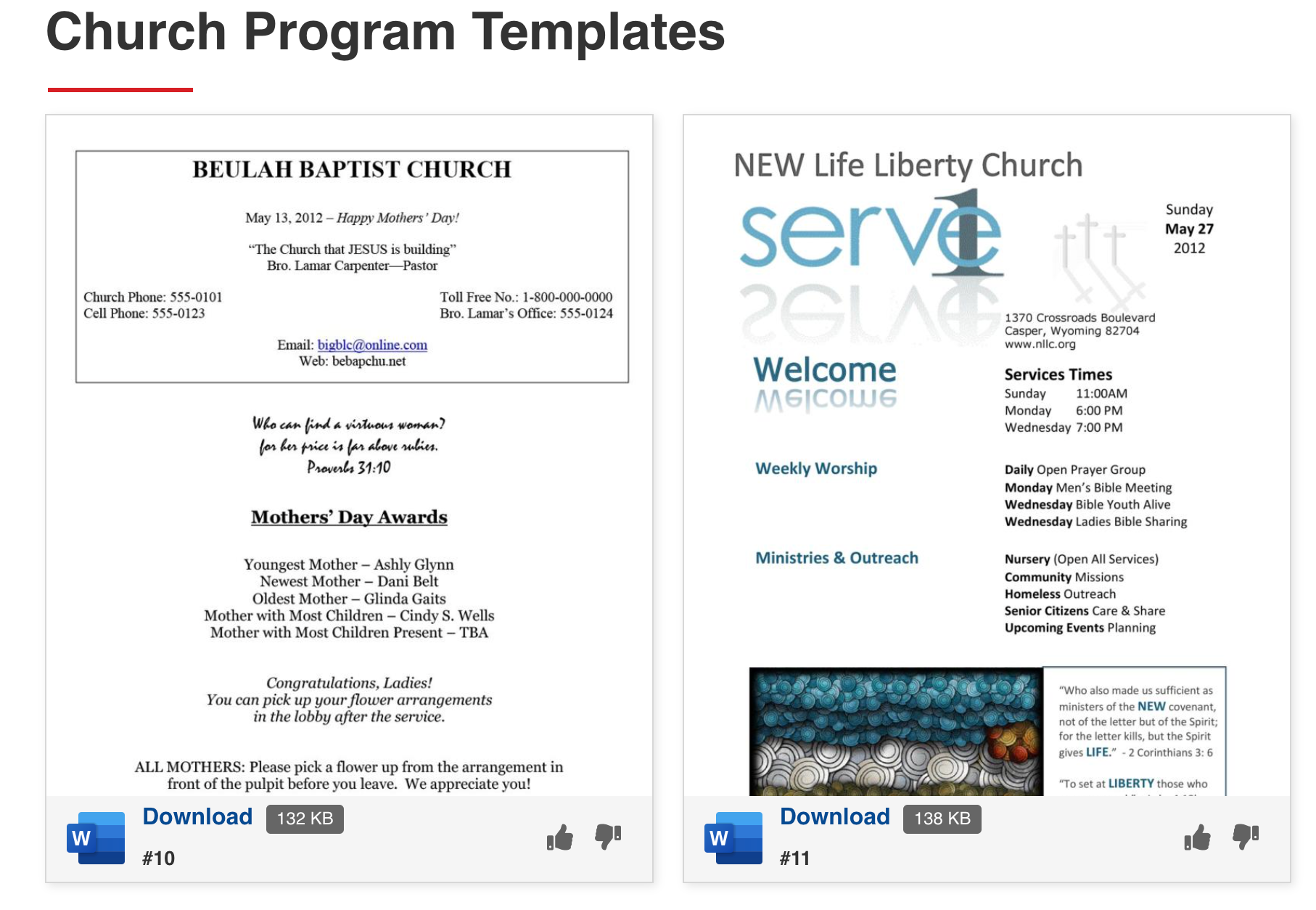 Template Lab provides over 41 customizable options for free bulletin templates. They use Microsoft Word to edit the church bulletin templates. These are great starting points in creating a simple but effective church bulletin.
Adobe Express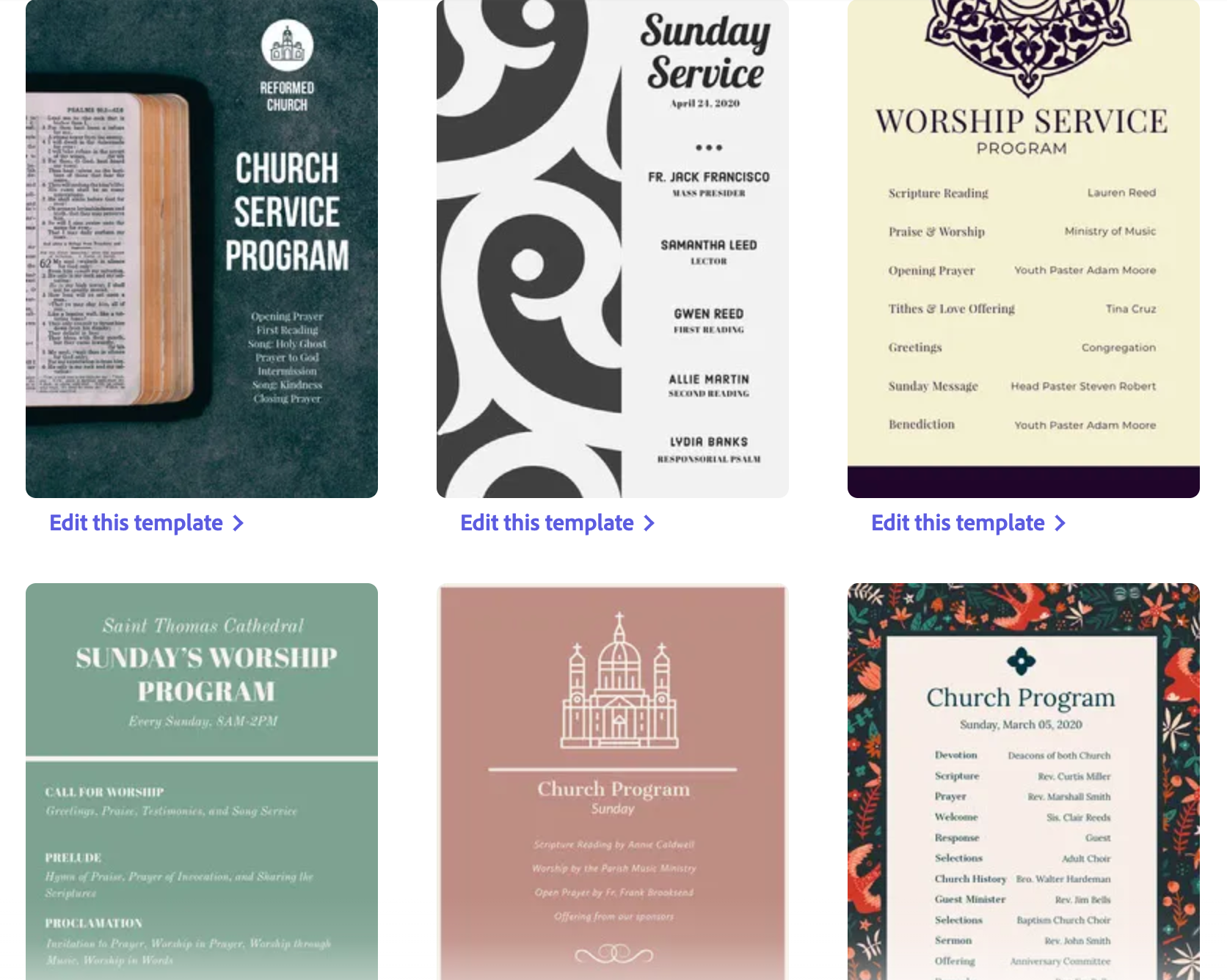 Adobe Express is a great website to get started, and it is completely free. They have pre-made church bulletin templates that you can edit. Adobe Express is easy to use and lets you have the ability to add many different design aspects.
If you don't have the main Adobe programs because they can be costly, then Adobe Express is a fantastic alternative to create any bulletin.
My Creative Shop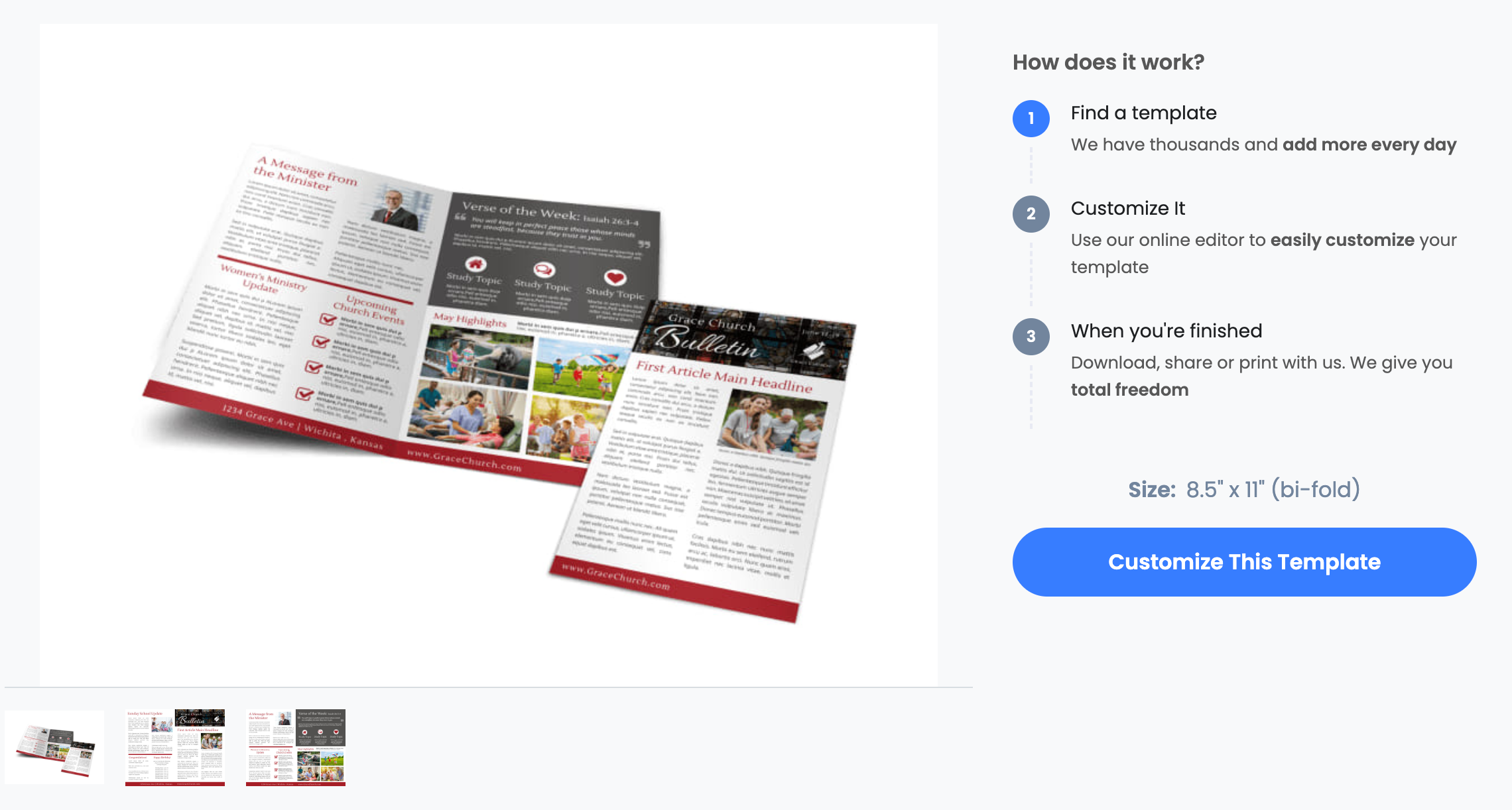 My Creative Shop allows you to edit on their website. Change the images, colors, fonts and even insert QR codes onto your bulletins.
For $19.95 a month, you have access to thousands of design templates, as well as unlimited downloads and other projects. Once you create the church bulletin template, you can download, share and print directly with them.
All of their bulletins come in a bi-fold format, meaning it folds down the middle.
Design like a "SAINT"
Template Lab has great advice for designing your church bulletin like a "SAINT".
This acronym stands for Simple, Absolutes, Important, Neat, Type and Images.
Simple – Keep things simple. Don't overthink and put too much information that overwhelms the reader.
Absolutes – This is a design reference that means contrasting elements. Use different size fonts, dark and light colors, thick and thin shapes to draw the readers eye.
Important – Only include important information. This goes along with design as well.
Neat – Pairing with design, keep it neat and easy to read. If someone can't read your bulletin because it's not well organized, then you have failed at the reason for the bulletin in the first place.
Type and Images – Make sure to use the same font and sizing across all headers. And be sure to use only high quality images in your bulletin so it looks professional.
Church Bulletin Inserts
If you're worried about too much information being included in your bulletin, then think about adding an insert.
An insert can be any loose one page informational sheet that inserts into the middle of the church bulletin. This can be a great option if you want to have monthly bulletins and change out the inserts weekly.
Inserts can be on any topic such as giving, different ministries or even upcoming conferences you wish to highlight.
5 tips for an effective church bulletin
1. Use a QR Code
After the pandemic, most people are very familiar with how QR codes work. Use this to your advantage and create one for you church's website. Or you can use the QR code to direct people to an easy to way give during service, as most people give online these days. This can also help keep your bulletin simple and well organized.
2. Pictures, Pictures, Pictures
Don't use just words or else all the information will get lost. By incorporating images into your bulletin, this can help break up giant text blocks. And it's a fun way to show off your church photography and highlight moments.
3. Don't be afraid of colors
While it can be cheaper to use only black and white, don't be afraid to branch out and incorporate colors. If your church has a certain color aesthetic, then stick to that, or if you are doing a sermon series for the month, then use that color to brand your bulletin.
4. Keep it simple
This one is easy, keep things simple. Don't do too much and make it hard to look at.
5. Be consistent
It's important to be consistent with your church bulletin. Whether it's updated weekly or monthly, try and stick to using the same information and organizational layout each time so as not to confuse readers.
What to avoid in a church bulletin
too many different fonts, stick to 2-3
too much white space
unorganized pages
don't use abbreviations or Christian jargon without any explanations
Summary
Remember that less is more in designing your church bulletin, and don't get overwhelmed when beginning this process. That's why it's helpful to begin with a church bulletin template to design.
If you test out a design and you find it doesn't work, that's okay! Try again and don't give up. It might take time to perfect exactly what you want to include in your bulletin.
Follow all the tips and tricks listed above and start designing today!
About The Author