Chances are you've seen a church connection card in the back of the seat in front of you on a Sunday morning. Have you taken the time to really look at it? Every church will have different purposes for using a connect card. Connect cards are just that… a physical card that helps new visitors connect!
It's typically a rectangular card with empty fields so you can fill out information. The end goal is connection and making sure that no one falls through the cracks. Whether you feel like designing your own church connection card or starting from a template, the possibilities are endless!
Estimated reading time: 12 minutes
What are Church Connection Cards?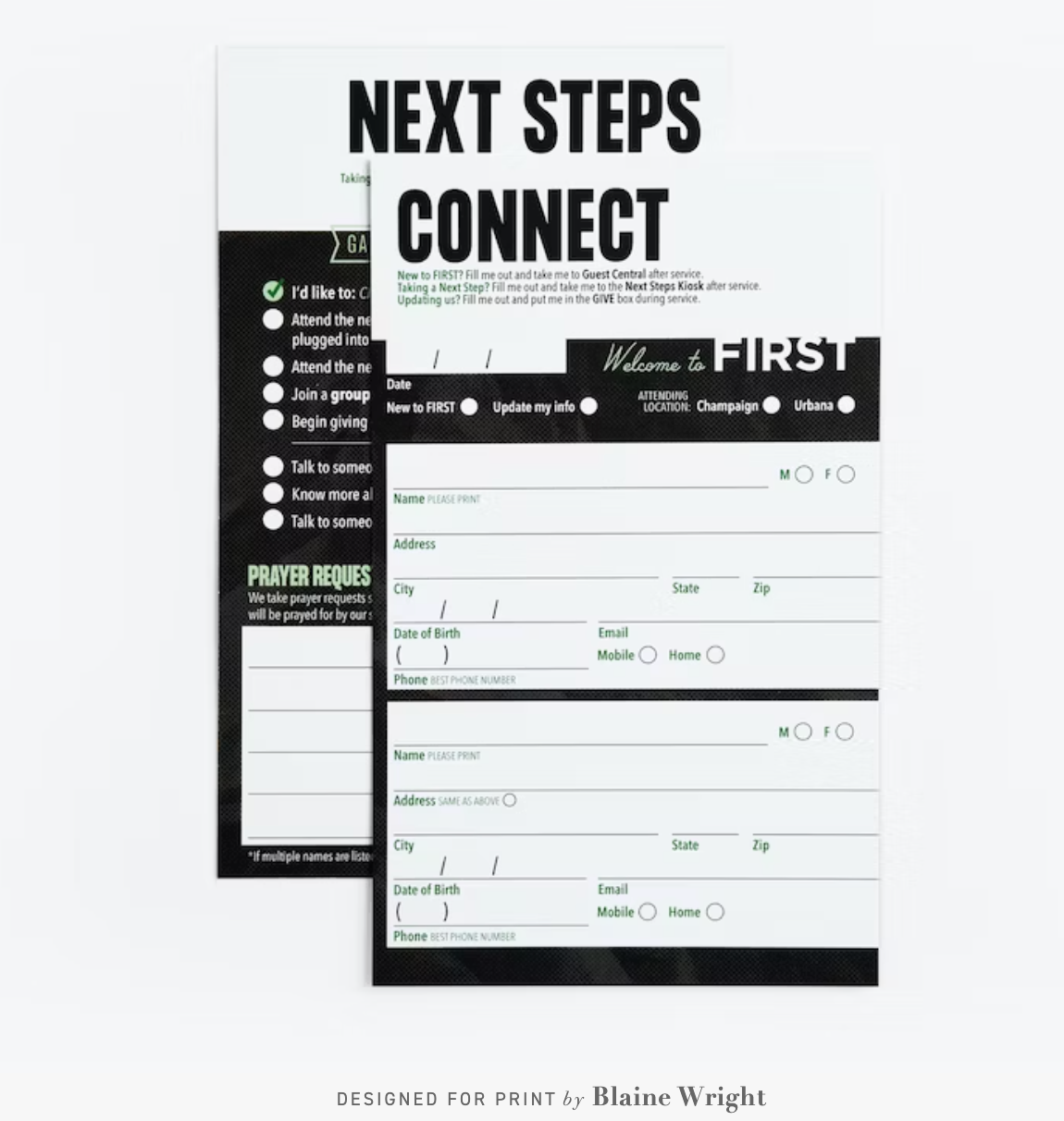 Connect cards are a practical tool to reach new visitors. Typically it is placed in the pocket of the back of a seat along with a pen for people to fill out. Some churches may have opted to make their connection "card" completely digital perhaps using a QR code that flashes on the screen.
It's important to collect information for any new members who are seeking to become more connected. They might want to simply get more information about the church, sign up for a weekly newsletter, or get involved in serving.
A pastor will usually inform you about what to do with the church connection card such as dropping it at a certain location or box in the back of the auditorium. A trusted volunteer or staff member will then gather these cards each week and sort through them.
Use of Connect Cards
There are many great uses of connect cards. The obvious and most used is to gather contact details. It would be impossible for one person to collect information, so connection cards are a simple solution. Visitor cards
Other uses of Connect Cards:
Prayer Requests
This is a great way to offer a place for people to write down prayer requests in a safe place. Sometimes people don't know who to go to or don't have anyone to talk to. But it can be a relief to even share prayer requests and know that someone is going to read it and pray for you.
Generate Interest For Volunteers
Another great use of a church connection card is to showcase briefly teams someone can volunteer for. This is just an interest card, so don't include paragraphs of information, but simply the name of each team such as, "Parking Team", "Kids Team", "Photography", or "Door Greeter".
New Believer
It's extremely important to make sure that new believers are getting connected in the church. One easy way to do this is by having them fill out a card with their basic information on it as well as checking a box or having a specific card signifying that they made a new decision to follow Jesus. A new believer is likely going to have a lot of questions about what to do next, so make sure to follow up with them and help guide them on this new journey with Christ.
Events
Use church connection cards to promote upcoming events such as Easter or Christmas services. Having a physical reminder with dates and service times listed can be helpful. It can also serve as an invitation to give to people you know who might be interested.
Find out if digital or paper connect cards work better for your church!
Research
The Barna Group has conducted valuable research regarding Millennial's likelihood of giving personal information. In their study, they found that millennial attendance has grown from 21% to 39% in the last several years. As well as seeing an increase in attendance amongst this age range which currently makes up most of the population, they found more interesting facts relating to what information they were willing to share.
What information will Millennials share:
First Name – 82%
Last Name – 53%
Email Address – 33%
Physical Address – 19%
Phone Number – 12%
Social Media – 6%
I Don't Want To Share Anything – 15%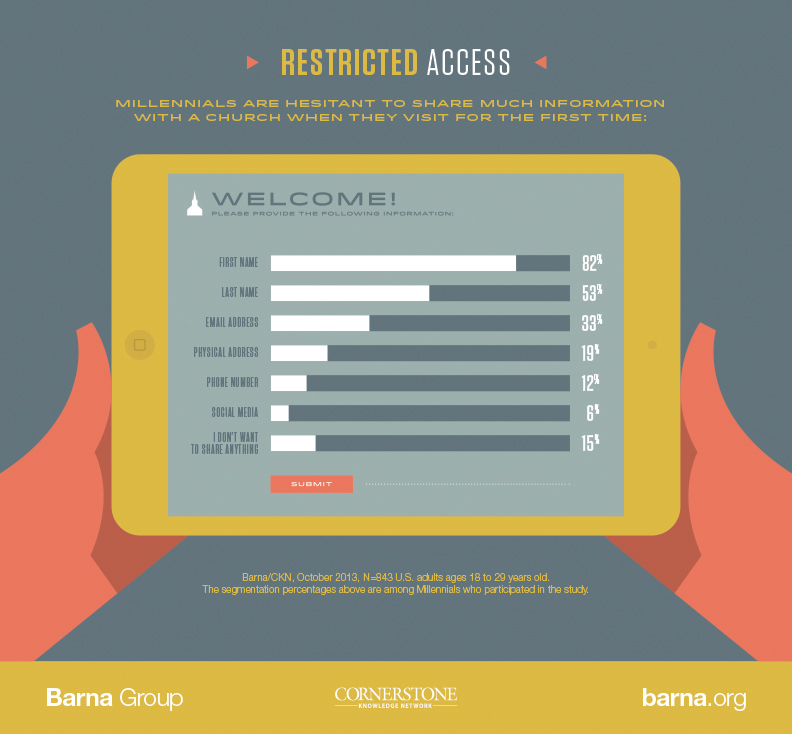 While this information was conducted upon Millenials, it can be used as a guide for other age groups. It's more than likely that people aren't going to want to give out all of their personal information. Especially when they're just visiting and haven't fully plugged in yet.
That being said, don't overcomplicate church connection cards!
Elements of Connection Cards
There are some pretty essential parts of connection cards. As mentioned above, their name and a way to get into contact with them are the most critical. Depending on which type of card you want to present, the information with vary but only slightly.
Picture/Design
It's important to create a fun and engaging design. Don't be afraid to use colors because practically it draws the eye to the connection card. This example below from a template from Creative Market is a fantastic example of using a welcoming picture on one side of the card. They also clearly display their Church name and logo. At the bottom of their connection card, you'll see they have their social media outlets.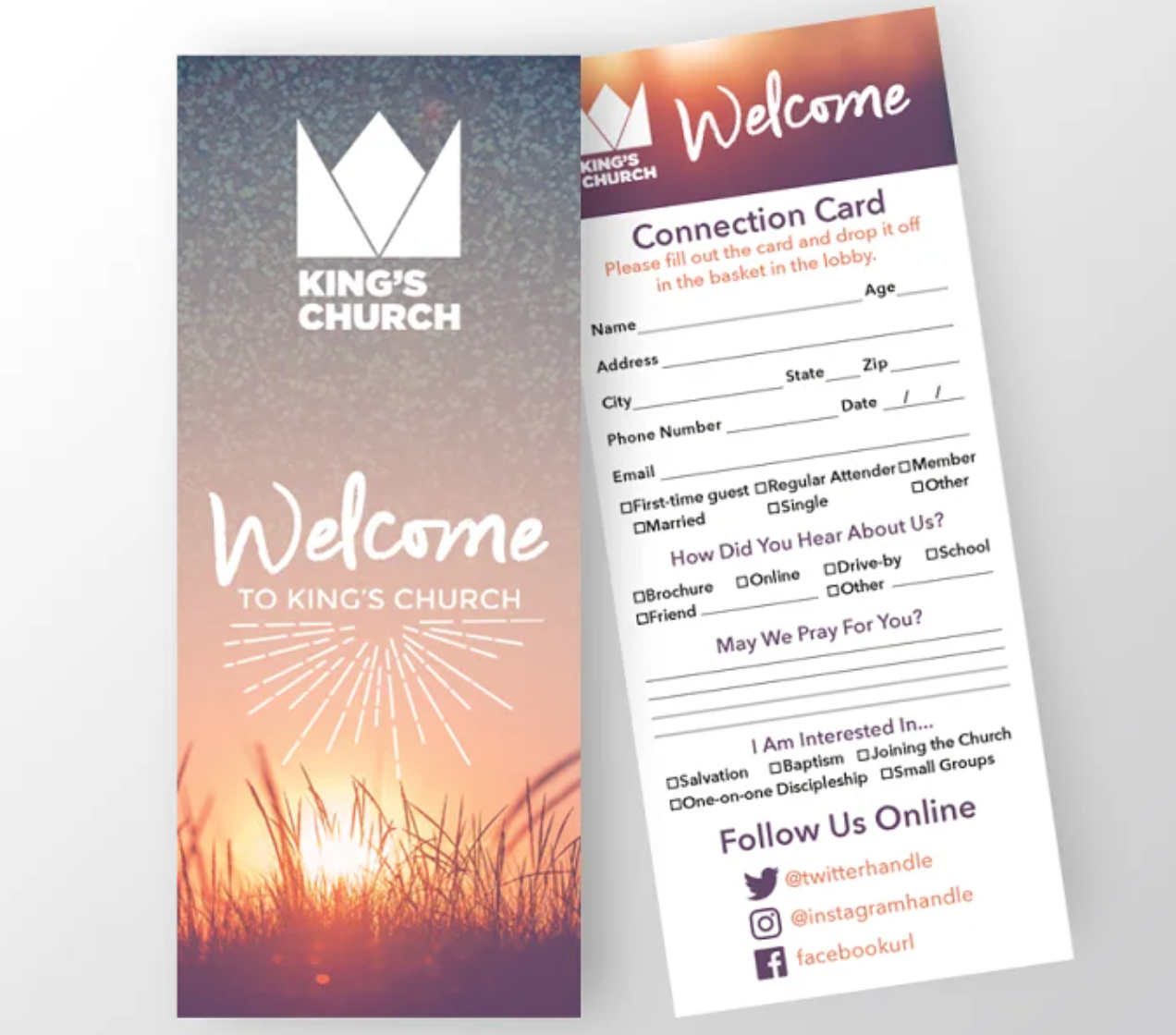 Name
Having a blank field for someone's name is the most important, as you'll want to know who you're speaking to when you follow up and connect with them! Some people may want to only share their first name and that's perfectly fine!
Email and or Phone Number
Include both fields so that you have a higher chance of getting into contact with someone. People trust you with their personal information, so don't abuse this trust. If you send emails every day, the chances of someone opening them decrease significantly. And if you have a team calling someone too often, it can become overwhelming for new visitors. Find a balance of connecting with someone while also respecting their time.
Website Link and or Socials
Not every church will have social media sites, and thats okay! If you do have a Facebook or Instagram, make sure to include this handle either on the connection card or on a screen during service.
Varying Interest Information
Another optional section to include on the connection card is a space for prayer requests, praise reports or sign ups for volunteering. This isn't necessary, but can always be a helpful step. If you don't want to include this information on the physical card, then make sure to include more information for new visitors in a follow up email!
Connect Card Templates
There are several great websites that can help you design a connection card. It can be overwhelming to start from scratch. A good idea is to stay simple, and include colors your church already uses. Templates can help you create a modern design or even a more traditional style in minutes!
Nucleus
Nucleus is a great website to find connect card templates. With Pro Church Tools, Nucleus offers their services in many different varieties. One great way is by hosting podcast episodes. Pro Church Tools has many podcast episodes on the subject of church connection cards! If you like listening to learn, then this is a great option for you. When you subscribe to their email list, you'll be directed to a link that opens up photoshop. Here you can see a great connect card template that you can easily change to fit your needs.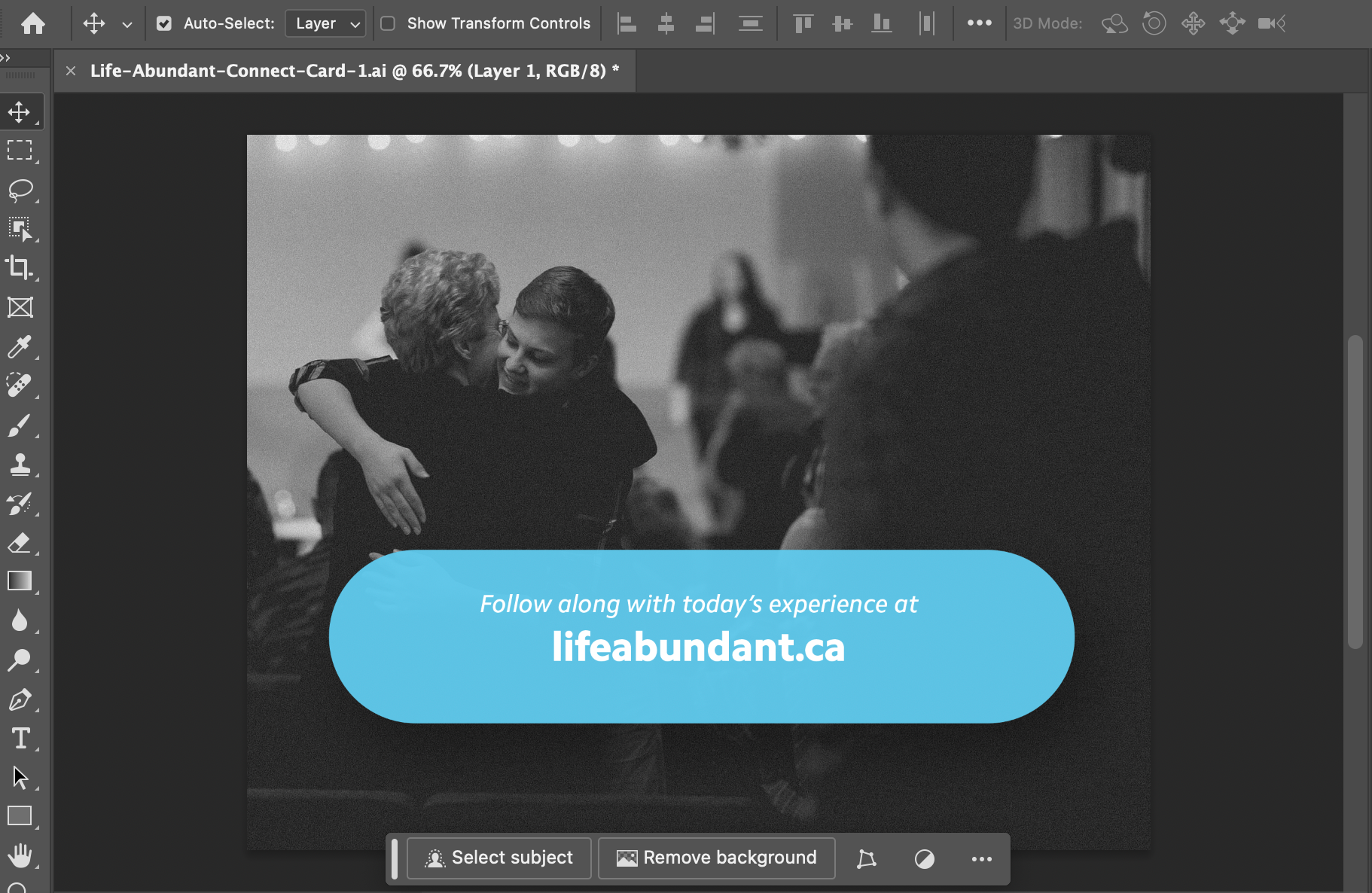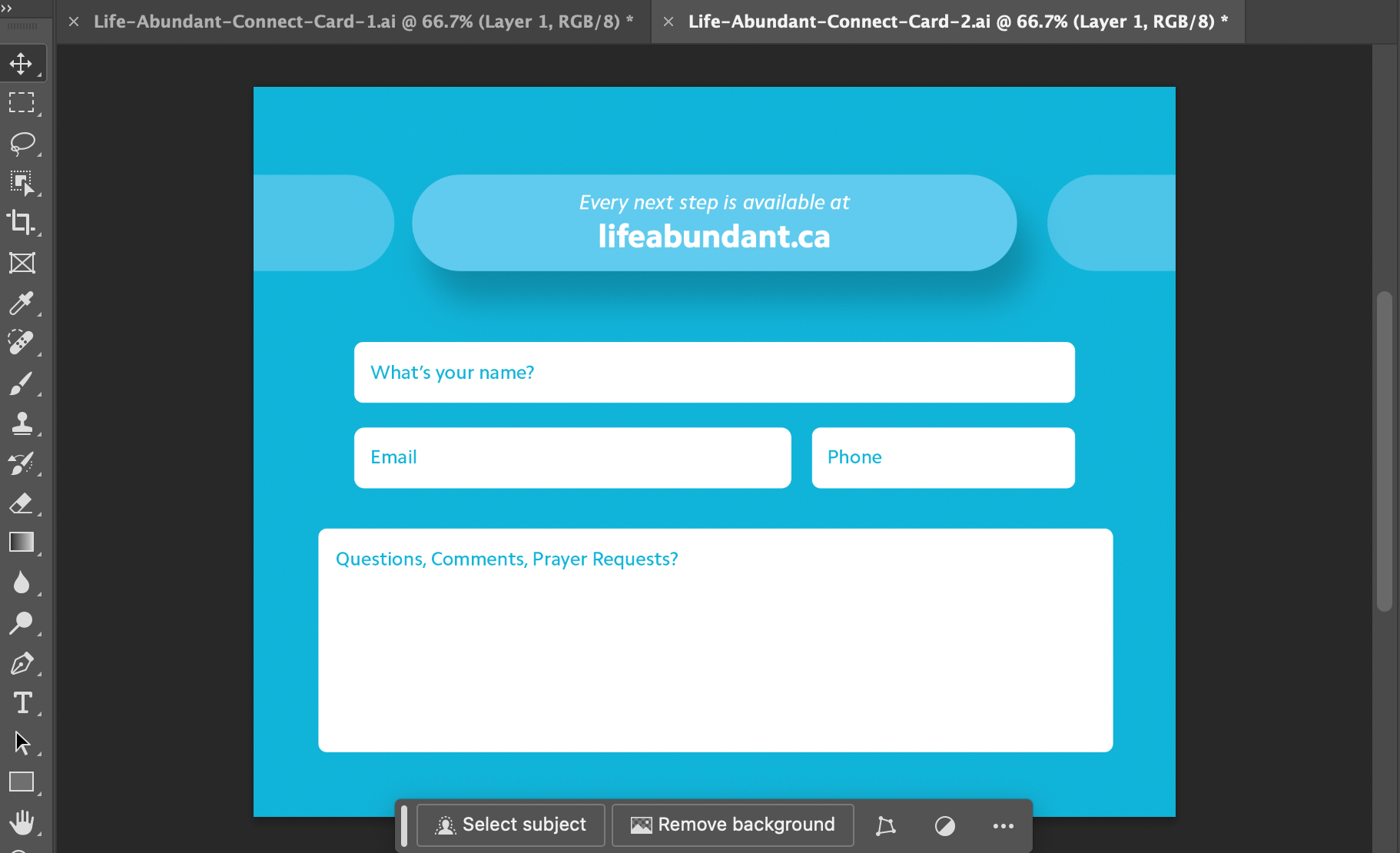 Vanco
Vanco has a fantastic free church welcome kit for anyone who signs up. Fill out your name, email address, and church name to receive this free welcome kit. Vanco works to offer technology to companies that handle payments, donations, and other software needs.
Free church welcome kit includes:
8 church connection card templates. 
Church verse & quote cards for your welcome packets. 
40 amazing welcome quotes to use in your printed material. 
7 free letter templates to welcome new members. 
Sign up for their free newsletter to receive the welcome kit and download editable templates. You can download these templates through PDF or Docs.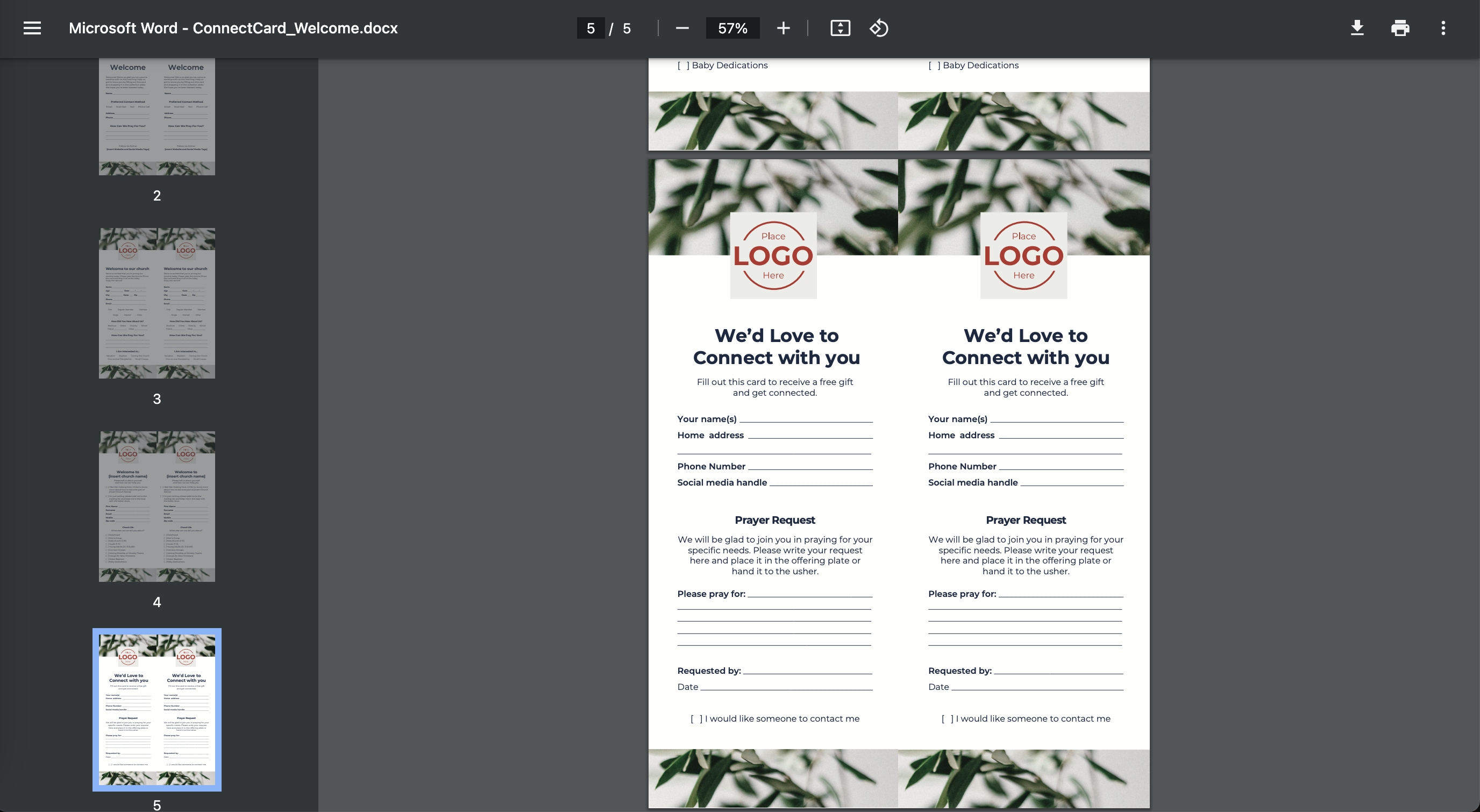 Connection Card Pro
Connection Card Pro provides your church or ministry with a complete church member database. Use the database to keep a record of members, guests, visitors, donors and any other contacts you'd like to keep track of. This is very important after you collect visitor information.
With Connection Card Pro, they can help your church with more than just church connection card templates. Check out what else they can help with:
Groups
Check-Ins
Giving
Volunteers & Scheduling
Events
Digital Guest Cards
True Fund Accounting
Custom Dashboards and Reporting
Custom Web Forms
Worship Service Planning
Attendance Tracking and Reporting
Easy Budgets
Employee Time Tracking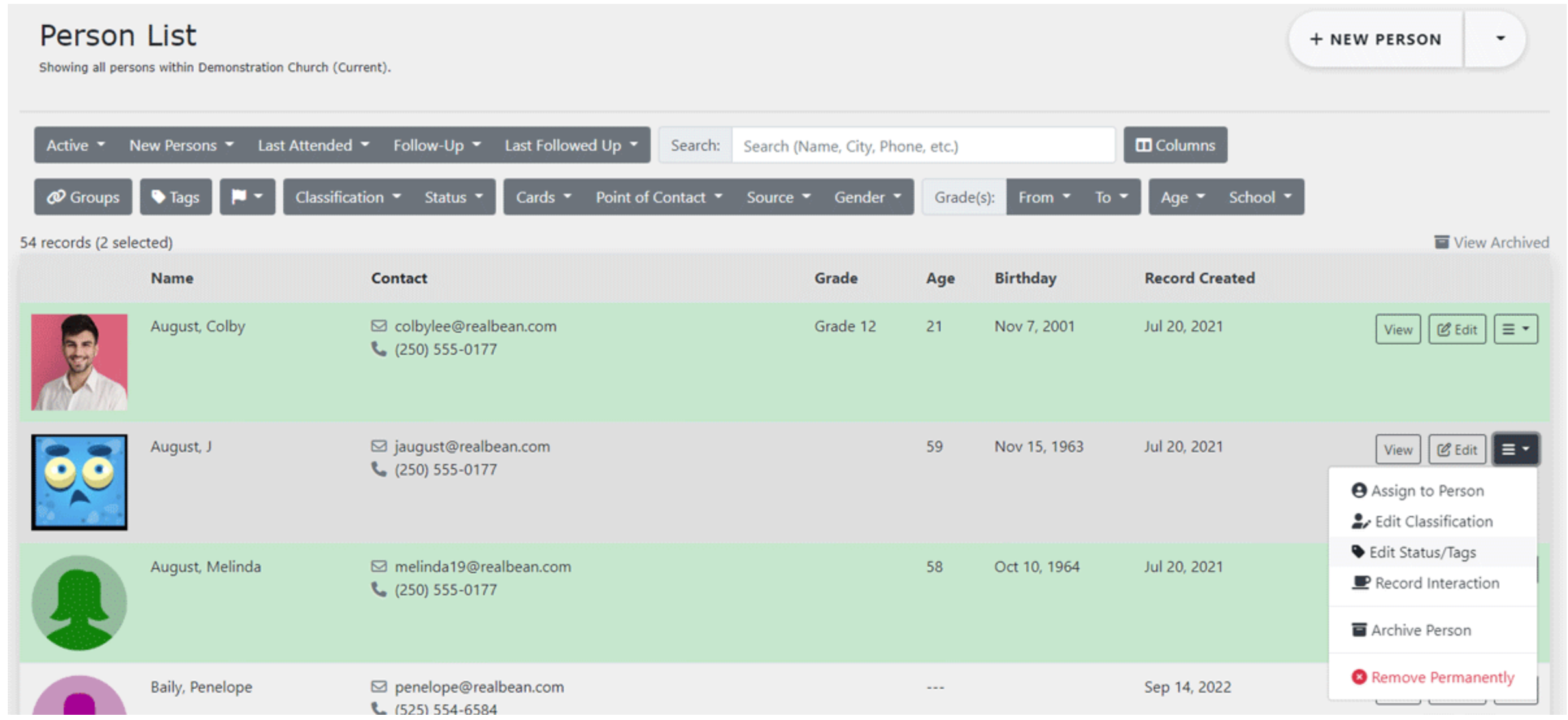 Creative Market
Creative Market offers thousands of templates and let's you order from their website. Purchase individual templates and designs for a one time price. Subscribe to their membership to receive monthly free assets as well as special discounts.
They offer just about anything you could think of when you want to design something for your church from connection cards to bulletins to web templates. If you think you have an awesome design you can even upload them for other uses to download!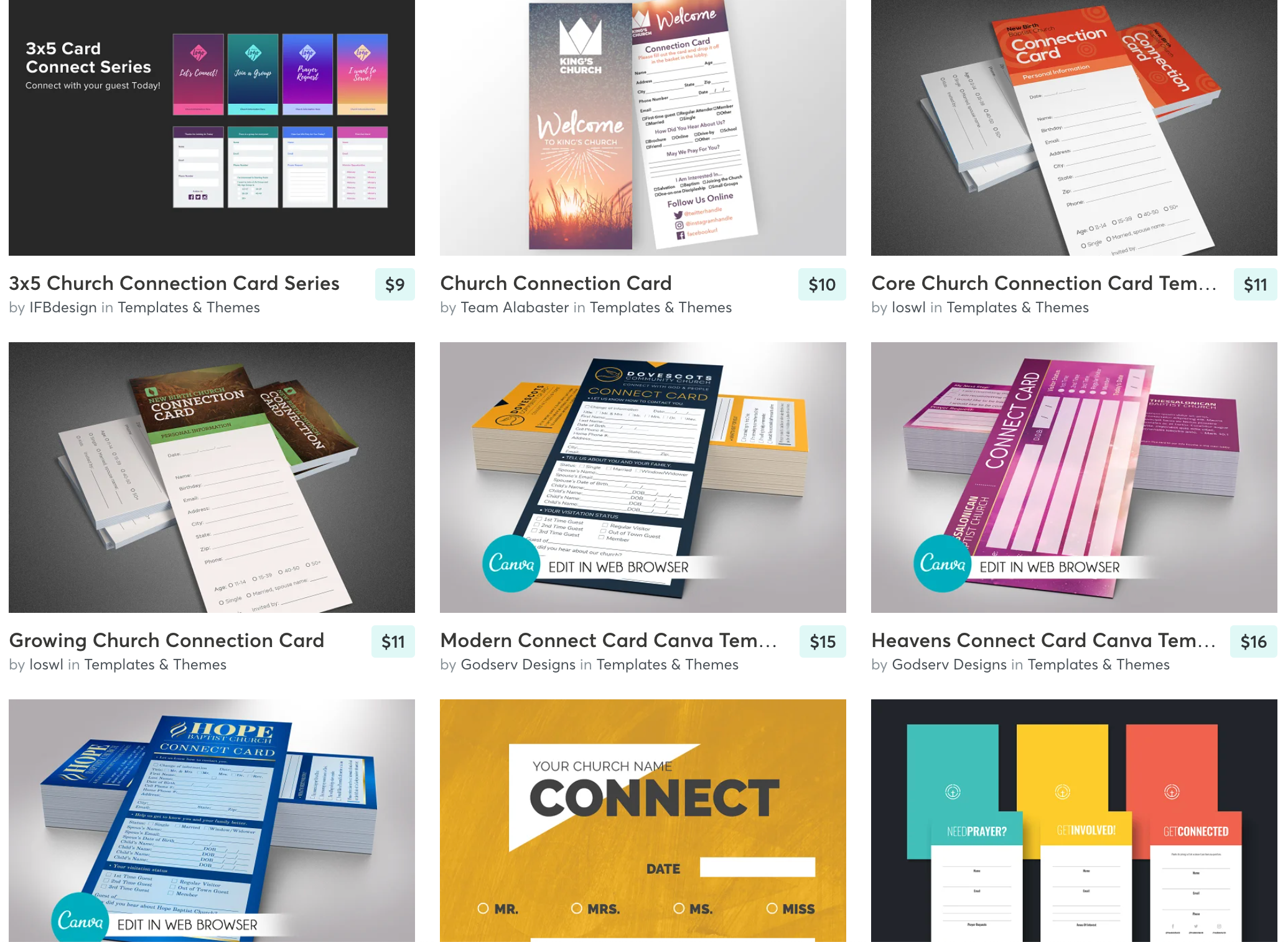 Follow Up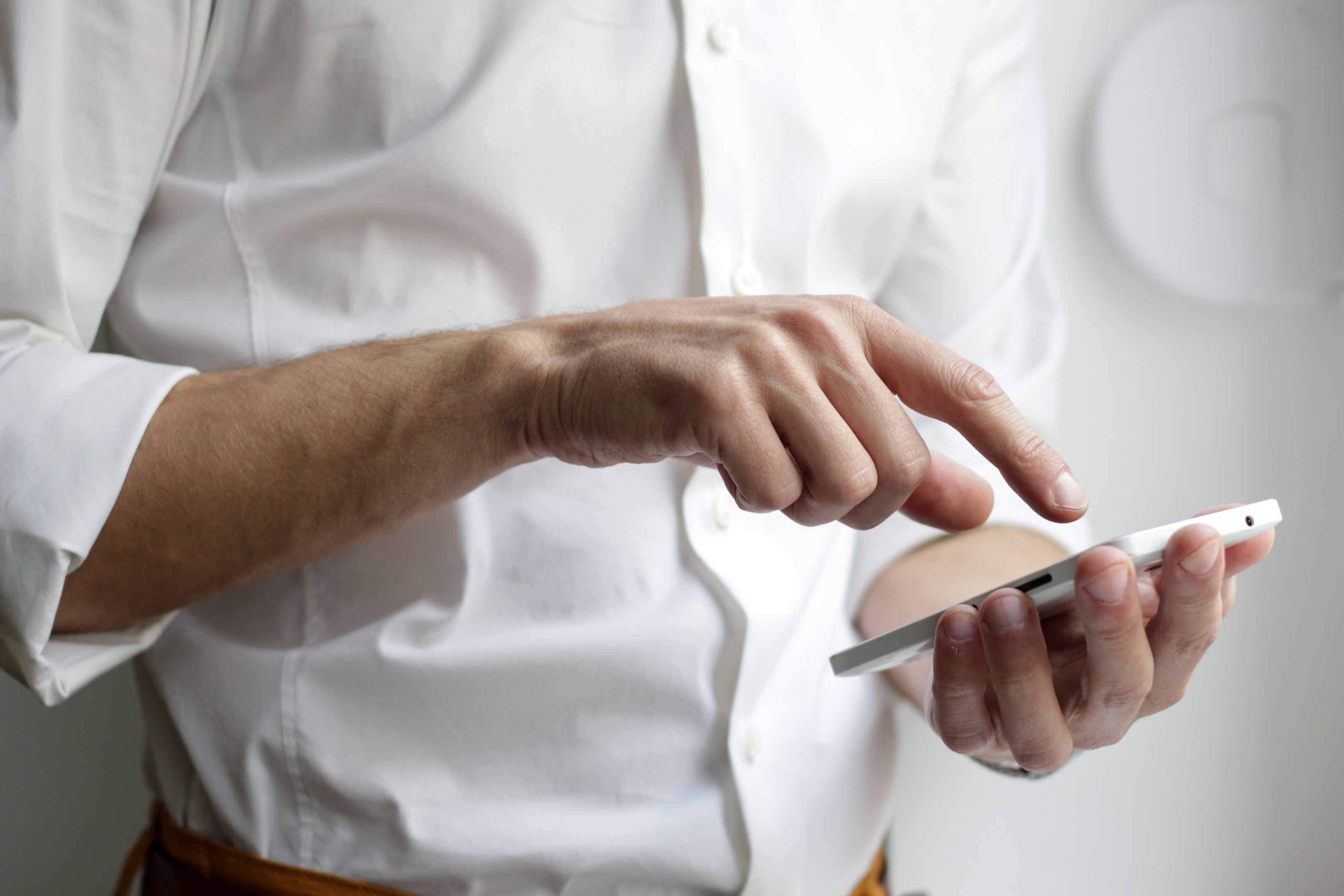 Communication is key! Now that you have collected visitor cards, it's important to follow up. This means that within a week from filling out a connection card, a new guest should receive a personal phone call or email with their next steps.
Whether they are seeking prayer, volunteer opportunities or gave their life to Jesus, it's a critical part that we can't forget. No one wants to feel left behind or forgotten.
Follow up is important because it makes people feel cared for and like an important part of the church. It also increases the likelihood that a first time guest will come back to visit. Making a personal one on one connection puts a system in place to make sure that no one falls through the cracks.
Next Steps
Have an awesome church connection card design ready to go? Now you're ready to send it off and get it printed. There are a few great options so let's dive in.
Print Place
Print Place is a great and affordable option. You can edit ready to go templates or upload your own design straight to their website. They allow you to change the size, quantity, paper type, coating, color and even how fast you need it delivered.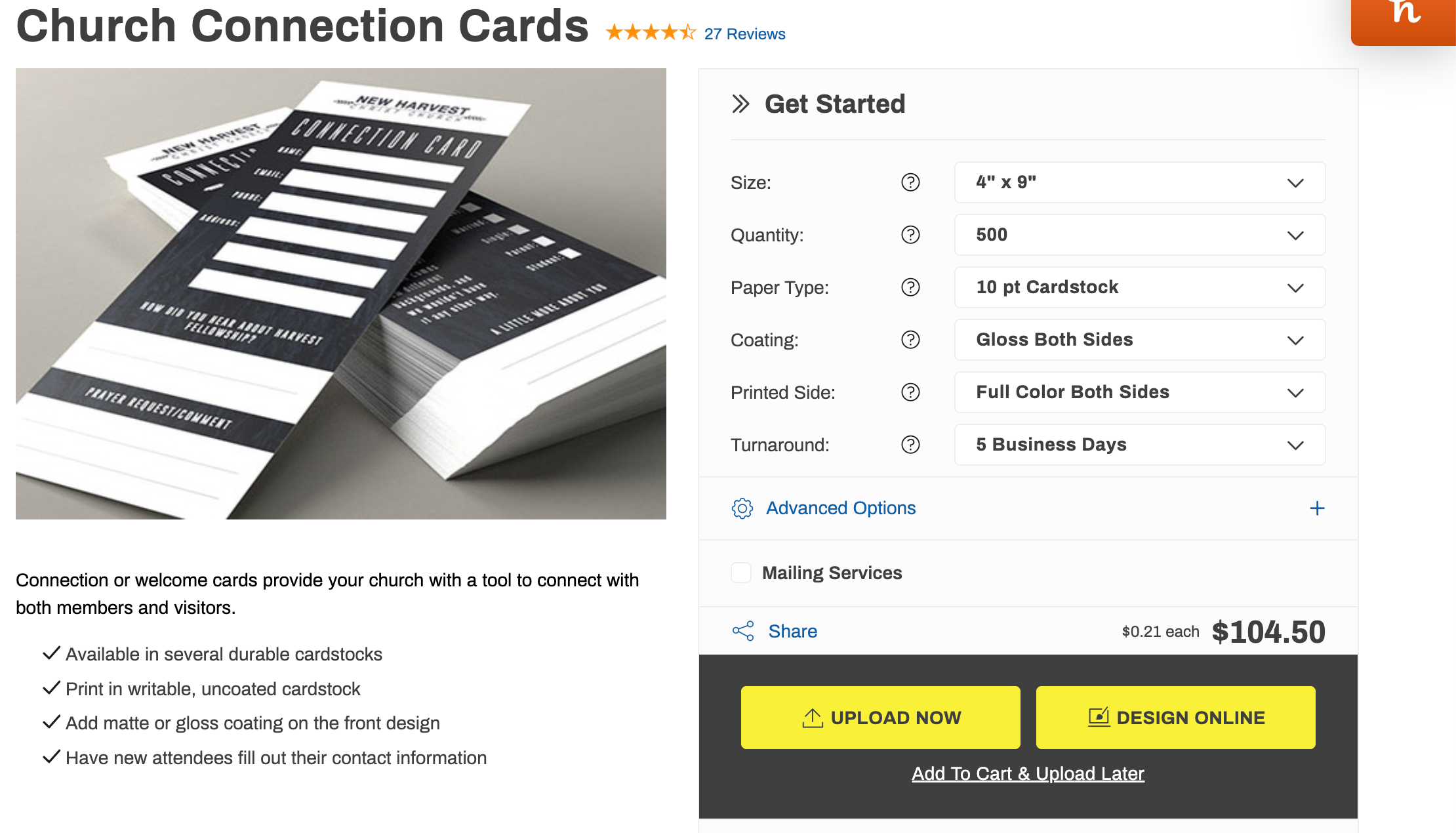 Equip Ministry Resources
Equip Ministry Resources offers free product samples so you can see what they have to work with and feel it in your own hands. They offer a variety of design choices if you don't want to design your own. You can also attach your own logo and designs to the connection cards. Customize your color, brand, content and size!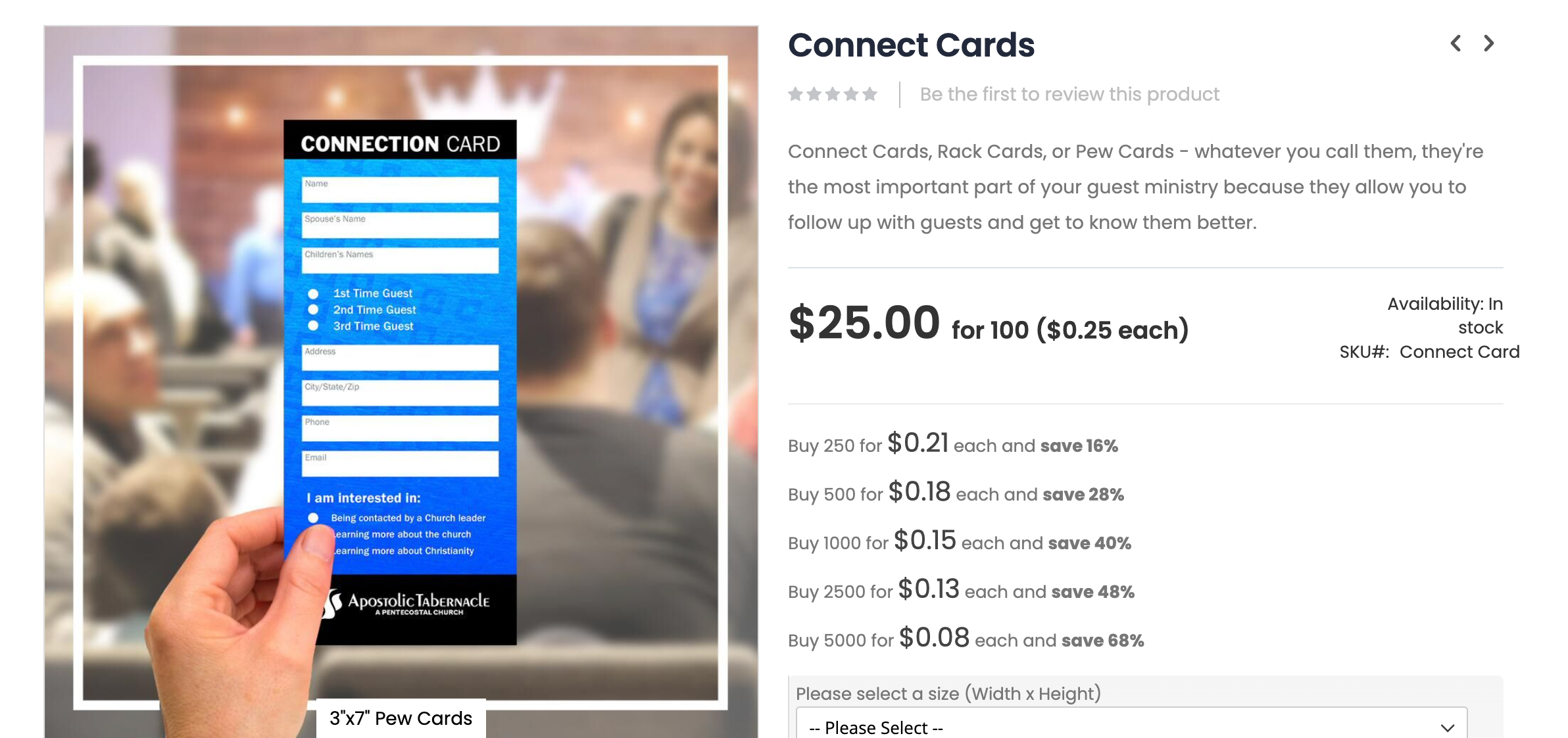 Ministry Printing
Ministry Printing is another great and affordable printing option. They make fully customizable church connection cards and even custom bulletin shells. Select your size, color and quantity right away. Ministry Printing offers fast printing turn around anywhere from two to four days with shipping in less than five. If you're looking for more than just connection cards, Ministry Printing has it all… literally!
Fabric Pop-Up Displays
Greeting Signs
Retractable Banners
Outdoor Flags
Sidewalk Signs
Yard Signs
Stretch Tension Displays
Door Hangers
Postcards
Invitation Cards
You'll be able to choose a theme from thousands of options or upload your own design. They have high quality printing and offer FREE shipping on every order!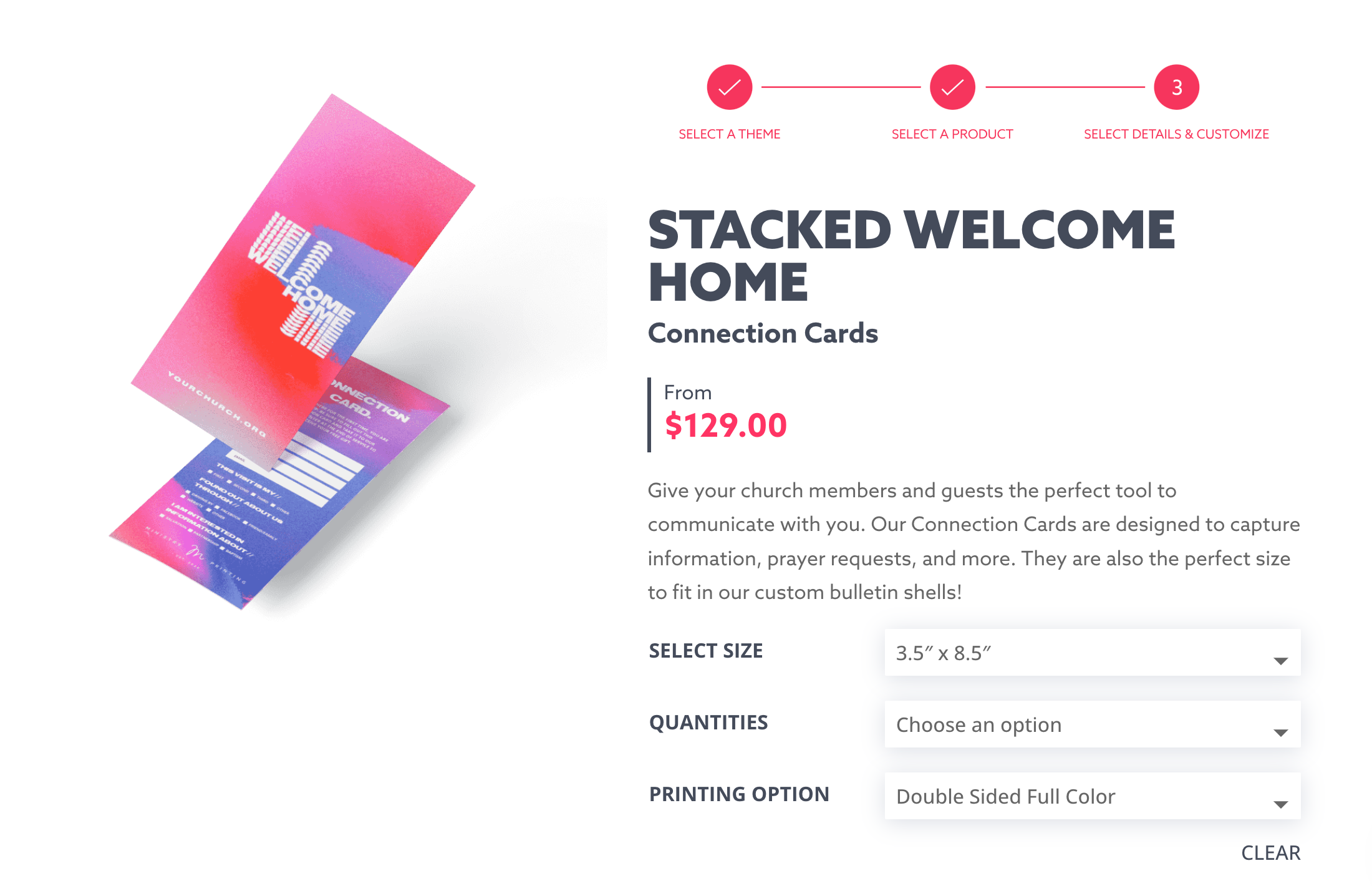 Life Press
Life Press allows you to order anywhere from 100 to 25,000 at a time. Customize the church visitor cards with the help of a ProChurch Designer. If you'd like to directly download your template you'll have to become a member of their ProChurch All Access. They can also print mini invitation cards, banners and door hangers upon many other options.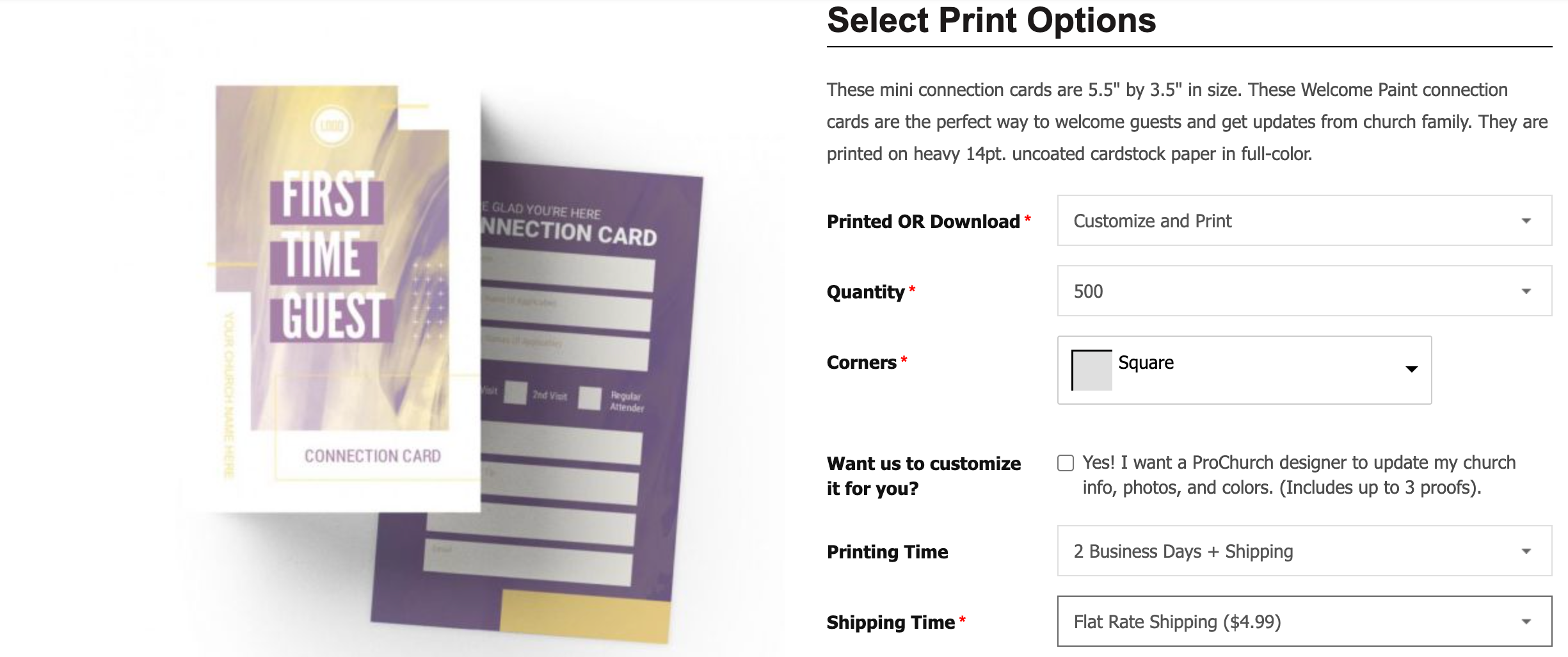 Summary
As you can tell, there are really great options to choose from when it comes to connect cards. They play an important role in getting new visitors connected and making sure new believers of Jesus get plugged in and continue their faith journey.
Related Links:
About The Author